People always ask me, when I buy the SV503 80mm ED telescope, what accessories do I need to buy? basically, satisfy my nake eye observation or for astrophotography. I surveyed some SV503 users, the answer is not the only one. This blog will tell you what accessories are needed for nake eye observation with SV503? What accessories are needed for astrophotography with the SLR Cameras?
What accessories do you use when performing a basic nake eye observation?
You need to buy diagonal,eyepieces and an equatorial mount. Currently, SVBONY has two sizes of diagonals, 1.25" and 2". You can purchase according to your own needs. Regarding the eyepiece, there are many focal lengths to choose from, as long as the magnification is less than 160X. Some customers recommend that the eyepiece focal lengths are 25mm and 10mm, which are commonly used and have better visual effects. The following two solutions are recommended, SV188P diagonal+W9117A eyepiece, W2733A diagonal+W9117B eyepiece. The product feedback is good and the matching is beautiful. Of course, it is not the only answer, you can choose according to your needs.
In addition, only those who have made astronomical observations know that the guide scope or finder is very important for observation. With the assistance of the guide scope or finder, we can find our observation target faster. Otherwise, in the vast sky, without any reference objects, it will be difficult for you to find the observation target, especially for novices. Regarding the guide scope, many people will choose SV106 with SV503. SV106 and needed accessories can refer to the blog https://www.svbony.com/blog/How-to-mount-the-SV106-to-the-SV503-/. But if you are a sufficiently experienced person, you can also choose not to buy a guide scope or finder. you can also choose the one you want.
The pic is from Álvaro Oñate, it is a firts test of the SV503 80mm , Júpiter was the target.
He uses a DIY motorized NEQ-5 mount, SV503 80mm with Angeleyes support rings with a green láser (to aim the telescope), Svbony diagonal, Celestron 8 mm eyepiece.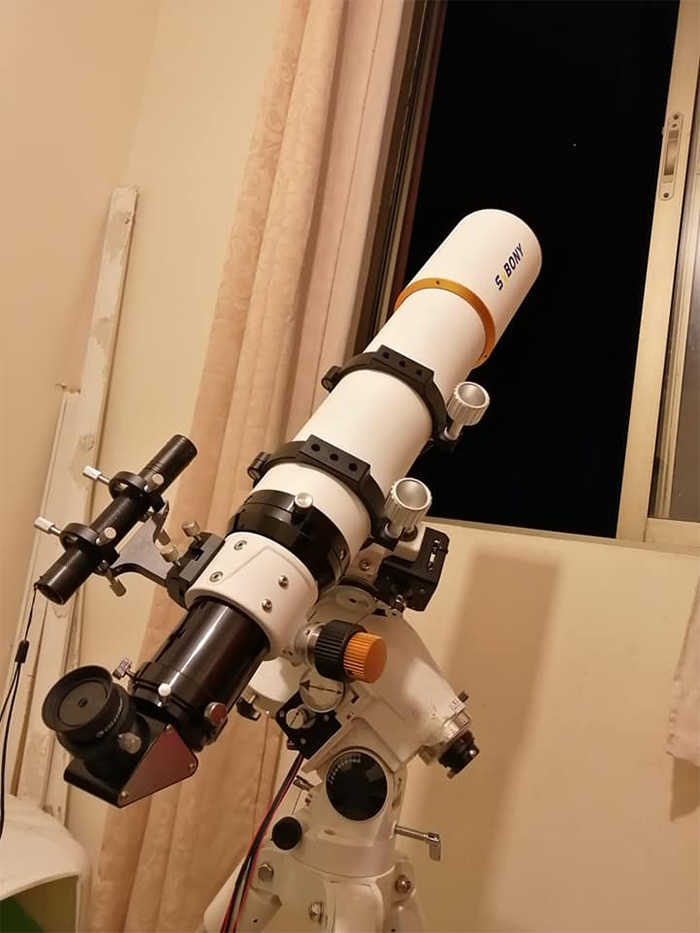 What accessories do you use when performing astrophotography?
At present, the astrophotography plan of SV503 80ED requires different accessories to match with different shooting equipment, so we cannot recommend it. But through investigation, we can learn some accessories used by SV503 user, and we can make some reference.
The pic is from Grim Villanueva II, includes SV503 80mm ED f7, Nikon D5100, AZ-GTi Go-To Mount, Nikon adapter, 2'' to T2 Camera Adapter.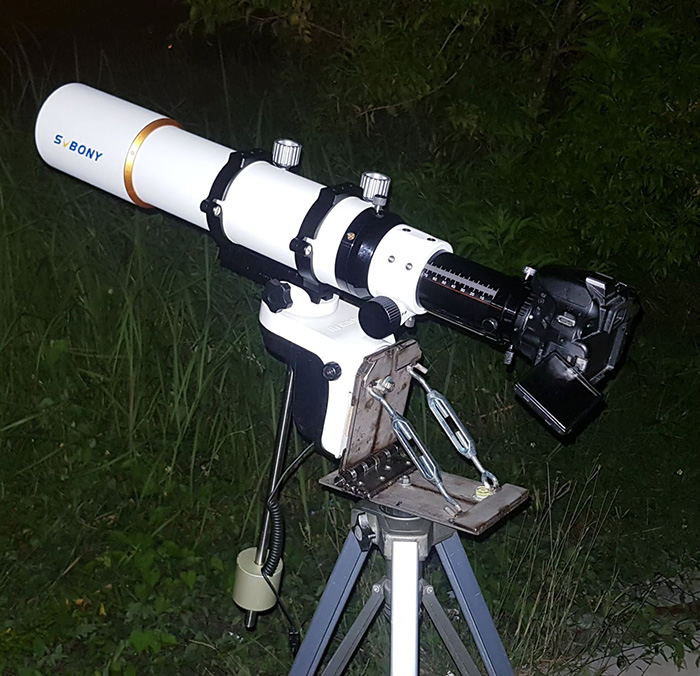 The next is one of his photography work.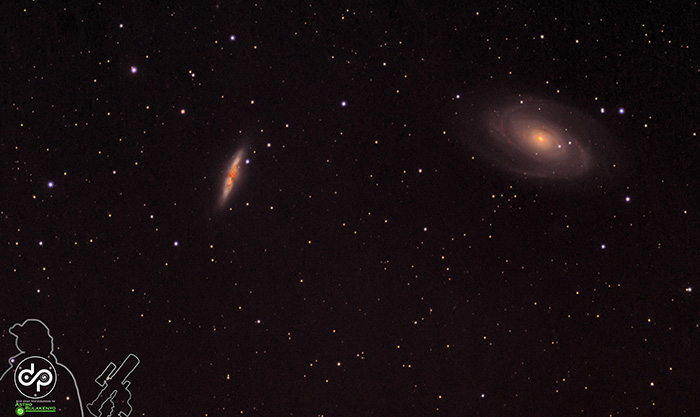 The pic is from Deppy, includes SV503 80mm ED f7, Canon 1000D full-spectrum, Mount SW EQ5 PRO GoTo, SV106 Guide scope, asi224 MC, SVBONY Dovetail Slots, CLS filter, 1X Tecnosky flattened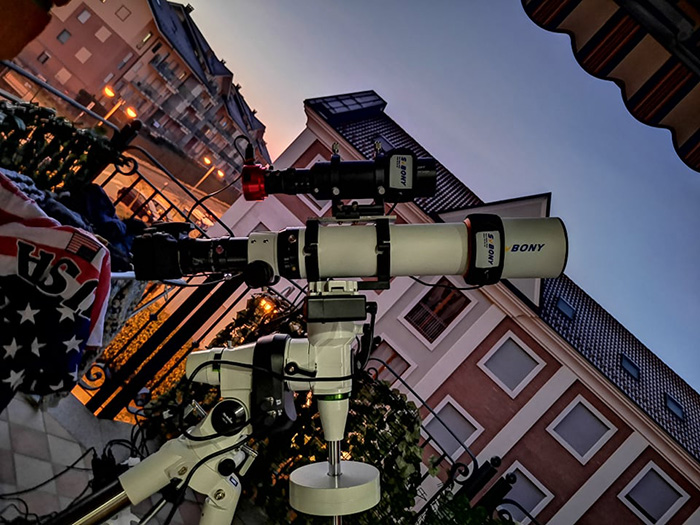 The next is one of his photography works.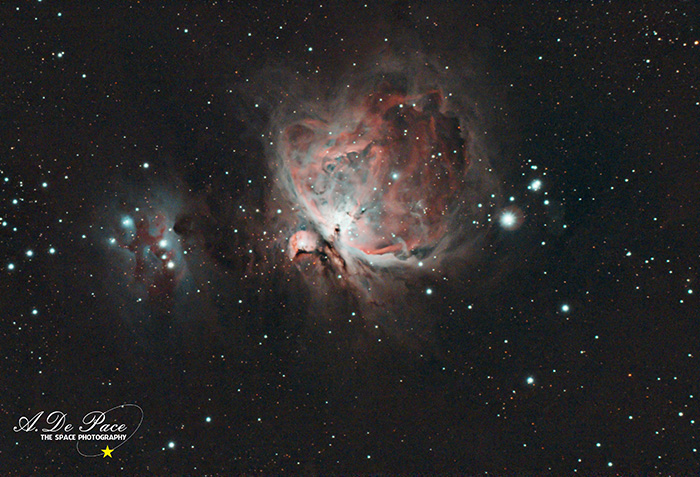 The following pic is from Robert Chapman, includes SV503 80mm ED f7, Celestron AVX mount, Svbony dew heater, Svbony SV165 guide scope, ZWO ASI294MC Pro camera, QHY5l-II-C guide camera, Sky rover flattener/reducer, ZWO filter drawer, Optolong l-enhance filter, Williams optics red dot finder, Williams optics saddle bar.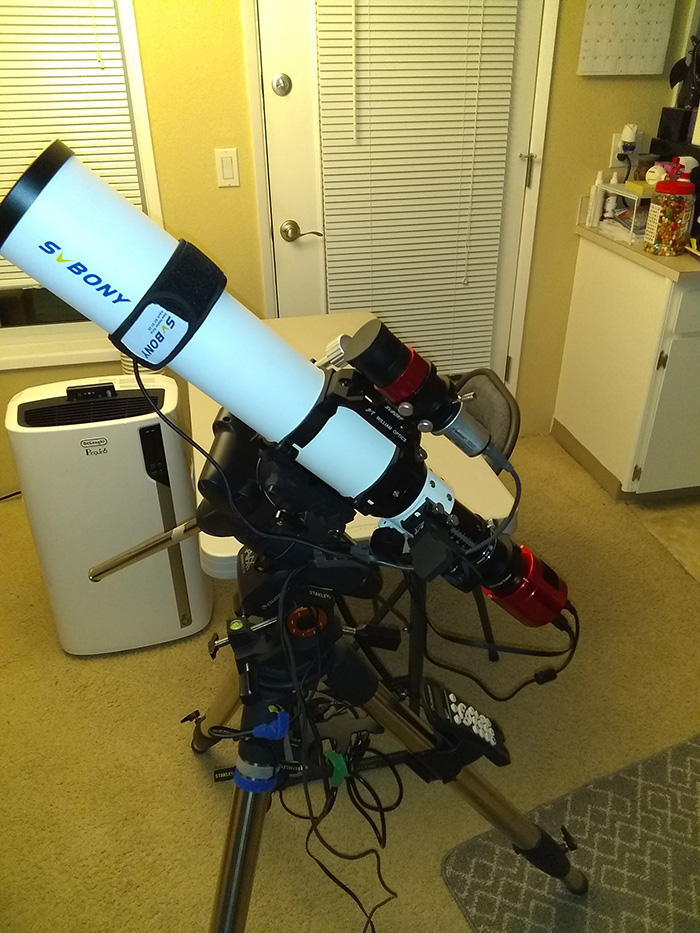 the next is his work.
.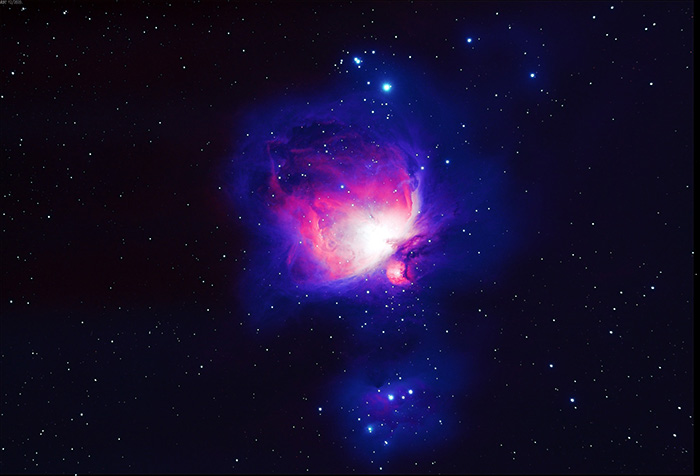 The following is for Observation of solar eclipse from Álvaro Oñate
SV503 80ED refractor, Thousand Oaks solar film, SV119 Black 2'' M48 Extension Tube kit, Canon adapter and 2" T adapter, Canon T3i camera. Piggyback on the SV503 is a galileoscope with Svbony diagonal and a recycled full metal eyepiece. That arrangement was to show the sun through projection on a screen. The mount is a Skywatcher NEQ-5 motorized by him, with stepper motors in AR and DEC controlled by Arduino.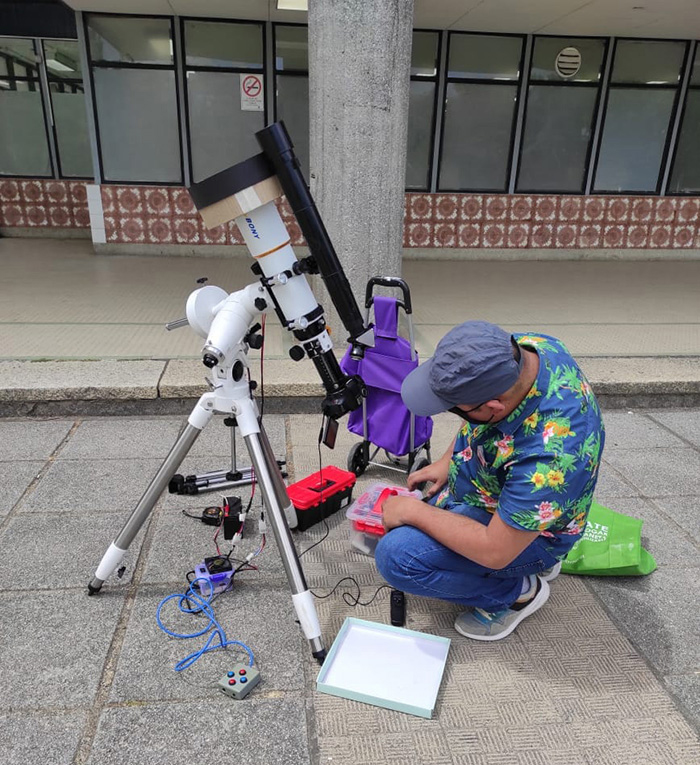 It next is for observation of Mars-Moon close conjunction from Álvaro Oñate.
The pic includes the DIY motorized NEQ-5 mount, SV503 refractor, Svbony diagonal, GSO 5X Barlow lens, and Pentax K3-II camera, T-ring, and T-adapter.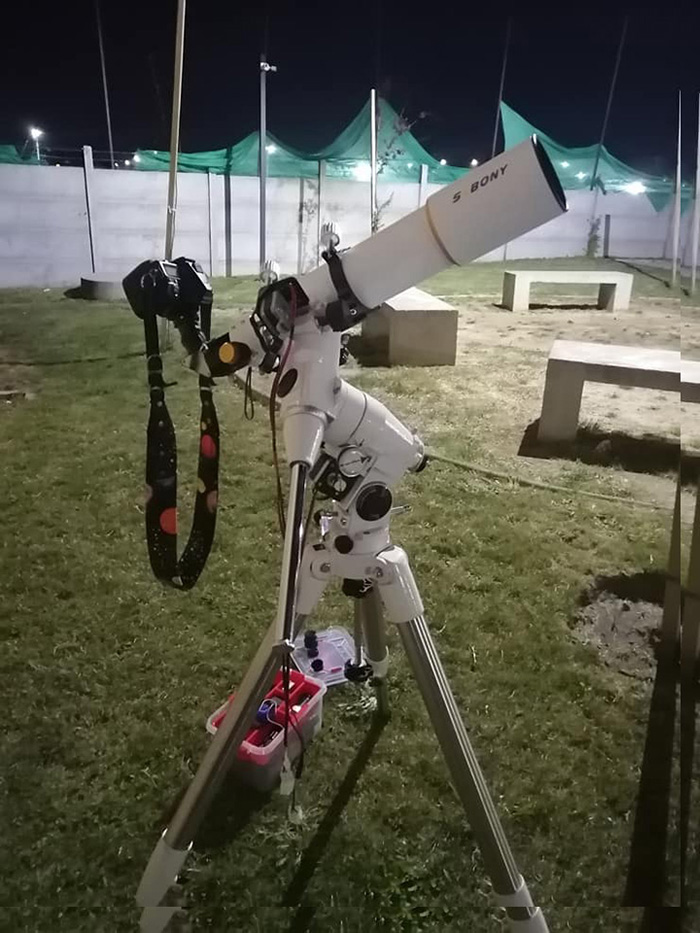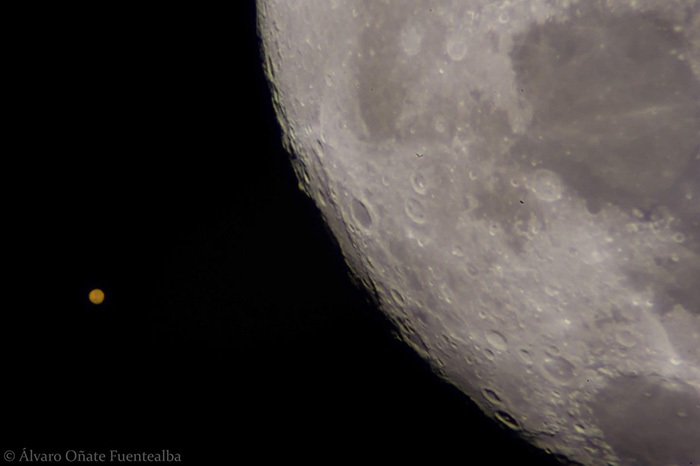 He said SV305 80mm works with Canon 600D and Pentax K3-II, both of them can make focus without extension tube, only T-ring and T-adapter is enough. the extension tube is needed only when using the Barlow lens. he shot the following image by SV503 80mm refractor, Svbony 2X Barlow lens, sv119 Extension tube, T-ring, T-adapter, and Pentax K3-II camera in video mode.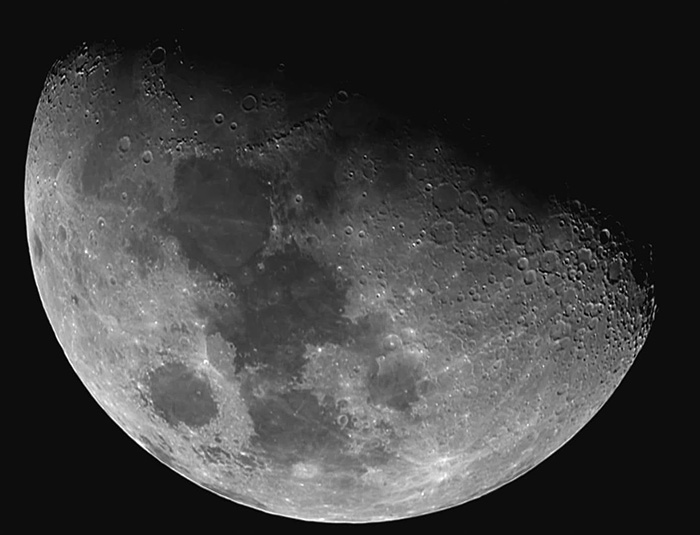 The above content is for reference only, I hope it helps you. What accessories do you use with SV503? There is no single answer, the matching solution that suits you is the best. Welcome to write down in the comment area what accessories did you buy after purchasing SV503?