Customer(C): Is SV305 camera a deep sky camera?

Svbony (S): Nope, Svbony SV305 is a planetary camera.
C: What's the exposure time of your SV305 camera?
S: How long exposure time do you need?
C: 3mins is enough.
S: We design 30mins for people using it. People could try it to capture the object they want. Maybe could get some bright deep sky object. But please remember SV305 camera is a planetary camera, it doesn't have a cooler. So please don't judge it as a deep sky camera. Thanks very much!
Why SV305 camera has 1800s exposure time?
As we all known, the Svbony SV105 and SV205 only have 1000ms exposure time. People always say is there any way to make it longer? Svbony is still working on that. We are making the upgrade firmware trying to make it longer exposure time. But depend on the CMOS sensor and the total project, this is not that easy. But the 1 minute firmware is in the testing now. well be release soon.
Meanwhile, we are producing a new SV305 camera. and we designed it new camera with a total new project, and a better CMOS sensor. The sensor could support over one hour exposure time. In order to give customer the best astronomy experience, we only support the SV305 30mins, 1800s exposure time. The longer exposure, the hotter the camera will be, and there will be more read noise on the image. So 1800s is enough.
I asked this question on Facebook, "How long exposure time do you respect on SV305 camera?" many people told me 3mins will be enough. And some people also said 10mins will satisfy them. So we are trying to make it longer exposure time and also give quality image. And there is the longest 30mins exposure time.
How many read noise when exposure 1200s?
Here is a picture of the testing results.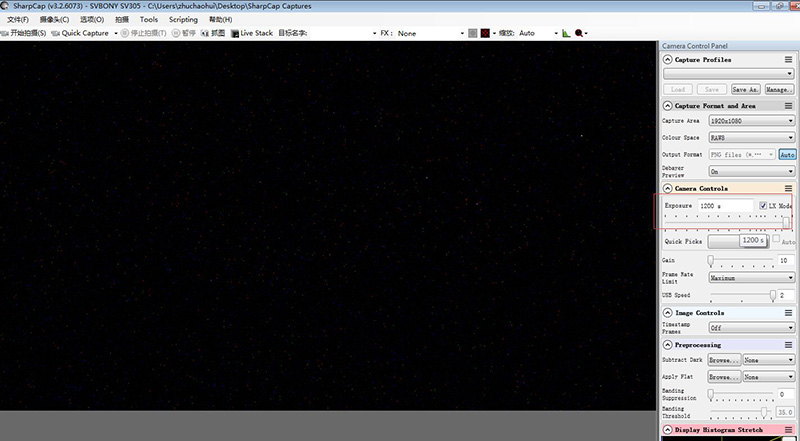 Do you think the 1800s (30mins) is long enough for astronomers to capture the planetary?
Welcome all your ideas to help us to be better. Please send email to info@svbony.com. Thanks very much for your reading!