Do you like the stitching color spotting scope? Yes.

Then you must be interested in our new coming SV402 stitching color spotting scopes. We have two models of SV402, one model is 16-48x60, the other model is 20-60x70. As we have produced one 20-60x80 SV401 model. So these two models SV402 are balanced products. If you like the stitching color and need a small and light weight spotting scope. Then read more details following.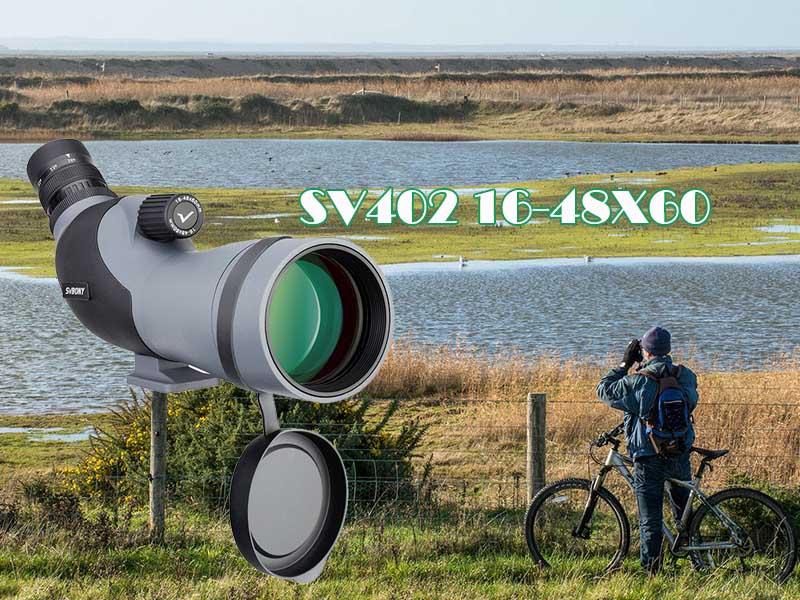 SV402 16-48X60 (SKU: F9347B)
The field of view is 126ft/1000yds to 57ft/1000yds, depend on the magnification power 20x to 60x, the eye relief is 14mm, the exit pupil is from 3.8mm to 1.3mm. And the near focus distance is 5m, it means that you could see through the SV402 16-48X60 spotting scope from 5 meters to infinity. The eyepiece is designed with 7 pieces lens in 5 groups. And the prism is MC coating and with Silver film. So you will see the clear and colorful images most close to its nature color. If I wear glasses, could I use the SV402 16-48X60 Spotting Scope? Yes, of course. The spotting scope is designed with twist up eyecup, when you wear glasses, then twist down the eyecup. If you look through it only with nicked eyes, you should twist up the eyecup to find the right position to see the clear image.
SV402 20-60X70 (SKU: F9347C)
The SV402 20-60X70 model is same design with 16-48X60 model spotting scope, same Fully multi-coated lens, same color design, same eyepieces design, of course some different of the specification.
Different 1: The field of view is 99ft/1000yds to 48ft/1000yds.
Different 2: the near focus is 6m.
Different 3: the aperture is 70mm.
Different 4: the net weight is 1200g.
Different 5: exit pupil is 3.5mm to 1.2mm
Both of them are Nitrogen filled, waterproof and fogproof. So whenever you want to go out to view the nature, the SV402 is the best choice for you. light weight, waterproof, and easy to take. It coming with a quality soft case, even a 5 years old boy could carry it outside. I know you will love it.
If you want to know more, please send email to info@svbony.com. All your questions will be welcomed. Thanks for your reading.