A few days ago, our customer had such a question when he received the SV605CC.
What is this little drying tube for? When should it be used?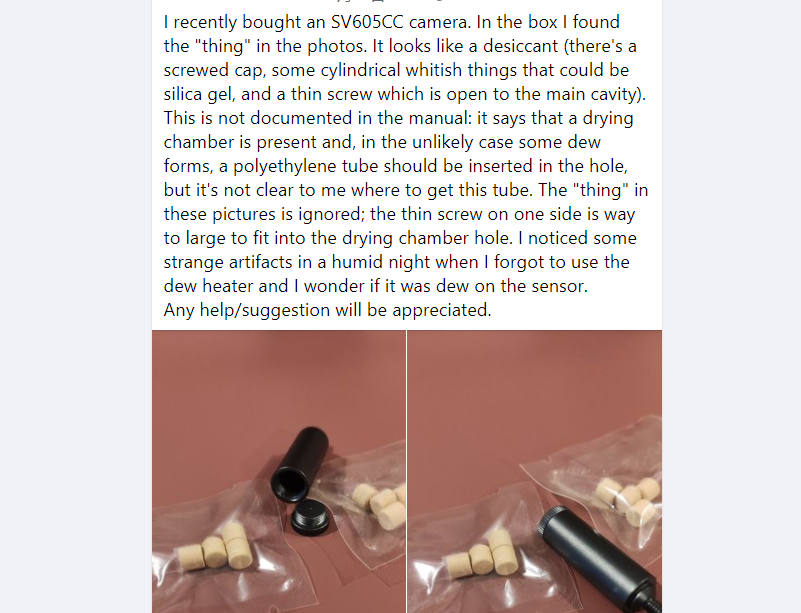 Its function is mainly to ensure that your camera remains dry after freezing to prevent water droplets or fogging inside, which will affect the imaging effect.
The primary goal of a cooled camera is to gradually lower the target temperature to cool the sensor so that it does not dew condensation. Some imaging software has such a function.
A drying tube can be inserted into the unscrewed hole in the drying chamber for drying. But if slow cooling does not cause condensation, it is not really necessary to use a drying tube.
We also put it in the SV405CC camera, before using it, you need to pay attention to these tips.
【Notes】
In general, do not use drying tubes unless condensation is confirmed on the camera. This is because the camera is dried and sealed during shipping inspection.
When using a cooled CMOS camera this summer,
- Cool as slowly as possible
・Temporarily cool down to -1℃ or -2℃ and check the condition of condensation.
・If there is no condensation on the sensor surface, it is recommended to wait for a while and cool it down to the target temperature.
[Drying procedure]
The drying tablets are lined up and the tube containing the desiccant is attached from the side.
Generally for 48 hours, after the drying process, lock the screw in the drying hole of the camera, and the desiccant cannot be used repeatedly.
At the same time, we have also paid attention to the recent problems from you, and we are reporting the problems to the developers. we will summarize some common problems and solutions to help you soon.