Hello everyone, I hope you are having a nice day. today I upload the SV205 firmware tool, for update the Svbony SV205 camera compatibility for Linux computer and Mac OS computer. hope this will help.
Don't Upgrade the SV205 camera you bought after 08/01/2019
Or you would get a black screen and capture nothing.
Qustion: Can I use the SV205 camera with Linux system?
Answer: Yes, of course. The SV205 camera could work with the Linux system with AstroDMx capture for Linux
Question: Why my SV205 camera could not work with the Linux USB3.0, only work with USB2.0?
Answer: This is the compatibility problem of the SV205. We have program a firmware tool to fix the SV205 camera compatibility problem. Download it directly from here
Question: I just bought the SV205 camera from Amazon, did I need to upgrade it?
Answer: You only need upgrade your SV205 camera when using it with Linux system and Mac OS.
If your SV205 only work with a Windows computer, then you don't need to upgrade it. SV205 could work with Windows computer normally.
And if you buy the SV205 camera in and after August 2019, then you don't need to upgrade it too. because we have already update the SV205 firmware in the factory.
Question: Does SV205 work with all Linux and Mac OS ?
Answer: Nope, only work with main stream operating system. not all. Linux and Mac OS have too many systems, SV205 doesn't work with all the Linux system. so you could try your SV205 first. if any problems you could send email to us at info@svbony.com. very welcome all your emails. Thanks.
How to Upgrade the SV205 camera with the Firmware Tool ?
1) Download the Firmware Tool to a Windows computer.

2) Connect your SV205 to the Windows computer.
3) Double click the UvcDownload.exe file.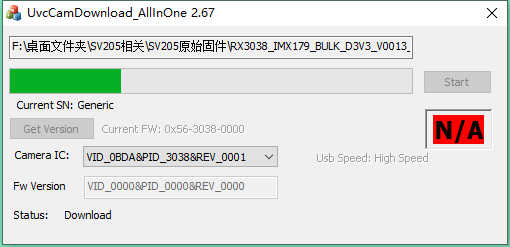 4) Single click Start button, you will see the program processing.
when finished the program, please remove the SV205 from the Windows computer, and then connect it to a Linux computer, it will work normally with the USB3.0 port. (and then connect it to a Mac computer, it will work with your Mac computer. )

Note: Remember upgrade SV205 on Windows system. and then use it on Mac OS/ linux. After the upgradation, sv205 may not recognized by the win 7 system. but it could works normally with the win 8 and win 10. thanks.