This is our second camera for deep space astrophotography and is available for purchase now, if you're interested, let's find out more.
If you have already purchased the SV405CC or know something about it, perhaps you will also want to know the difference between the new one and the SV405CC, let's go through the table data to understand the differences and similarities.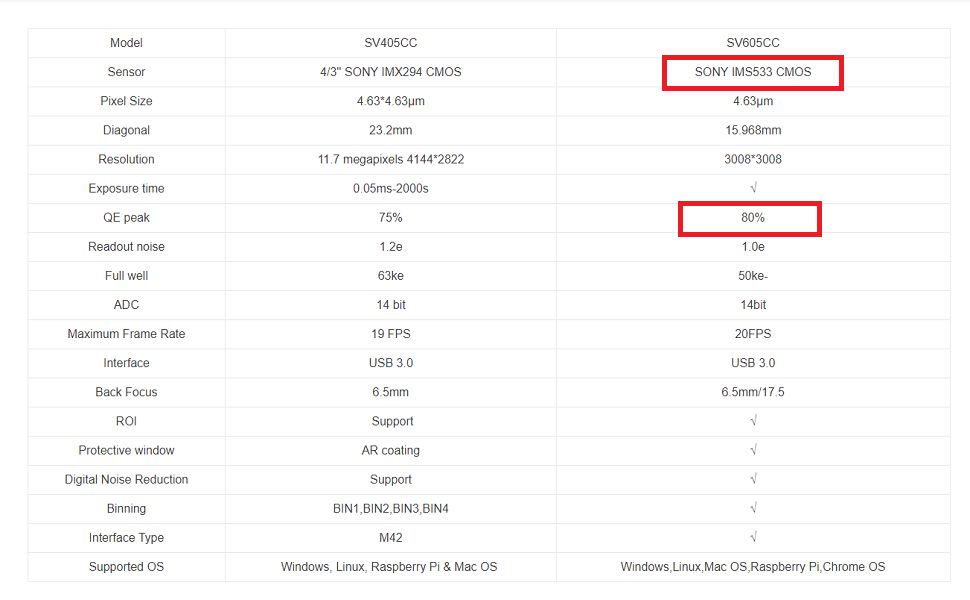 SV605CC is designed with a diagonal 15.968mm (Type 1)CMOS sensor with a color square pixel array and 3.76μm x 3.76μm per pixel. The sensor incorporates 14 bit A/D converter, the 14-bit digital output makes it possible to readout the signals of 9.07M effective pixels at high-speed of 20 FPS. Read out noise is as low as 1.0e which makes sure the highly suitable for high definition, low noise deep space objects imaging.
Feature:
14-bit ADC– giving high dynamic range of 13 stops

An impressive 50ke- full well capacity- helping to reduce the issue of, for example, saturated stars.

HCG mode-Using the HCG digital noise reduction technology, the readout noise can be greatly reduced and high dynamic range is retained. )

No Amp Glow
Traditional CMOS sensors produce a weak infrared light source during operation quite often seen in the corner of uncalibrated images as the tell tale signs of 'amp glow'. As the IMX533 uses zero amp glow design, no matter long exposure time or high gain, the SV605CC camera has no Amp Glow at all, make sure the totally high quality"dark"image.
Thanks to the two-stage TEC cooling, the SV605CC can lower the CMOS sensor temperature to 30 degrees Celsius below ambient temperature, which can greatly reduce dark current generation and sensor noise even during longer exposure times.
1-inch square sensor, has a better matching degree with telescope imaging, which can avoid the dark edge caused by uneven light sensitivity of the rectangle sensor; Turn on cooling function when imaging, the cooling of the sensor is more uniform, which can ensure better cooling effect, so as to achieve higher image quality.
The SV605CC has a built-in 256MB DDRIII image buffer. The benefit of the image buffer is that the memory will cache the image and transfer it to the computer when the USB interface is not busy or being interrupted, so that the frame won't be lost or corrupted. This buffer also allows a slower computer with USB 3.0 to capture every frame without loss even if the USB bus is occasionally busy with other peripherals. This buffer also makes it possible to run another camera using the same computer without USB transfer problems from the SV605CC.
NOTES
Computer configuration requirements:
1) The configuration of desktop computer is not less than Intel 4 generation i5, and the memory is not less than 4G.
2) Laptop configuration is not less than Intel 6 generation i5, memory is not less than 8G.
All software and drivers for this camera are available from the SVBONY website.The software update may be delayed. Please let us know if you have any comments during the use process, and we will feed back and solve the problems for you in a timely manner