Customer(C):
Hi, My SV105 camera not working correctly. The Sharpcap software only 0.5-1.5fps captured, all frame dropped. I tried with windows 10 and windows 7, My friend's camera worked perfectly with the software. What could be the problem?

Svbony(S):
1) When it happened?
After our customers used the Svbony SV105 astronomy camera for some times, all the default data have been changed. So it may lead to this problem when you reconnect the Svbony SV105 camera to your computer again. However, please don't worry. Just restore the default data, this problem will be fixed. Here are the steps:
Enter the sharpcap software, then [Options]-[Video Capture Filter]-[Default], the default data will be normal and correct.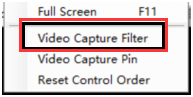 2) Update your SV105 camera
Here is the firmware of SV105 camera. This version firmware only fix the problem of SV105 that slow frame rate at 0.5-1.5 fps. (Note: If you don't have this problem, please don't upgrade your SV105 camera).
Firstly, connect your Svbony SV105 camera to your computer.
Secondly, download the firmware tool zip file and unzip it. (Email to info@svbony.com to get Firmware Tool)
There are 3 file in the unzip firmware tool file. The third one is a picture that shows the processing of upgrade SV105 camera. look it first before doing. Double click the [SV105 Firmware Tool] and enter it. Click [···] to find the file [20190121_VC0353_OV2710_XS_Flash1.71_SVBONY SV105.bin], Then it will auto find your connecting SV105 camera. (Note: If you don't connect the SV105 camera, then the process will stop and can not go on). Then click [Burn Flash]. Then you will see the processing of burning. When finished, remove your SV105 camera from the computer. After a while, for reconnect your SV105 camera to the computer again, and enter the Sharpcap software, retry and check the preview frame rate.
The problem will be fixed.
If you have any other question/ problems about Svbony SV105 camera, please send email to info@svbony.com, we will try our best to give you a solution. Hope you all the best. Clear skies.