Hello everyone, I am glad to tell you Svbony has produced a new product for you, the SV108 double helical focuser. Do you know what it is?
1.25 inch Svbony SV108 Double Helical Focuser is designed for precise focusing when doing astronomy shooting. It could work with the guider scope SV106 like the following picture showing. The other side of the double helical focuser is used for connecting the normal 1.25" eyepiece or 1.25" astronomy camera. So the guider scope could work as the finder telescope by connecting to a normal eyepiece. Or it works as the guider scope by connecting the astronomy camera. Can it connect to the telescope tube directly? Yes, of course. It is the same way work with the guider scope SV106. Please don't worry.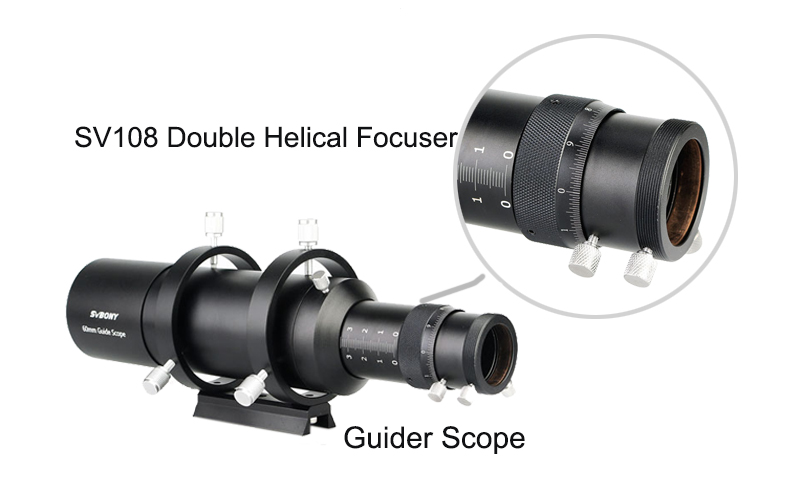 The Svbony SV108 double helical focuser also could be used as a extending astronomy photography tube by connecting directly to the telescope focuser. In this way it could extend the back focus up to 66mm, and then be connected with the Nikon / Canon camera adapter, and finally connected to the camera. The precise focusing help a lot of the clear image shooting.
Features of the SV108 double helical focuser
The minimum structure length is 56mm, and the adjustable focus length is 10mm. so that the total extending tube length is 66mm. What's more, the 10mm focal length is divided into 100 parts, so one part is 0.1mm accuracy. This will be great help for the precise focusing.
Are you clear about how to use the SV108 now? if you still have any other questions, please send email to info@svbony.com. All your emails will be replied when I saw your email. Clear skies.
---