I collected some reviews about the SV406P 80mm. They describe this scope detailed and also shared their intention for this scope. Hope these reviews will help you learn more about SV406P.
CWW
I will use this scope for hunting and game/ bird watching. I selected it over other alternatives based on price and features. Like all spotting scopes in this price range, it is made in China. That said it seems to be very well made with one exception (more about that later). The glass is good, and I would guess that at least some of the glass is ED as advertised. The color is good, and the scope works well in low light. As with all scopes, the quality of the image reduces with magnification but not badly. The eyepiece is between 22mm and 25mm, somewhat small but again standard for the price. A larger eyepiece would aid viewing at higher magnification. My one concern is that I cannot get the detachable eyepiece to stop slipping as magnification is adjusted no matter how much I tighten the retaining ring. Another consideration is that support for this scope appears somewhat limited. But again the price is significantly less than scopes with better support and warranties.
Aaron Wilson
Wow. I just returned home from a short bird-watching hike to test this new scope out. This is my first spotting scope, but I've been fortunate to use others including a Vortex scope and the gold standard, Swarovski. This scope isn't a $2500 Swarovski and that's totally ok! This is an incredibly clear, low chromatic aberration scope. To say that I'm impressed would be an understatement. Today was ideal weather, maybe a bit too sunny, but I expect this scope to be fine at twilight and on foggy days. Can't wait to try some digiscoping!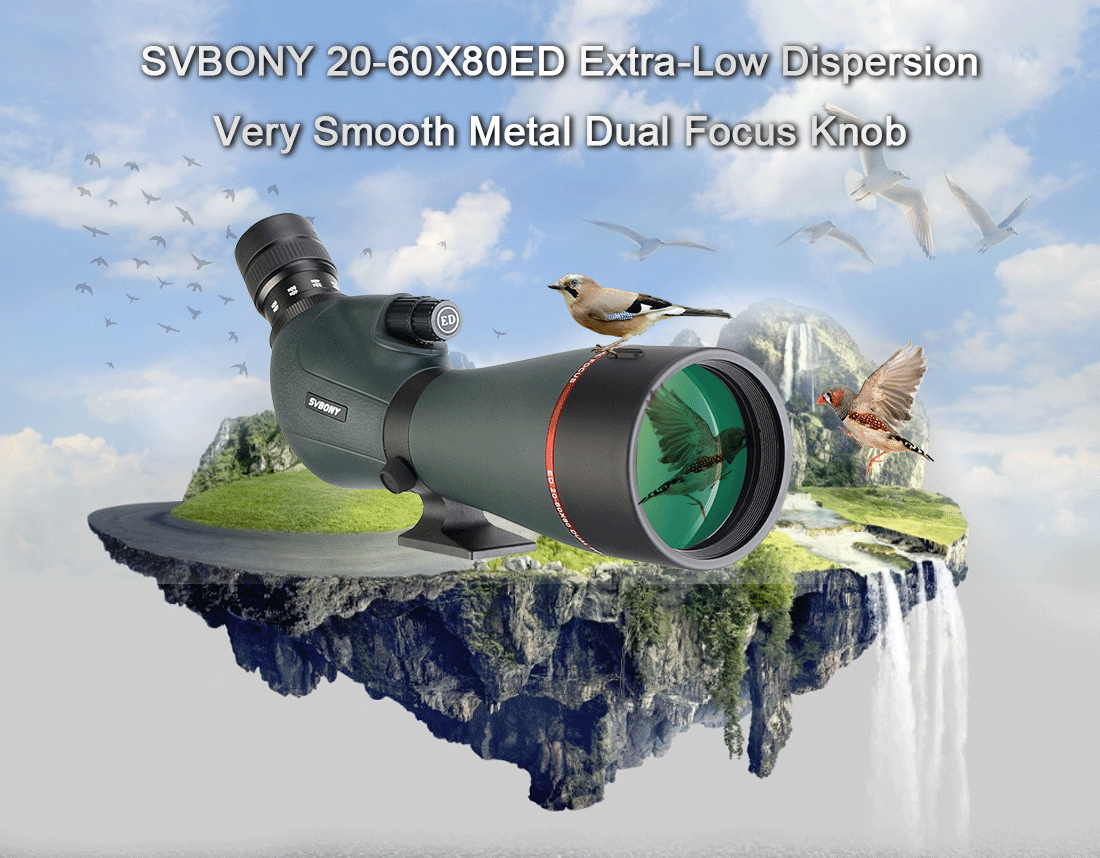 Josh
I will admit, I was a bit hesitant. There was NO WAY I was dropping $1000 on a spotting scope after I keep dropping thousands on scopes for my rifles, but I really needed a spotting scope. I figured I needed to keep under $300, and just get the best I could. I actually discovered SVBONY on Youtube. I did my research. I was originally going to get SV406 as it was just a raging deal given the stats and the positive feedback I was seeing. One review on Youtube did a distance comparison against a vortex and you could definitely see some fuzziness on the edges and color degradation on the 406, vs. the Vortex. Not surprising, given it's a Vortex. Then I discovered the ED version, the 406P. Looks like it was released in Nov. Not many reviews, but given the reviews on the 406, I spent the extra to get the 406P.
I'm pretty pleased so far. It feels solid, sturdy, easy to use. Had it out to 100 yards, and it was great. Will need to try and push the distance a bit to see how it works, and hopefully it holds up. When it comes to my gear, I usually "spend more" to get the trustworthy names--vortex, Leupold, etc. I would always prefer to buy American or a solid European product, but this was too much of a deal to pass up.
Jwg2
My wife and I are bird and wildlife watchers and we wanted to complement our Leica binoculars with a spotting scope at a reasonable price. We are very pleased with this scope, which we have had for a year now. I bring the scope on birding trips to see the birds clearly at a distance. I also live very close to the beach in Southern California and I use the scope to watch for whales, dolphins, and shorebirds. We have gray whales that migrate from the north to Mexico in the south during the winter and the zoom works great for first spotting the whales and then zooming in to see details.
Mel Mashman
I wanted an ED spotting scope for wildlife viewing but did not want to pay for something like a Swarovski since this was for occasional use. I also wanted an angled scope.
The dual focusing wheel capability, the large wide lens bringing plenty of light and the zoom range makes me very happy with my purchase.
Also, the build quality is superb.
This is a GREAT scope forgetting the price.
Thanks for your watching