Great news for Svbony SV305 followers, Svbony SV305 color plantary camera work with AstroDMx capture for Linux now. you could use your SV305 camera on a Linux computer, by downloading the AstroDMx Capture for Linux from the site directly.
We should thank Dr. Steve Wainwright. and his parter Nicola Amanda Mackin FRAS. Their hard works and supports for the SV305 camera and our brand, so that we could use the SV305 with AstroDMx capture for Linux.
Dr. Steve Wainwright, a retired Senior Lecturer in Biological Sciences at Swansea University and have been an astronomer since 1967. He founded the international astronomical imaging group QCUIAG in 1998. He is a member of the Swansea, Port Talbot and Barry Astronomical Societies. also a member of the Society for Popular Astronomy and the BAA, he is a Fellow of the Royal Astronomical Society and a member of the European Astronomical Society. He taught astronomy at the University of Swansea in D.A.C.E. evening classes for several years, but now, largely retired. he gives lectures to astronomical societies. For several years he has been working with his partner Nicola Amanda Mackin FRAS on AstroDMx Capture. Nicola is a brilliant programmer and Linux expert.
Many thanks for their support!
What is AstroDMx Capture for Linux?
AstroDMx Capture is a fully featured astronomical image capture application for 64-bit Linux Operating Systems, the Raspberry Pi3 and Pi4 and soon to be released for macOS. It is a deep sky and solar system imager.
The project was started by Nicola Mackin FRAS in order to produce a stable astronomical imaging application for use with the Imaging Source DMK, DFK and DBK range of cameras. Since then, the project has grown into a fully featured capture application written specifically for the Linux platform.
Download the AstroDMx Capture for Linux
Method 1
download the AstroDMx capture from our site,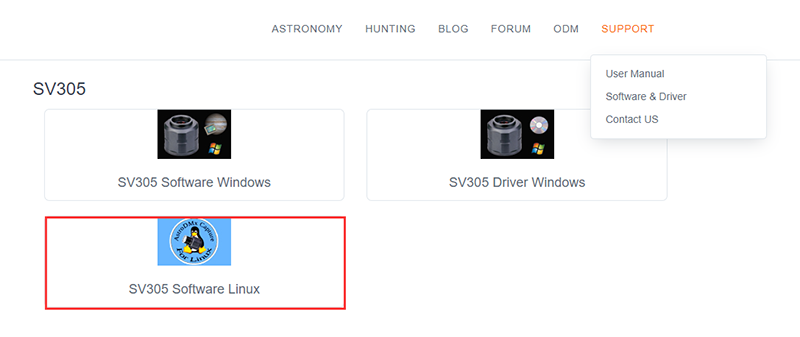 Method 2
Download the AstroDMx capture from the official site,
https://www.linux-astro-imaging.uk/linux/astronomy/linux-downloads
Use the SV305 camera with AstroDMx Capture
Doc. Steve write a blog of how to use it, please check it
https://x-bit-astro-imaging.blogspot.com/2019/12/the-orion-nebula-with-astrodmx-capture.html
Note: SV305 Camera could work with Linux system and Windows system. for Mac OS, you have to wait for some time. Sorry.