WIFI connection; connect your smartphone for remote control; suitable for bird watching photography and target training; allow you to see the surface of the target in real time on your phone; greatly improve efficiency and comfort;
CS-C interface; the front end of the camera is CS-mount; equipped with a CS-C adapter ring; which can be used with C-mount lenses or CS-mount lenses for shooting; time-lapse shooting is possible in schedule shooting mode;
32G TF card memory; equipped with 32G large-capacity TF card; it does not occupy the storage space of the mobile phone; you can download and share photos in real time.
Learn more details about how to connect SC001 camera, refer to: https://www.svbony.com/blog/how-to-use-svbony-sc001-wifi-spotting-scope-camera/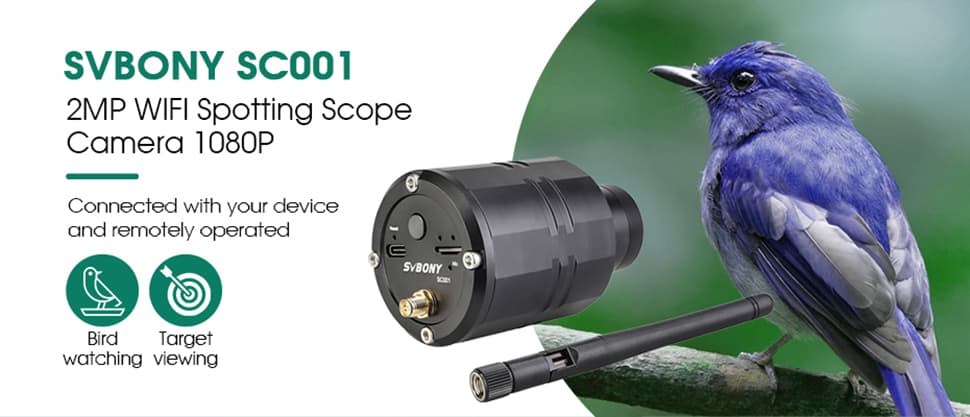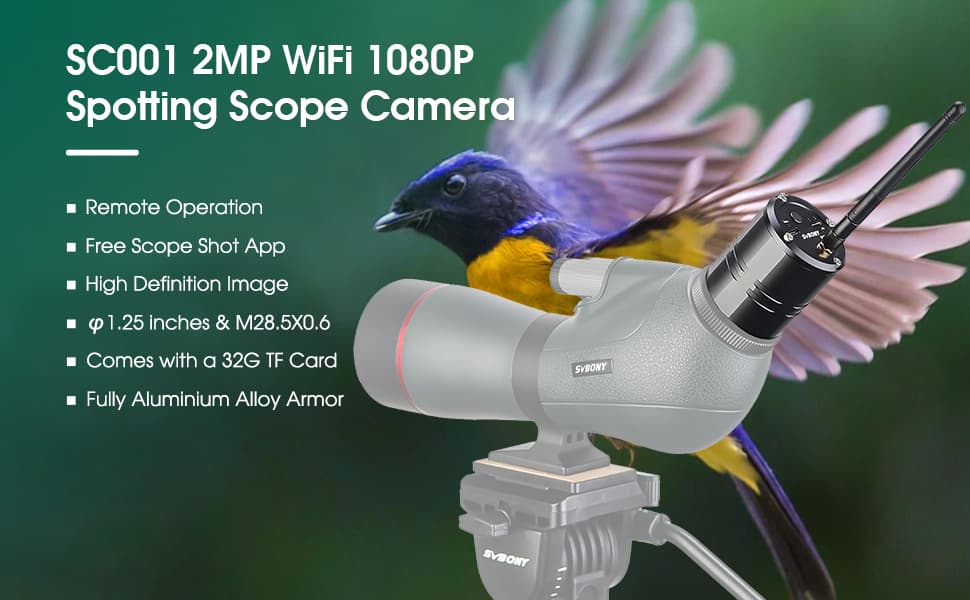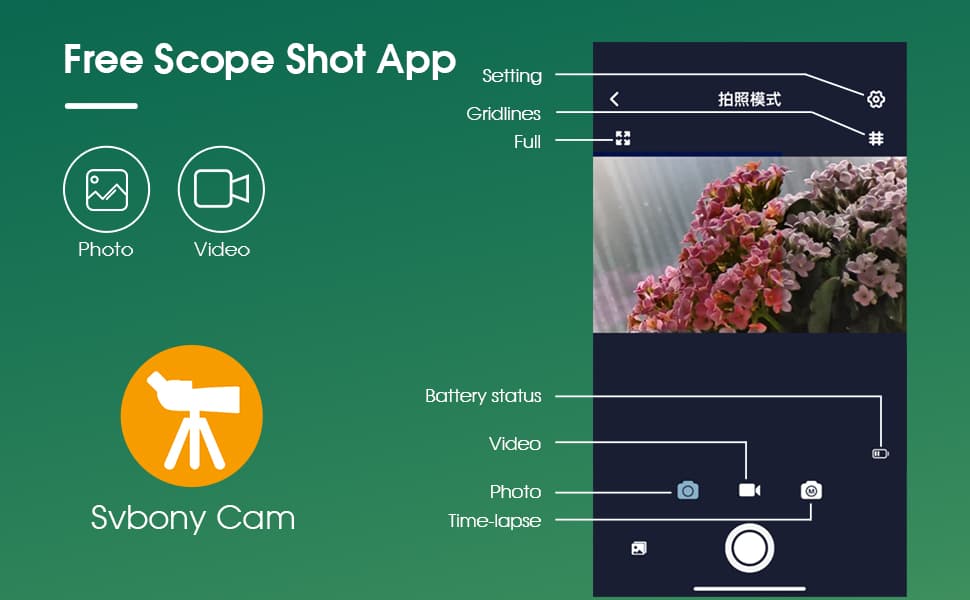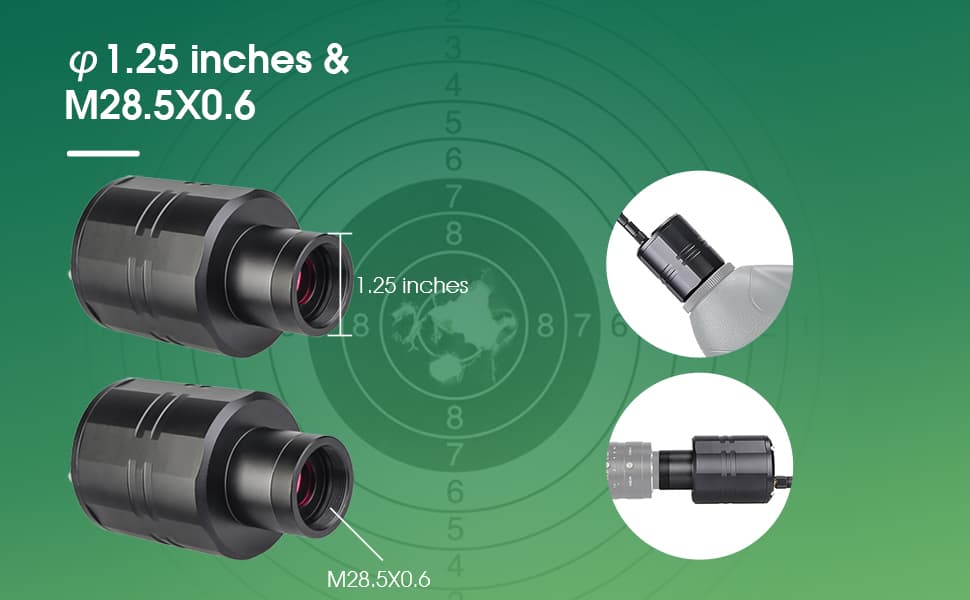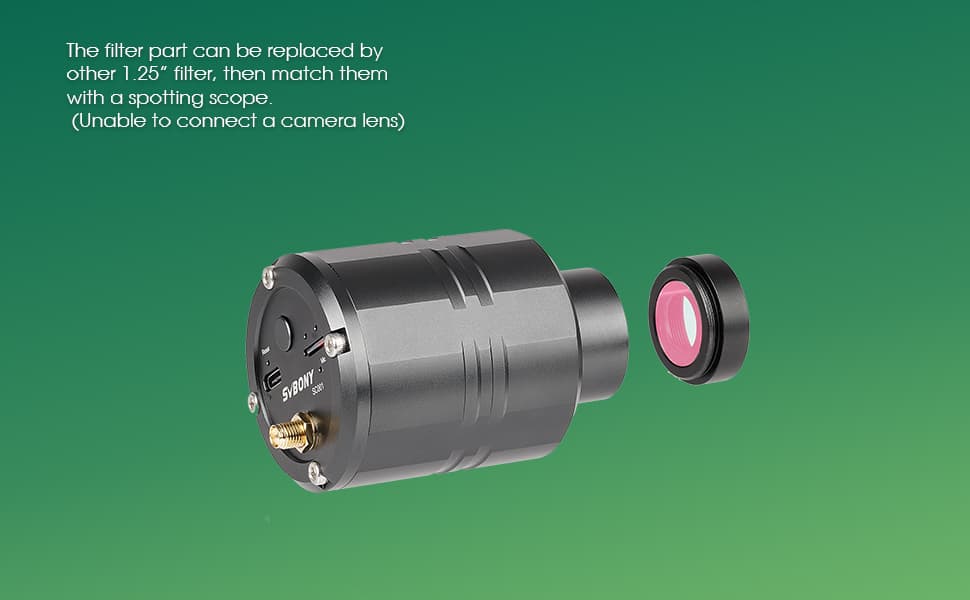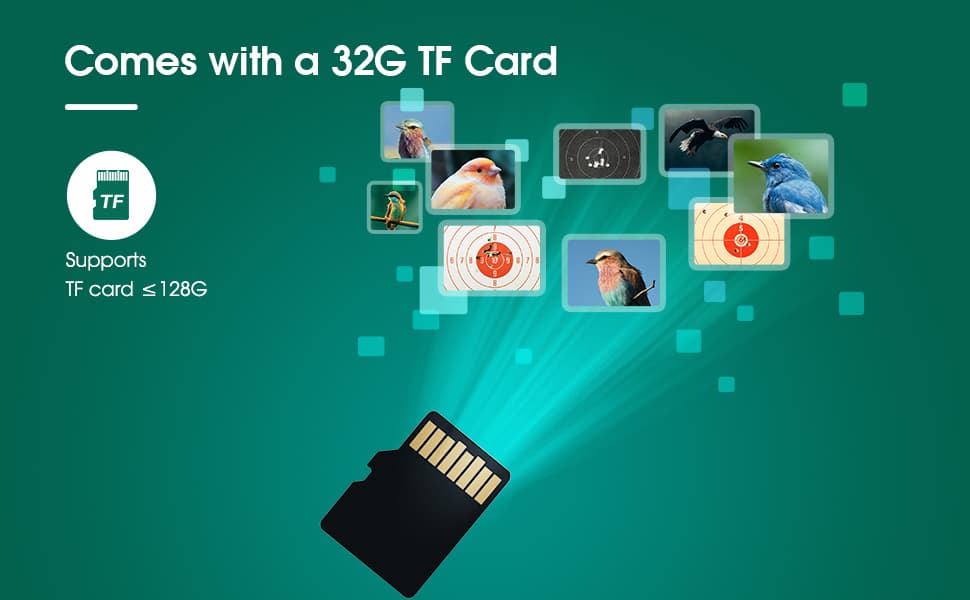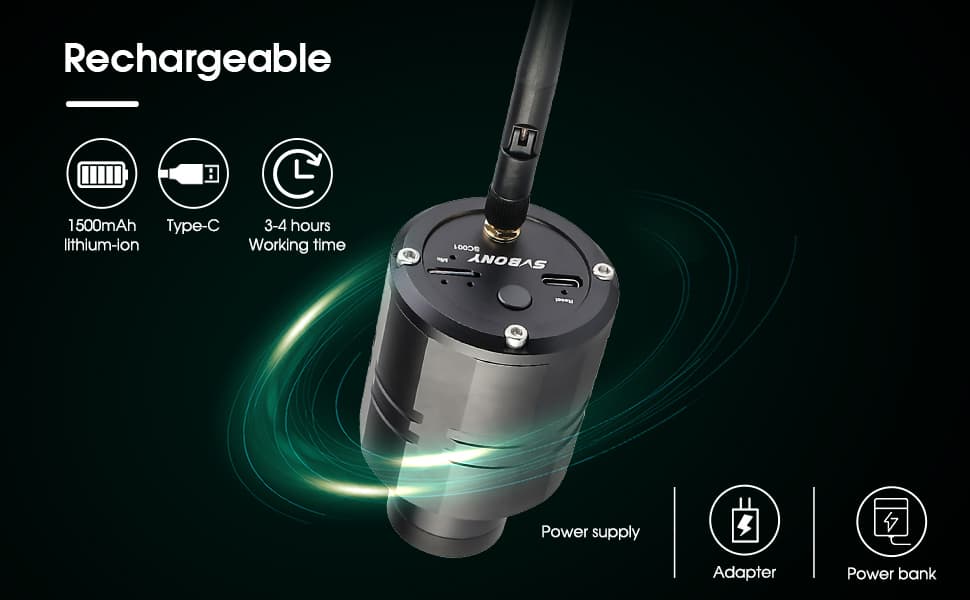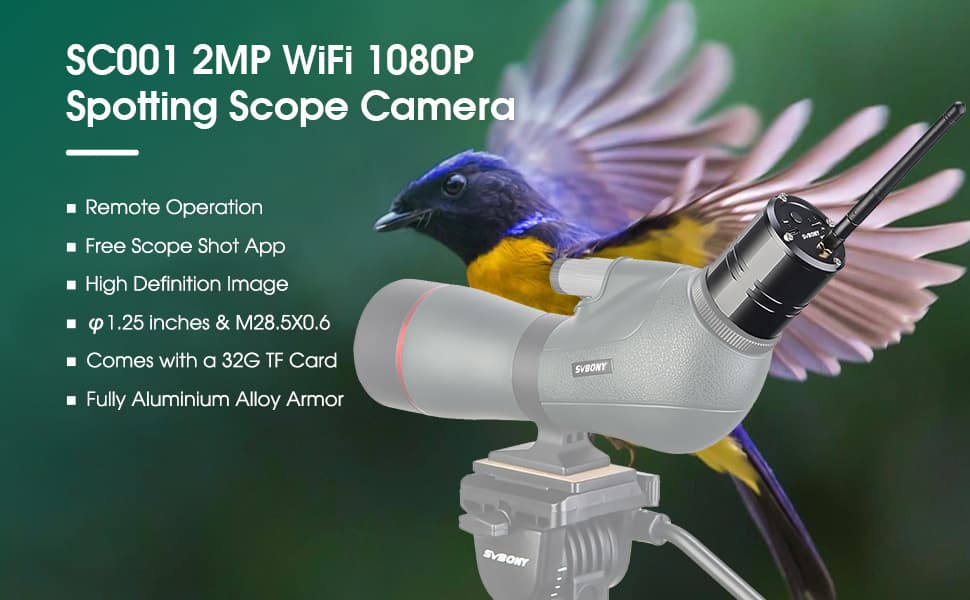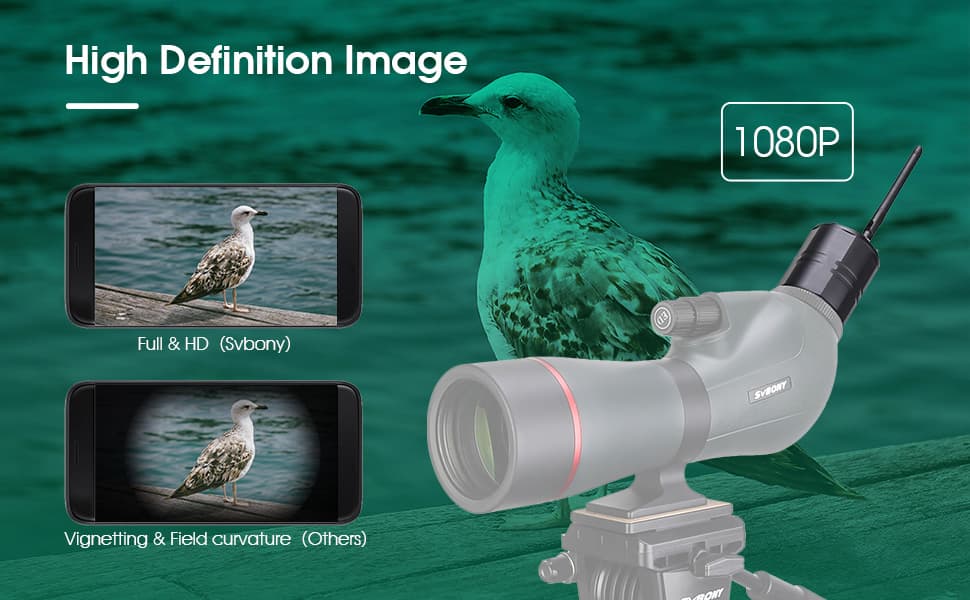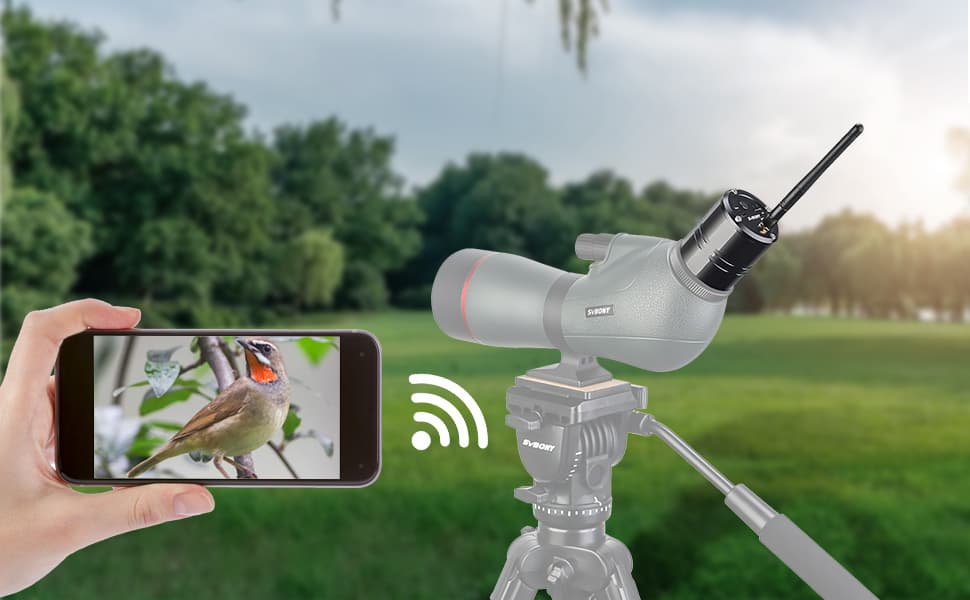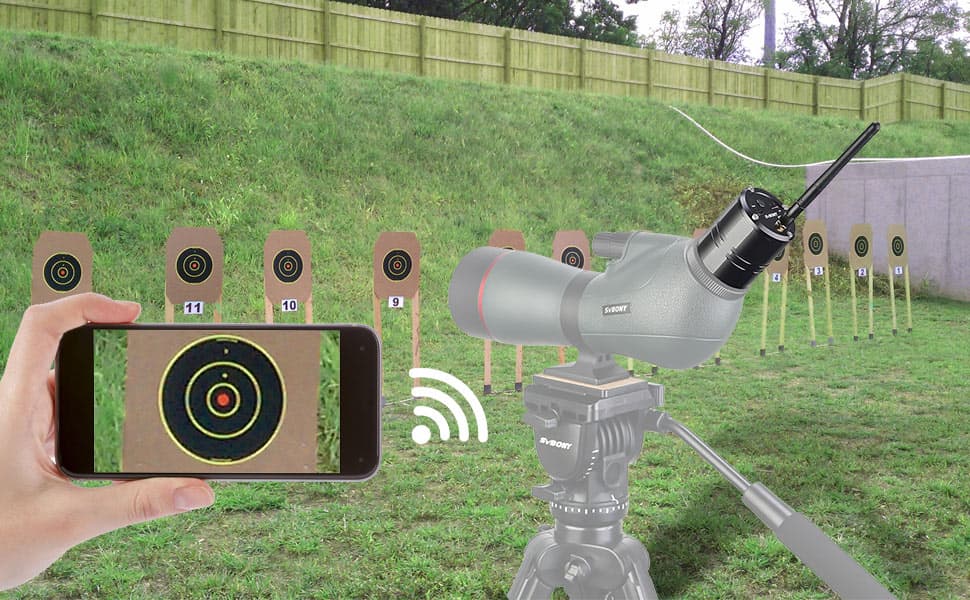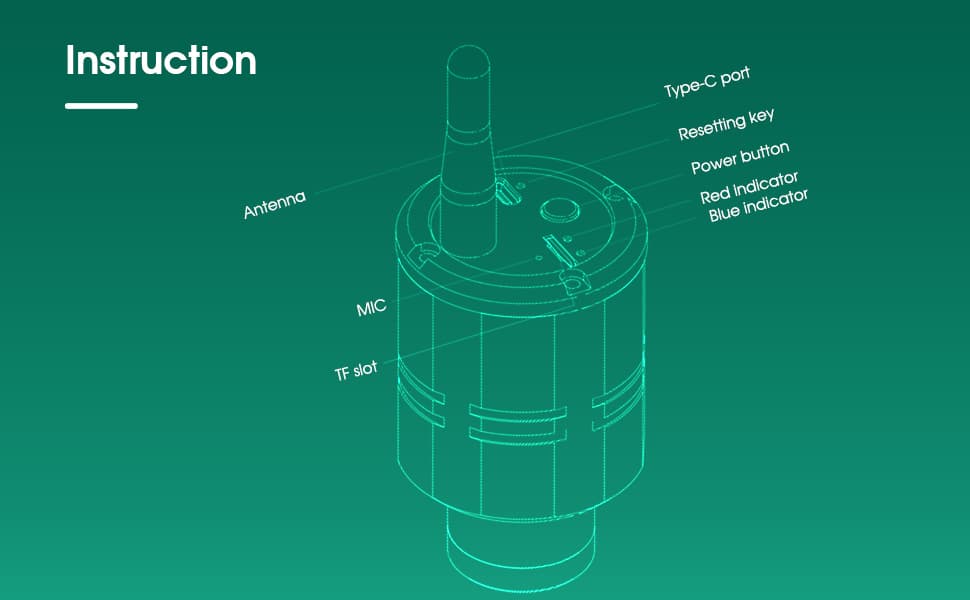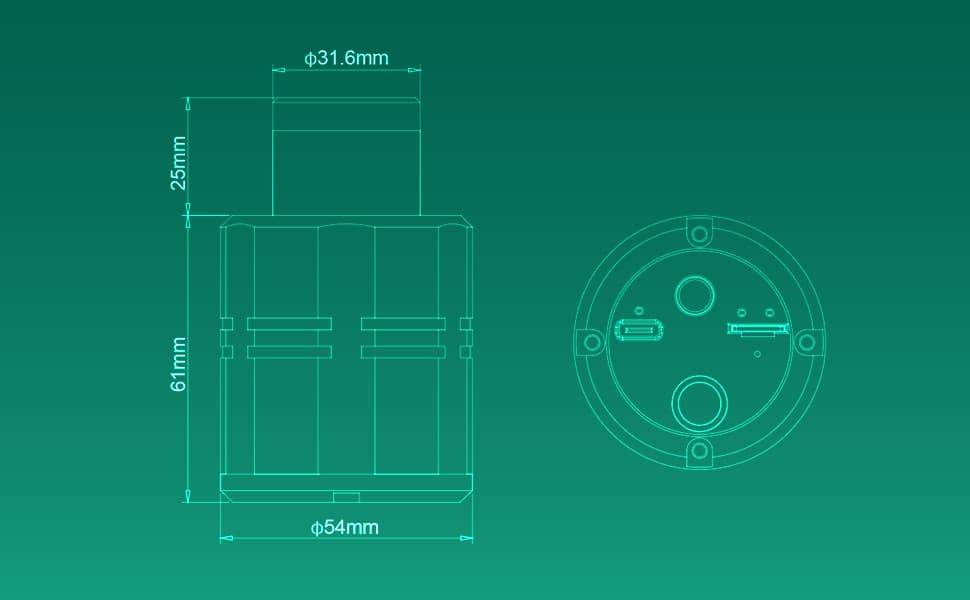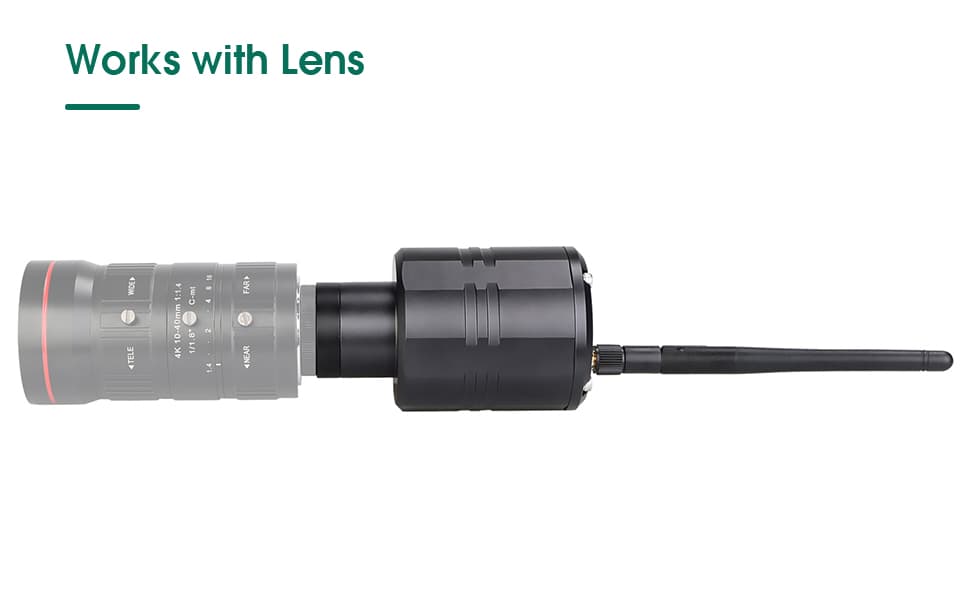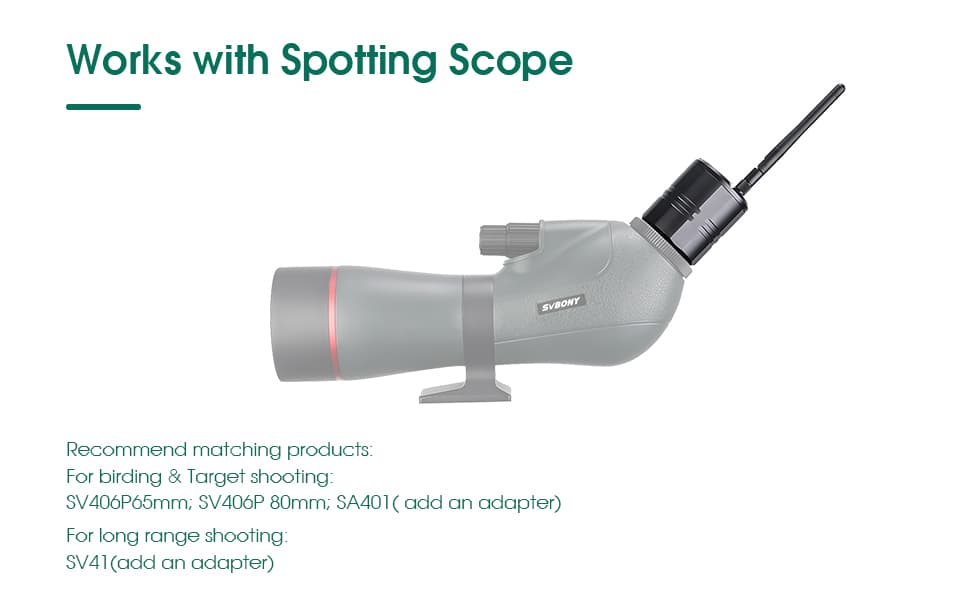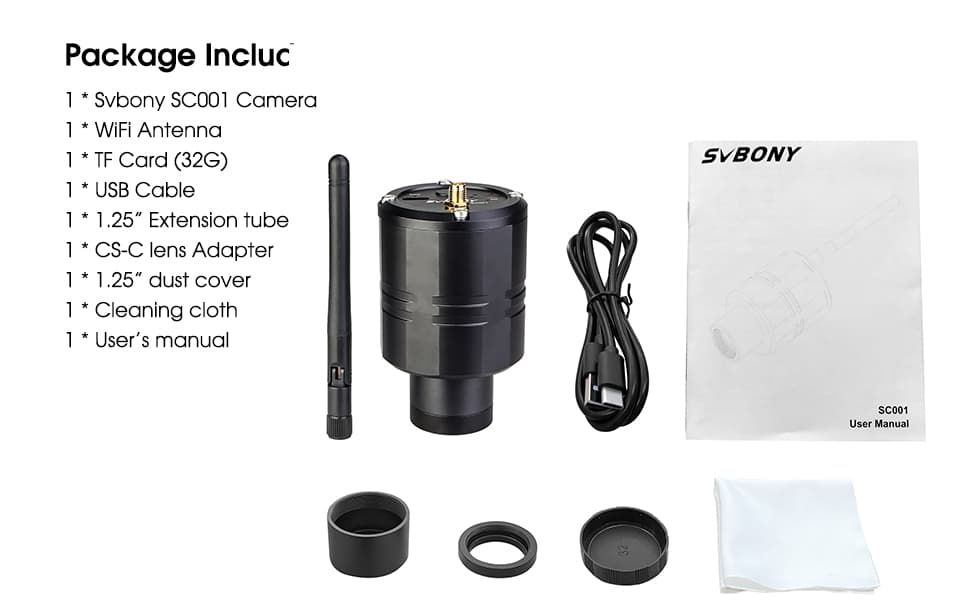 Extremely well-designed and well-made WiFi color CCD camera!
I recently purchased the SC001 and several other SvBony products from SvBony Direct on Amazon with great Prime Day deals. I tested the camera's operations and functions on an SV406 using SvBony adapters for fitting over that spotting scope's fixed eyepiece. Note: for best results, SvBony recommends using this SC001 camera on their SV406P and two other spotting scopes which allow connection of the SC001 directly to those scopes for imaging, instead of using the supplied eyepieces that come with those scopes for visual use. (See their recommendation on this SC001 product page and product pages for SV406P and SA401, etc.) My plan is to later purchase an SV406P or SvBony's new high-end apochromatic (APO) spotting scope, SA401 to use with this SC001 camera. In the meantime, I plan to purchase a SvBony MK105 Maksutov Cassegrain telescope to use primarily as a lunar telescope, and I believe that my SC001 will be excellent for that, based on seeing lunar images taken with the SC001 and MK105 by others. I have an extremely good heavy duty tripod and professional quality pan and tilt video head for that specific purpose. Regarding my first impressions and initial test run of my SC001, it is of clearly high quality in every way. It looks and feels premium. It works extremely well on my Motorola (Android) phone on which I downloaded the SvBonyCam app. The process was very easy, and the SC001 WiFi camera, SvBonyCam app, and Android phone work extremely well and smoothly together. Superb!
Easiest way for digiscoping
Very good quality product. Works very well. You need less than a minute to set it up and start filming or taking photos. I hope SVBONY also add a 4K version in the future, but this one already allows for good quality capture. SVBONY team are very helpful with any questions too, which is really good.
Compatibilité
Bonjour, je vient de tester le produit. les photos sont transférables sans aucun soucis, par contre les vidéos ne sont pas téléchargeables??? Qd je branche l'appareil sous windows 11 avec le câble usb, il n'y a aucune reconnaissance windows. pas de branchement UVC comme indiqué dans la documentation. Un peu décevant de devoir manipuler la carte 32Go. Reste un peu septique sur le qualité des photos mais l'idée est bonne pour l'observation de la nature et du ciel.
| | |
| --- | --- |
| Brand | SVBONY |
| Model | SC001 |
| Solution | 1920*1080 |
| Effective Pixels | 2M |
| Wifi module | 2.4G,150Mbps |
| Storage | TF Card. Max support 128G, the package includes one 32G TF card |
| TF card USB Type | Type-C |
| Build-In Battery | 1500 mAh |
| Video | support |
| Photograph | support |
| Plan to take pictures | support |
| Working Humidity | 20%RH-80%RH |
| Storage Humidity | 20%RH-95%RH |
| Operating Temperature | -10°C~50°C |
| Storage Temperature | -20°C~60°C |
| Weight | 184g |
| Package | 150mm*132mm*70mm |
Description:
Svbony SC001 is a WiFi electronic camera for spotting scopes, with generates wifi hotspot, It could be connected with mobile phone via APP, people could capture photos and video on the APP directly, and share to social media asap. The photos or videos file could be saved to the TF card included, and downloaded to the mobile phone, more convenient to edit on a mobile phone and share with your friends.(SC001WiFi camera supports Android and iPhone.)
External power supply voltage and current (DC5V 1A)
A better viewing experience awaits!
Feature:
Universal Spotting scope WIFI Camera
The device generates its own Wi-Fi Hotspot
Mobile phone App, the app is a full-featured software application available for free
Universally Mounts directly to spotting scopes with 1.25-inch diameter eyepiece
Rechargeable LiPo Battery (estimated 1500mAh for 3-4 hour battery life)
Compatible with current Svbony Camera App
Capture pictures/videos directly through phone APP, then download and share to social media asap.
Sc001's certificates include: FCC, MIC and CE certification.
Package includes:
1 * Svbony SC001Camera
1 * WiFi Antenna
1 * TF Card (32G)
1 * USB Cable
1* 1.25" Extension tube
1* CS-C lens Adapter
1* 1.25" dust cover
1* Cleaning cloth
1* User's manual