SM403 Forward-Mounted Binocular Stereo Microscope has vertical arm bracket; which reduces the pressure on the cervical spine, 3 magnification settings. LED dual light source design and the brightness is adjustable. It is an ideal choice for circuit board welding, watch repair and seed quality testing.
SM403 Forward-Mounted Binocular Stereo Microscope
SM403 Forward-Mounted Binocular Stereo Microscope adopts a more stable one-piece design, give you a more comfortable experience.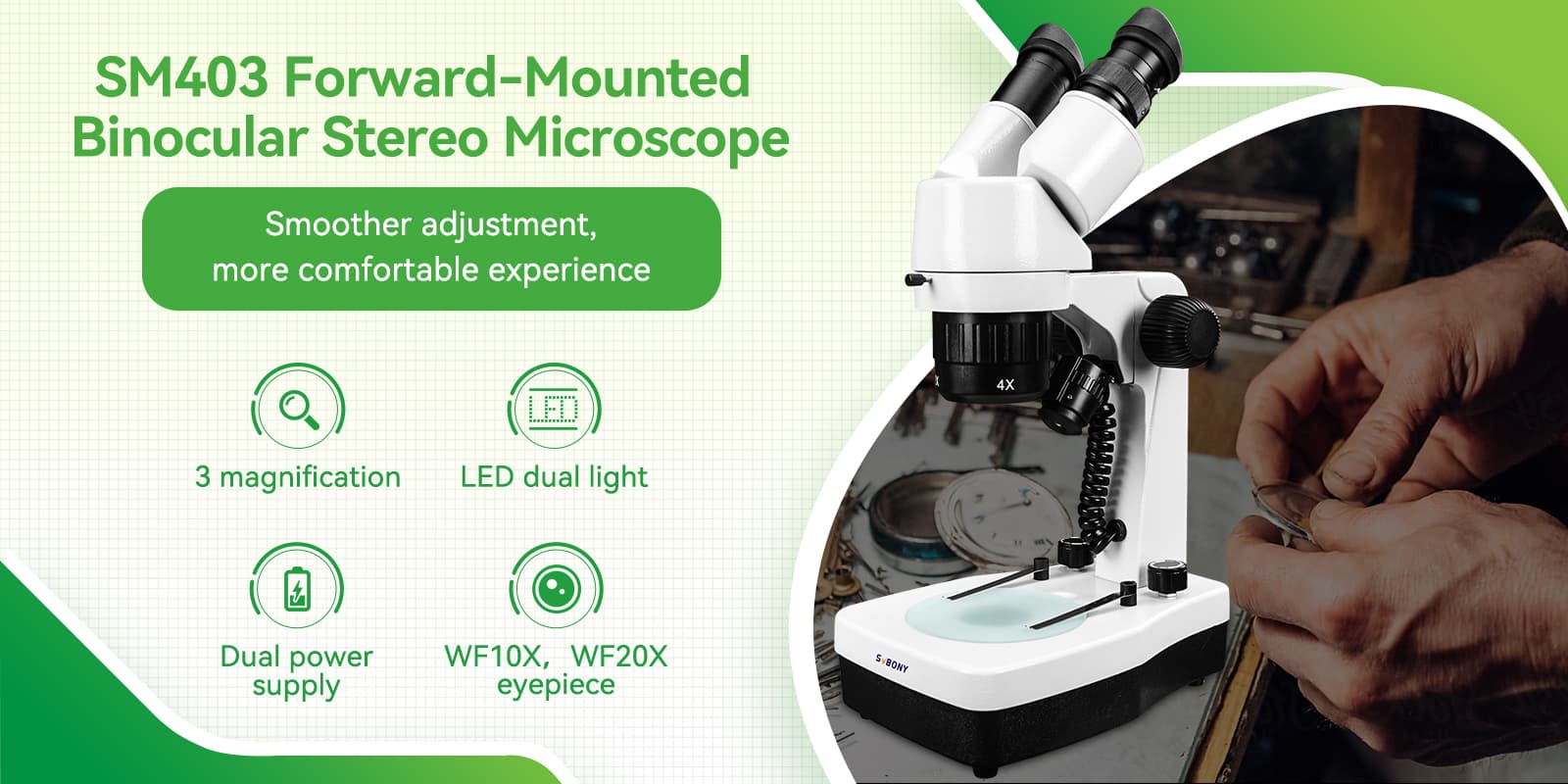 Vertical Arm Bracket
The vertical arm bracket makes the adjustment more convenient, eliminates the need for users to bend over too much and improve machine stability and accuracy.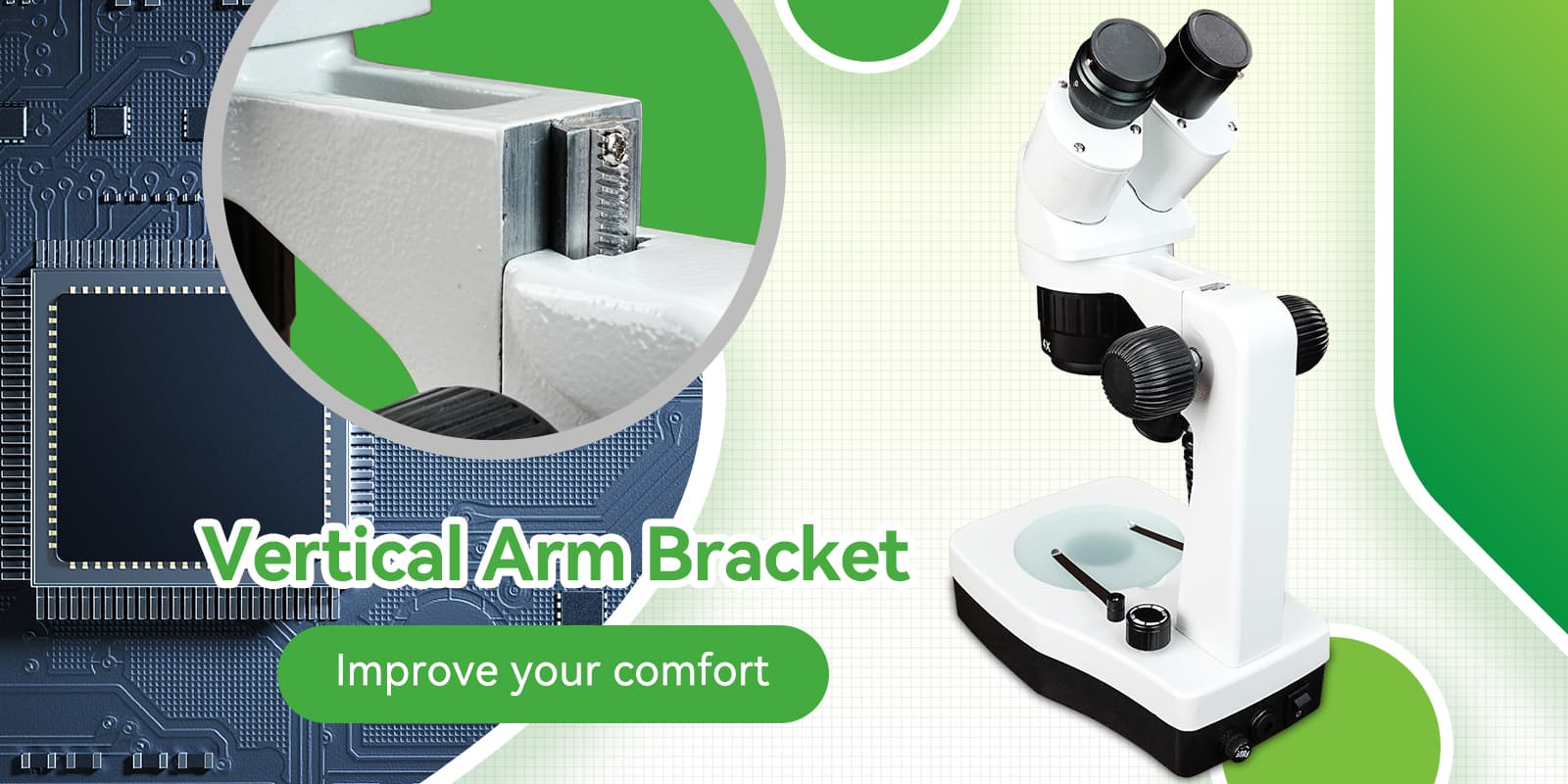 3 Magnification Optional
20X; 40X; and 80X magnification provides you with diverse observation options; allowing you to conduct precise observation as needed.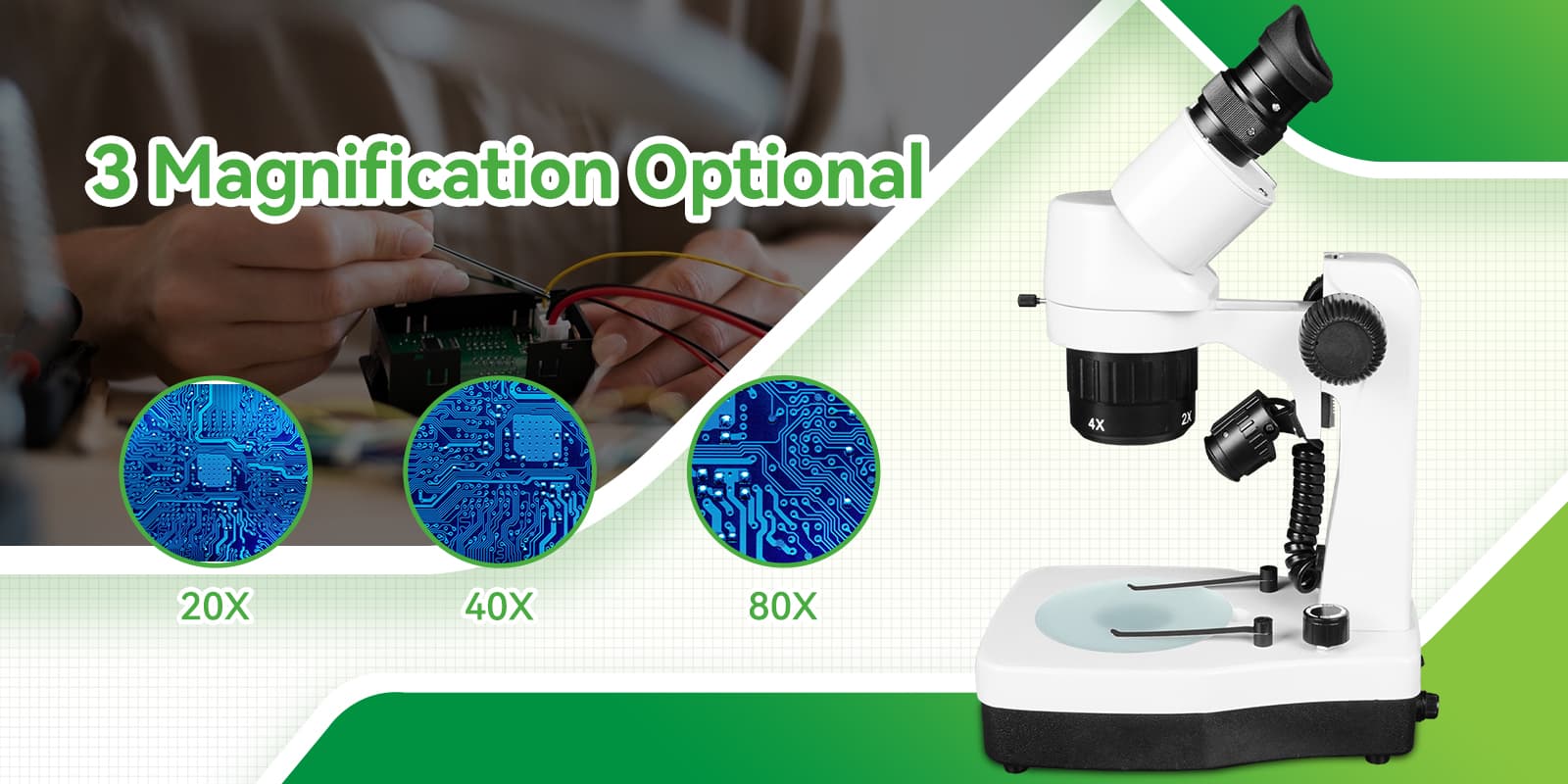 LED Dual Light Source
The binocular stereo microscope adopts LED dual light source design. Compared with lights made of other materials, the LED light brightness is more stable and the light is stronger.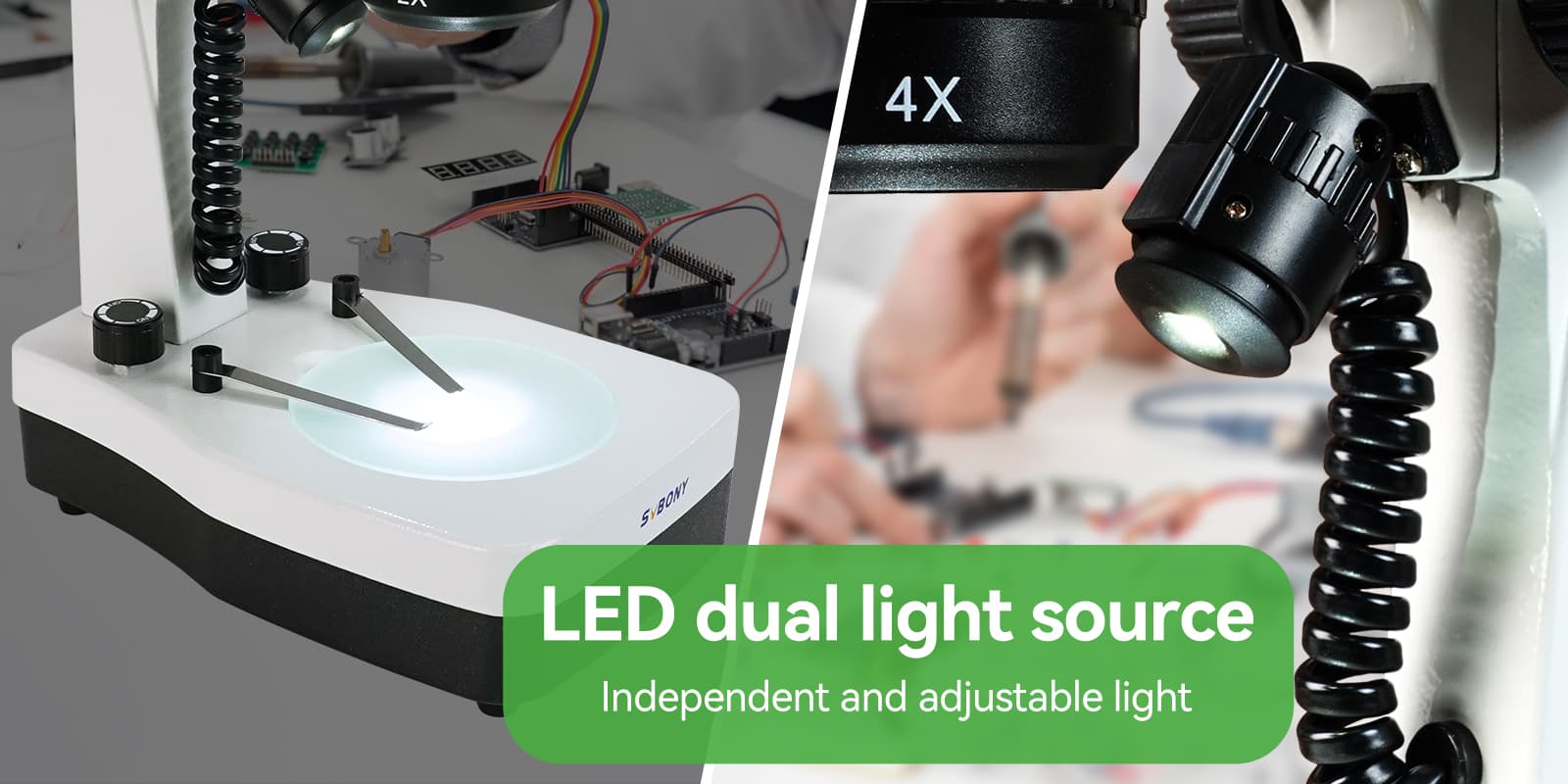 Dual Power System
The industrial stereo microscope has two power supply modes: AA battery power supply and 5V1A power supply, so that the use of the microscope is not restricted by the power cord, making it more convenient for outdoor use.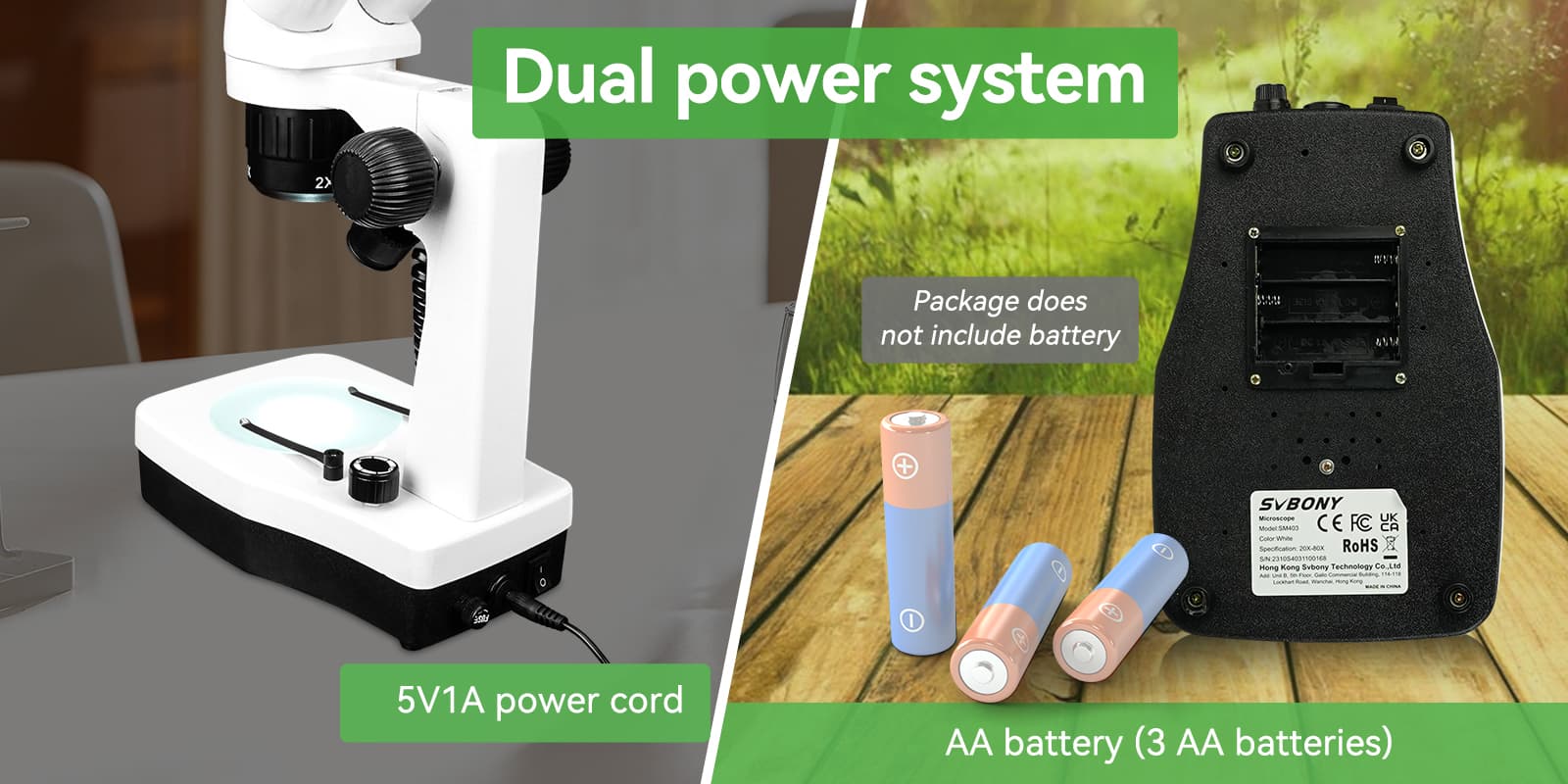 Two 95mm Stages
When more light is needed to observe the sample, frosted stage can be used. Use the reversible black and white stage when comparing samples.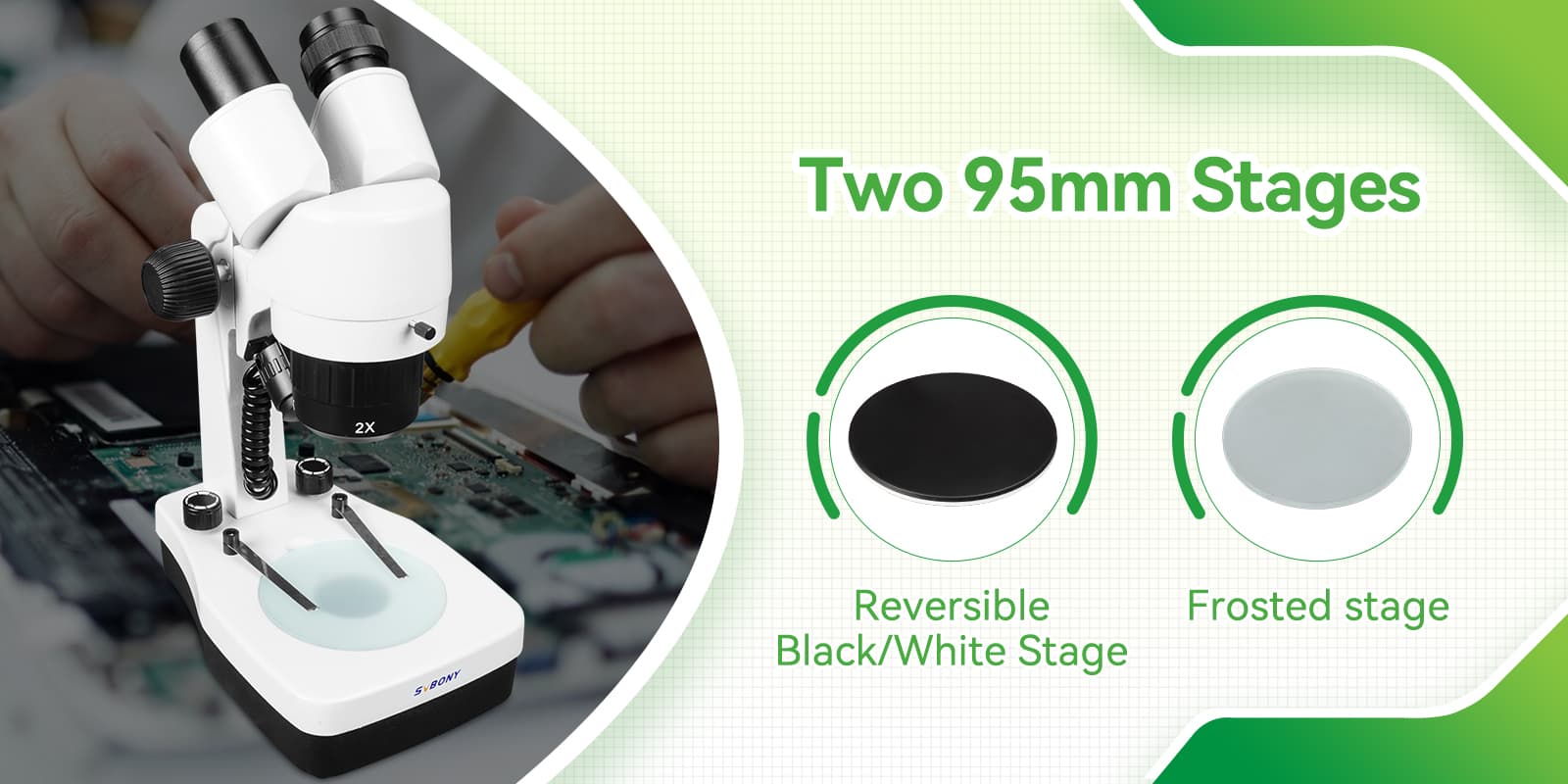 WF10X & WF20X Eyepieces
The WF10X and WF20X eyepieces combine with the 2X and 4X objectives to provide 20X,40X and 80X magnification.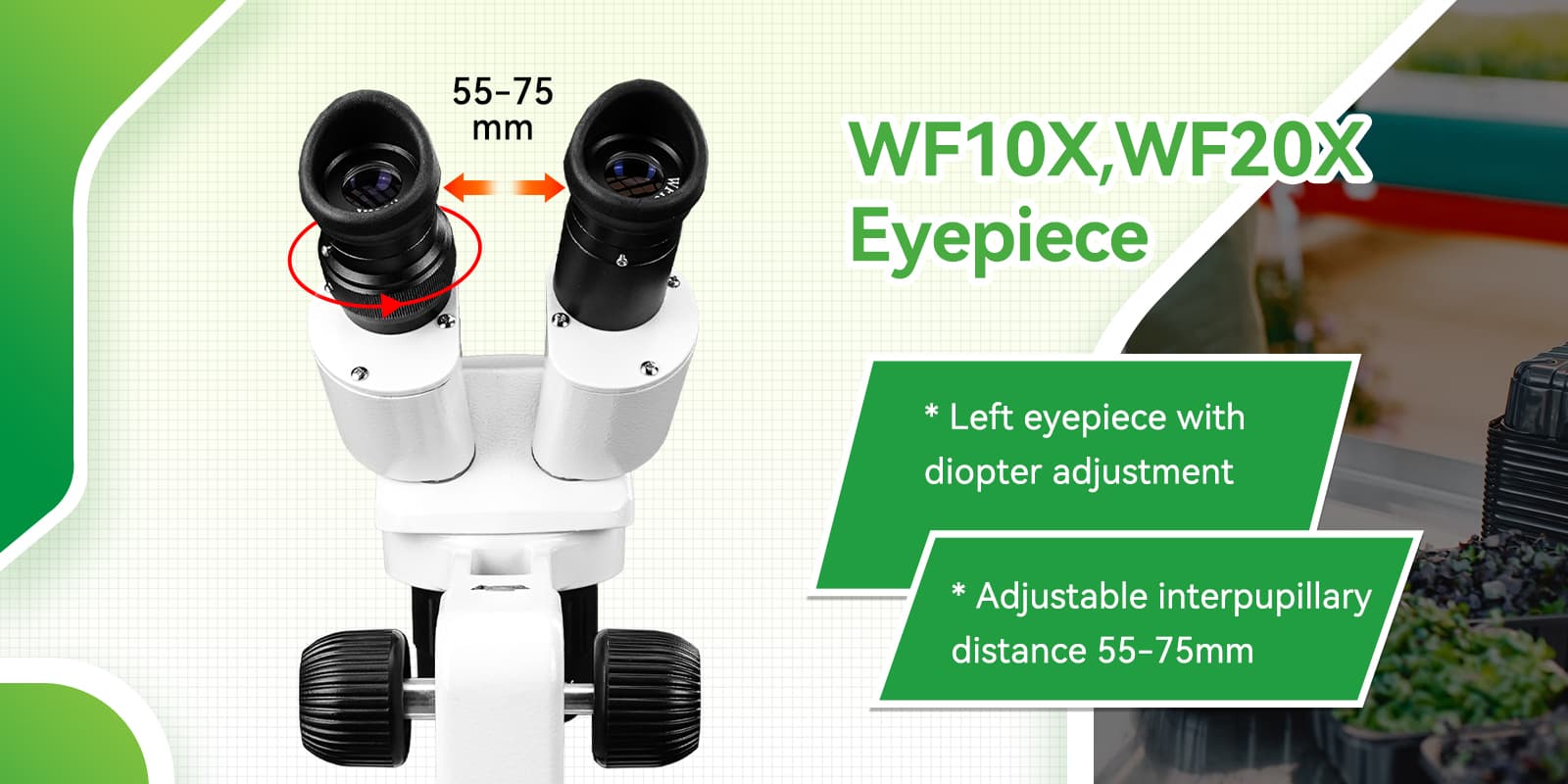 Left Eyepiece With Diopter Adjustment
The diopter of the left eyepiece is adjustable, and people with myopia can use it without glasses.Eyecups ensure comfortable observation.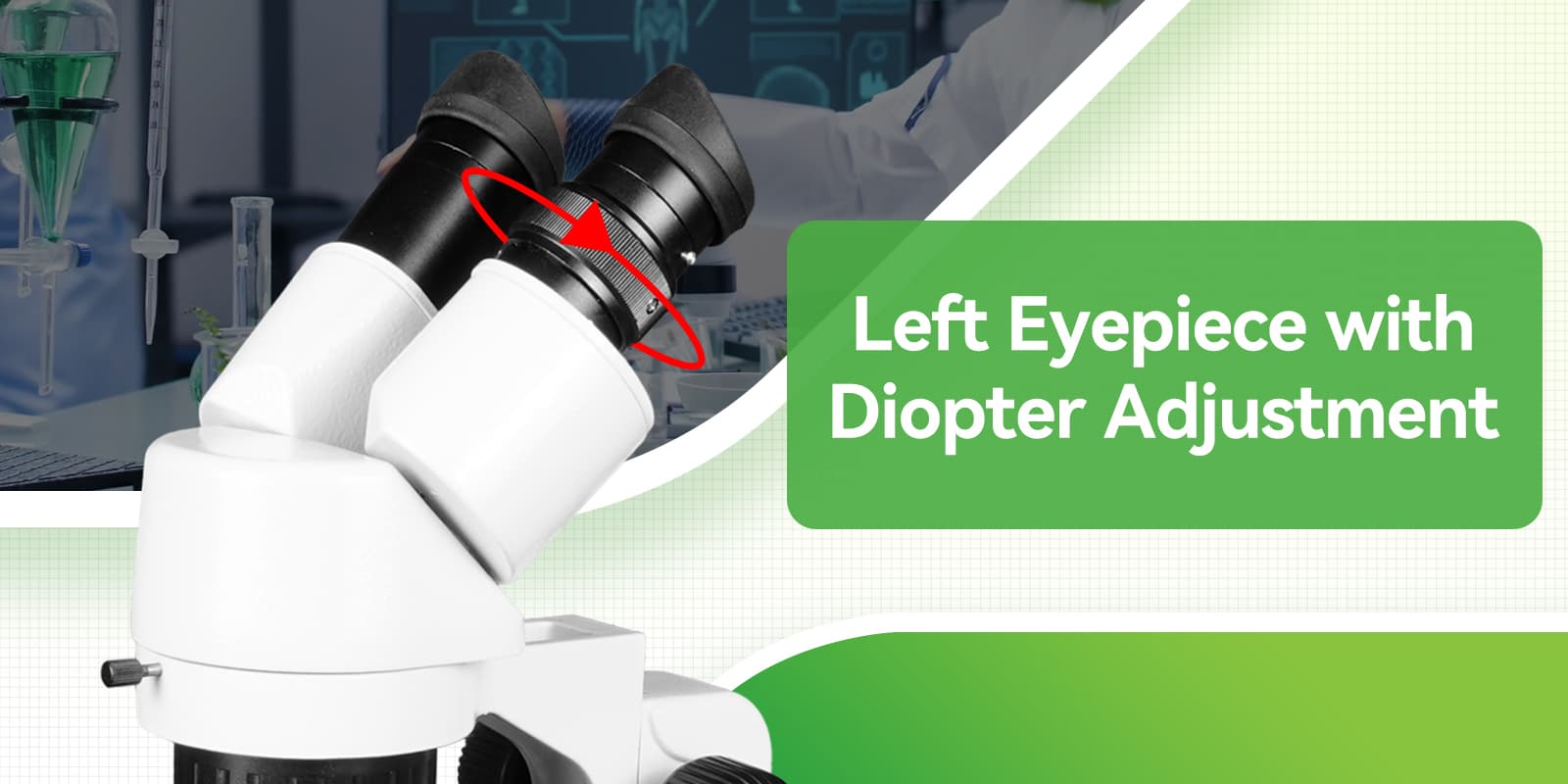 45°

Tilt &

360°

Rotation
The eyepiece of the SM403 stereo microscope is tilted at 45°, which is ergonomic and can relieve neck fatigue. The eyepiece can be rotated 360° to facilitate sharing experimental results with others.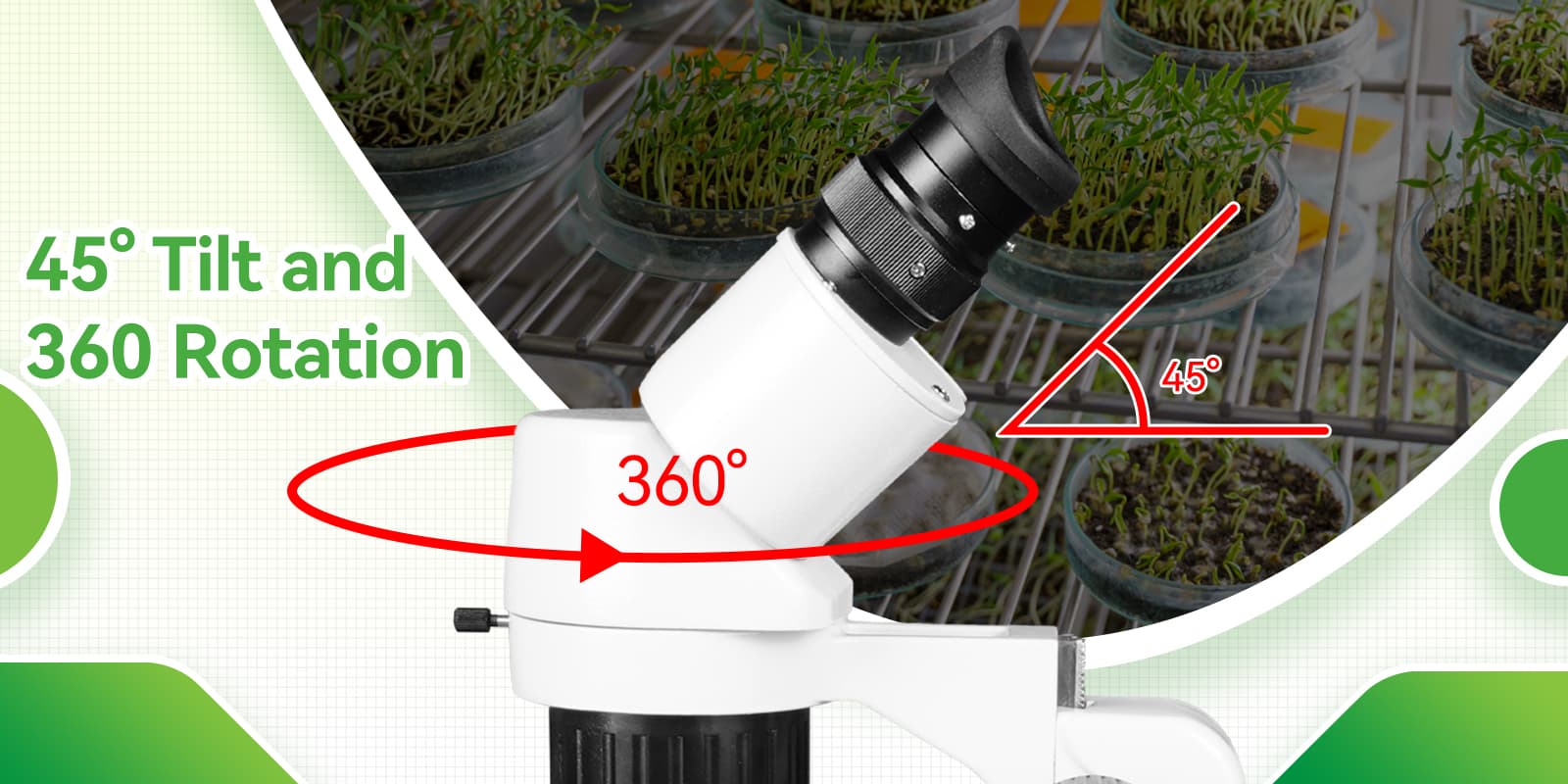 Aluminum Alloy Body
The aluminum alloy body ensures the stability of the machine and is not prone to shaking. And the material is sturdy and durable.You can also use it in harsh environment.
Wide Applications
SM403 forward-mounted binocular stereo microscope is ideal for small electronic and circuit board repair, engraving, small sample dissection, gemmology, and hobbyists who require detailed observation of solid objects such as coin or stamp collections.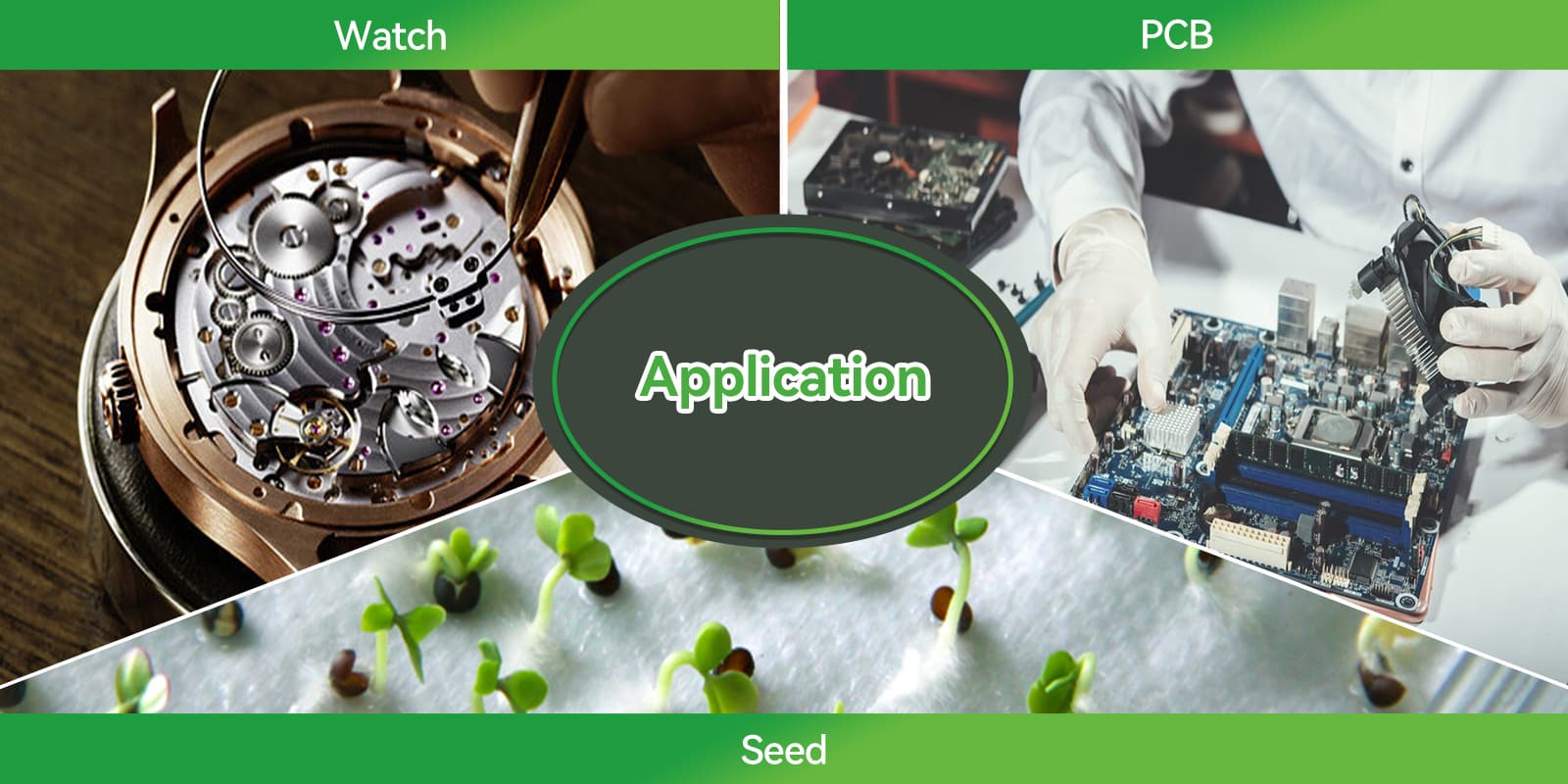 Package Includes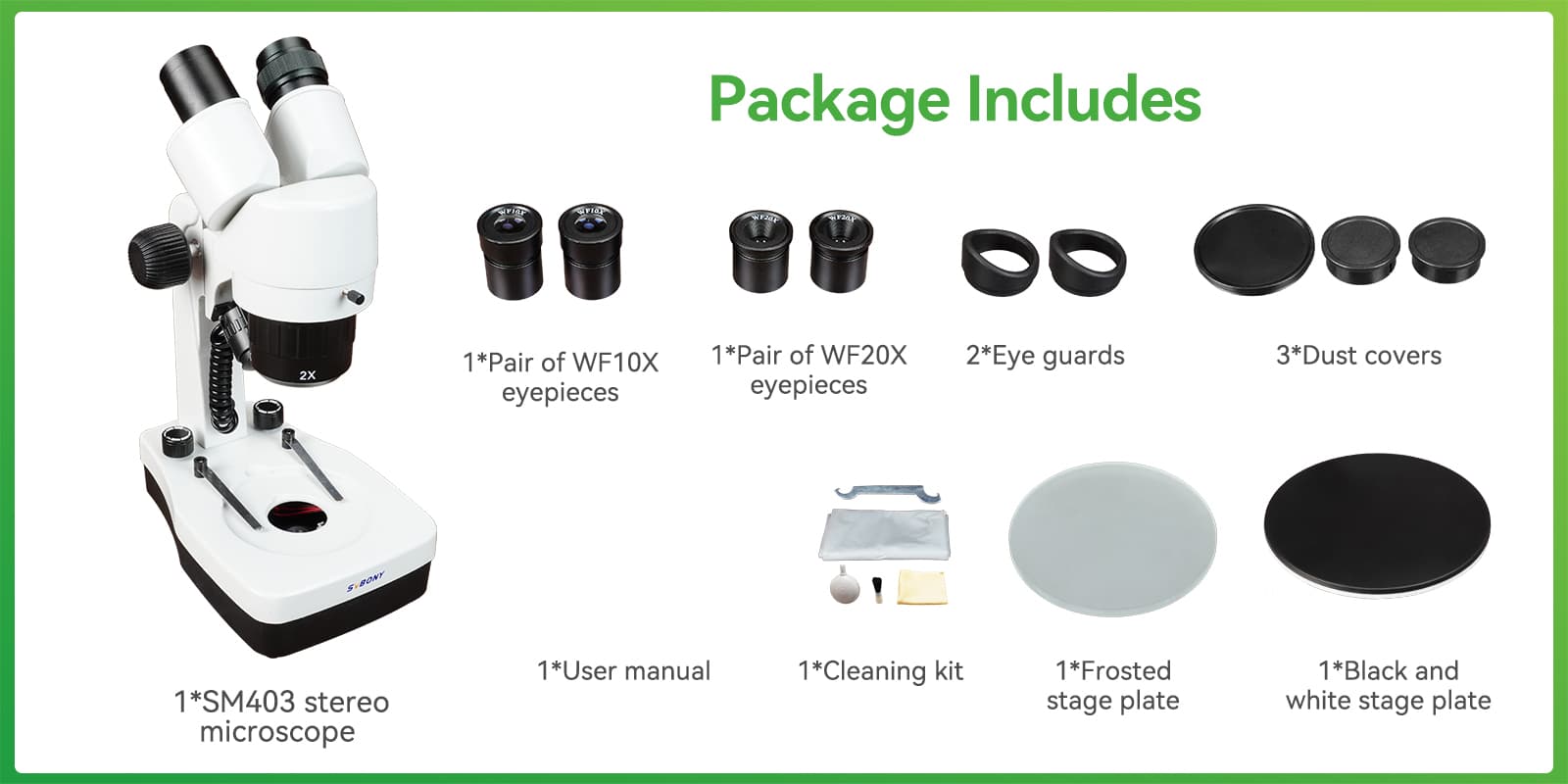 Specifications
| | |
| --- | --- |
| Brand | Svbony |
| Light Source Type | LED |
| Color | White,Blue |
| Real Angle of View | 45 Degrees |
| Magnification | Maximum 80x |
| Objective Lens Description | Achromatic |
| Power Source | 5V1A or Battery Powered |
| Interpupillary distance | 55-75mm |
| Item Weight | 2500g |
Features
1. Vertical arm bracket
2. 20X; 40X; and 80X magnification
3. LED dual light source
4. Dual power system & dual stage
5. Aluminum alloy body
6. 45°tilt and 360 rotation
7. WF10X,WF20X eyepiece
8. Rack and pinion stand
9. Wide range of applications