This dual narrow band telescope filter properly designed for astrophotography both in light polluted environment. Take color images without needing to combine images with multiple filters. Useful for imaging emission nebulae, planetary nebulae and supernova remnants. Designed to sharply cut off the inference of artificial light from sodium vapor or mercury vapor street lights and other unwanted disturbance like sky glow.
---
Special offers and product promotions
SV220 1.25 inches Dual-Band Nebula

Telescope

Filter for Astrophotography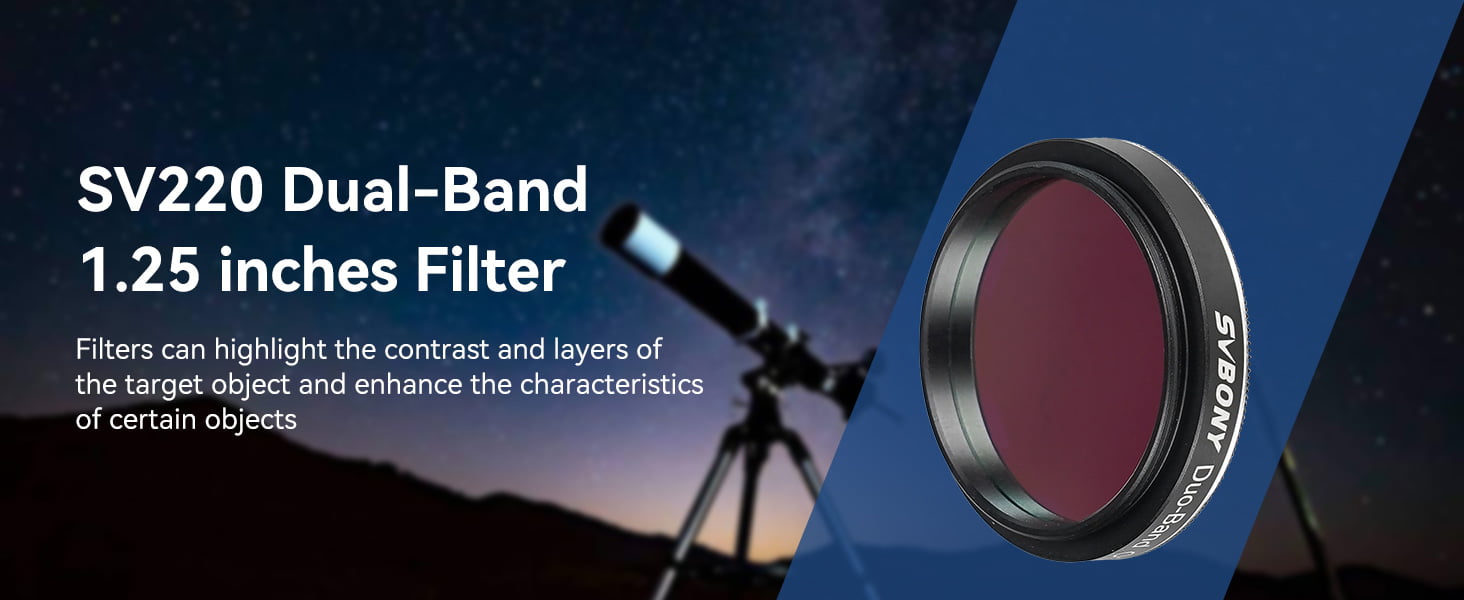 The filter is suitable for those astronomers who are already imaging using color cameras, and don't want to transition to a monochrome camera set. Be the efficient astronomer with SV220 Dual Band Filters.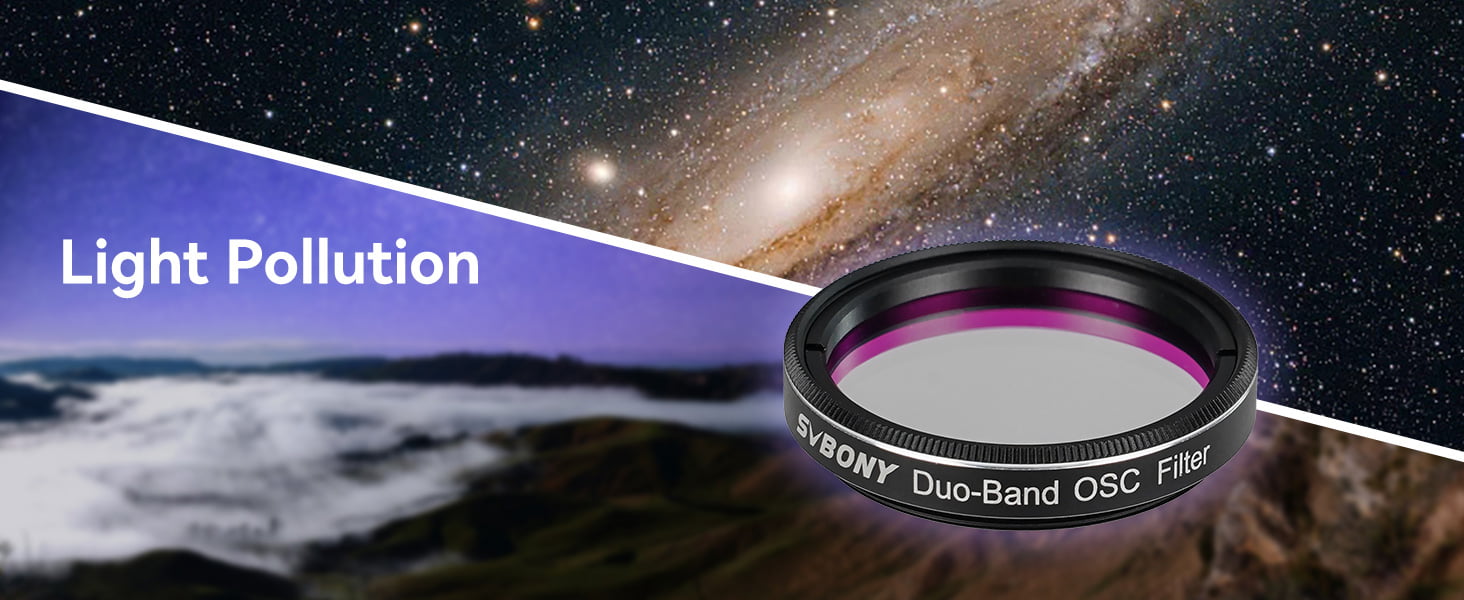 This SV220 telescope filter is also a fantastic solution to dealing with light pollution that is becoming more and more prevalent.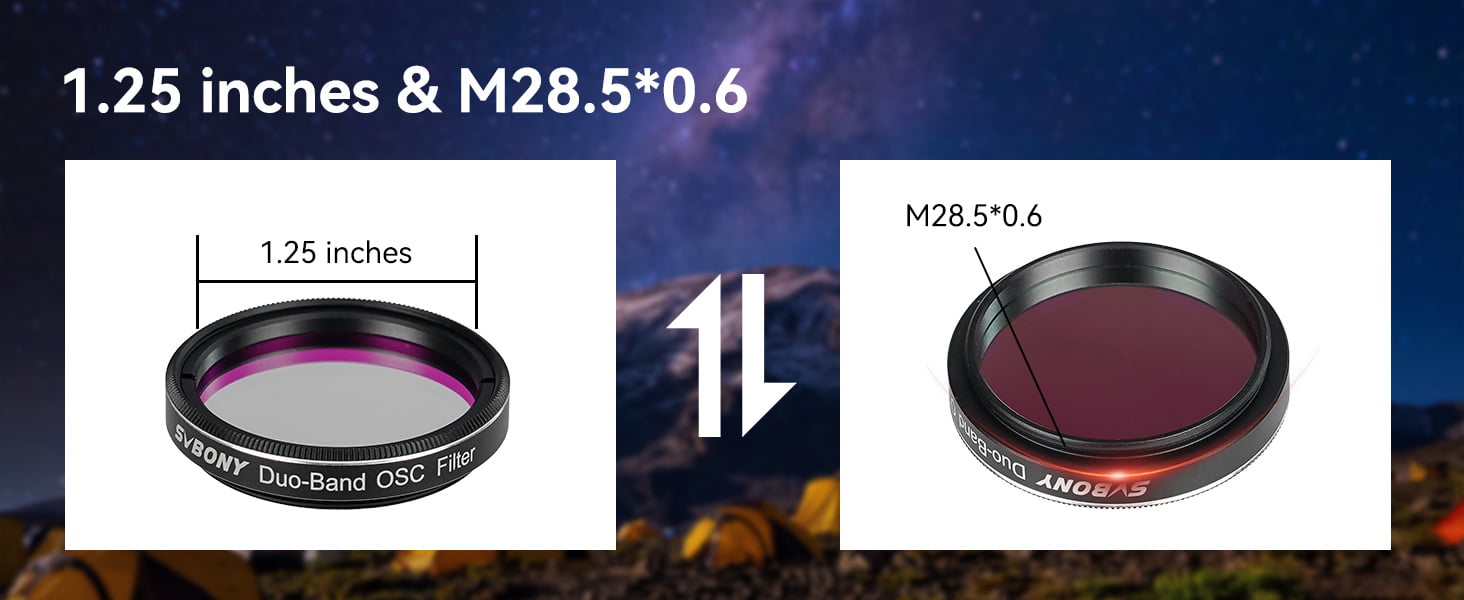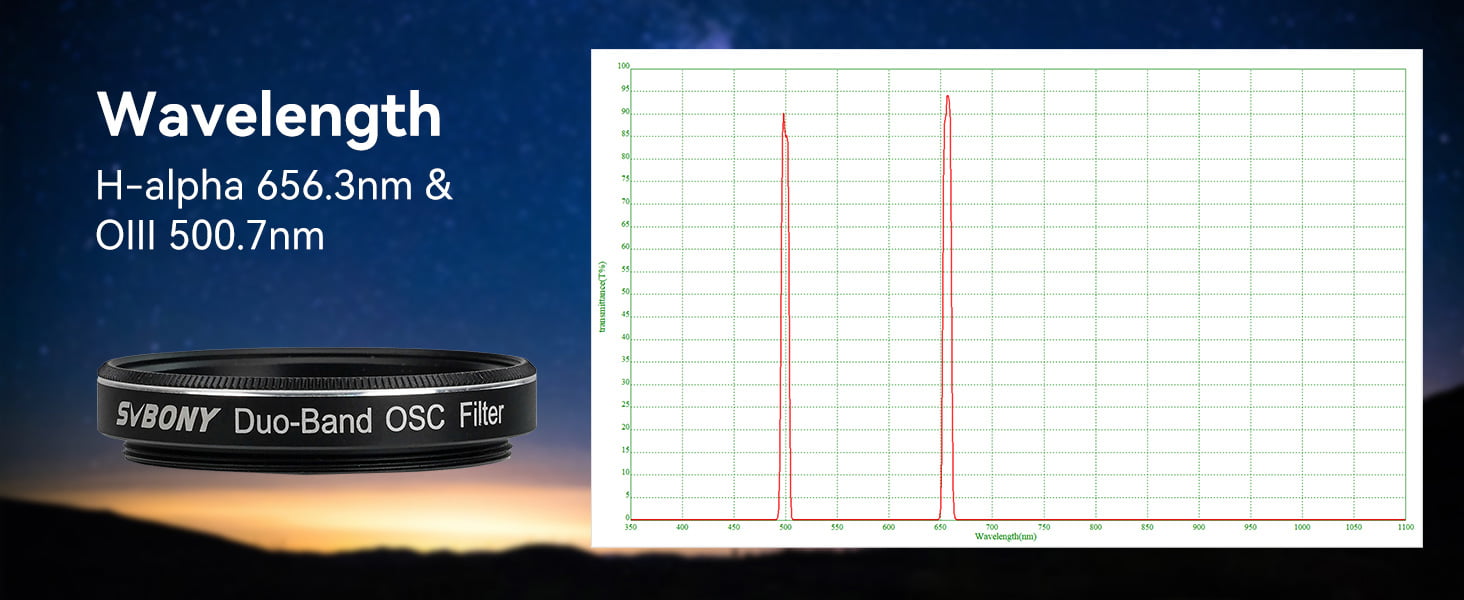 The filter has relatively wide bandpasses, especially at the OIII wavelength (500.7nm width).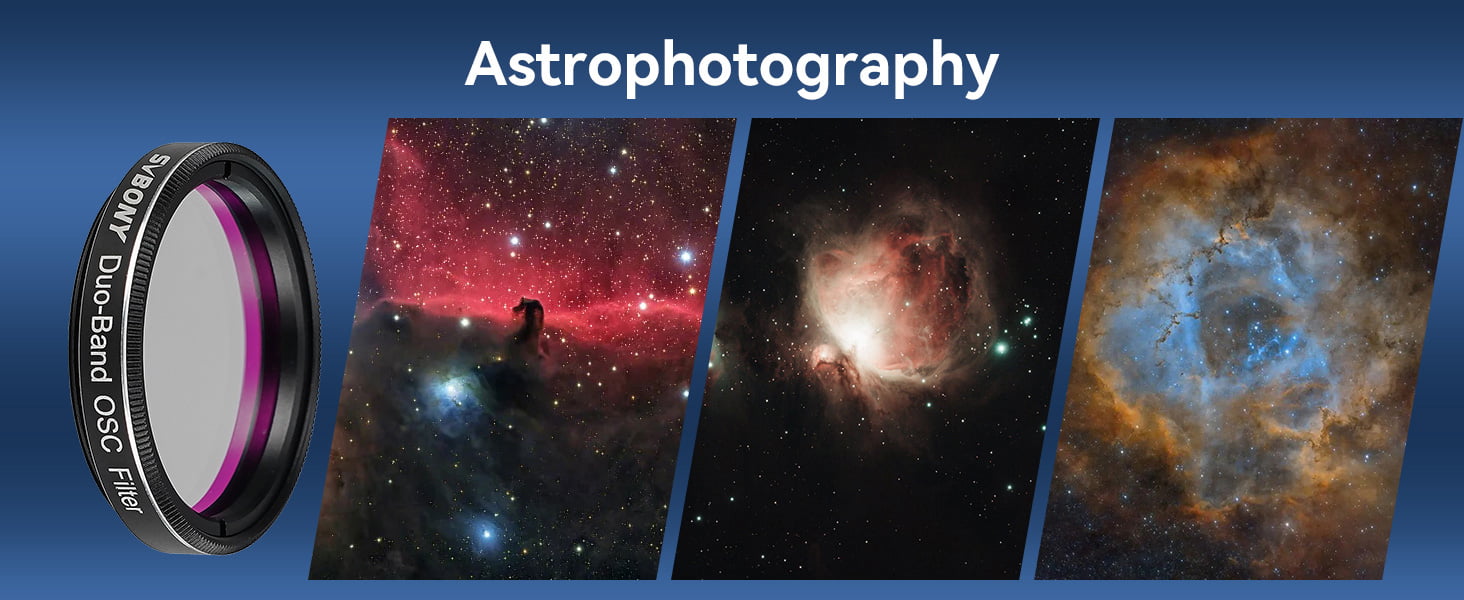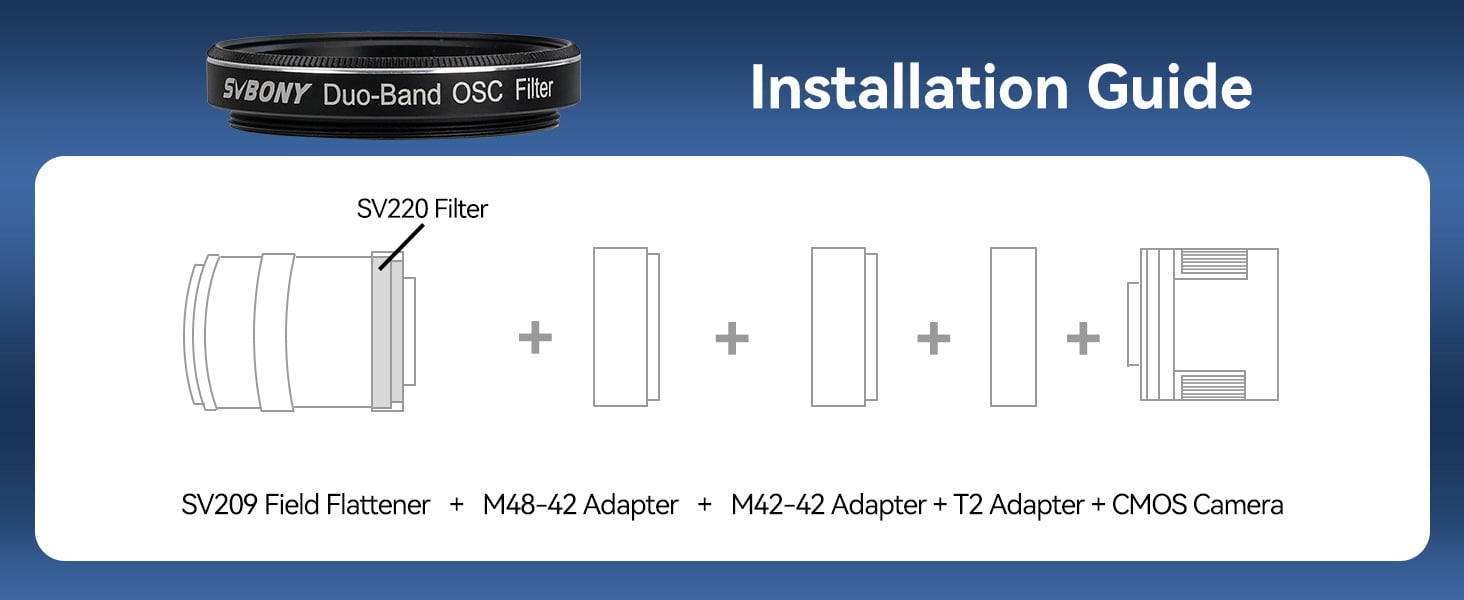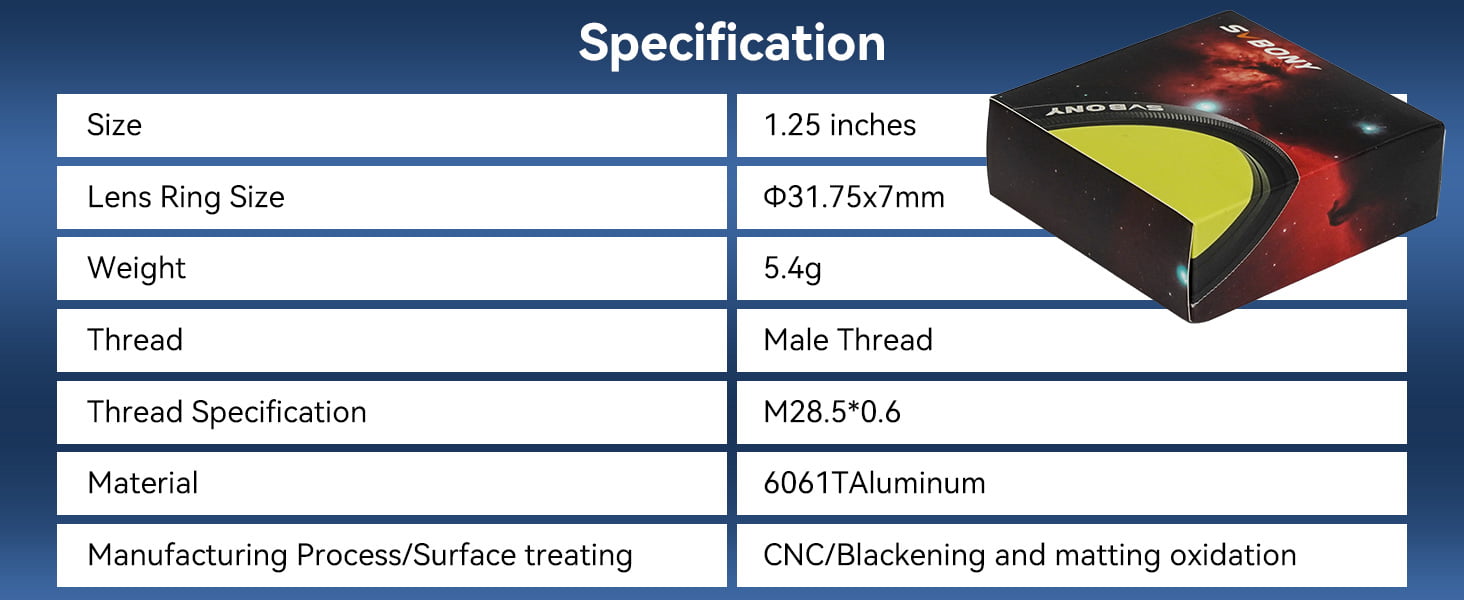 Specifications
| | | |
| --- | --- | --- |
| Brand​ | SVBONY​ | SVBONY​ |
| Model​ | SV220 | SV220 |
| Name​ | Duo-Band OSC Filter | Duo-Band OSC Filter​ |
| Size​ | 1.25-Inch | 2-Inch​ |
| Substrate Thickness​ | 1.85mm | 1.80mm​ |
| Clear Aperture​ | 26mm | 44mm​ |
| Wavelength Range​ | 300-1100nm | 300-1100nm​ |
| FWHM​ | OIII (7nm) & HA (7nm) | OIII (7nm) & HA (7nm) ​ |
| Blocking​ | >OD5 | OD5​ |
| Peak transmittance​ | 500.7nm@T>90%; 656.3nm@T>94%​ | 500.7nm@T>90%; 656.3nm@T>94%​ |
| Surface Quality​ | 60/40 | 60/40 ​ |
| Surface parallelism​ | 1/4λ | 1/4λ​ |
| Thread​ | M28.5*0.6 | M48x0.75​ |
| Single Thread​ | Yes | Yes​ |
| Net Weight​ | 7g | 12.5g / 0.44oz /0.027lb​ |
Features
1. Reduce light pollution; SV220 telescope filter can greatly reduce the interference from natural light sources such as moonlight or artificial light pollution such as street lighting
2. Astrophotographic;the filter enhances contrast during visual observation of gaseous and planetary nebulae in all sky conditions; the filter allows high-contrast imaging even in areas with strong light pollution
3. Wide range of application; the 1.25 inch dual band filter can be used with most cameras and filter wheels; no worry about not applicable
4. Improving contrast; an increase in contrast can be perceived as an increase in brightness; the filter makes the contrast of the nebula and sky background increase; not the nebula brighter
5. Strong applicability; the filter applicable to SVBONY's electronic cameras and astronomical cameras which the apertures are 1.25-inch; but for the different telescopes and cameras; the installation order of filters is also different
6. Easy to use; the dual-band filter makes it possible to simplify and decrease the difficulty and cumbersomeness of post-processing for users
7. Standard 1.25 inch size; the 1.25 inch size of the filter fits most telescope; and the weight is 5.4g; its central wave length reach 500.7nm