SVBONY SV223 1.25 inch 90-degree diagonal comes with a thick, precision, optical flat mirror with an enhanced 99% reflective dielectric coating. Dielectric 1/10 lambda levels substrate with 85.5mm optical length. Clicklock clamp for ultrafast clamping action. High precision 11.5mm thick mirror substrate flat for optimal image stability. Internal safety stop prevents barrels from hitting the mirror. Stainless Steel compression rings (both on diagonal and adapter) to prevent barrels from marring. High-quality machining out of the aluminum, internal antireflection baffling for highest contrast, provides higher contrast and resolution during critical planetary, lunar and binary star observations.
SV223 1.25 inch 90-degree Clicklock 99% Reflective Dielectric Coating Diagonal Mirror 1/10 Lambda Black
SV223 diagonal can be combined with 1.25" eyepieces and barlow lens; suitable for any 1.25" telescope accessories. SV223 diagonal is used in conjunction with astronomical telescopes and can be used for astronomical scene observations such as planets and deep space.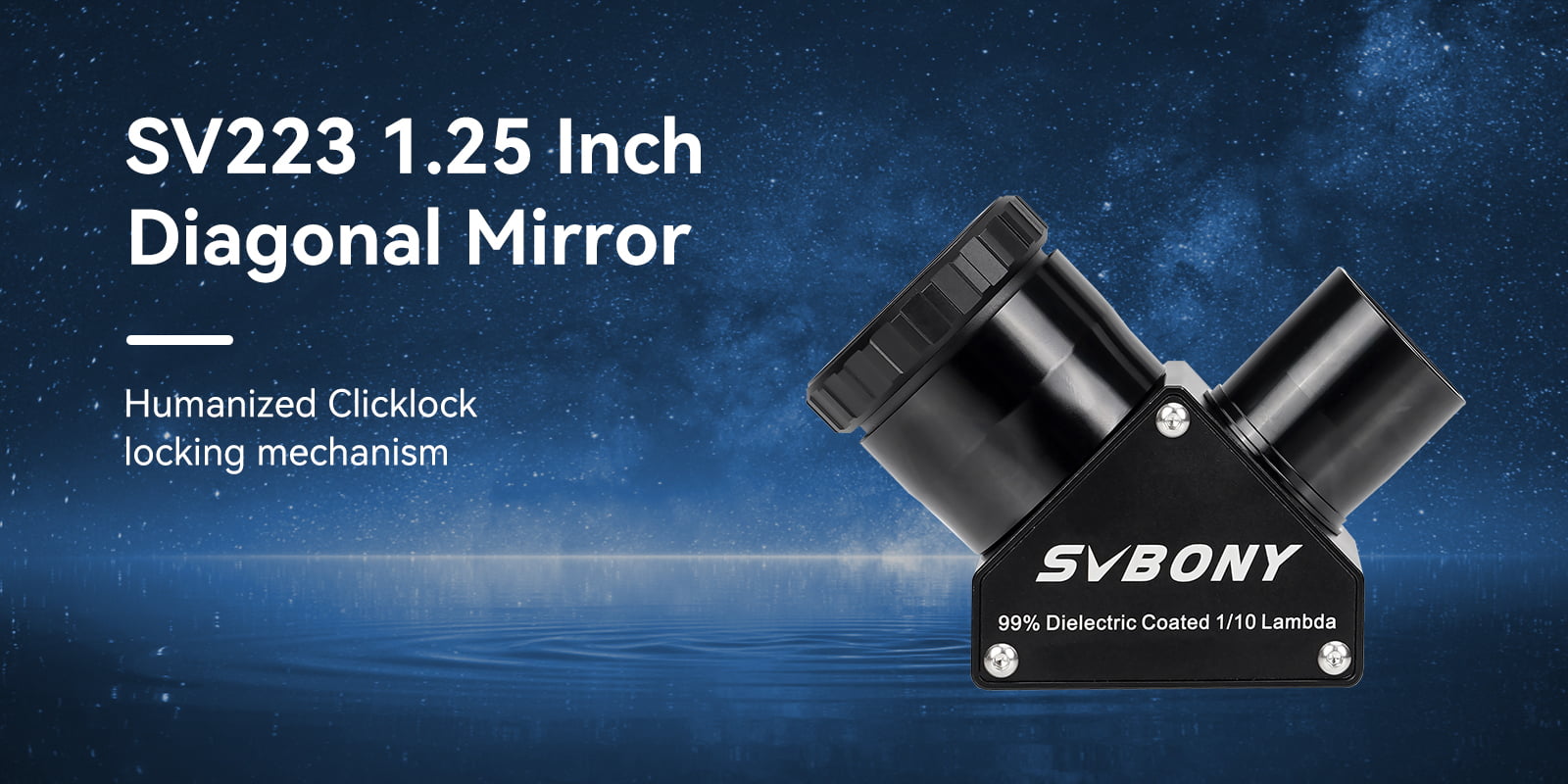 Clicklock Locking Mechanism
The SV223 diagonal has a clicklock locking mechanism; which can realize ultra-fast clamping action and ensure the stable installation and use of the eyepiece; which is not easy to fall off.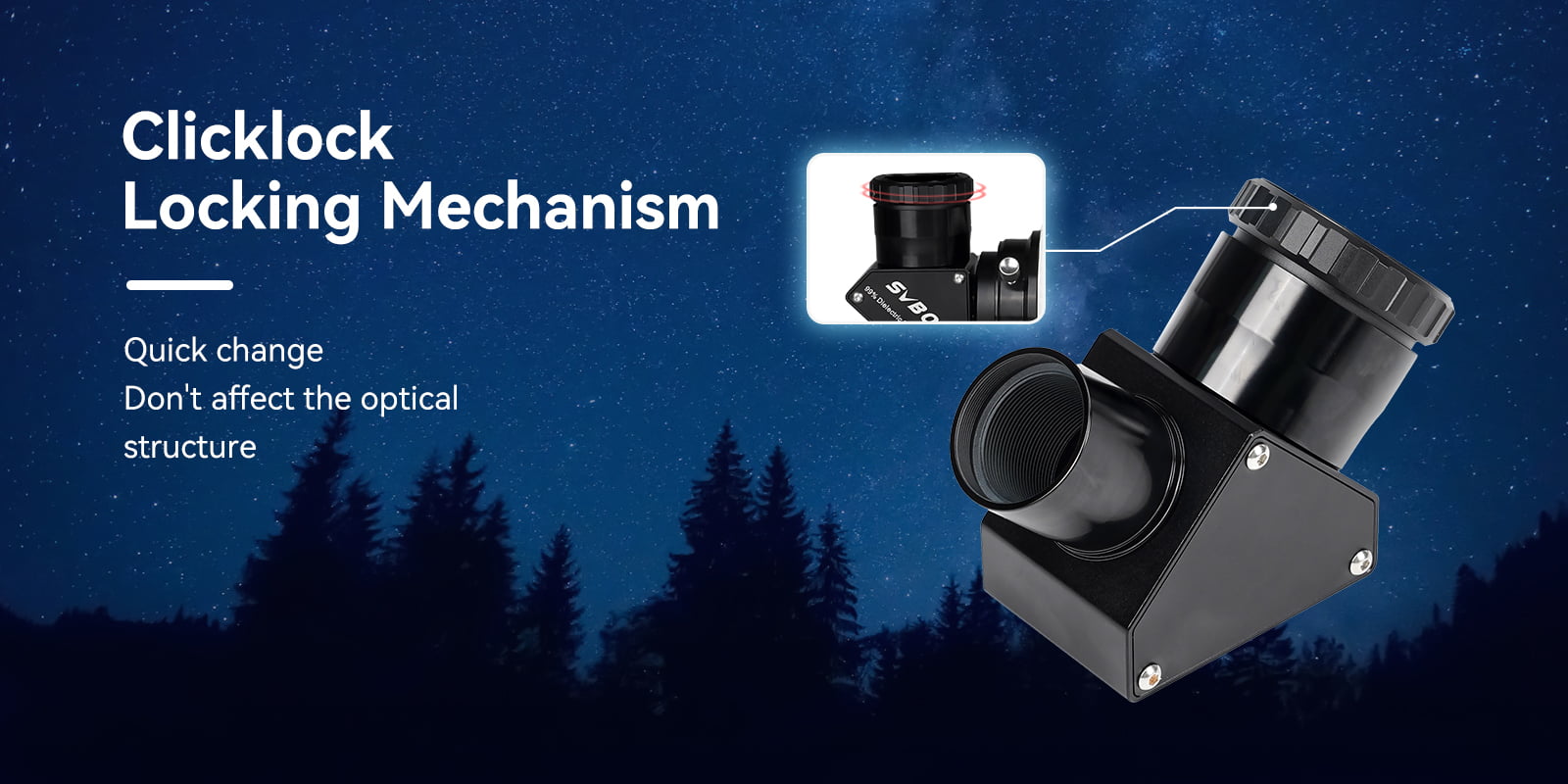 99% Reflectivity Glass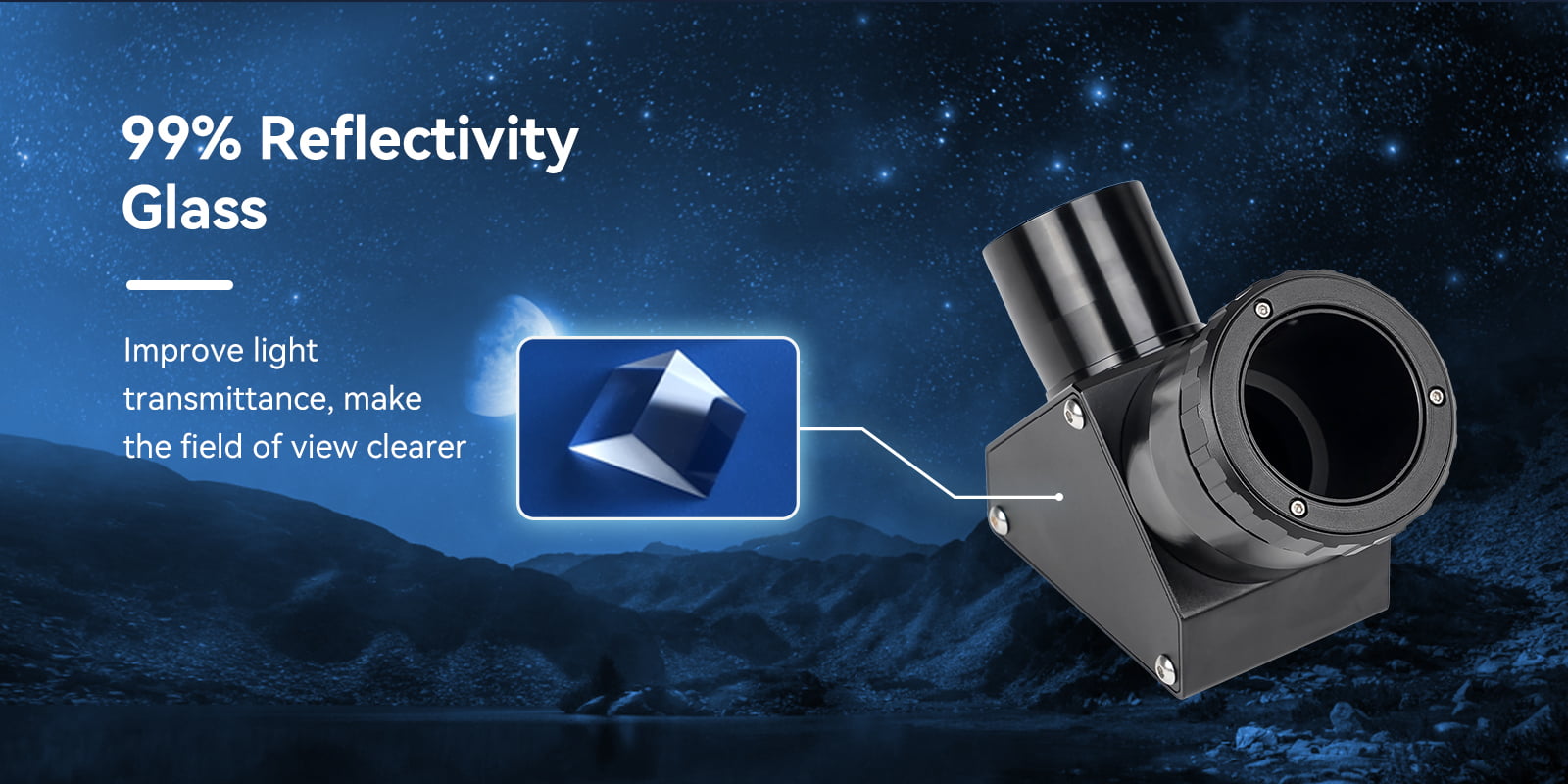 Brass Pressure Ring
SV223 has a brass compression ring on the diagonal; which provides a uniform pressure area when holding the eyepiece; can firmly fix the eyepiece, and is not easy to damage the eyepiece and other telescope accessories.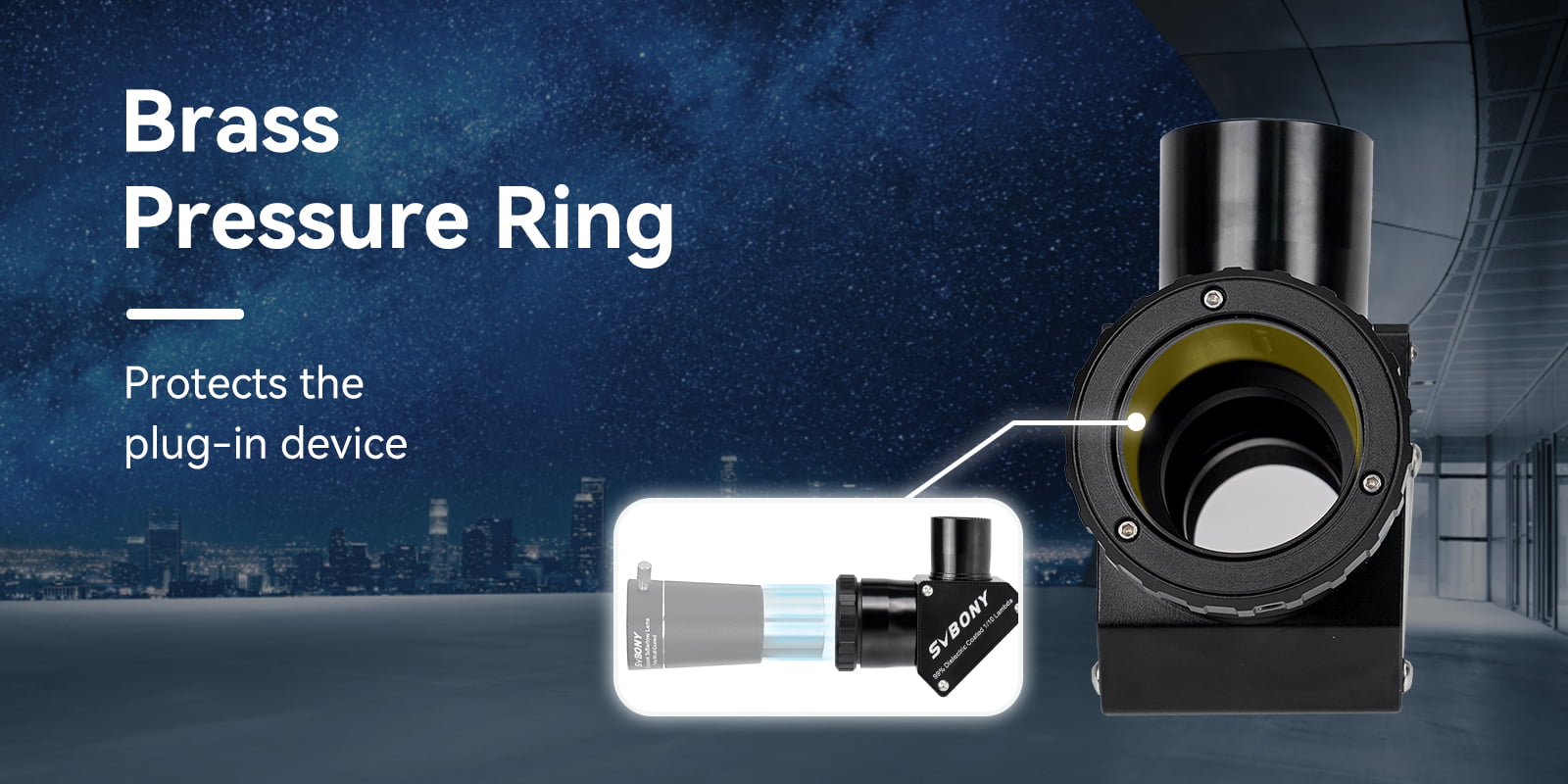 Carbon Fiber Cover
SV223 diagonal is made of carbon fiber material; which is light and stable; ensuring that the zenith mirror is durable and can reduce the weight of the equipment without affecting the balance of the equipment.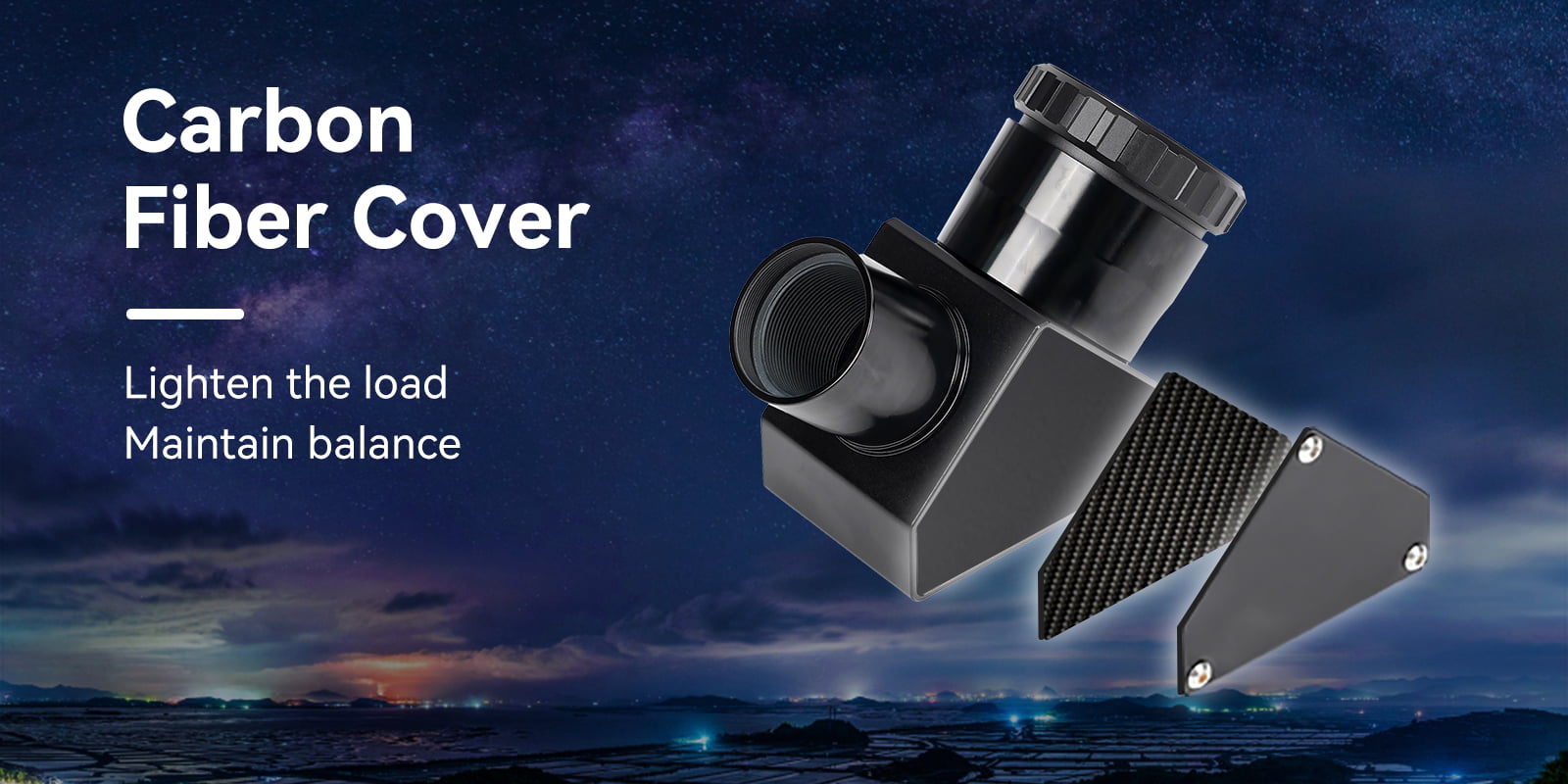 Before & After Use
SVBONY SV223 90 degree diagonal is equipped with a thick precision optical flat mirror with an enhanced 99% reflective dielectric coating; which has a large amount of light transmission and a good imaging effect. SV223 adopts a 90 degrees design; which can provide you with a better observation experience during visual observation.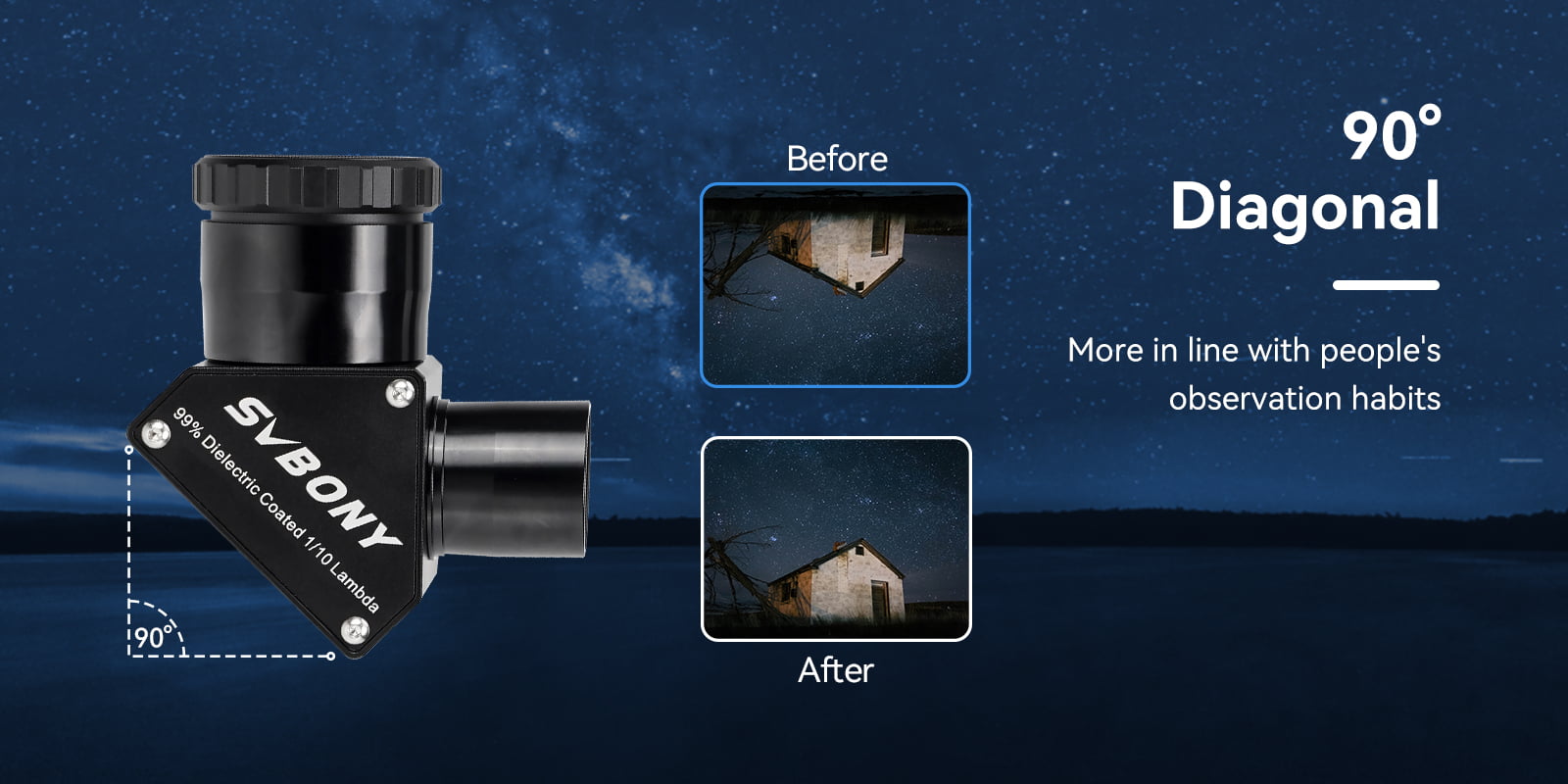 Connect The Telescope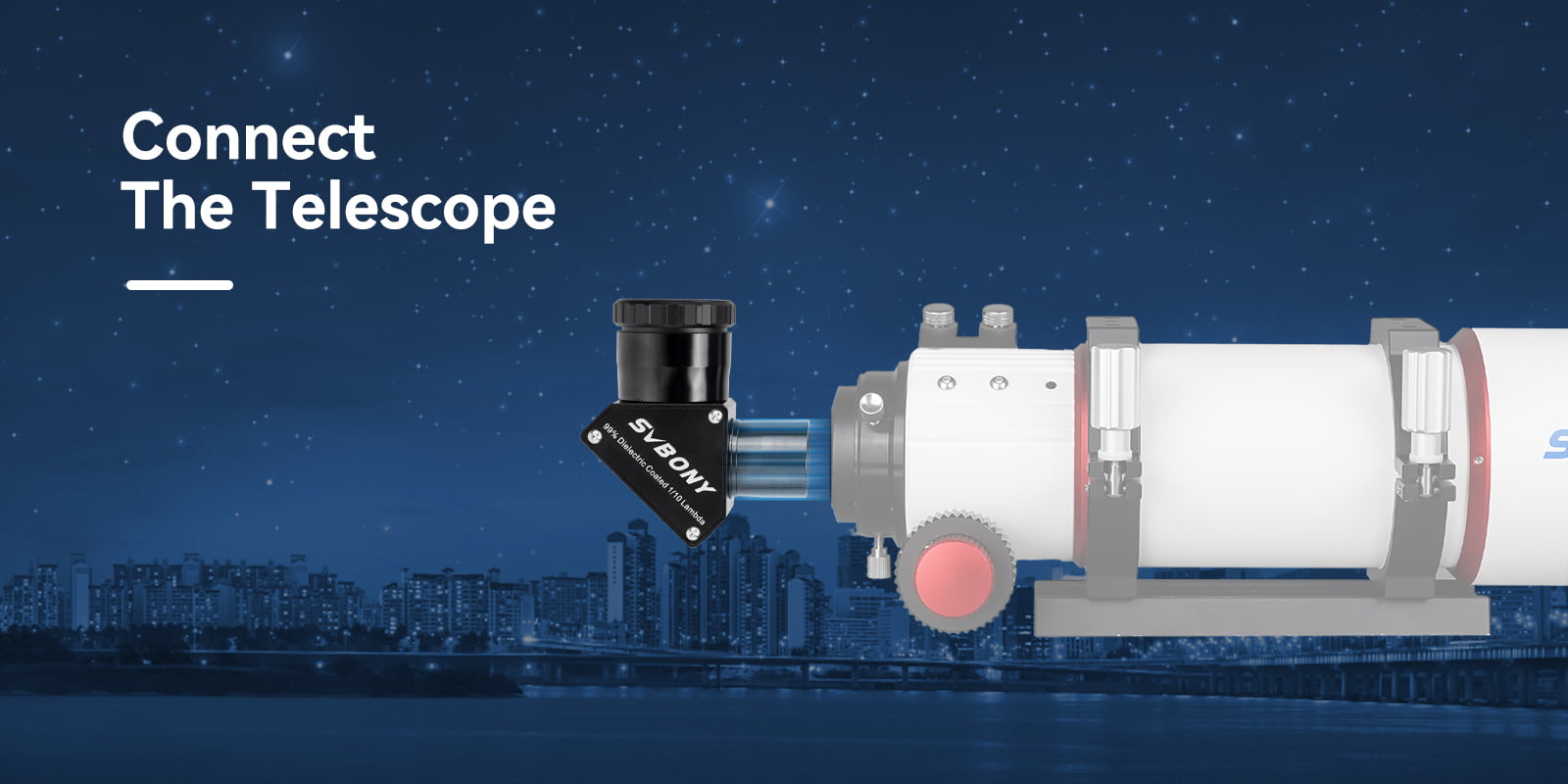 Connect The Eyepiece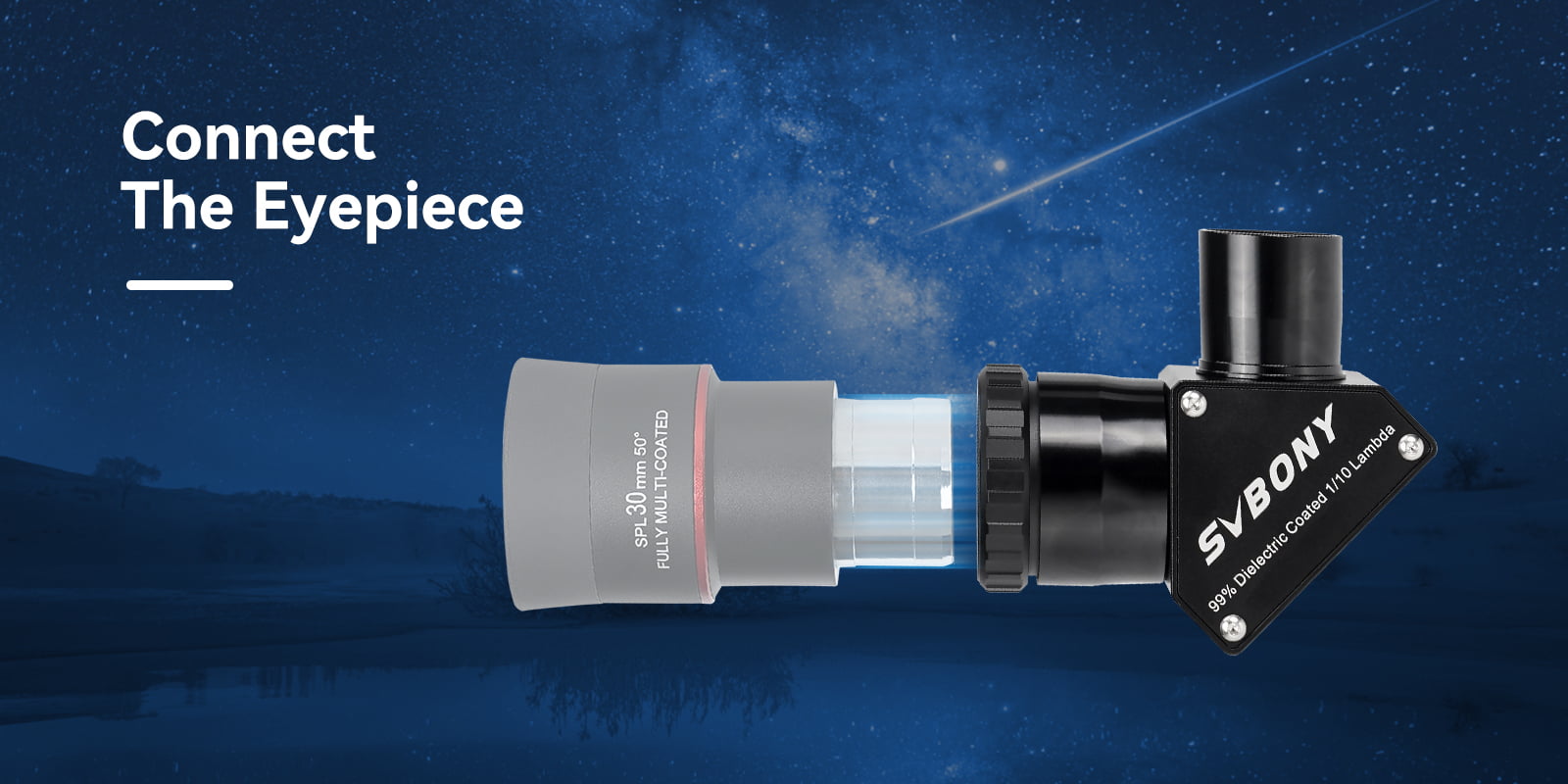 Connect The Barlow Lens
Connect Telescope Filters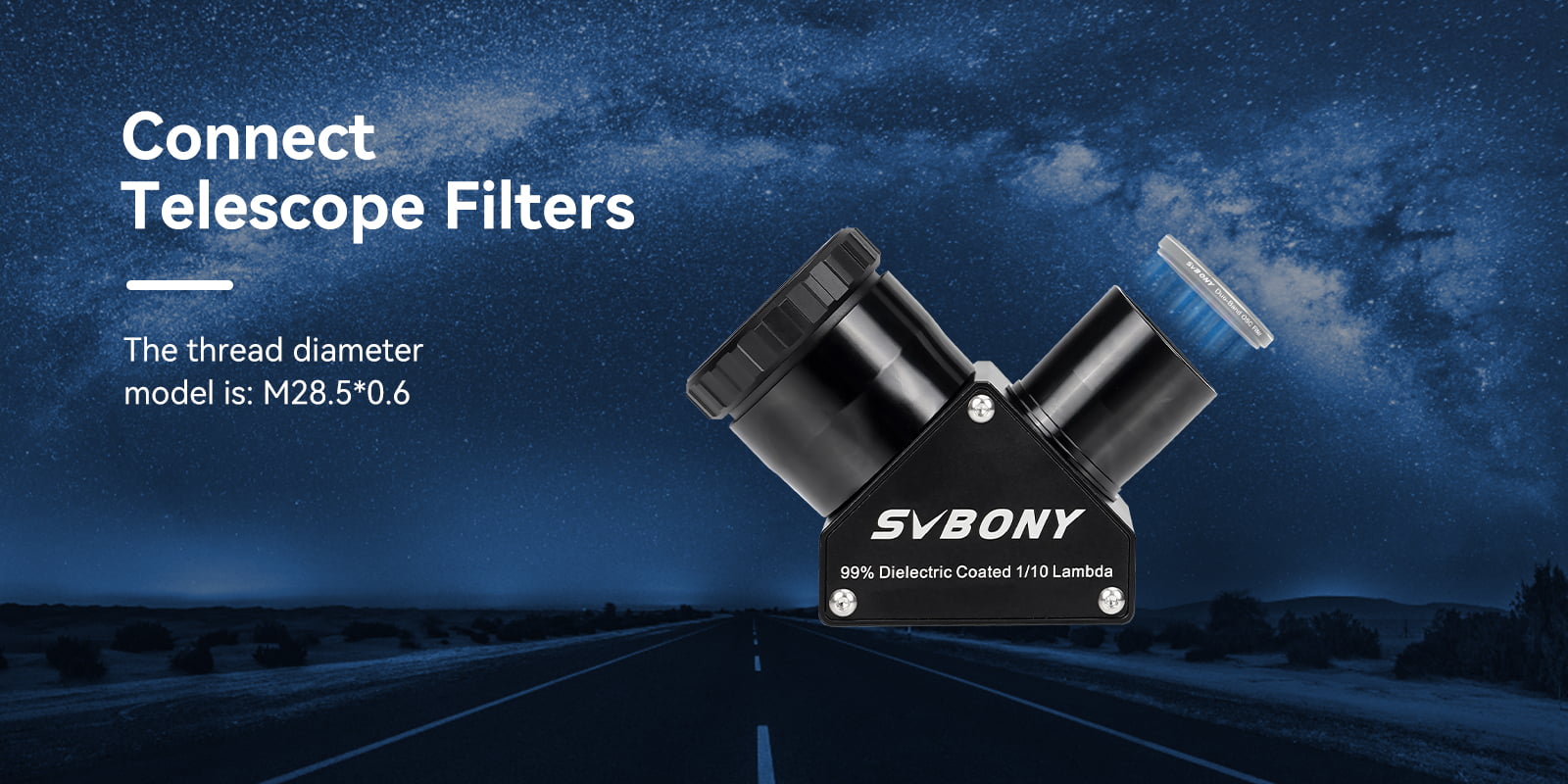 Suitable For Many Occasions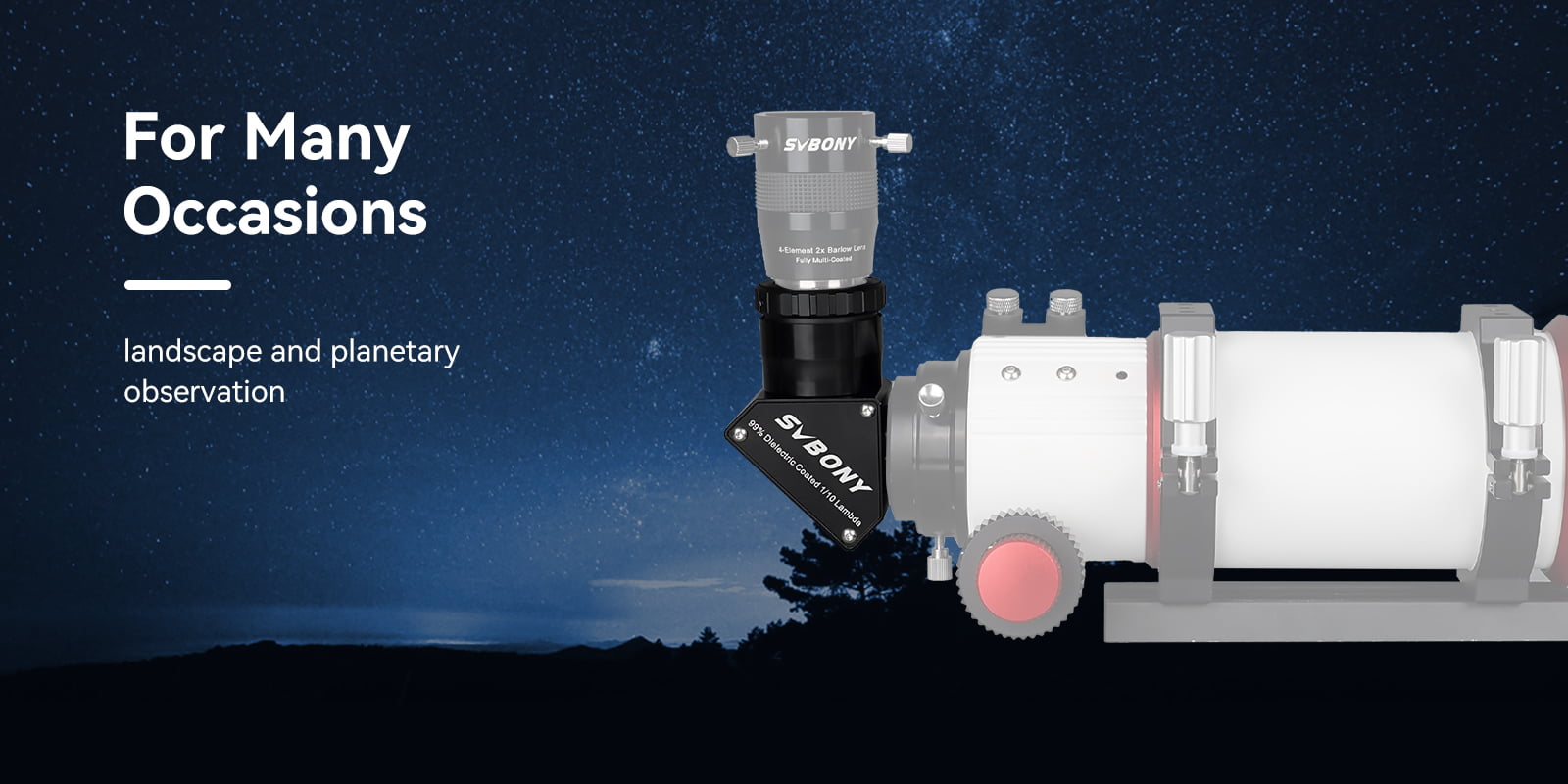 Specifications
| | |
| --- | --- |
| Brand | SVBONY |
| Model | SV223 |
| Size | 1.25inch |
| Optical Design | Mirror Diagonal |
| Inner Connection (Lens Sided) | Thread M28.5x0.6 |
| Outer Connection (Lens Sided) | Barrel 1.25inch |
| Inner Connection (Eyepiece Sided) | Clamp 1.25inch |
| Reflection Surface | Dielectrically Coated |
| Reflectivity | >99% |
| Image Orientation | Erect image, Mirror Inverted |
| Optical Length | appr. 85.5mm |
| Clamping System | Clicklock |
| Deflection Angle | 90° |
| Clear Aperture | 25mm |
| Material | Metal |
| Thickness of Mirror | 11.5mm |
| Net Weight | 249g/8.78oz |
Features
1.The diagonal comes with a thick, precision, optical flat mirror with an enhanced 99% reflective dielectric coating
2.Dielectric 1/10 lambda levels substrate with 85.5mm optical length
3.Clicklock clamp for ultrafast clamping action
4.High precision 11.5mm thick mirror substrate flat for optimal image stability
5.Internal safety stop prevents barrels from hitting the mirror
6.Stainless Steel compression rings (both on diagonal and adapter) to prevent barrels from marring
7.High-quality machining out of the aluminum, internal antireflection baffling for highest contrast
8.Provides higher contrast and resolution during critical planetary, lunar and binary star observations
Package Includes
SV223 1.25" 90 Degree Clicklock Dielectric Diagonal Mirror
1PCS M4 Screws
1PCS Dust Cap
1PCS Dust Plug