The SVBONY SV225 is a solid and low-vibration light-to-medium-duty altazimuth mount designed to quickly and easily accept small to medium sized refractors or catadioptric telescope in the 2inch to 5inch range. With a payload capacity of 10kg, even light weight, fast focal ratio Newtonians will match up nicely with the mount.
SV225 Adjustable Angle Alt-Azimuth Telescope Mount
SVBONY SV225 Alt-Azimuth telescope mount is the perfect visual astronomy travel companion and strong practicality.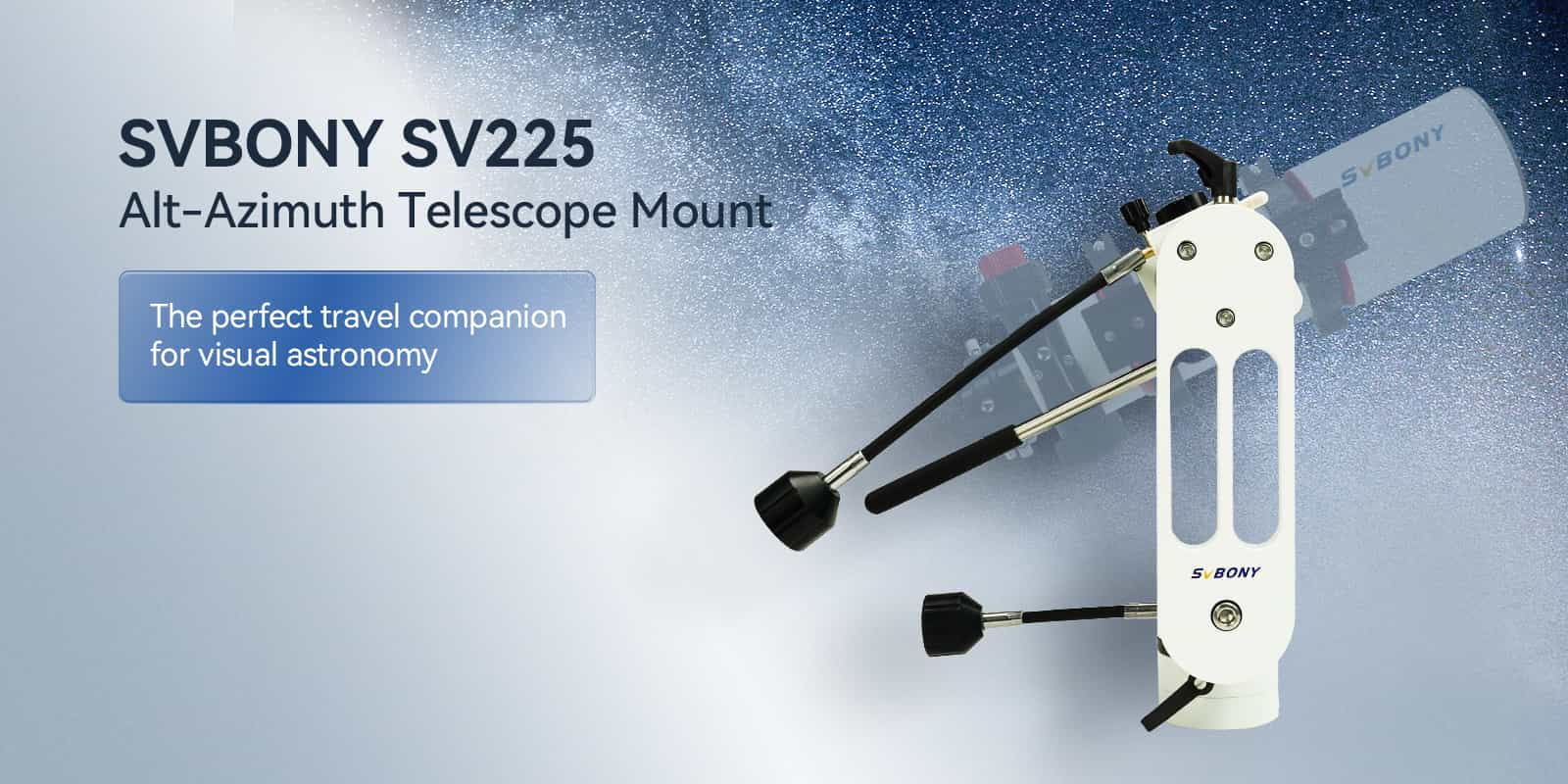 CNC Hollow Structure
CNC Metal construction,durable steady for a long-term use. Applicable to most astronomical OTAs.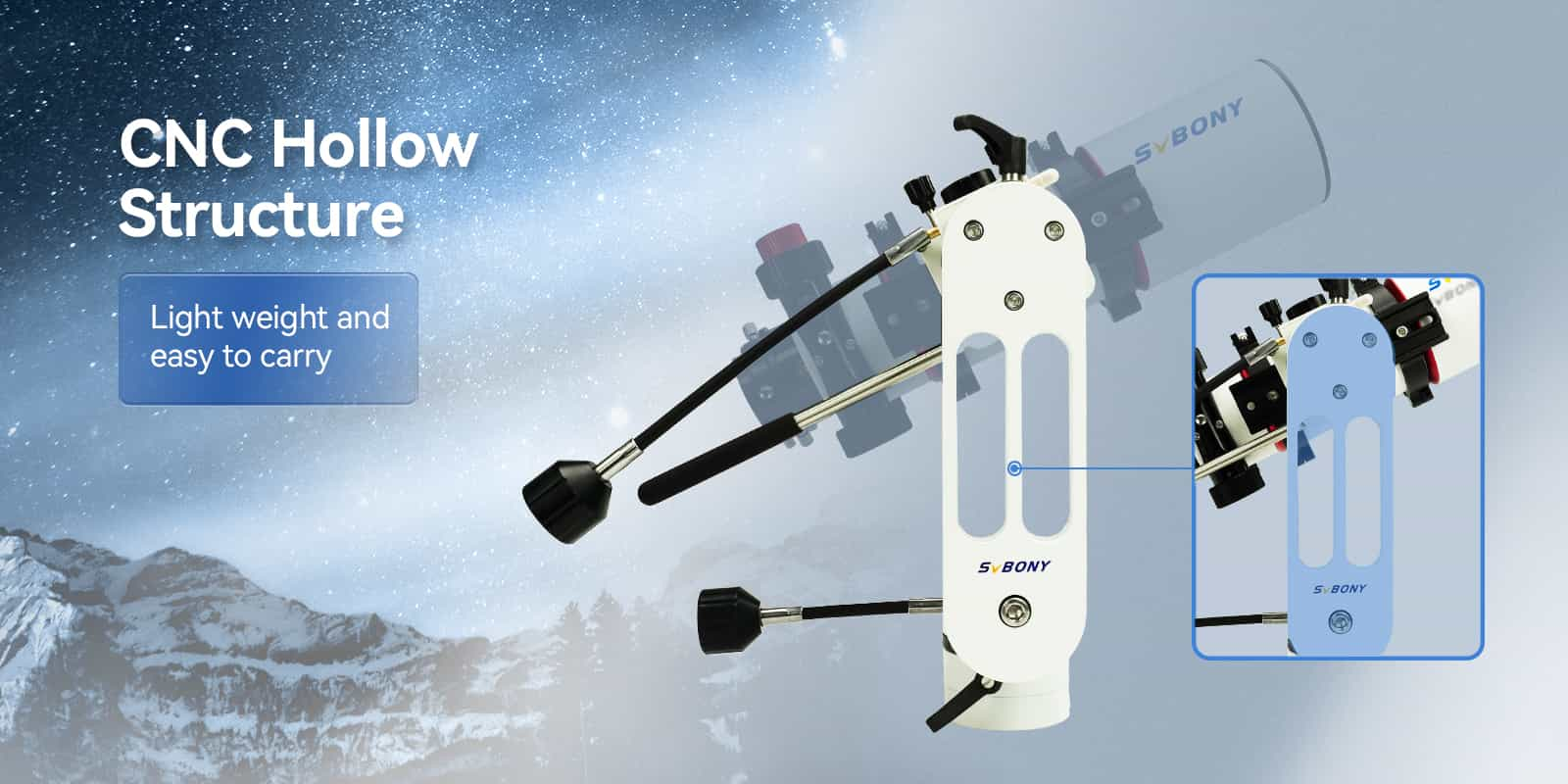 UNC 3/8-16 Thread Specification
UNC 3/8 -16 thread specification is compatible with Celestron/Skywatcher/Orion/Vixen & most mainstream astronomical OTAs.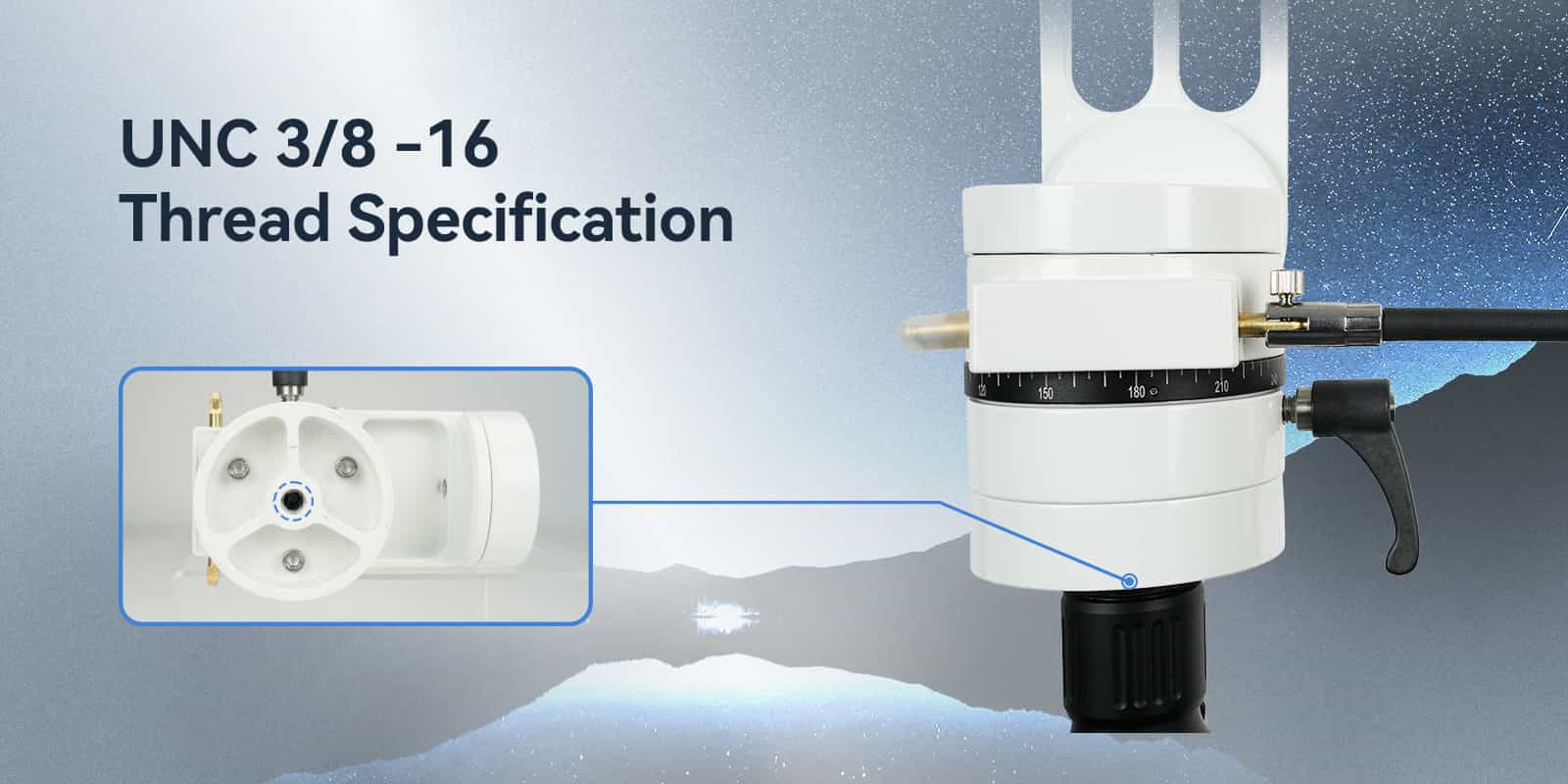 Vixen Standard Dovetail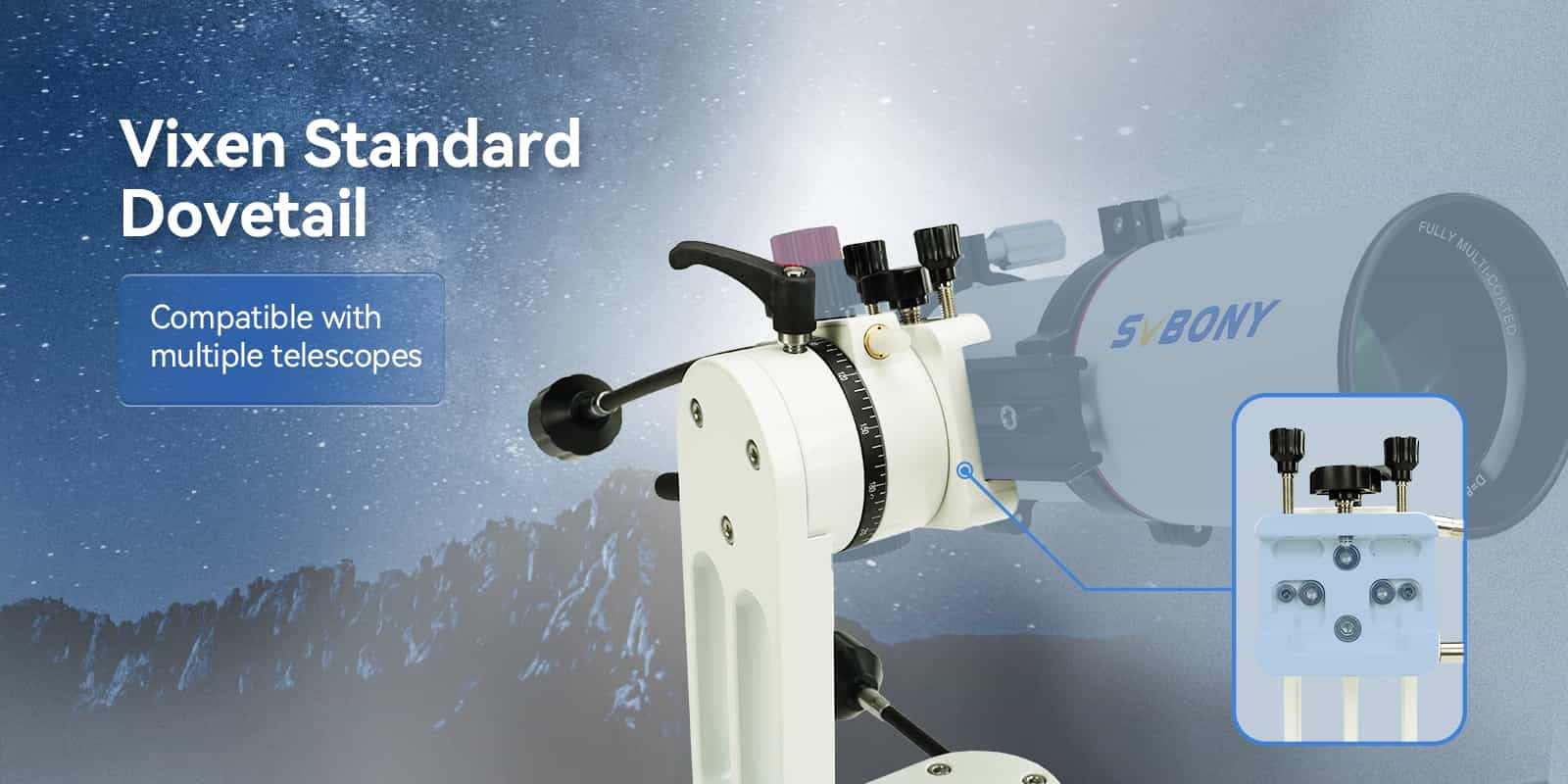 Variable Speed Gear
The newly added variable speed gear increases the torque, and the customer reduces the idle adjustment during use, which makes the operation feel more comfortable. With low motion controls on both axes to let you smoothly follow the motion of the Moon and planets.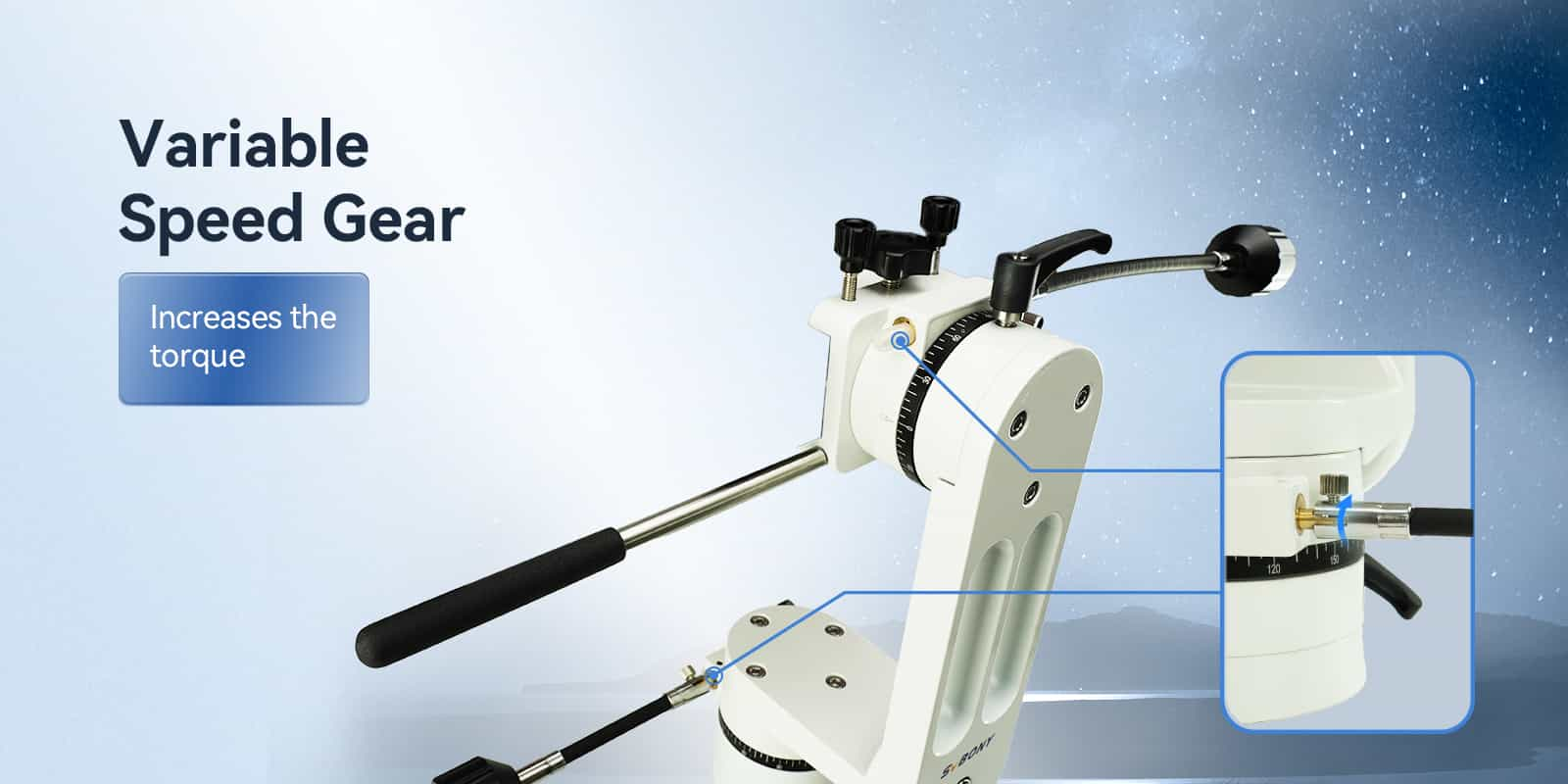 Strong & Durable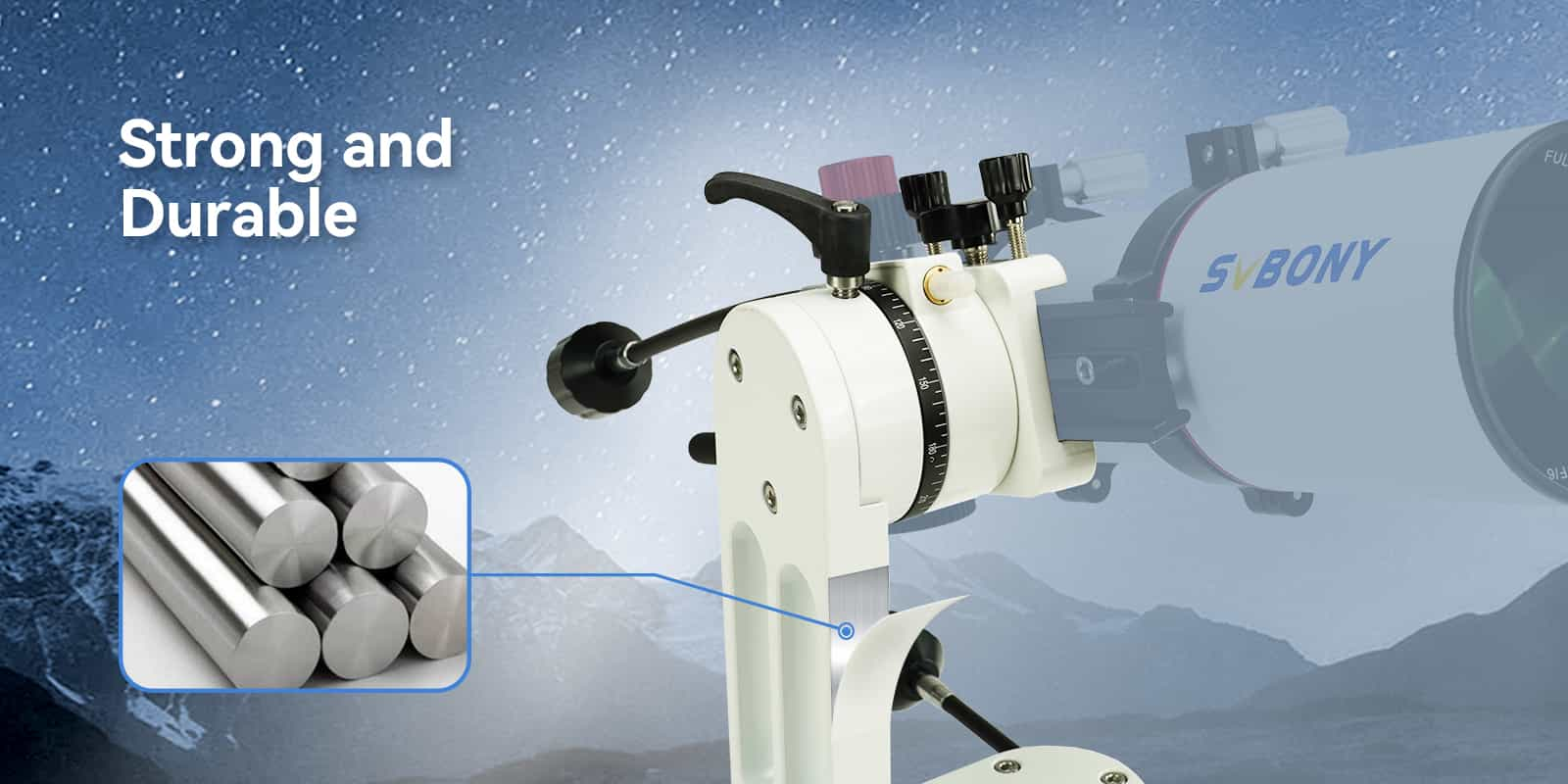 Quick Adjustment Handle
The handle helps you position quickly and is easy to use and operate.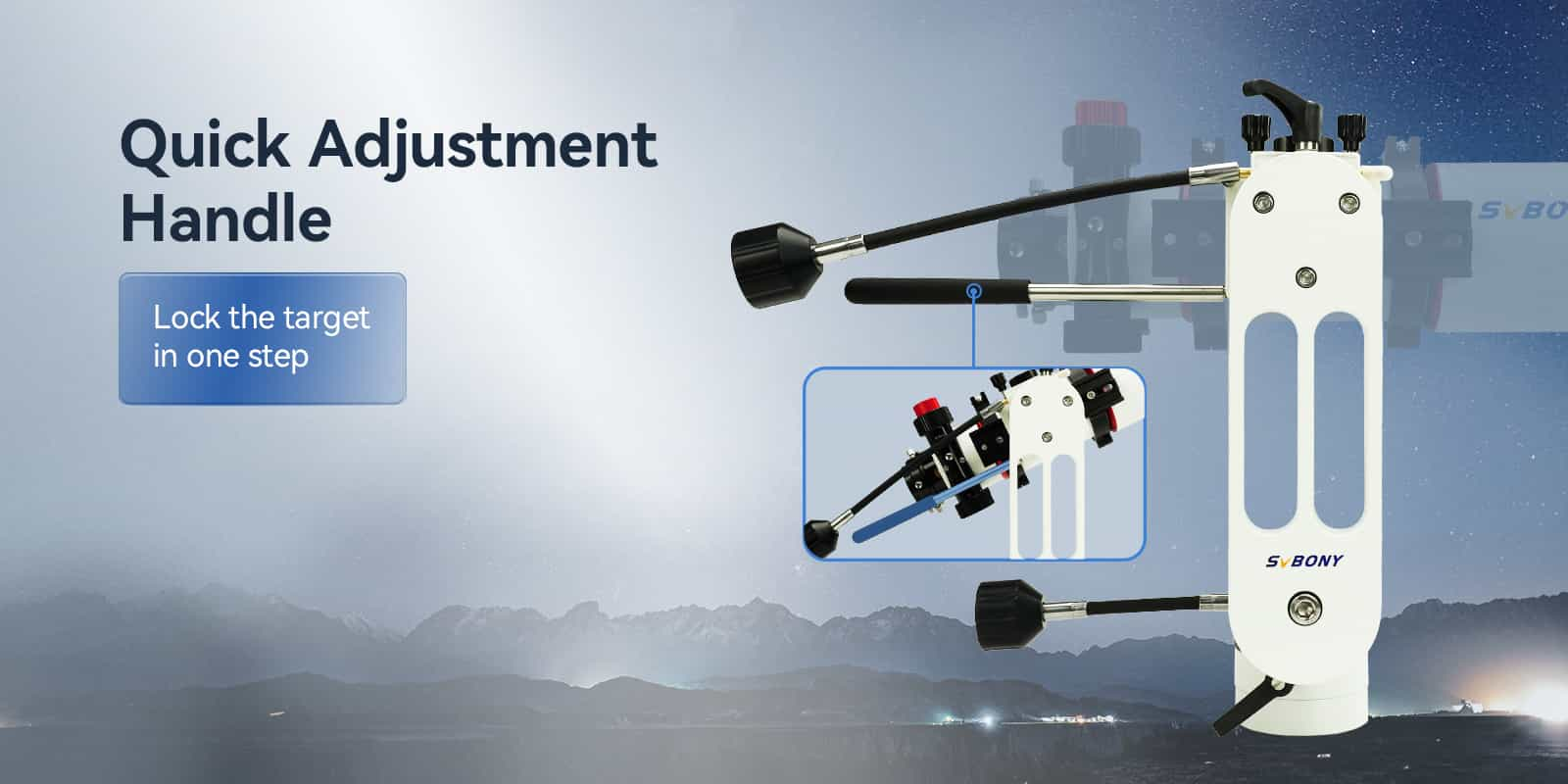 Payload Capacity
10KG load bearing makes sure you can have a smooth load operation even with the 122mm aperture SV550 OTA.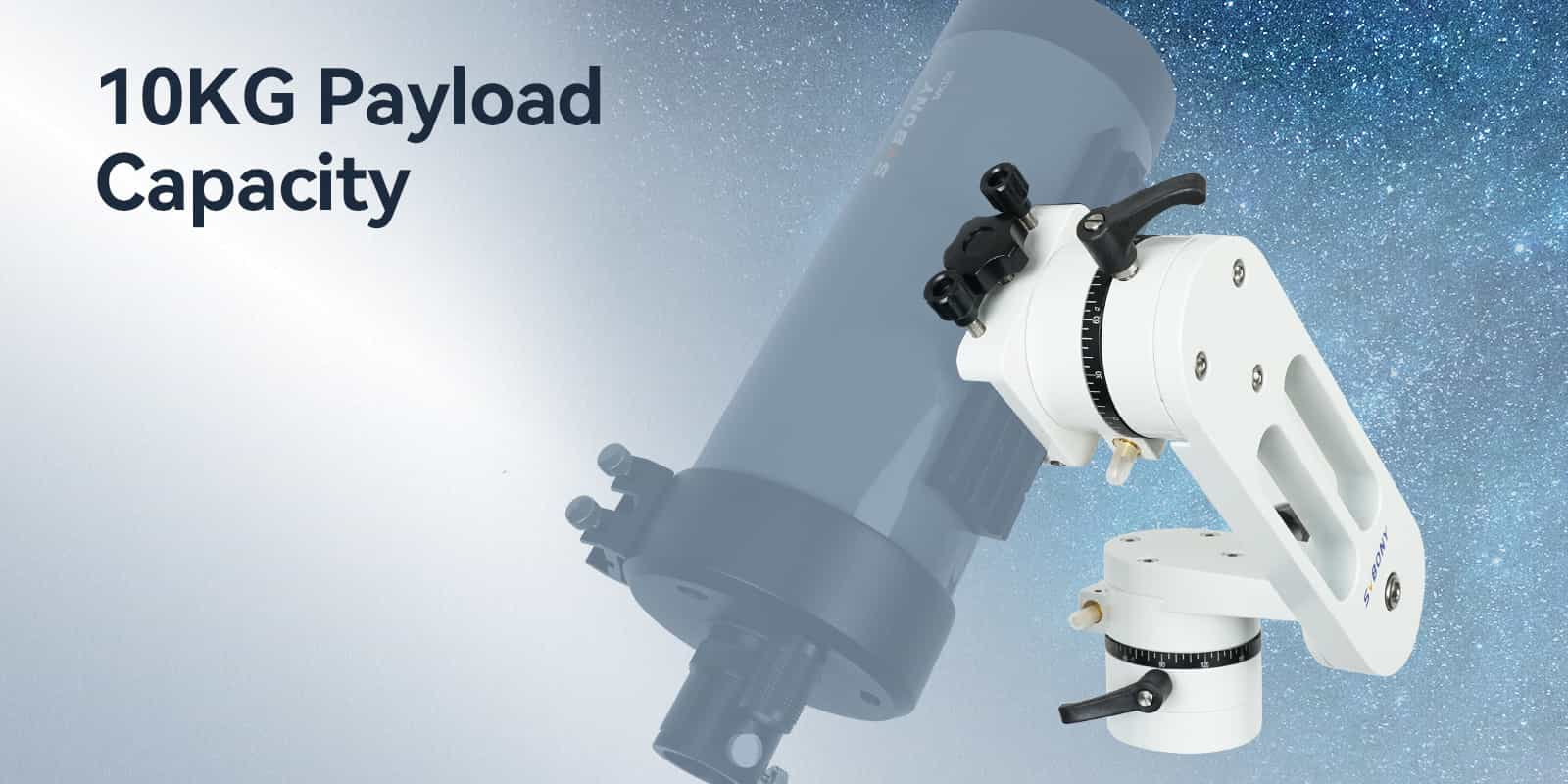 360° Azimuth & Elevation
Adjustable all-round viewing angle, observe as one pleases. Helical turbine drive supports 360° all-round adjustment, -60° to +60° altitude adjustment, all-round visual adjustment angle to meet your visual observation needs.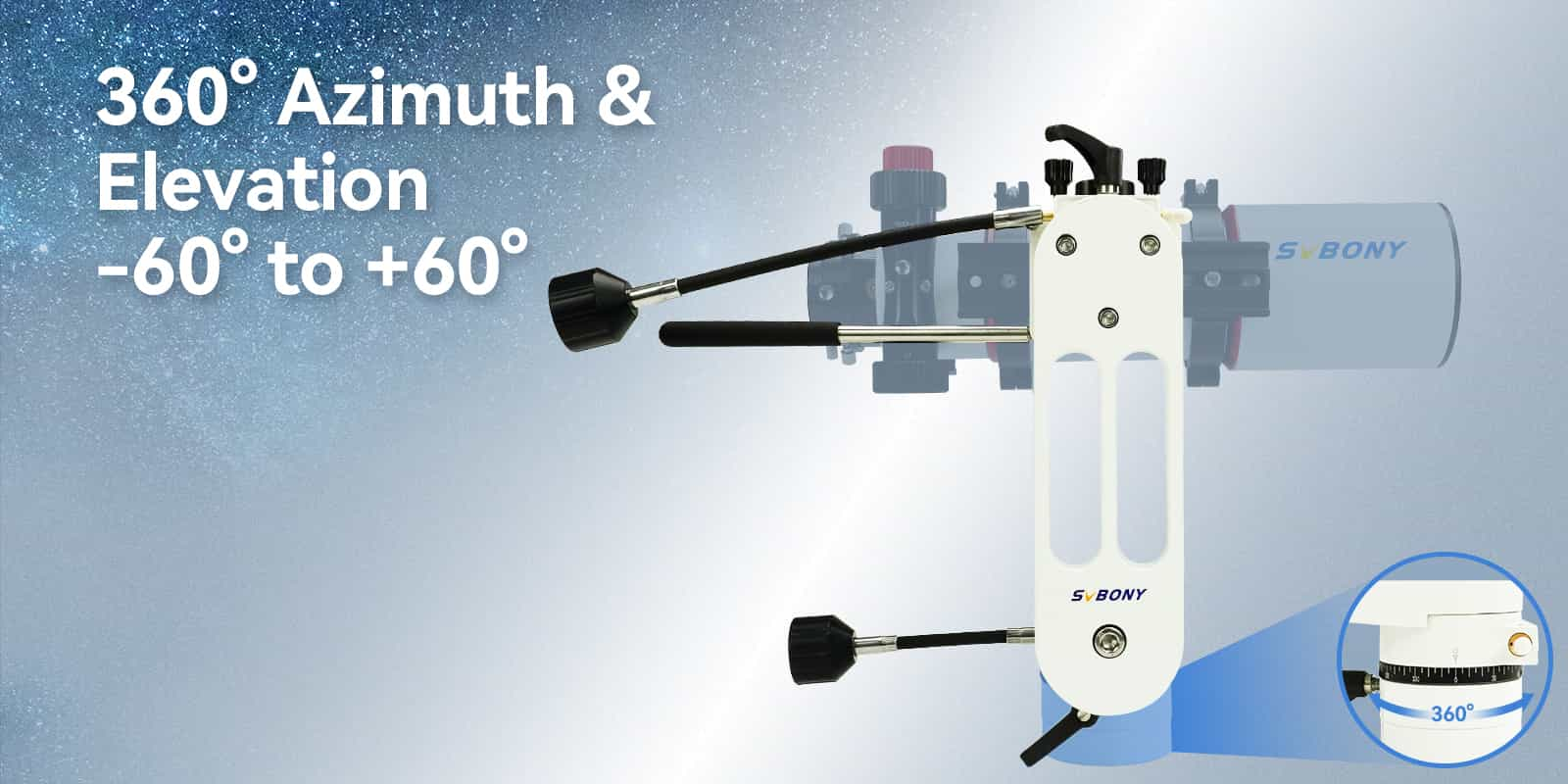 Heightening Bracket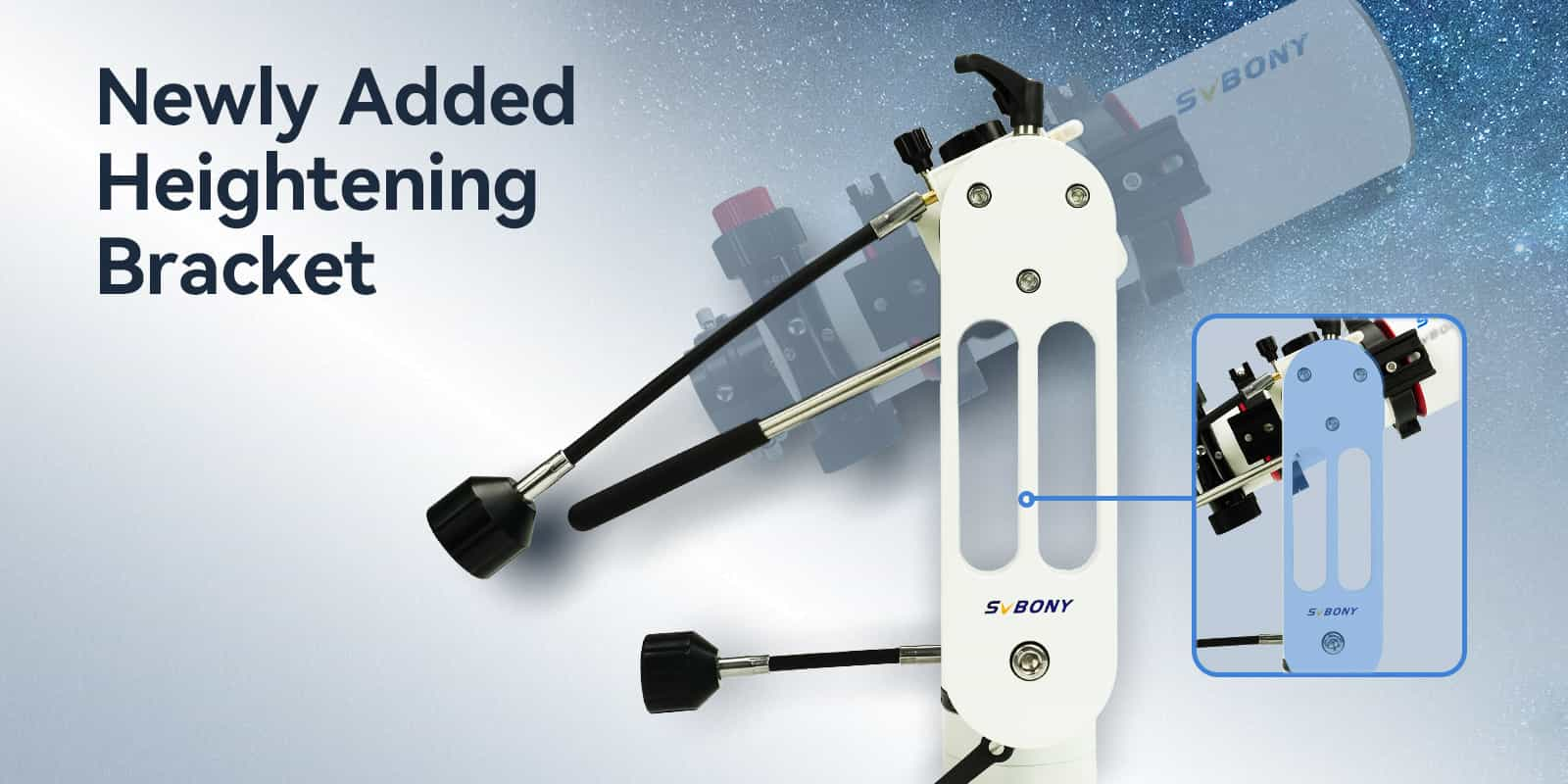 Digital Marked Dial
Digital scale mark is convenient for customer positioning and adjustment; quickly point to the observation target.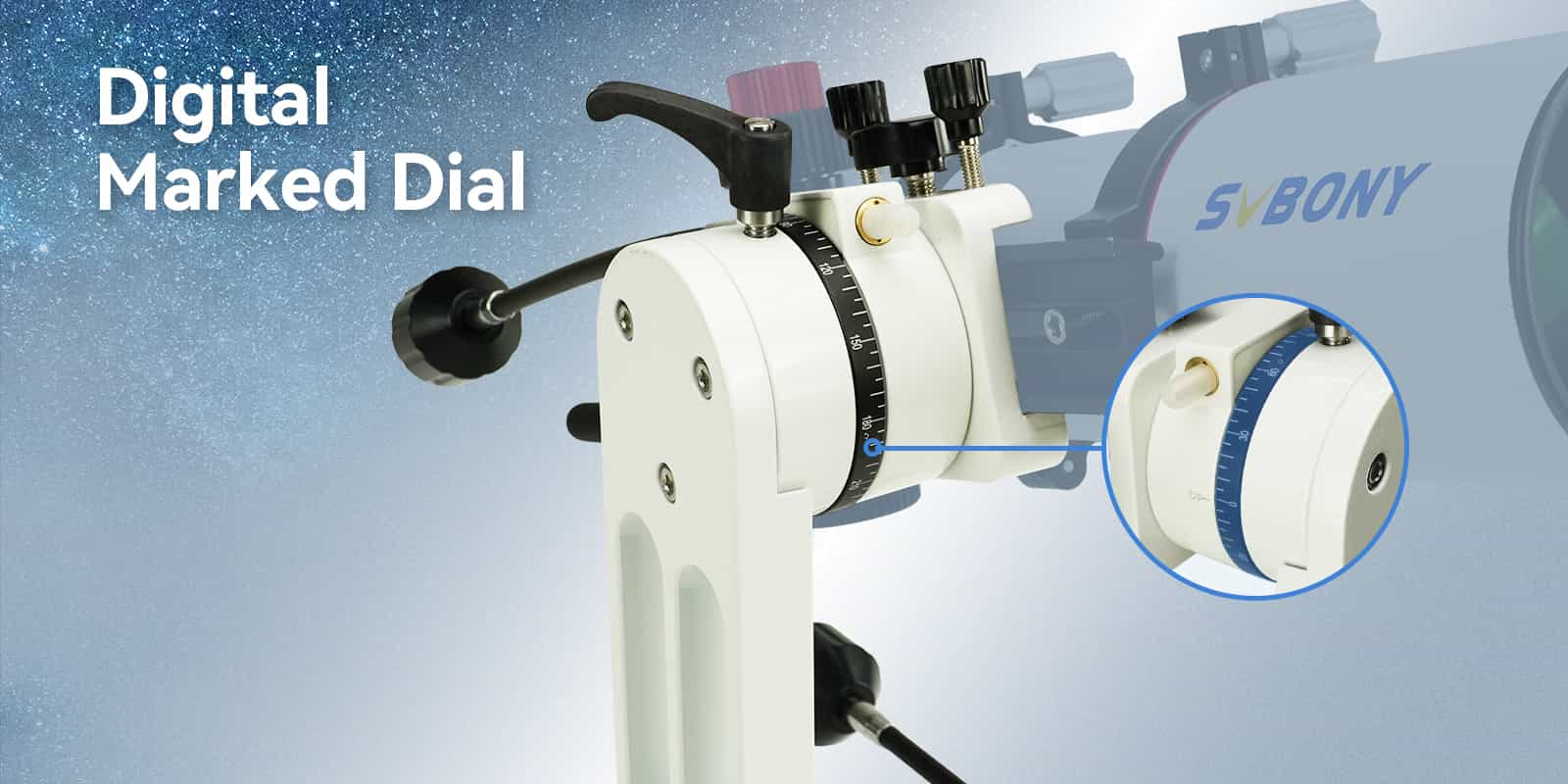 Fine-tuning Control Lever
Fine-tuning control lever is designed to meet the adjustment efficiency of customers in different scenarios.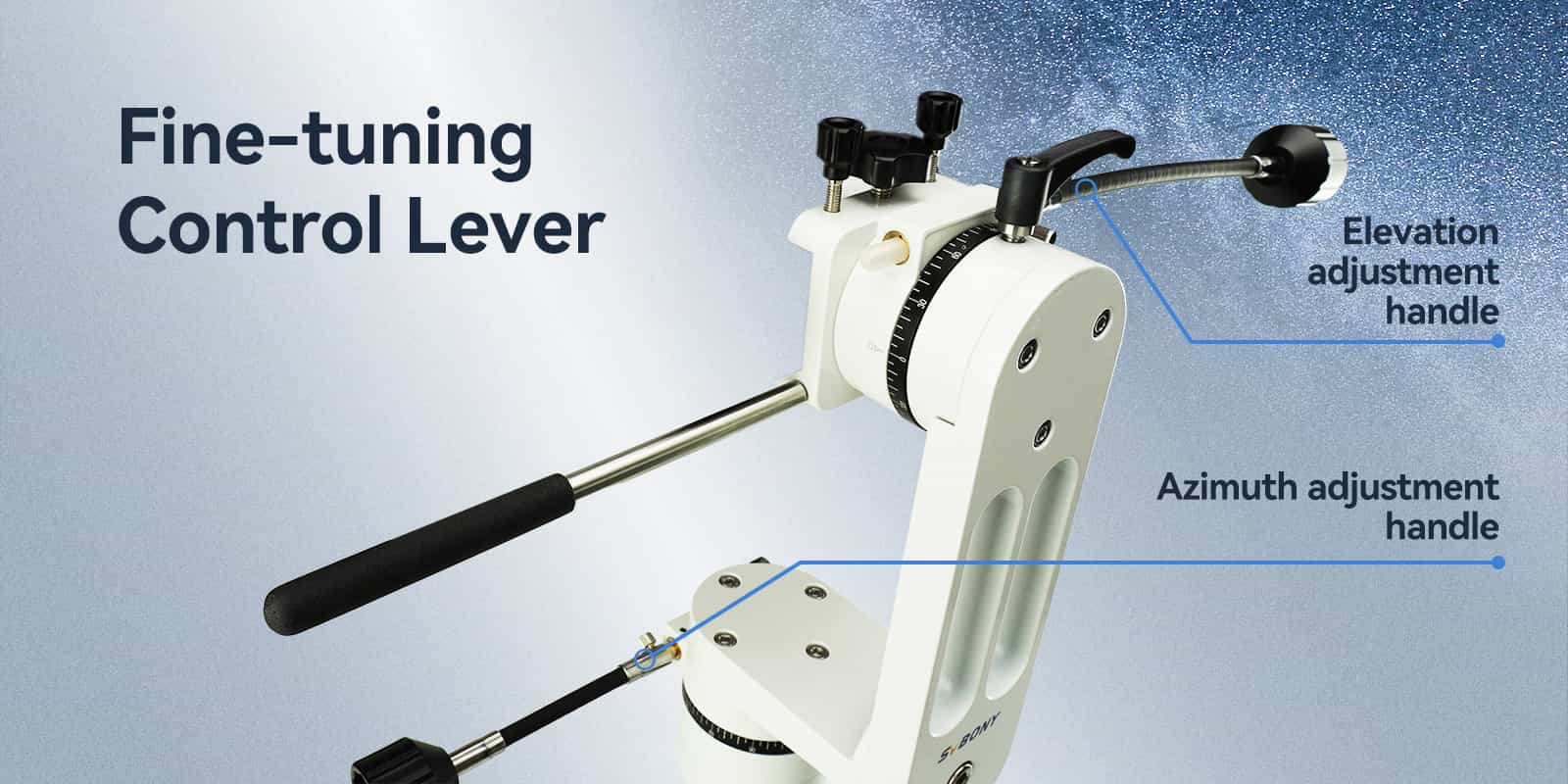 Applicable Scenes
The Alt azimuth mounts Alt-Az is suitable for many senorios; like astronomical visual observation and surface observation.
Excellent Features & Smooth Performance
Well designed and constructed, this mount feels rock solid. I especially like the smooth & silky resistance feeling on the slow motion controls and clutch. Its size and 10kg capacity give me confidence that my visual telescope set-up is stable and safe. The vixen clamp design is not my favorite choice, but it has triple lock security (works well) and can be interchanged if you like. Overall, I am very pleased with this mount. It`s a good value, like most SVBony products! I also reviewed this product in detail on my YouTube site at "Astrophotography Japan".
Specifications
| | |
| --- | --- |
| Brand | SVBONY |
| Model | SV225 |
| Max. additional load capacity | 10kg |
| Mounting Saddle | Vixen-Style |
| Fine adjustment | Yes |
| Manual tracking | Yes |
| Underneath the Base thread | UNC 3/8 -16 Female |
| Worm gear teeth (RA) (piece) | 120 |
| Altitude Mount Rotation Angle (Continuous) | -60° to + 60° |
| Azimuth Mount Rotation Angle (Continuous) | 360° |
| Material | Aluminum 6061T |
| Net Weight | 2.34kg |
| Diameters | 340*285*145mm |
Features

1.The SVBONY SV225 is a solid and low-vibration light-to-medium-duty altazimuth mount designed to quickly and easily accept small to medium sized refractors or catadioptric telescope in the 2inch to 5inch range.
2.With a payload capacity of 10kg, even light weight, fast focal ratio Newtonians will match up nicely with the mount.
3.The SV225 alt-azimuth mount head is made of powder-coated aluminum. There are worm gear slow motion controls on both axes to let you smoothly follow the motion of the Moon, planets, and deep space objects across the heavens.
4.The adjustable angle head can tilt forward or back at a 45° angle, as well as point straight up, depending on the length of your optical tube and your observing preferences.
5.Enable quick and precise telescopic observations along the vertical and horizontal axes without the need for a complex setup.
6.Vixen standard the dovetail mounting system to ensures maximum compatibility with a wide range of telescopes.

Package Includes

SV225 alt-azimuth Mounts




2. Metal Handle




3. Altitude Slow Motion Flexible Control Cables




4. Azimuth Slow motion Flexible Control Cables




5. Dovetail Lock Knob




6. Locking screws




7. Allen Wrench