SVBONY SV226 filter drawer featuring the anti-light-leaking design that can effectively solve the light leaking issue under long exposure. The product is designed as a perfect circle, with a simple and beautiful appearance and good surface. Two pairs of strong magnets are used to achieve strong adsorption. 2-in-1 design, can use offilter1.25" & 2" specifications on the market.
---
Special offers and product promotions
SV226 Filter Drawer Integrated Molding Anti-Light-Leaking Design for 1.25" &2" Filter Mounted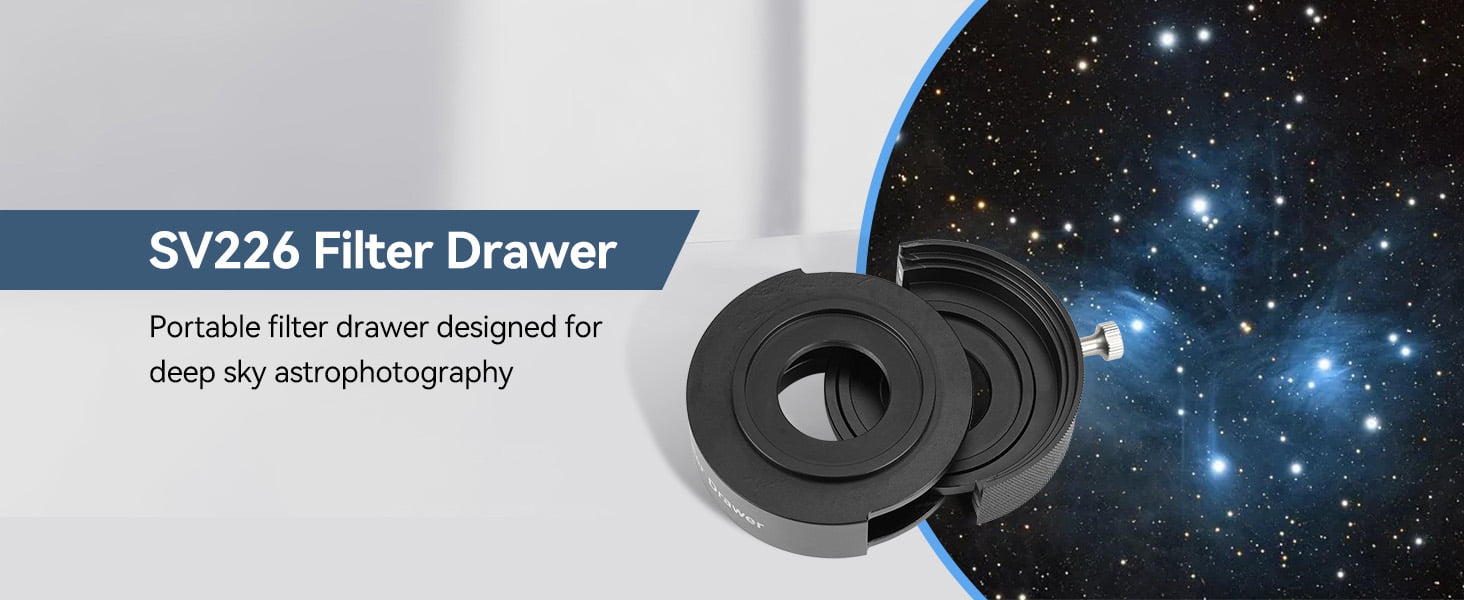 Double Pair of Magnets
Compared with traditional screw rotation; magnet has stronger adsorption force; which is convenient for you to install and use.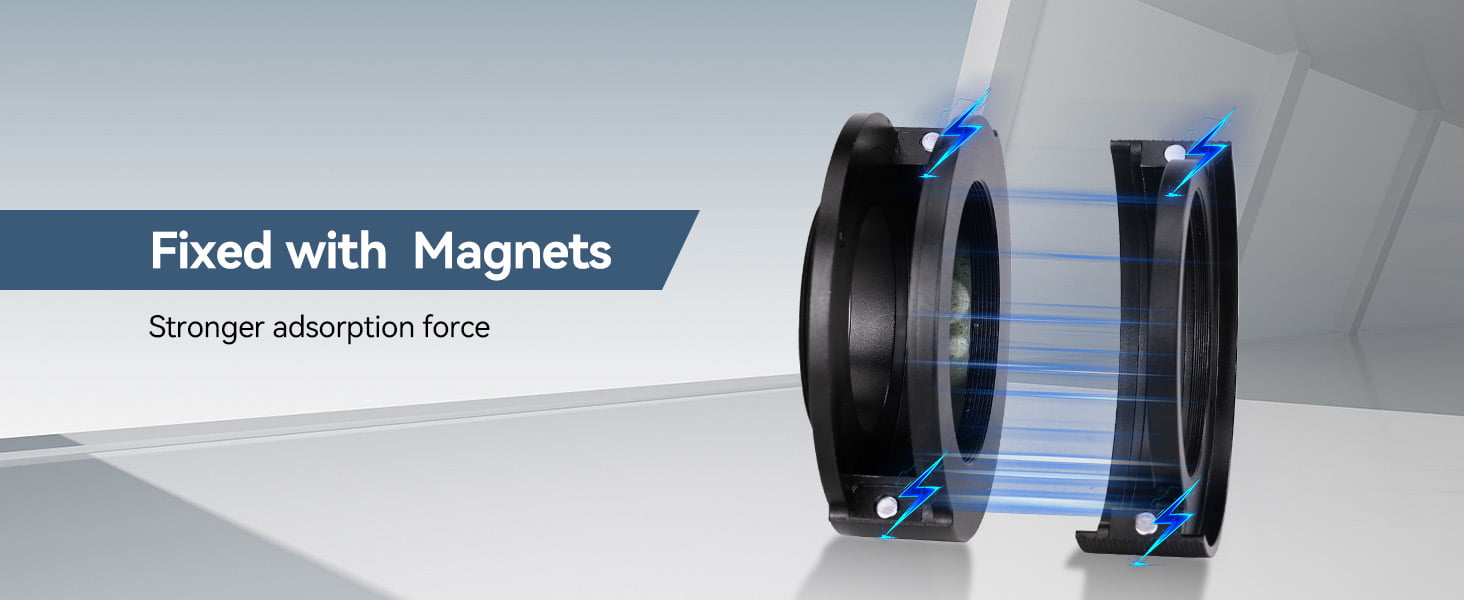 Two Filter Holders
Standard 1.25" and 2" filter holder; plug and play, easy to use; reducing repeated disassembly and installation steps in a dark environment.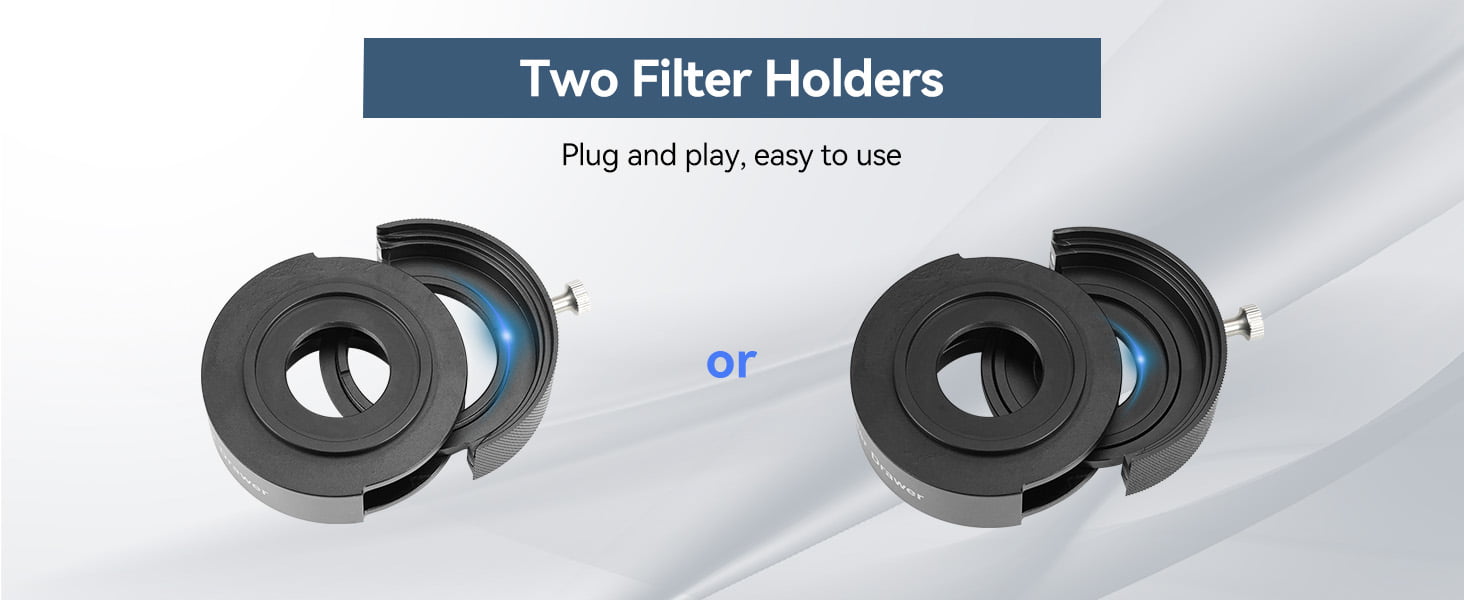 Compatible With 1.25"& 2" Filter Installation
Existing 1.25" and 2" filters can also be used; for beginners of photography; save the budget for changing filter sizes.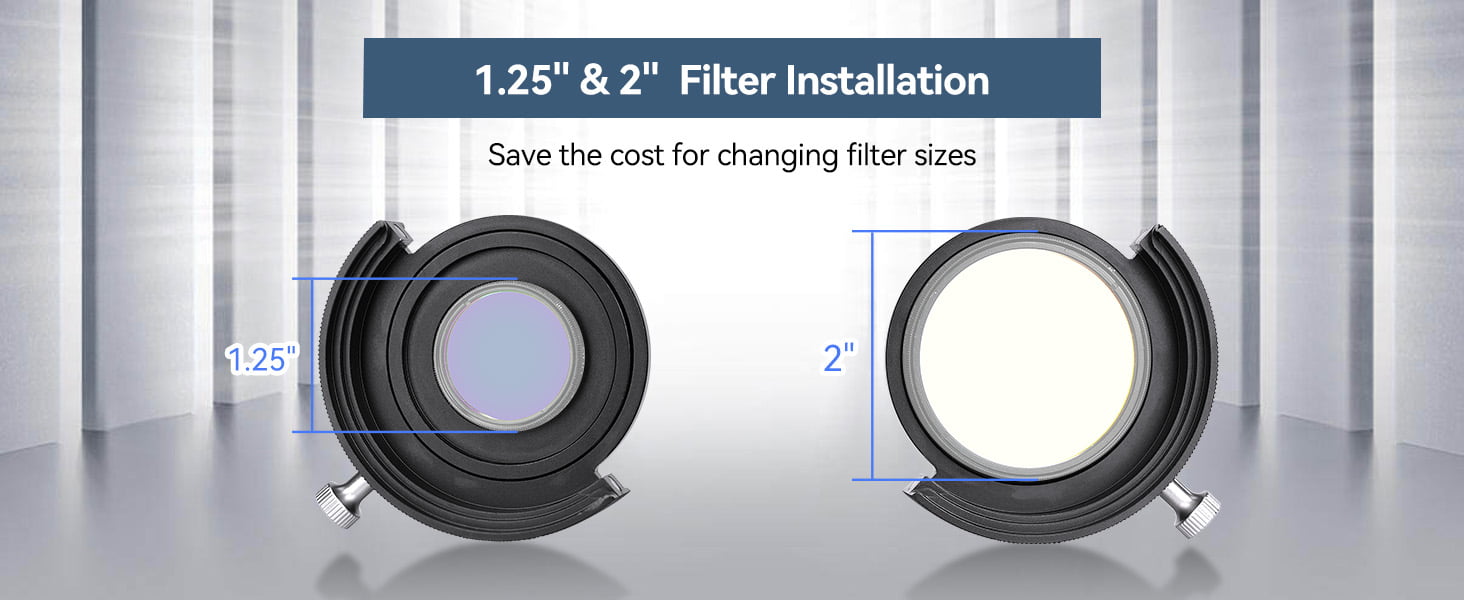 CNC Integrated Molding
The advanced processing can assure the quality; provide more accurate; consistent results; you can use it with confidence.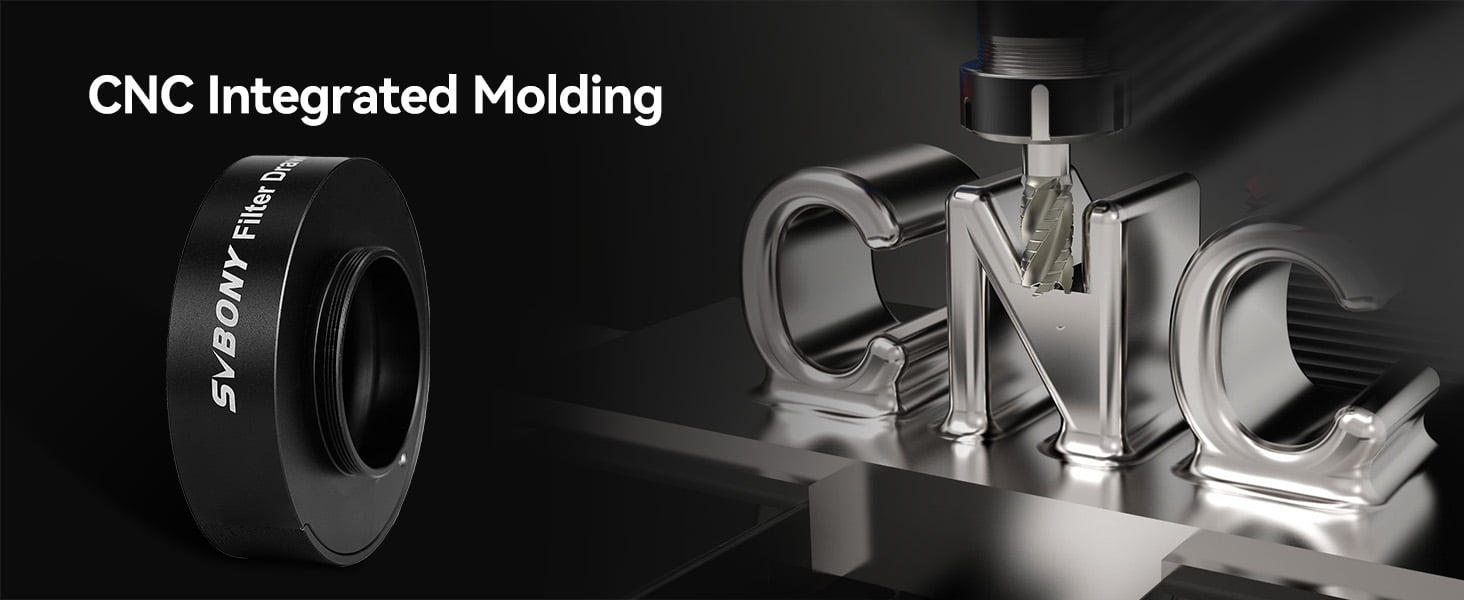 Filter Drawer Thickness 21mm
The thickness is related to back focal length; back intercept affects the quality of imaging; it limits the use of accessories and optical path length. Designed with the lock screw on the side of the filter drawer; the locking function is helpful on adjusting the tension to eliminate the gap; which is a double insurance for you.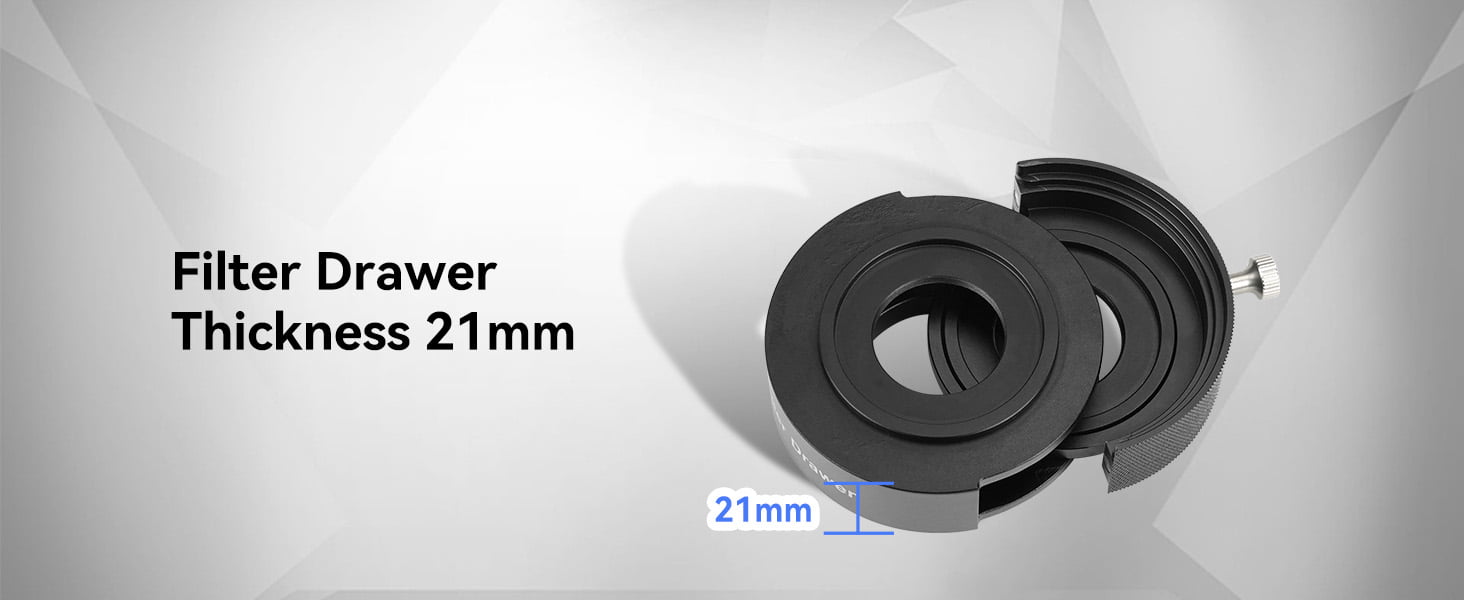 The Parameters Of SV226 Filter Drawer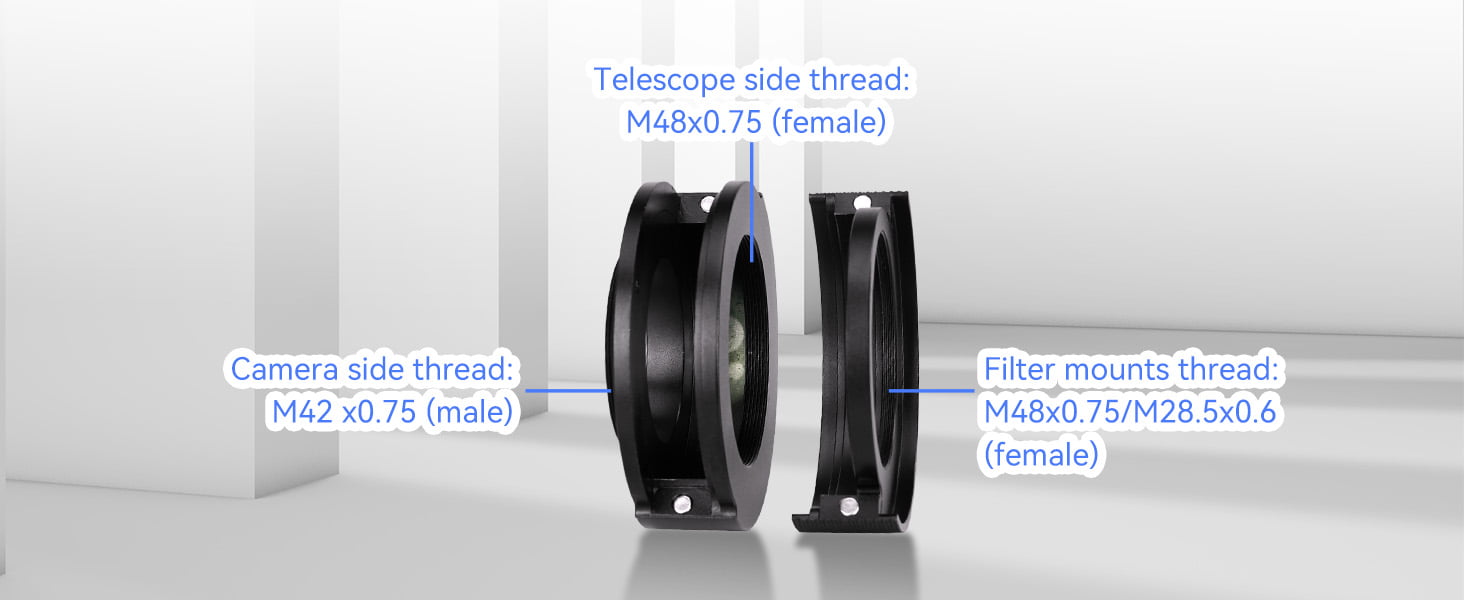 Use With Telescope
Connect the telescope to the focal reducer and drawer filter; then connect the adapter to the camera. This SV226 filter drawer can use with SV550/SV503 OTA and F9198F/F9198K astronomy cameras.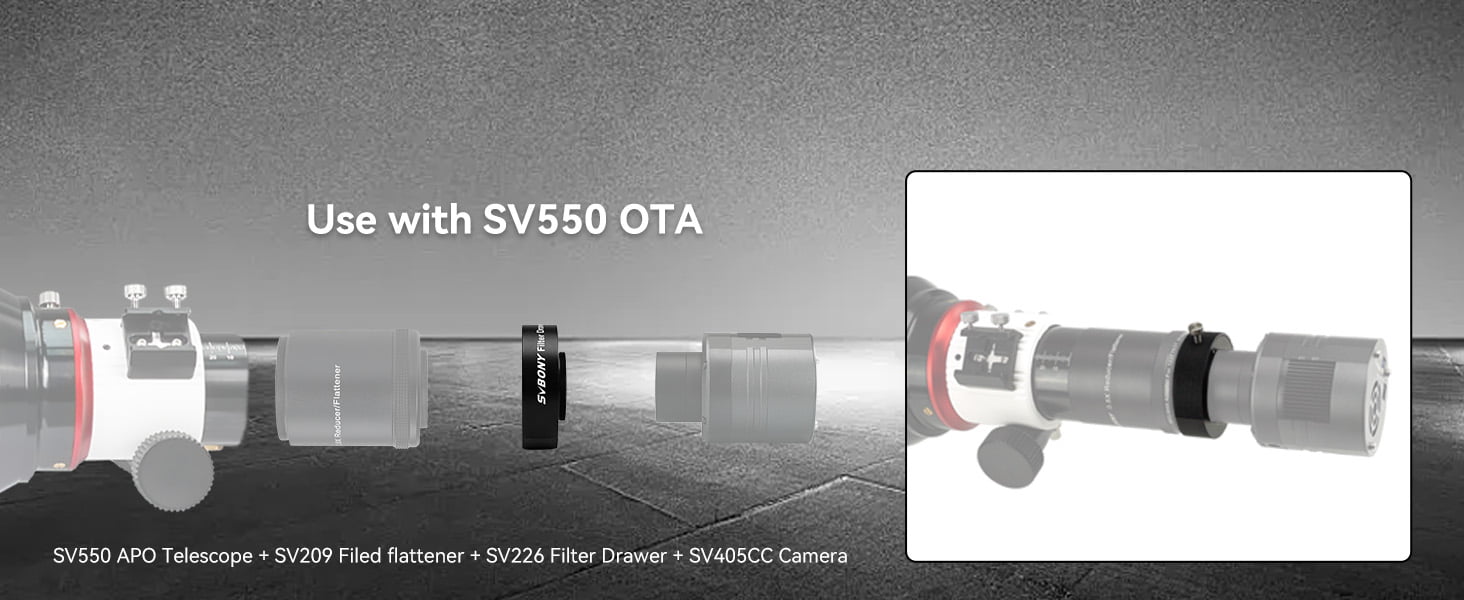 M42-M48 Adapter
Camera side thread is male; filter mounts thread is female; The filter drawer comes with the M42-M48 adapter to resolve the thread compatibility issue. The interface can help you use the adapter to connect cameras of different specifications.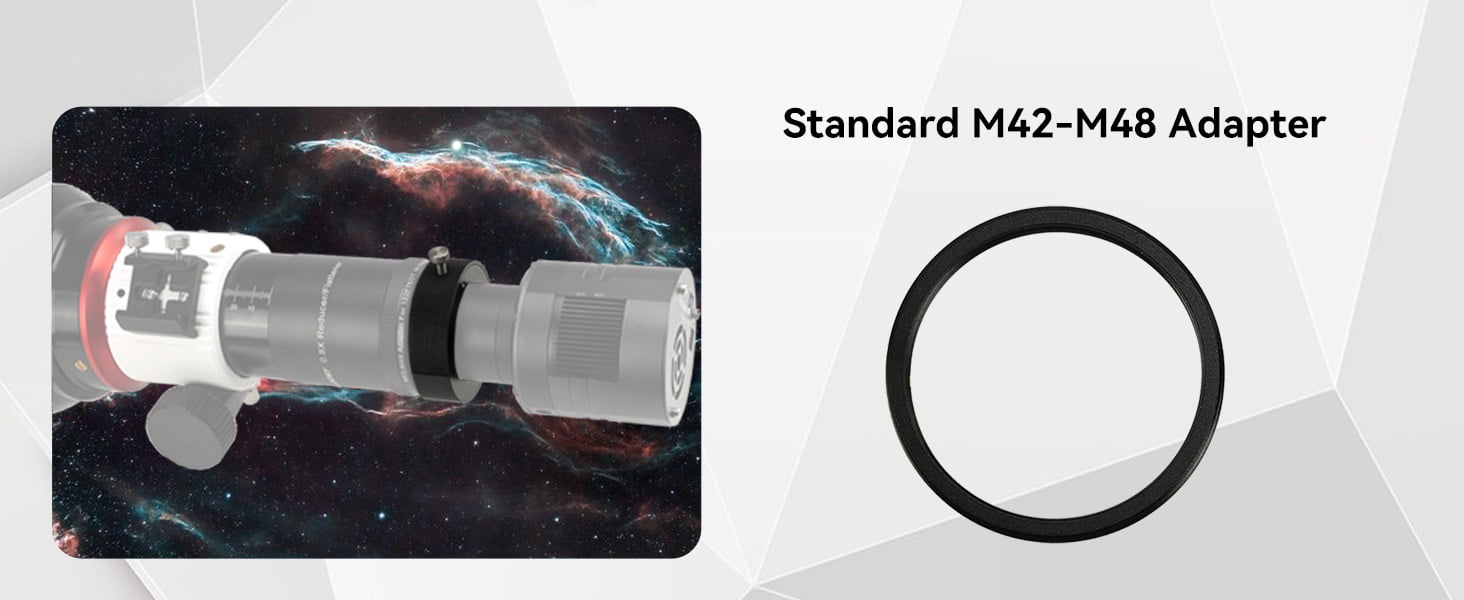 Plastic Dustproof Storage Box
The packaging is equipped with a plastic storage box to ensure that accessories around the filter drawer can be stored.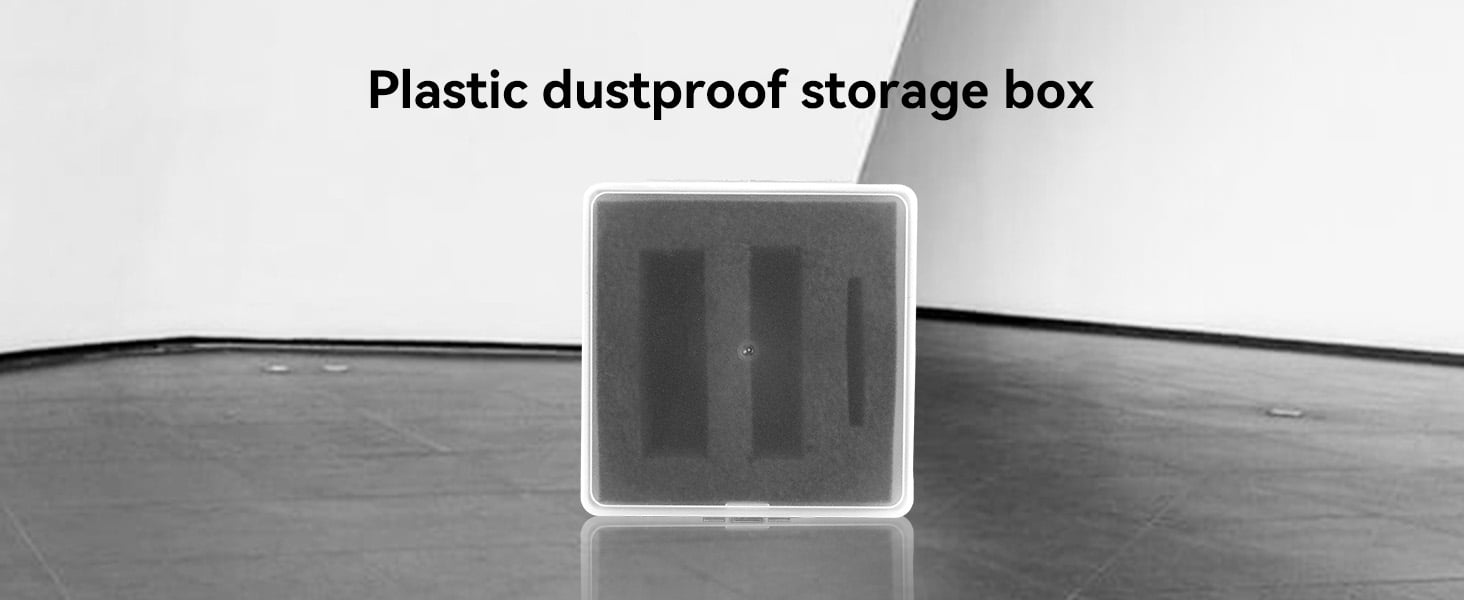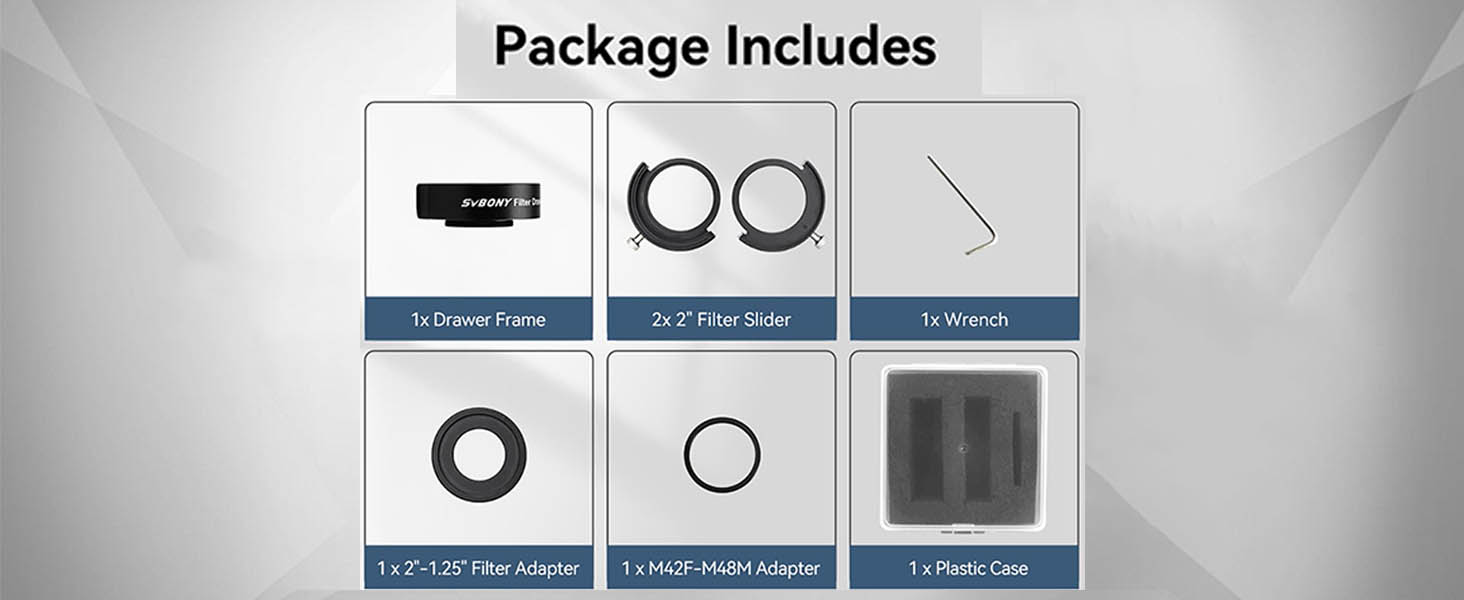 Specifications
| | |
| --- | --- |
| Brand | SVBONY |
| Model | SV226 |
| Product Name | Filter Drawer |
| Thickness | 21mm |
| Support Filter size | 1.25" &2" |
| Material | Aluminum |
| Camera side thread | M42 x0.75 (male) |
| Filter mounts thread | M48x0.75/M28.5x0.6 (female) |
| Telescope side thread | M48x0.75 (female) |
| Net Weight | 400g |
| Diameters | 130x120x100mm |
Features

1.2-in-1 design, can use offilter1.25" & 2" specifications on the market
2.With strong the ability of double strong magnetic adsorption, it is more convenient and much easier to install or pull out the filter.
3.Advanced CNC integrated molding processing, quality assurance
4.Lock screw on the side of it. The locking function is helpful on adjusting the tension to eliminate the gap, which is a double insurance for users.
5.The filter drawer comes with the M42-M48 adapter To resolve the thread compatibility issue.

Package Includes

Drawer Frame x 1PCS




2. 2" Filter Slider x2PCS




3. 2"-1.25" Filter Adapter x1PCS




4. M42F-M48M Adapter x 1PCS




5. Plastic Case x 1PCS