SV605MC is designed with a diagonal 15.968mm (Type 1)CMOS sensor with a mono square pixel array and 3.76μm x 3.76μm per pixel. The sensor incorporates a 14-bit A/D converter, the 14-bit digital output makes it possible to read out the signals of 9.07M effective pixels at a high speed of 20 FPS. Read-out noise is as low as 1.0e which makes sure the highly suitable for high definition, low noise deep space objects imaging.
---
Special offers and product promotions
SVBONY SV605MC Mono Cooled Camera for Deep Space Astrophotography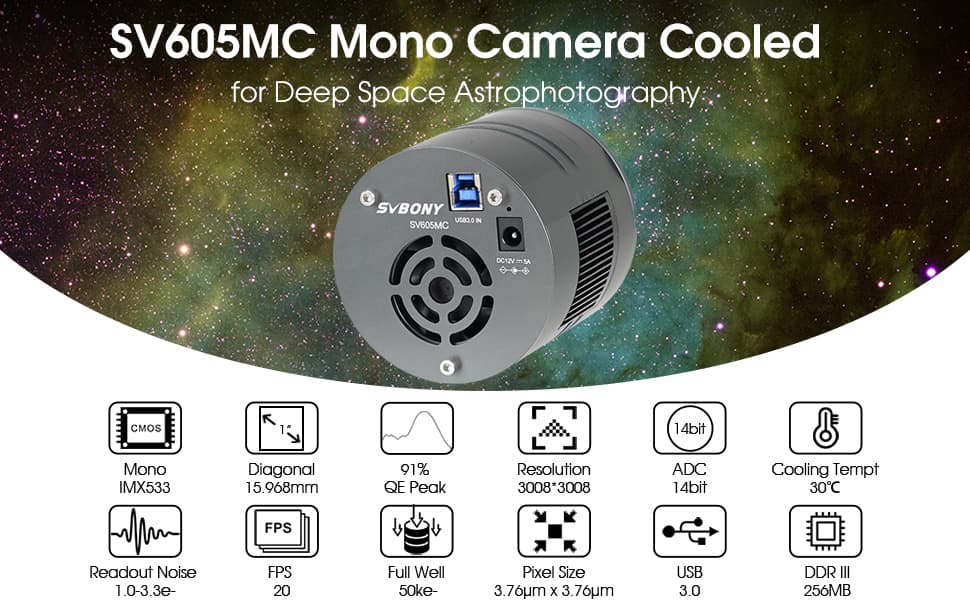 Sensor: Mono IMX533 CMOS
SV605MC is designed with Mono IMX533 CMOS Sensor, 3.76μm x 3.76μm per pixel. The sensor incorporates a 14-bit A/D converter, the 14-bit digital
output makes it possible to read output makes it possible to read out the signals of 9.07M effective pixels at a high speed of 20 FPS.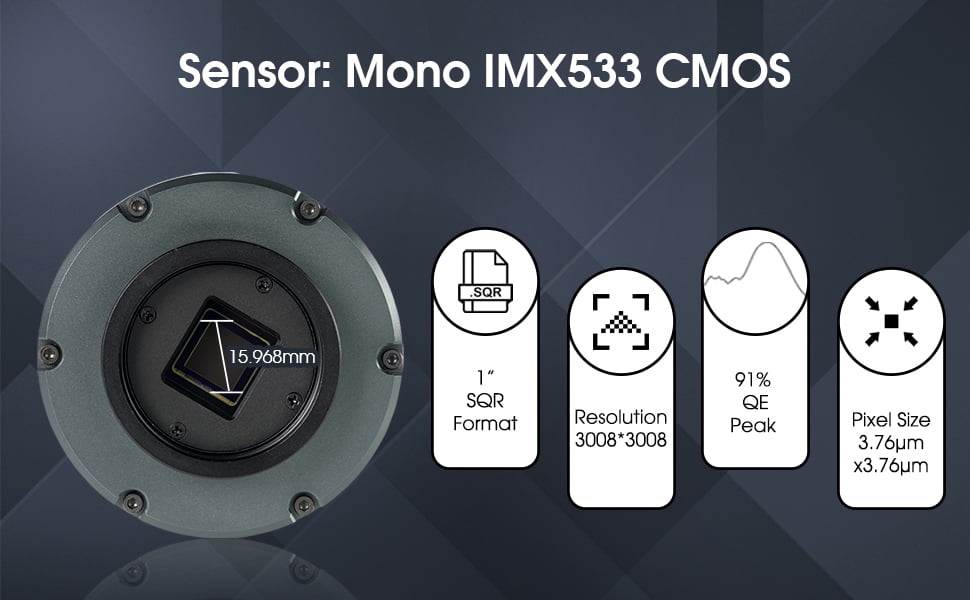 Zero Amp Glow 300S Exposure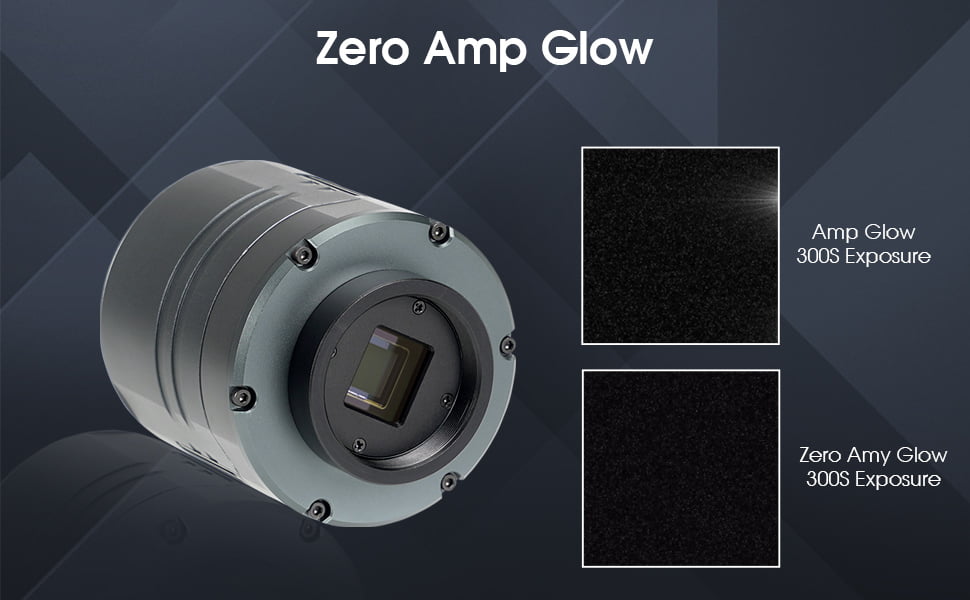 Support ROI & BIN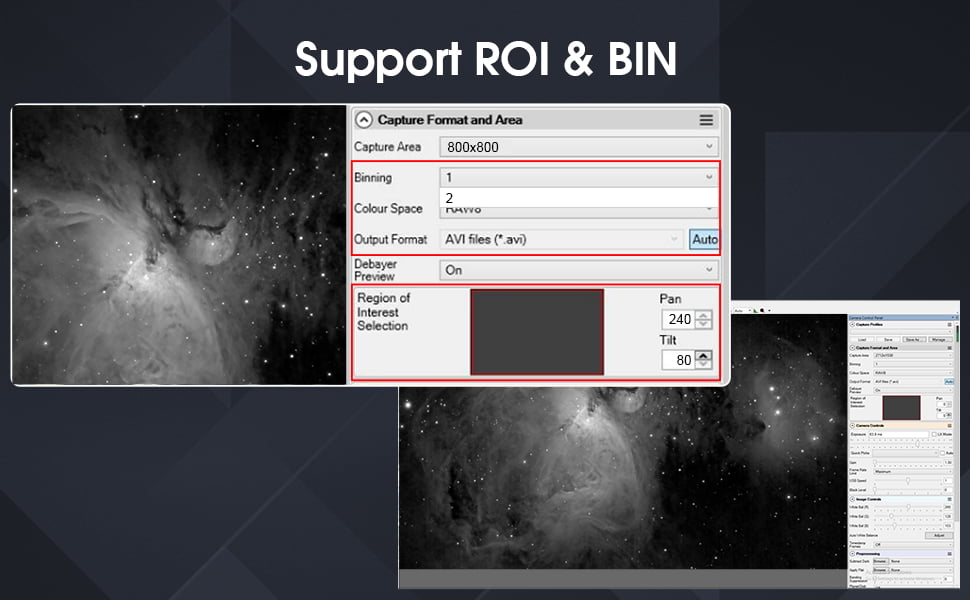 Anodized CNC Aluminum Alloy Body & AR Coating & Well Protected
SV605MC Mono Cooled Camera is Available to use in harsh environments and lives a longer lifespan.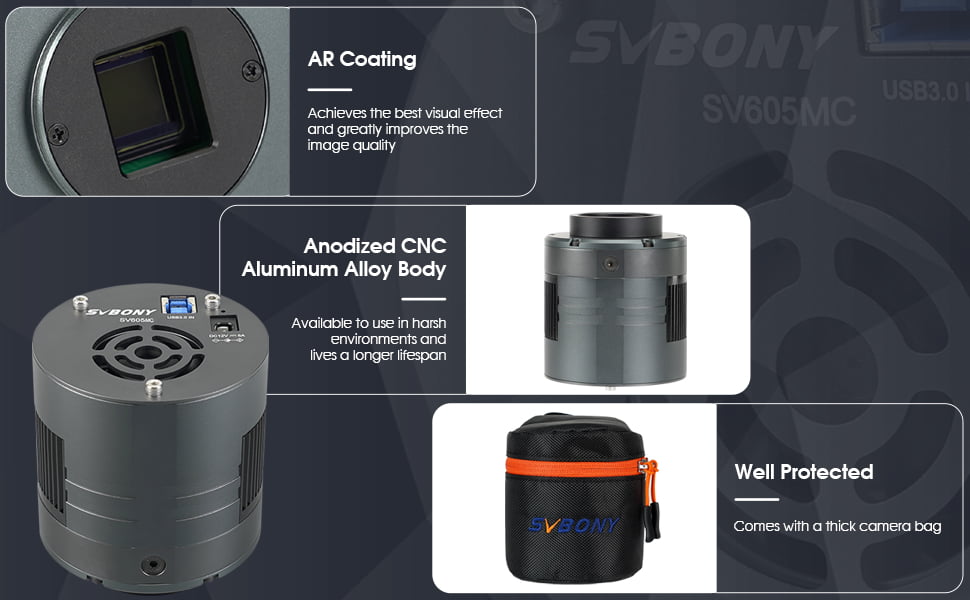 USB3.0 & 256MB DDRIII Buffer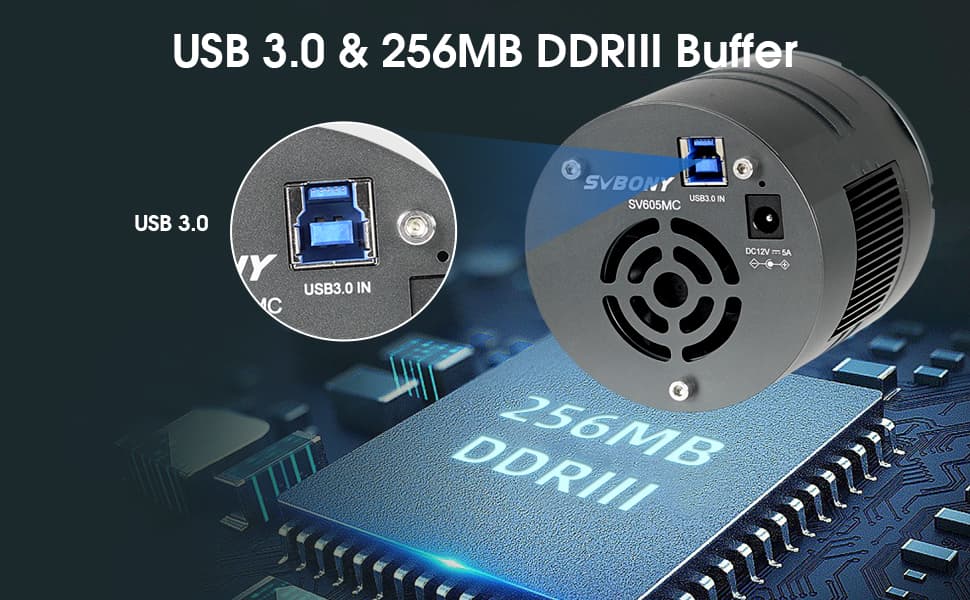 The Compatible Systems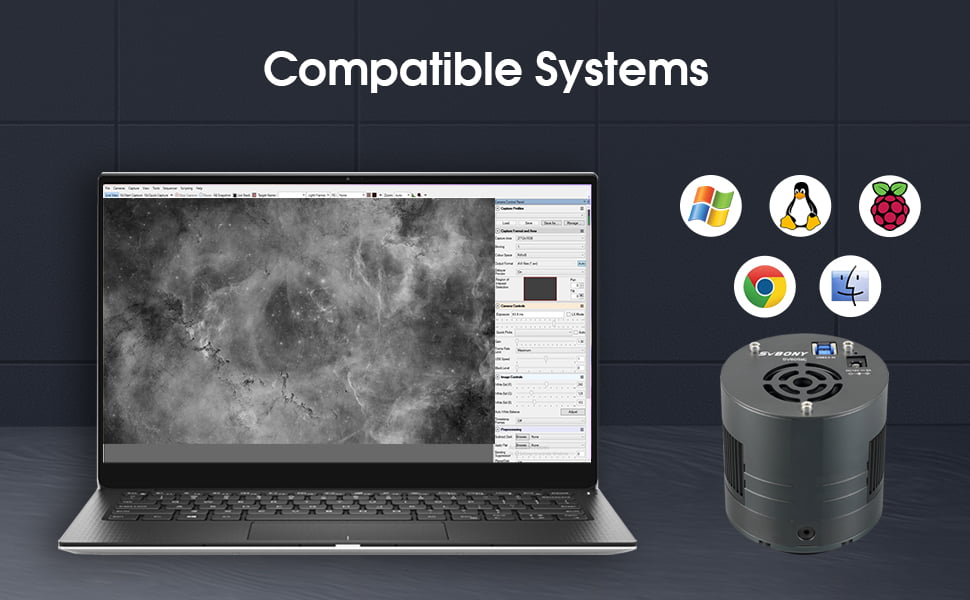 SV605MC Mono Cooled Camera Overview:
1. USB3.0 Data Interface
2. Refrigeration Power Interface
3. Cooling Fan
4. Radiator
5. Drying Chamber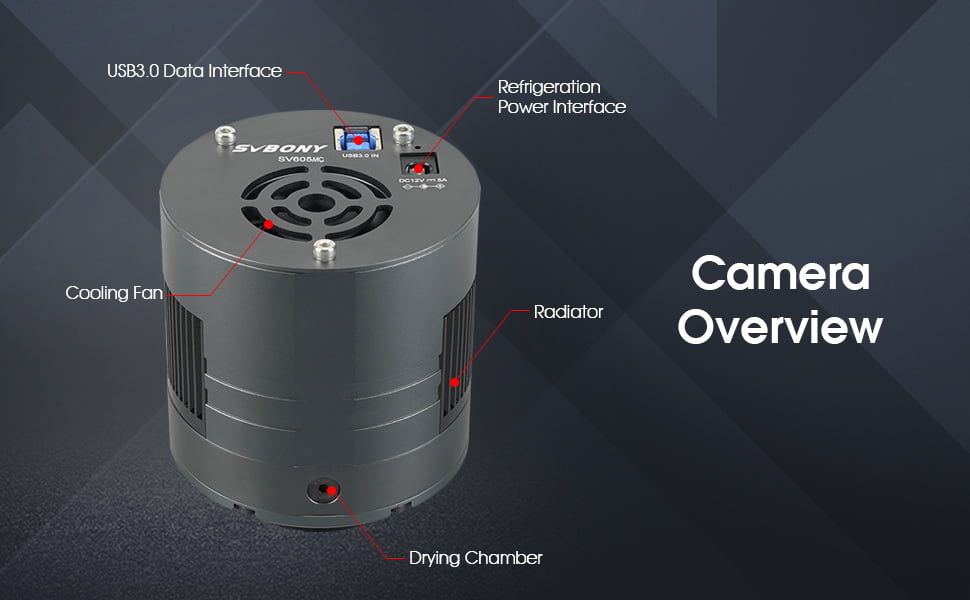 High Definition, Low Noise Deep Space Objects Imaging with
SVBONY SV605MC Mono Cooled Camera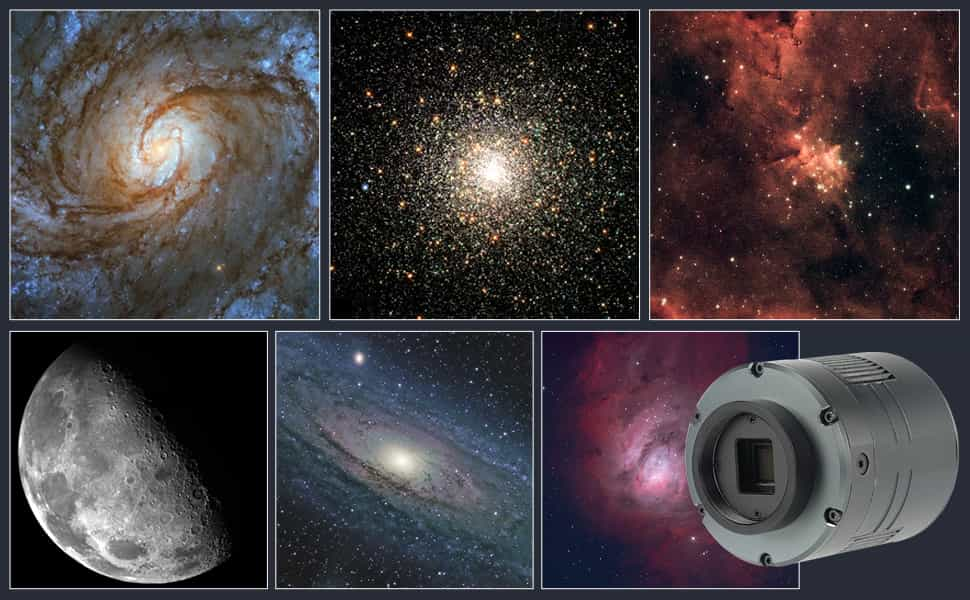 The Package List:
1. Camera Bag x 1
2. SV605MC Camera x 1
3. 2 inch Cover x 1
4. M42-M48 Ring x 1
5. T2-1.25 inch Adapter x 1
6. 1.25 inch T-Adapter x 1
7. M42M-M48F-16.5L x 1
8. M42M-M42F-21L x 1
9. T2 Adapter x 1
10. User Manual x 1
11. USB3.0 Data Cable x 1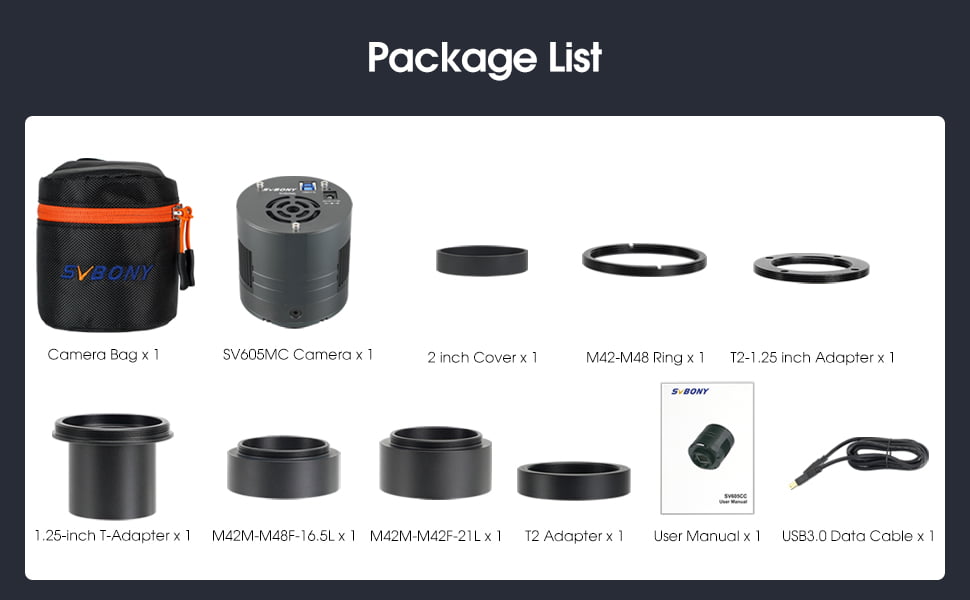 Bang for buck product!
ok so i just received the sv605mc with the filterwheel and NB filters. Also the clouds came rolling in as soon as i received it so bummer i don't think i'll be able to test it out any night soon, so this review is related to the product packaging and general inspection and i promise photos will come as soon as there is a break in the never ending clouds. The order was shipped on monday and i received it today after a little more than four days, which is blazingly fast for my location (mauritius). The camera module as well as all the accessories were well packaged. My biggest gripe about the camera is that it looks too much like the sv605CC ( the one shot color version svBony makes) but you get quite a generous number of different stickers so you can differentiate if you've got both cameras. I have both the sv605CC and now the sv605MC and the build quality is phenomenal! feels solid and well built, i bet you could use that as the end of a hammer and it wouldn't even have a dent :P About the filter wheel, it is solidly built but i did run into some issues when trying to move the filter positions. I disassembled the filter wheel by removing the 4 small screws using the allen key provided and immediately noticed that one of the tube will block the wheel if screwed in all the way inside, so if you ever happen to experience the same issue you just need to unscrew that tube a bit and all will be sorted out. If you want to buy it then go for it you won't be disappointed!
| | |
| --- | --- |
| Model | SV605MC |
| Sensor | Monochrome ​IMX533 CMOS |
| Image Resolution | 3008*3008 |
| Total Pixels | 9.0 Megapixel |
| Pixel Size | 3.76μm(H) x 3.76μm(V) |
| Target Size | 1'' |
| Diagonal | 15.968mm |
| Maximum Frame Rate | 20FPS |
| Shutter Type | Rolling Shutter |
| Image Area​ | 11.3mmx11.3mm |
| Cache | DDR3 256M |
| Time of Exposure | 32ms-2000s |
| Readout Noise | 1.0e-3.3e- |
| QE Peak | 0.91 |
| Full Charged | 50ke- |
| ADC | 14bit |
| Dark Current​ | -20C, 0.0005e /pixel/sec |
| HCG | Gain=100, HCG |
| Anti-condensation | YES |
| Glow suppression | No-Glow |
| Temperature Display | Display on software |
| Cooling System | TEC Semiconductor 2-Stage Refrigeration |
| Output image format​ | Mono8/Mono16 |
| ROI | Support |
| Pixel Binning | BIN1,BIN2,BIN3,BIN4 |
| Software​ | N.I.N.A./Sharpcap/TheSkyX/APT/AstroDMx Capture/ ASCOM |
| Protective Window Optical Glass | AR Coating |
| Camera Interface Specifications | 2''/1.25''/M42X0.75 |
| Back Focus Distance | 6.5/17.5mm |
| Working Current | < 300MA |
| Stand-by Current | < 30MA |
| Operating Temperature​ | -10°----50° |
| Storage Temperature​ | -20°----60° |
| Working Humidity​​​ | 20% RH-80% RH |
| Storage Humidity​ | 20% RH-95% RH |
| Operating System | Windows, Linux, Mac OS, Raspberry Pi, Chrome OS |
Feature
Traditional CMOS sensors produce a weak infrared light source during operation quite often seen in the corner of uncalibrated images as the tell tale signs of 'amp glow'. As the SV605MC uses better zero amp glow design, The glow was not visible during the 300 second exposure, make sure the totally high quality"dark"image.
Cooling System TEC
Thanks to the two-stage TEC cooling, the SV605MC can lower the CMOS sensor temperature to 30 degrees Celsius below ambient temperature, which can greatly reduce dark current generation and sensor noise even during longer exposure times.
HCG mode
Using the HCG digital noise reduction technology, the readout noise can be greatly reduced and high dynamic range is retained.
256M DDR3 Cache
The SV605MC has a built-in 256MB DDRIII image buffer. The benefit of the image buffer is that the memory will cache the image and transfer it to the computer when the USB interface is not busy or being interrupted, so that the frame won't be lost or corrupted. This buffer also allows a slower computer with USB 3.0 to capture every frame without loss even if the USB bus is occasionally busy with other peripherals. This buffer also makes it possible to run another camera using the same computer without USB transfer problems from the SV605MC
Support system
For Windows system, SV605MC support N.I.N.A., TheSkyX, APT, Sharpcap and other softwares running through ASCOM platform by using ASCOM driver.SV605MC camera works with Windows, Linux, Mac OS, Chrome OS and Raspberry Pi systems by running AstroDMx Capture.
Package List
① Camera Bag x 1
② SV605MC Camera x 1
③ 2 inch Cover x 1
④ M42-M48 Ring x 1
⑤ T2-1.25 inch Adapter x 1
⑥ 1.25-inch T-Adapter x 1
⑦ M42M-M48F-16.5L x 1
⑧ M42M-M42F-21L x 1
⑨ T2 Adapter x 1
⑩ User Manual x 1
⑪ USB3.0 Data Cable x 1
DC12V 5A Charger for cooling