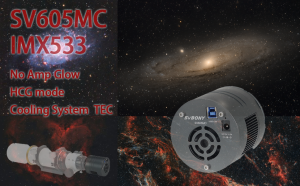 SV605MC is designed with a diagonal 15.968mm (Type 1)CMOS sensor with a mono square pixel array and 3.76μm x 3.76μm per pixel. The sensor incorporates a 14-bit A/D converter, the 14-bit digital output makes it possible to read out the signals of 9.07M effective pixels at a high speed of 20 FPS. Read-out noise is as low as 1.0e which makes sure the highly suitable for high definition, low noise deep space objects imaging. ...
Read more
SV605MC
,
mono cooled camera
,
camera for deepspace
,
svbonysv605MC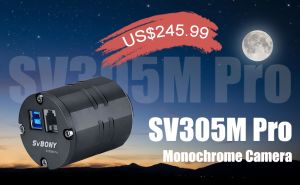 In this article, I introduce the basic information so you can have a rough grasp of this new SV305M Pro Mono camera, including the unboxing images, the upgrade aspects as well as other specific parameter shows. For more information, pls refer to the blog. ...
Read more
SV305
,
SV305M
,
camera
,
mono
,
SV305M CAMERA
,
astronomy camera