this sv550 set connected for prime focus astrophotography,give you more playing methods,let's try it now,any questions,contact us freely!
sv550 prime focus photography, also known as direct focus photography, is a method of directly using the telescope to take pictures without adding any optical objects between the telescope and the camera.
The main objects of direct focus photography are nebulae, clusters and galaxies.This can be achieved by matching the sv550 set with the M48 camera ring.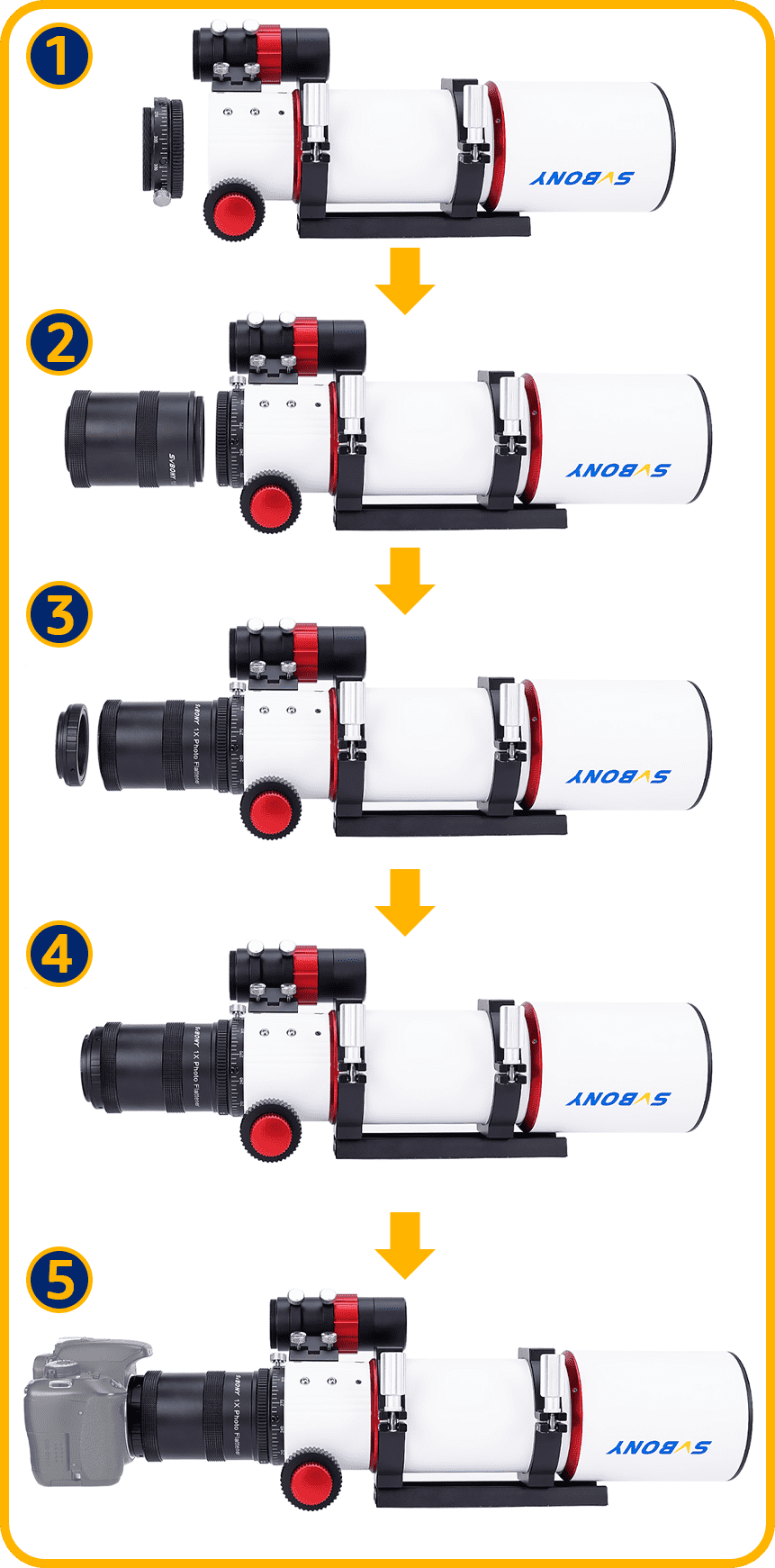 | | |
| --- | --- |
| Model | SV550​ |
| Type | Refractor |
| ED Glass | FPL51​ |
| Coating | SMC |
| Aperture | 80mm |
| Focal length | 480mm |
| Focal Ratio | f/6 |
| Limit magnitude | 11.6 |
| Resolution | 1.45 arc seconds |
| Lens design | Apochromatic​​ |
| dovetail plate length | 150-175mm |
| barrel weight | 2900g |
| mirror Brief Size | 377.8mm |
| Net weight​ | 3750g |
| Gross weight​ | 3850g​ |
| | |
| --- | --- |
| Model​ | SV209​ |
| Connection at telescope side​ | M63x1 male thread​ |
| Connection 1 at camera side​ | M63x1 thread female - working distance 103 mm​ |
| Connection 2 at camera side​ | M48x0.75 male thread - working distance 55 mm or 91.5 mm​ |
| Fully illuminated field​ | 45 mm(SupportFull Frame Sensors)​ |
| Number of elements​ | 2 lenses​ |
| Factor​ | 0 - no change of focal length to the focal plane​ |
| Coating​ | FMC​ |
| Diameter of the housing​ | 67mm​ |
| Length​ | 5 mm without the male thread​ |
| | |
| --- | --- |
| Model | SV195​ |
| Size | M42*0.75 |
| Male thread | Canon EF-Mount |
| Color | Black |
| Material​ | Metal Aluminum ​ |
| Net weight​ | 44.7g​ |
Here are three camera adapters to choose from:
1.M48*0.75 Nikon Adapter
2.M48*0.75 Canon Adapter
3.M48-NEX Sony Adapter