SVBONY SV550 refractor APO triplet apochromatic telescope 80mm DSO deep space vision and photography suits -- combining the SV550 Telescope with the SV405CC deep space camera, SV209 field flattener, SV210 M63 CAA 360 degree rotator camera angle adjuster, SV191 zoom telescope eyepiece, SV211 135mm handle bar and SV212 carrying case bag, enables both deep sky vision & photography.
If you encounter credit card limit issues during the payment process, resulting in failed payments or other issues, please contact us at support@svbony.com.
SV550 Refractor Telescope APO Triplet Apochromatic 80mm Deep Space Vision & Photography Set
The SV550 APO triplet refractor with 80mm aperture and fast f/6 focal ratio, a great travel telescope for observation and astrophotography.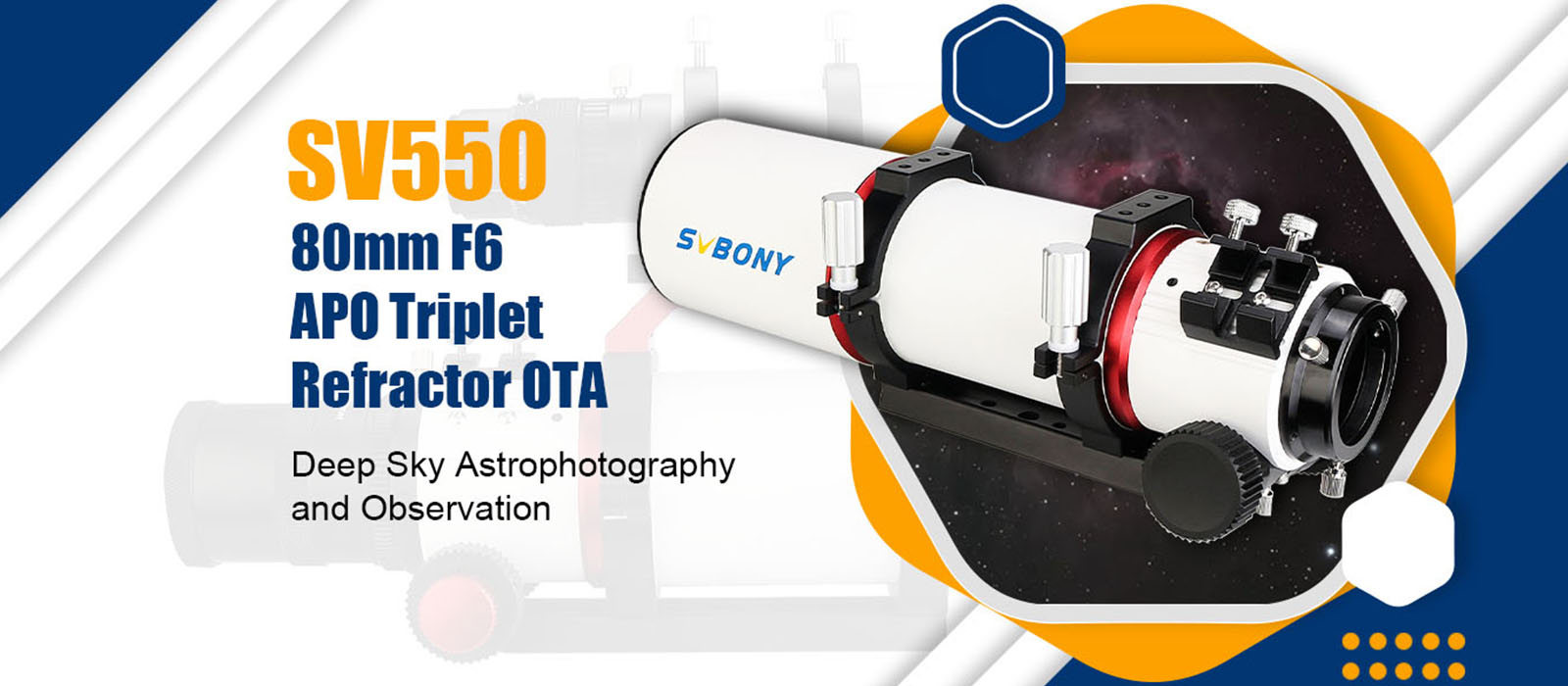 Deep sky photography OTA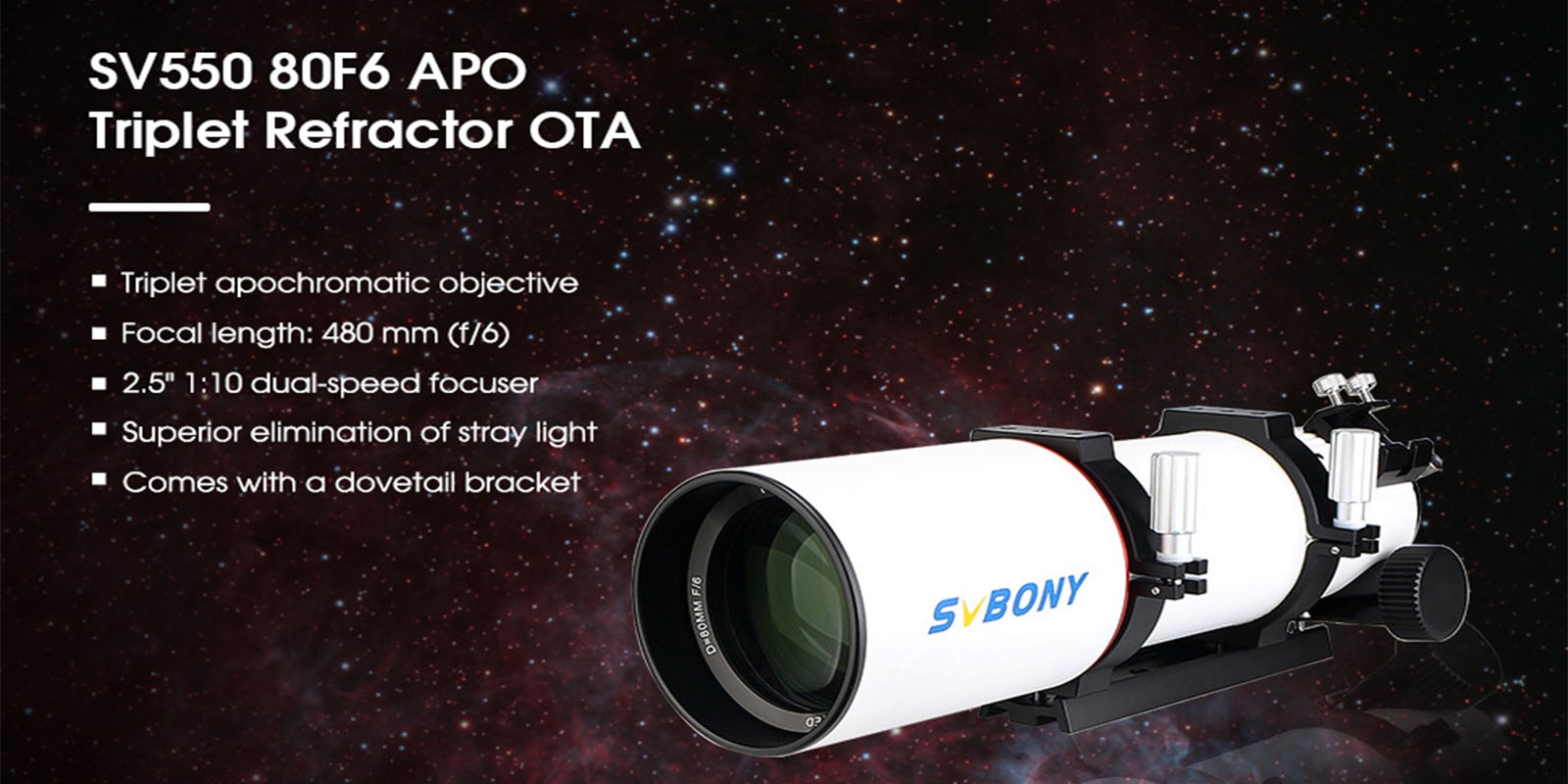 Focal Length: 480mm
The focal length is 480mm, suitable for deep sky observation and photography, for galaxies, nebulae, star clusters and other deep sky objects.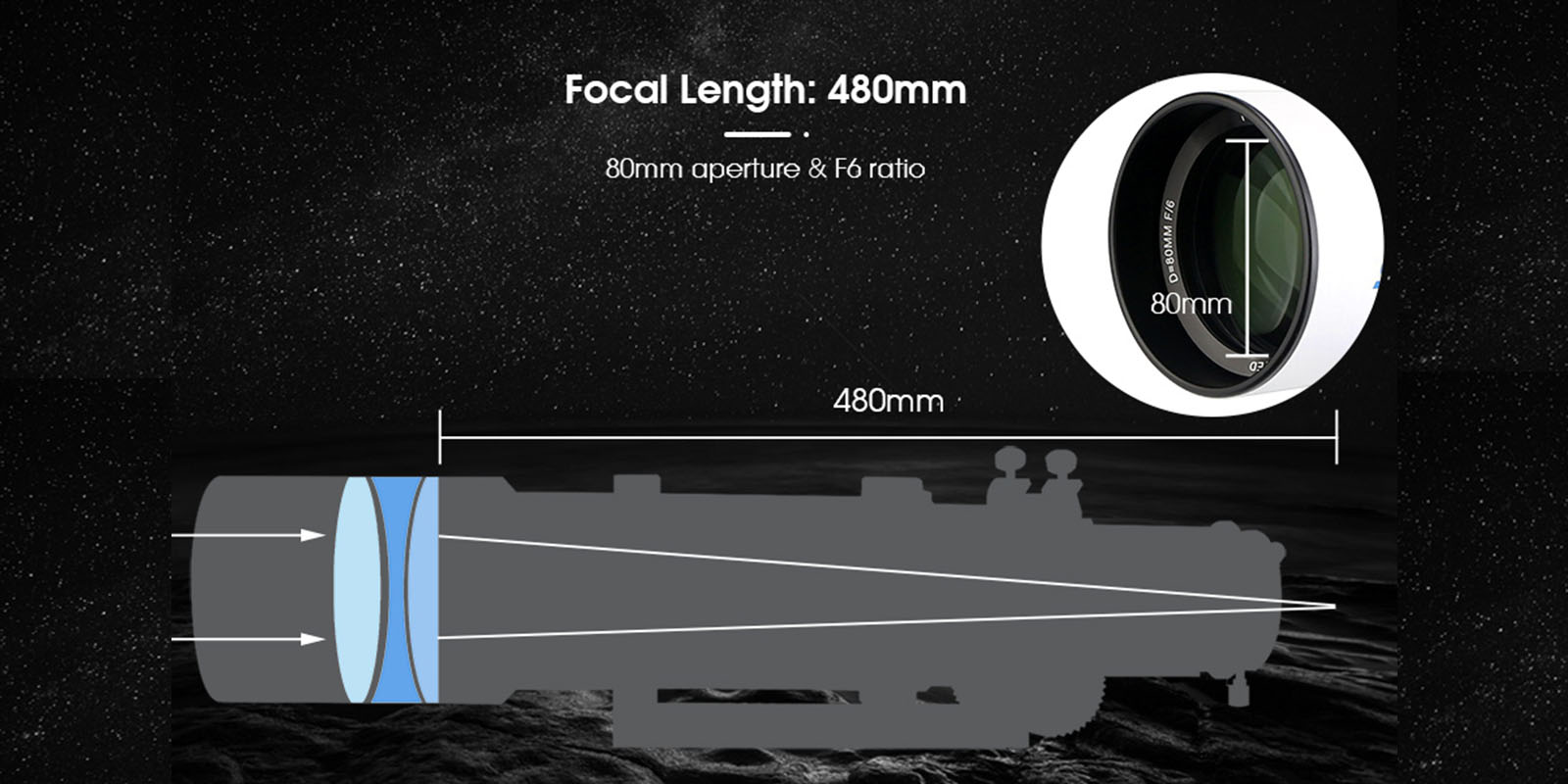 APO Structure
Apochromatic triplet uses a series of three lenses. It provides better correction of aberration and significantly reduces dispersion. It reduces chromatic aberration, and it corrects for two wavelengths to reduce spherical aberration. The apochromatic triplet objective provides high-quality, sharp and high-contrast images.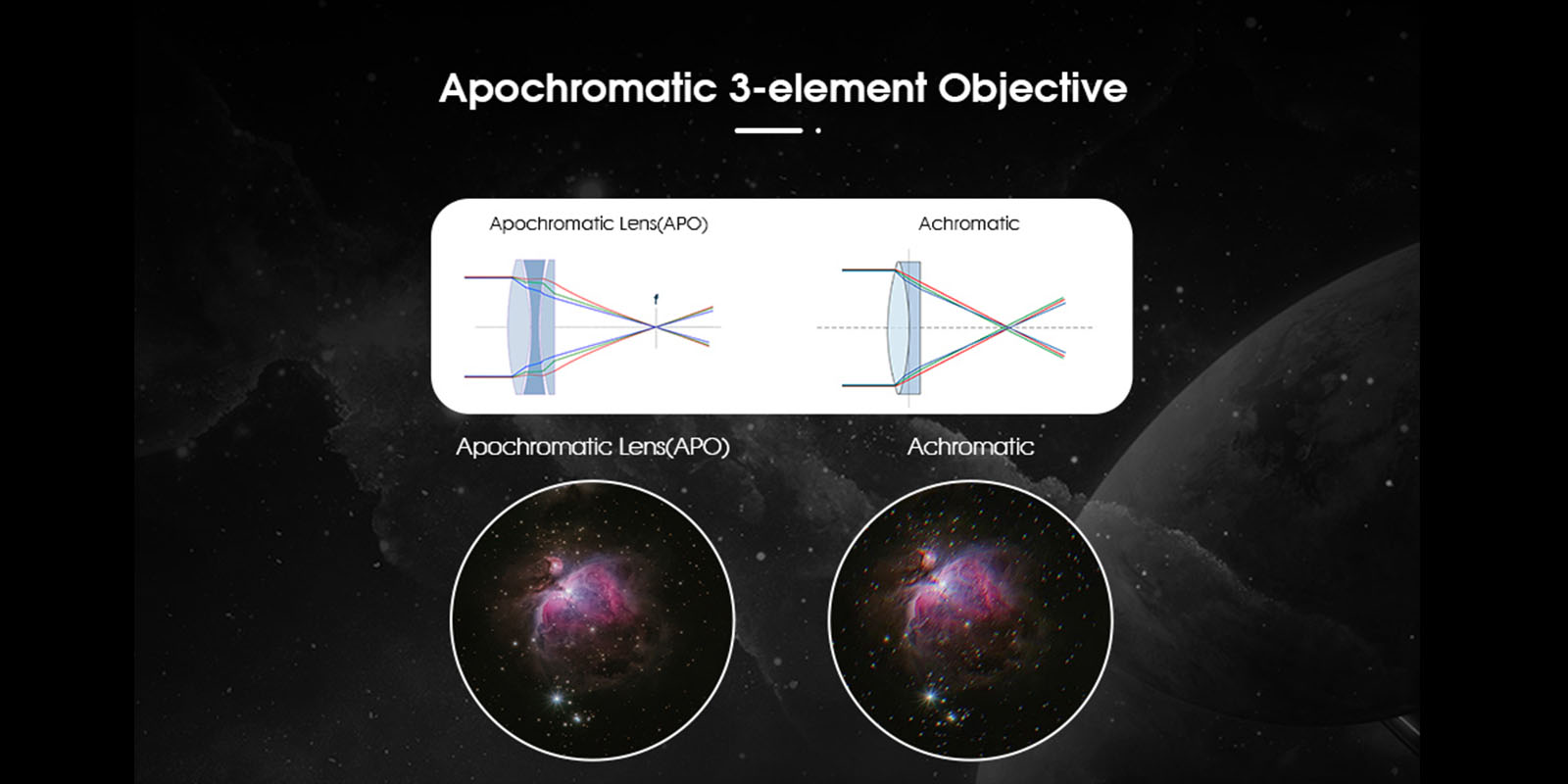 2.5" 1:10 Dual-speed Focuser
The gear ratio of the dual speed 2.5-inch toothed focuser is 1: 10, which makes it easy to achieve accurate focus. The dual speed focuser can provide two focusing speeds by using a set of co-axial knobs, for fast focusing and fine focusing. Magnesium alloy focusing seat, compared with aluminum alloy materials of the same specification, the weight can be reduced by more than 20%, reducing the load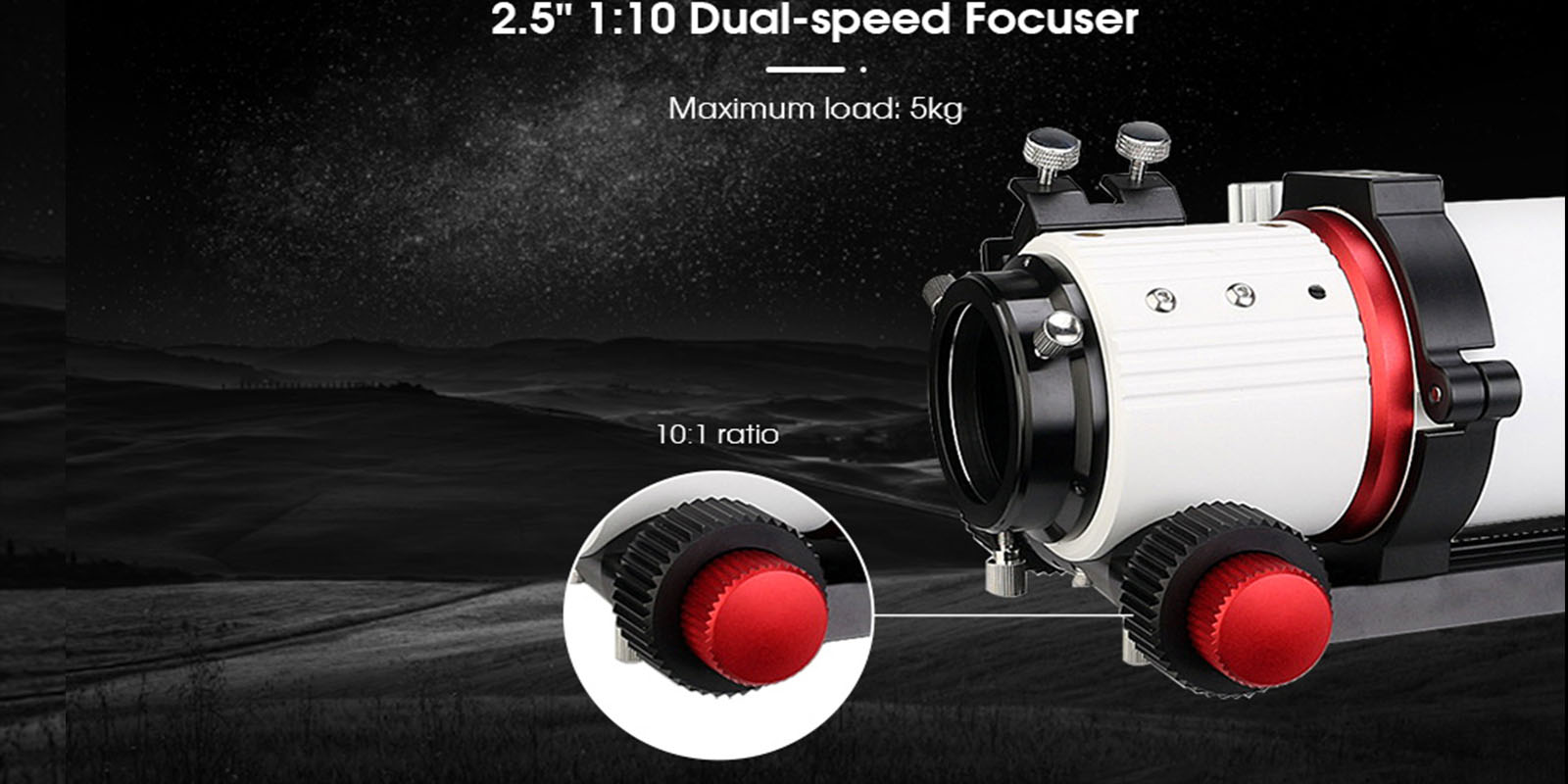 Extreme Extinction
4 extinction light bars are used inside the lens barrel, which can eliminate all stray light interference on the inner wall of the lens barrel.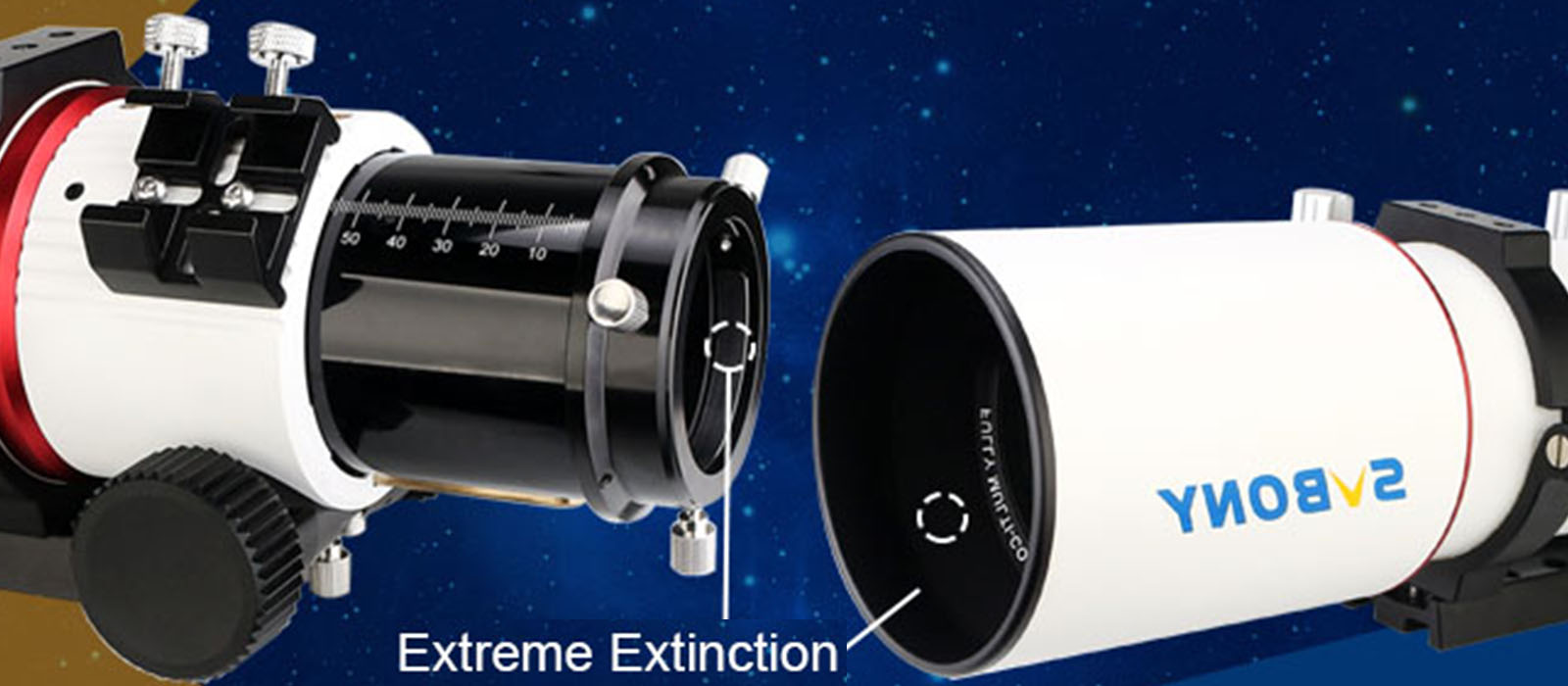 Elimination of Stray Light
Blackened inside and knife-edge baffle are for reduction of stray light and improvement of image contrast.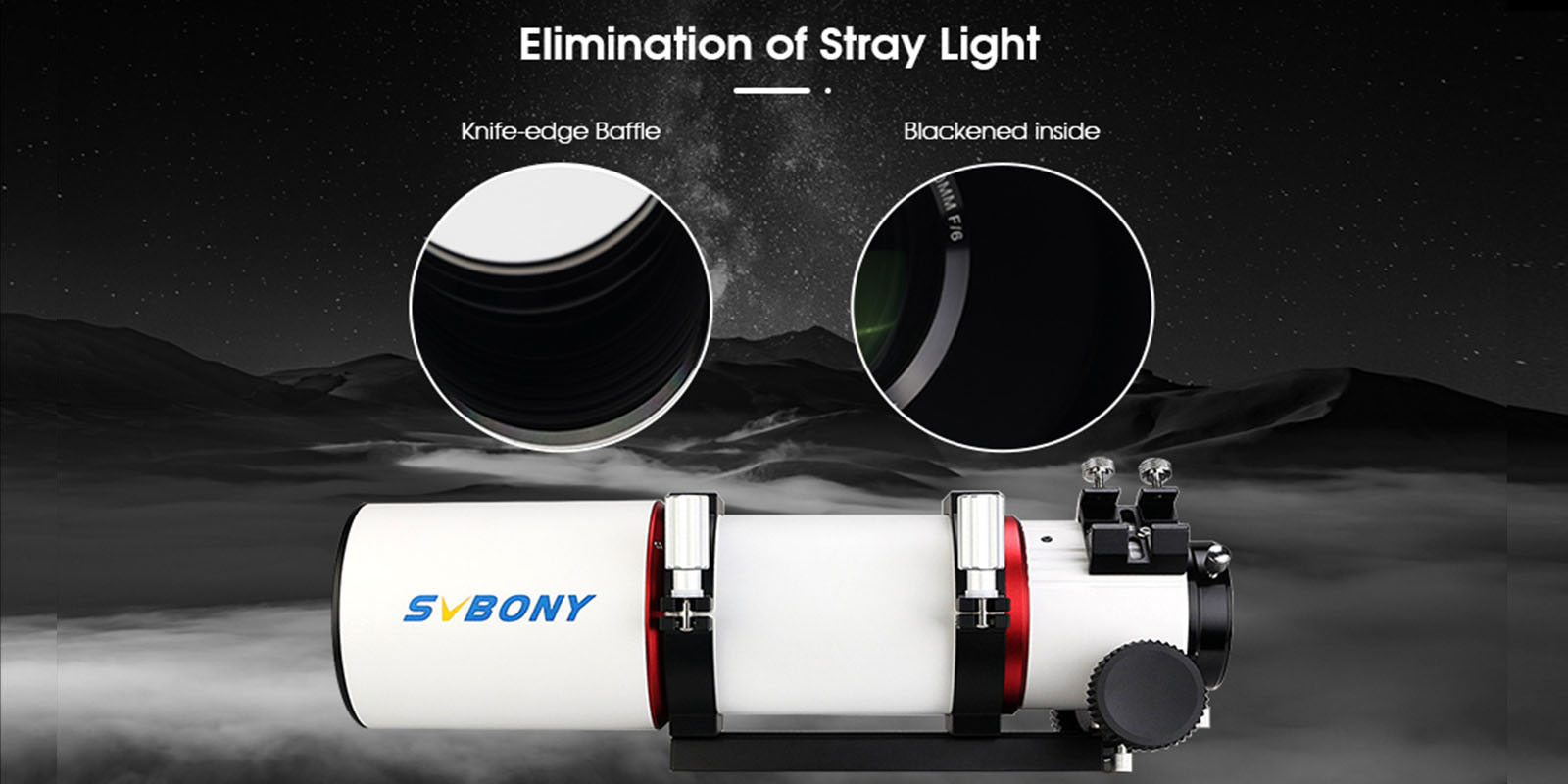 Why should SV209 be used together with SV550?
SV209 1.0x Flattener Corrects the Field for Astrophotography M63x1 Connection Black.
It is a special flat field mirror developed for SV550 80F6 OTA, which can effectively improve the image quality of SV550 OTA edge field, while maintaining the focal length and focal plane position of the Objective lens. The sv209 is equipped with M63 extension cylinder and M48 adapter ring to ensure that the rear intercept of the flattener is the astronomical conventional 55mm length.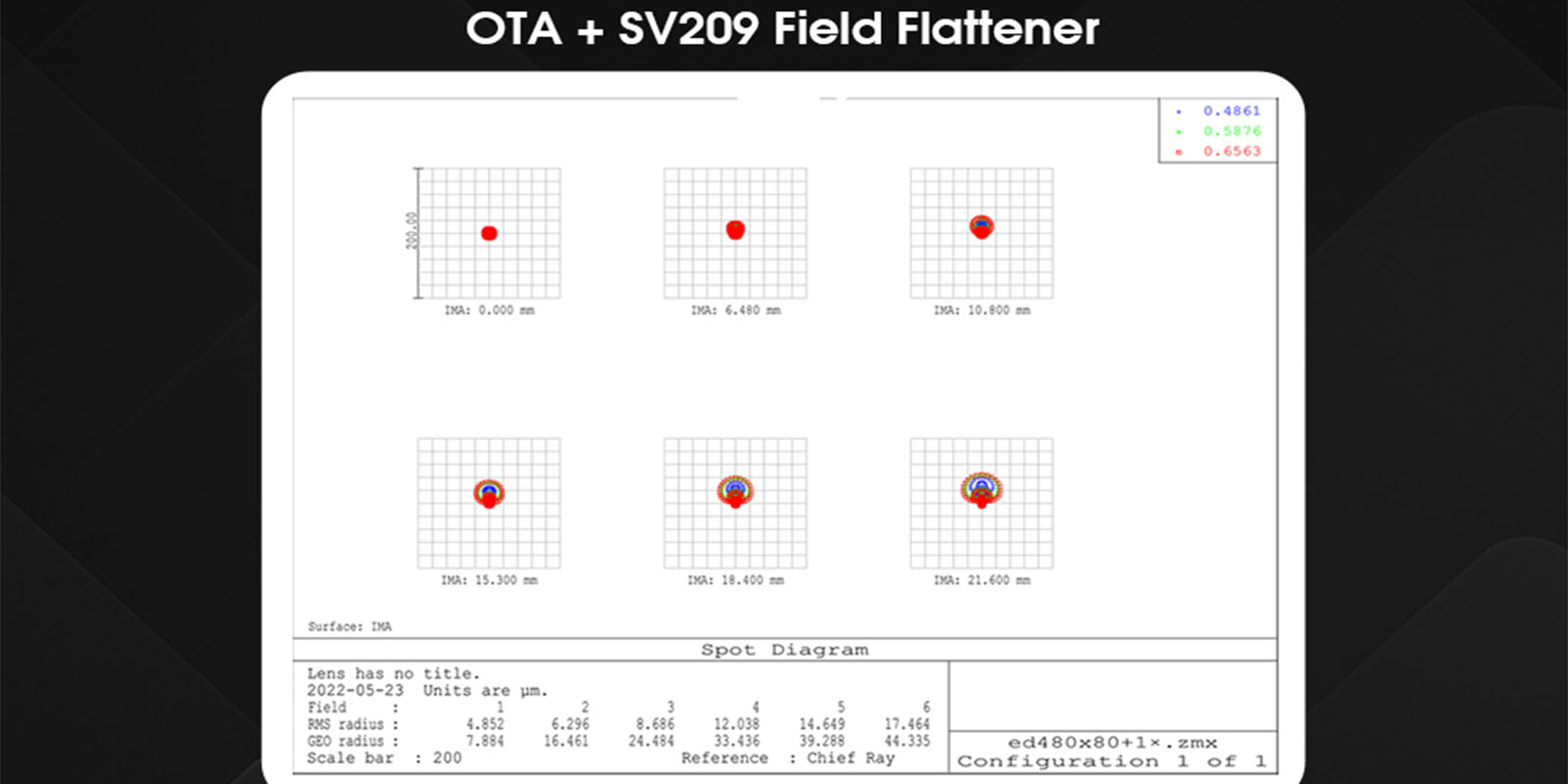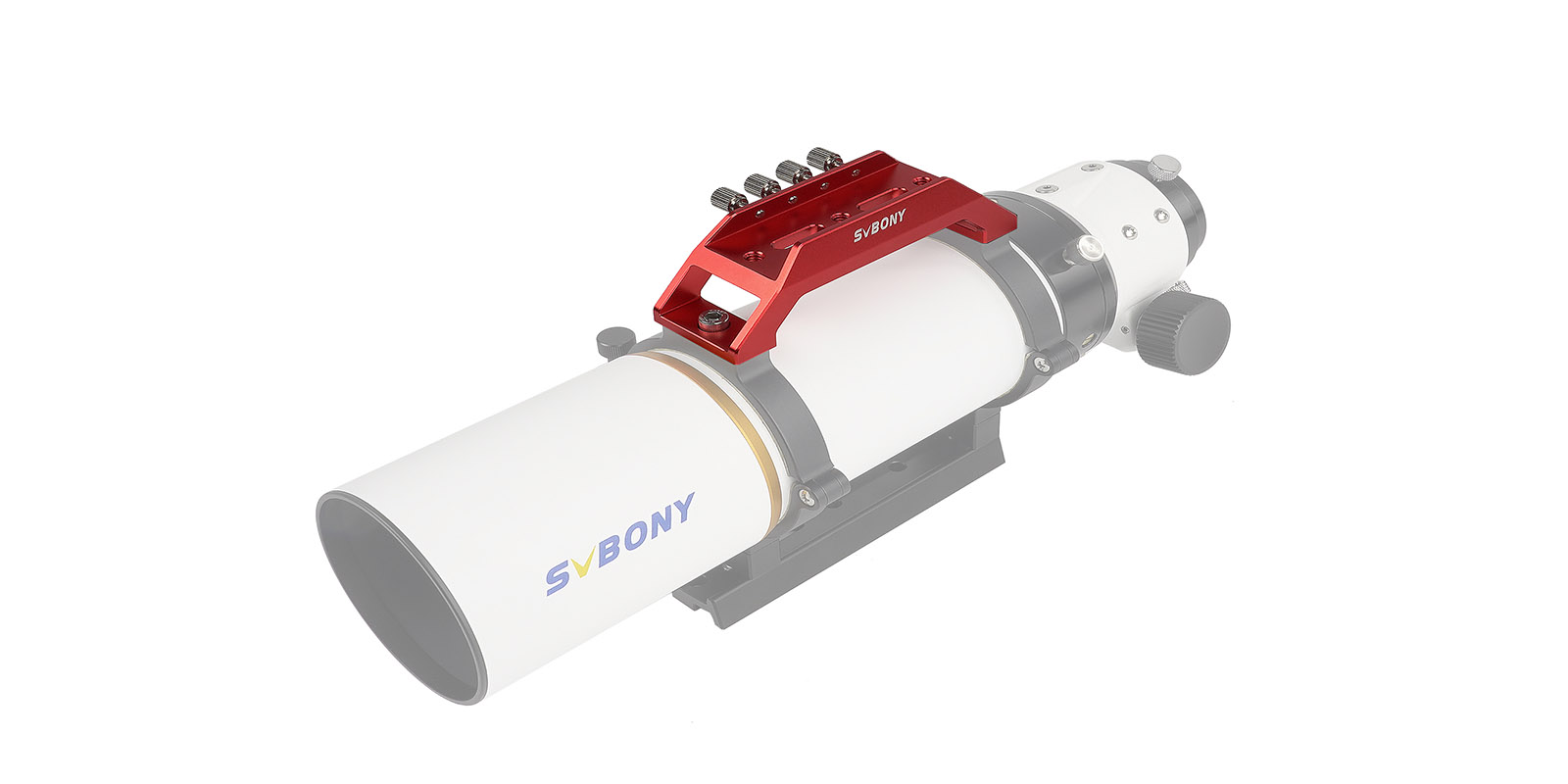 SV210 M63 CAA 360 Degree Rotator Camera angle Adjuster for Visual Rotation Black
The image field rotator of sv210 CAA camera is mainly used for astronomical photography scenes.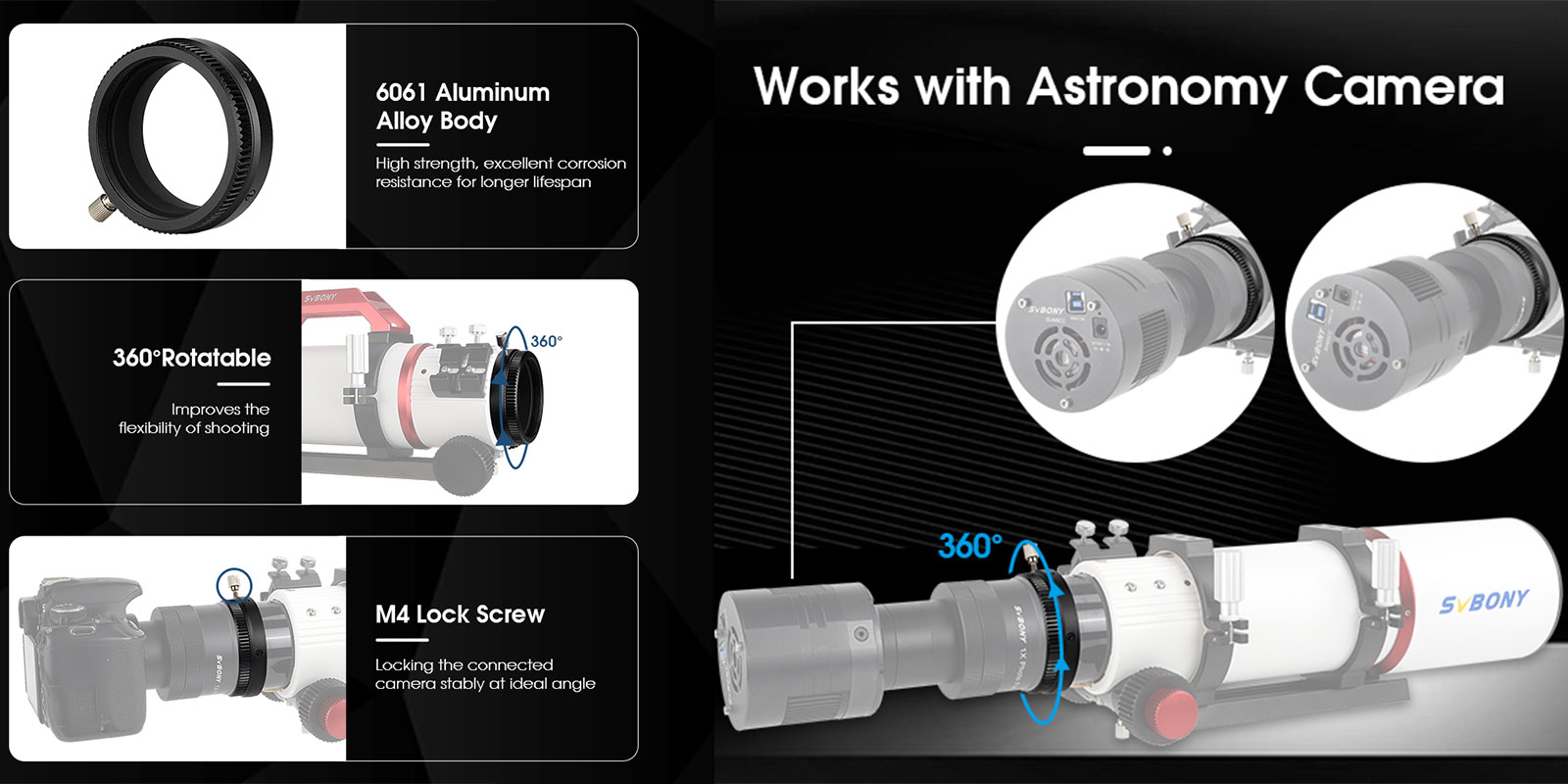 SV191 super-wide-angle 1.25'' zoom eyepiece 7.2-21.6mm and 9mm-27mm, allow you to change magnification power without swapping out eyepieces.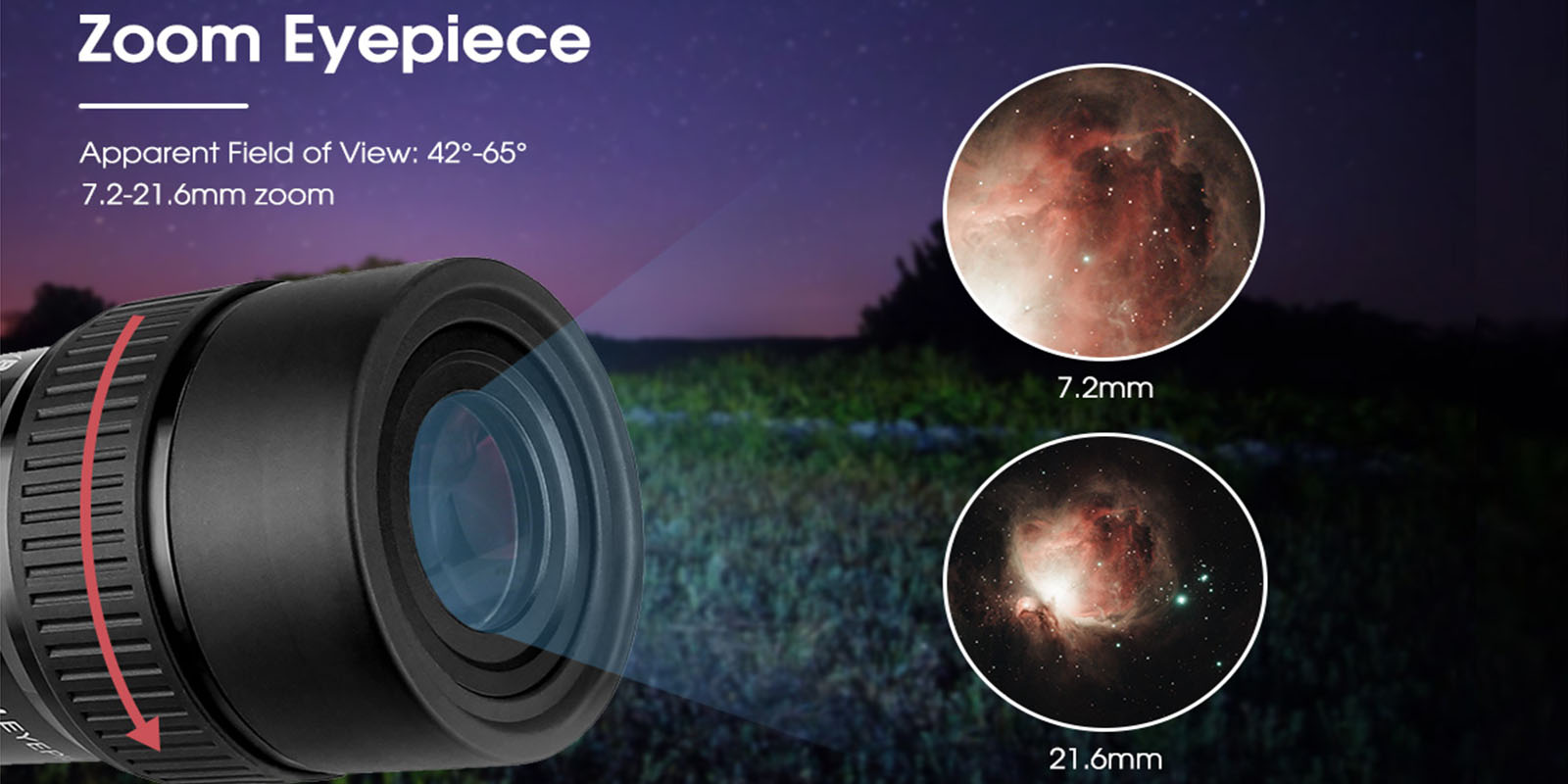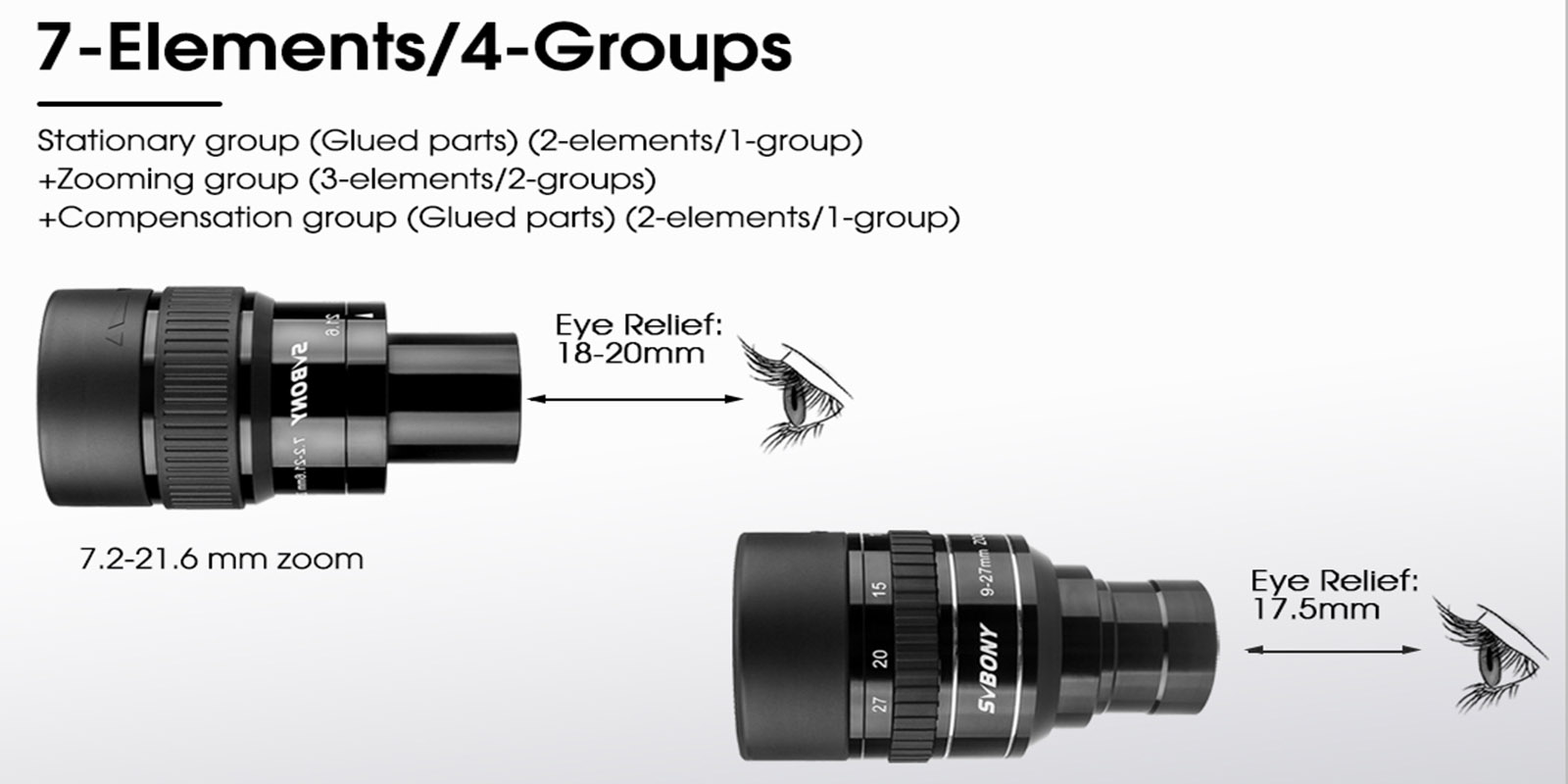 Combining the SV550 80 APO with the SV405CC deep space camera, SV209 field flattener, SV210 CAA, SV191 Zoom Telescope Eyepiece, SV211 135mm Handle Bar and SV212 Telescope Carrying Case Bag enables deep sky vision and photography perfectly.
The Package Includes
Specifications
Brand
SVBONY
Brand
SVBONY
Model
SV550
Model
SV209
Aperture
80mm
Connection at telescope side
M63x1 male thread
Focal Length
480mm
Connection 1 at camera side
M63x1 thread female - working distance 103 mm
Focal Ratio
f/6
Connection 2 at camera side
M48x0.75 male thread - working distance 55 mm or 91.5 mm
ED Glass​
FPL51​
Fully illuminated field
45 mm(SupportFull Frame Sensors)
Telescope Type
Refractor
Number of elements
2 lenses
Resolution
1.45 arc seconds
Factor
0 - no change of focal length to the focal plane
Coatings
SMC
Coating
FMC
Limiting stellar magnitude
11.6
Diameter of the housing
67mm
Lens design
Apochromatic​
Length
5 mm without the male thread
dovetail plate length
150-175mm
barrel weight
2900g
mirror Brief Size
377.8mm
Net weight​
3750g
Gross weight​
3850g
Package size​
440x220x210mm​
Brand
SVBONY
Model
SV191
Model
SV210
Focal Length
7.2-21.6mm
Product Name
M63 CAA 360° Rotator Camera angle adjuster
Eye Relief
18-20mm
Extension thickness
20.7mm
Apparent Field of View
42°-65°
Fit for
SV550 80F6
Field stop diameter
16mm
Locking Screw
M4
Barrel Size
1.25"
Positioning lock Function
Yes
Lens Structure
7-Elements/4-Groups
Male Thread
M63x1
Filter Threads Standard
M28.5*0.6
Female Thread
M63x1
Coatings
Fully Multi-Coated
Length of Male Thread
8mm
Blackened Lens Edges
Yes
Length of Female Thread
9mm
Eyecups
Twist-Up
Material
6061T
Eyecups Material
Metal
Color
Black
Net Weight
167g / 5.87oz / 0.367lb
Net Weight
91.2g/3.22oz
Model
SV405CC
Brand
SVBONY
Sensor
4/3'' SONY IMX294 CMOS​
Model
SV211
Sensor size
19.2mm*​13mm
Fit for
SV550 (80F6) SV503 (70F6 80F7)
Pixel Size
4.63*4.63μm​
Color
Red
Diagonal
23.2mm
Material
6061T Aluminums
Resolution
11.7 megapixel​s 4144*2822
Length
135mm
Exposure time
0.05ms-2000s
Width
42mm
QE peak
0.75
High
39mm
Readout noise
1.2e
Net Weight
136g / 4.8oz
Full well
63ke
ADC
14 bit
Maximum Frame Rate​
19 FPS
Interface
USB 3.0
Back Focus
6.5mm
ROI​
Support
Protective window
AR coating
Digital Noise Reduction​
Support
Binning​
BIN1,BIN2,BIN3,BIN4​
Interface Type​
M42
Supported OS
Windows, Linux, Raspberry Pi & Mac OS
Power Consumpton
200mA 5V
Working Temperature
-10℃-50℃​
Storage Temperature​
-20℃-60℃​​
Working Relative Humidity
20%-80%
Storage Relative Humidity​
20%-95%​
Features
Dual speed focuser
2. Finder base included
3. APO Objective Lens Structure & FMC Coating
4. 2.5 inch magnesium alloy focuser
5. Comes with 180mm dovetail plate