Zoom Eyepiece eliminates the need to change eyepieces so you can spend more time viewing the night sky instead of fumbling in the dark when you want higher or lower magnifications.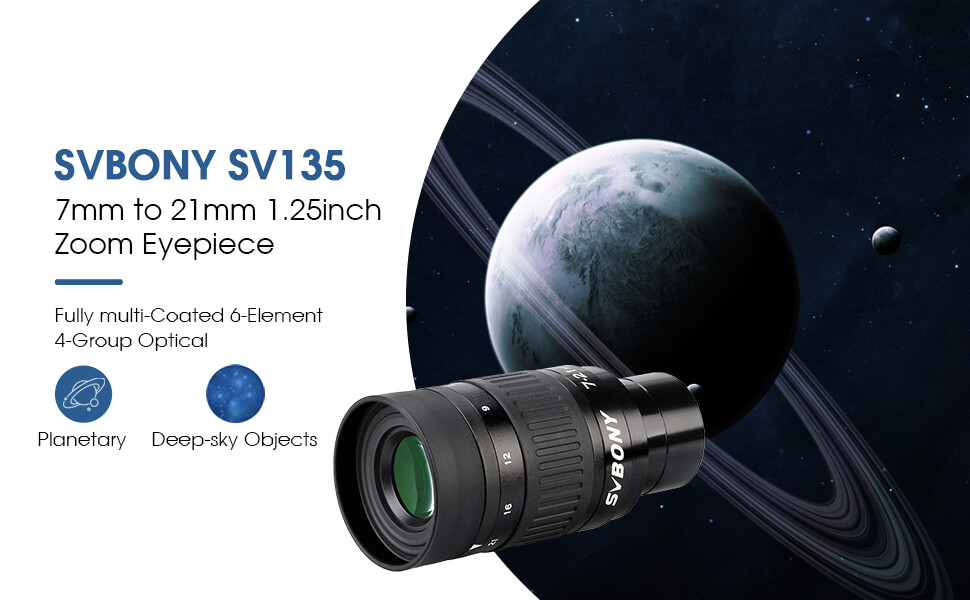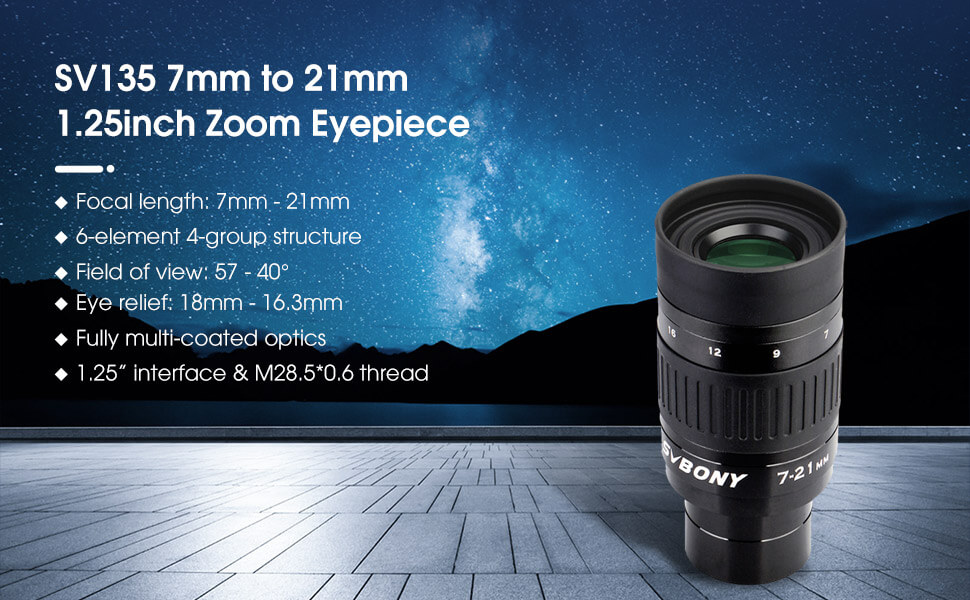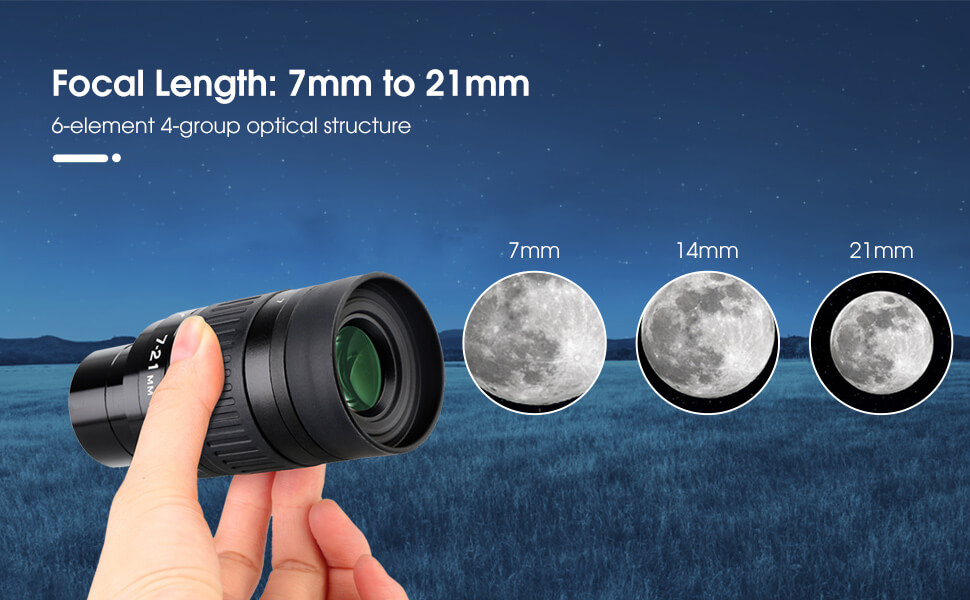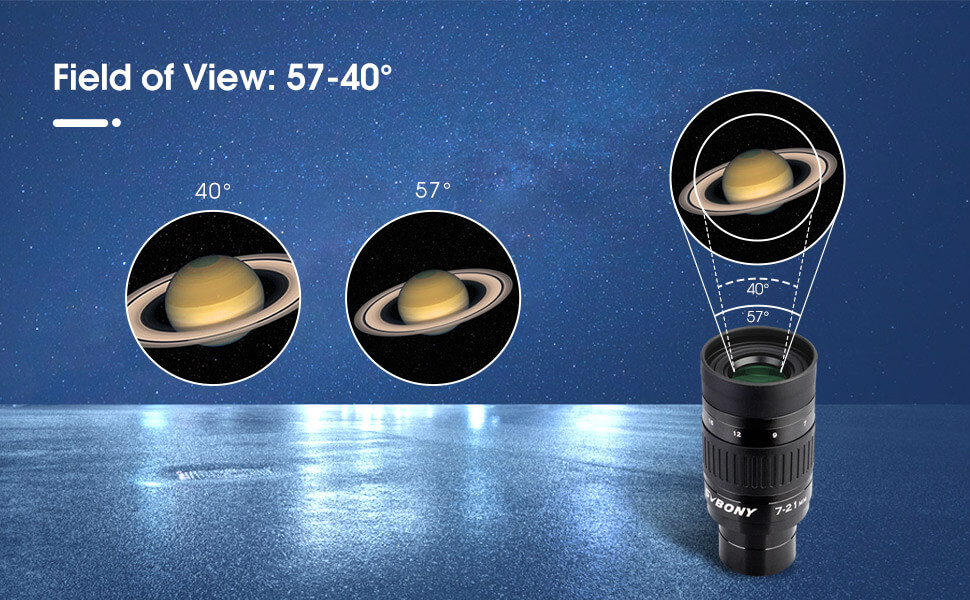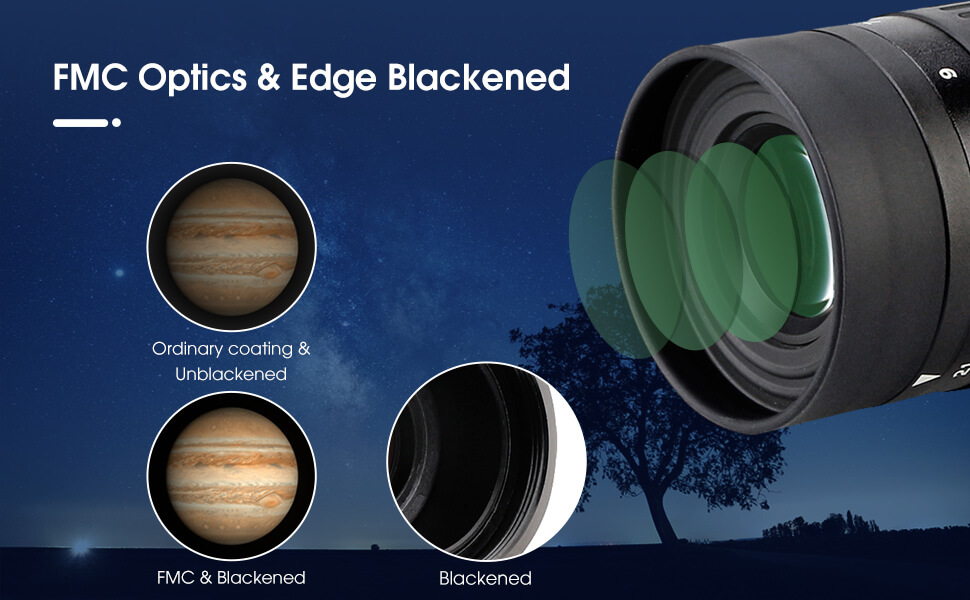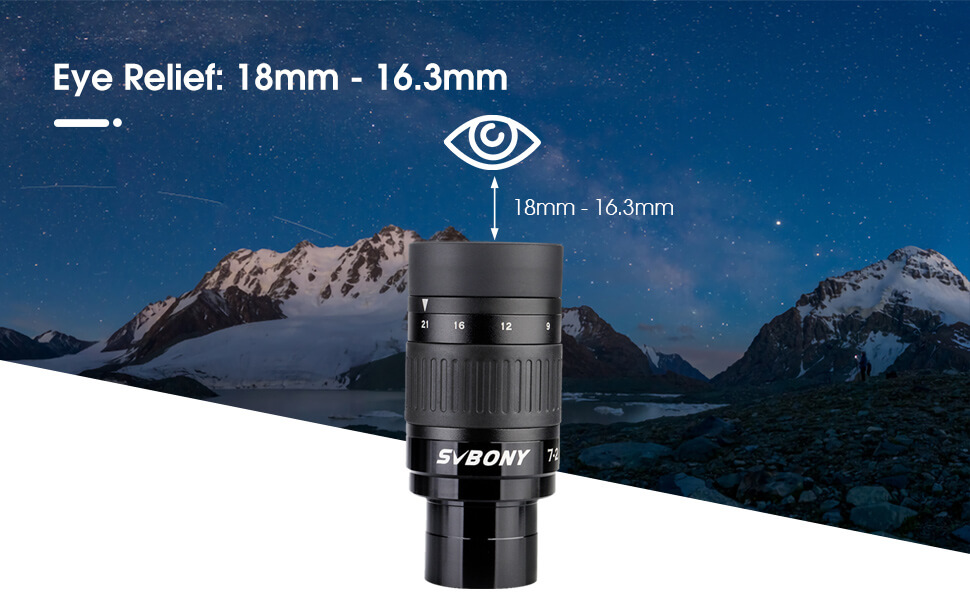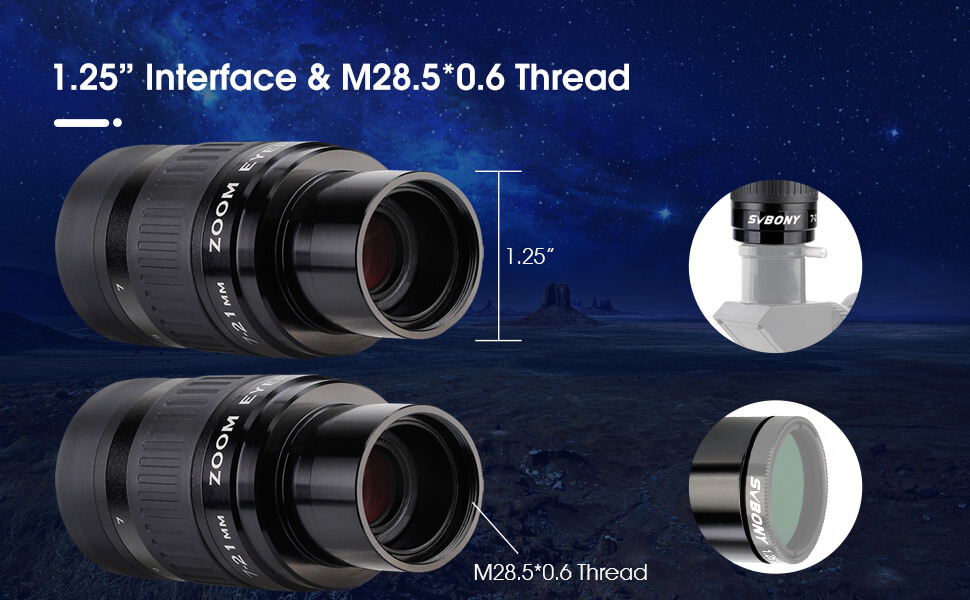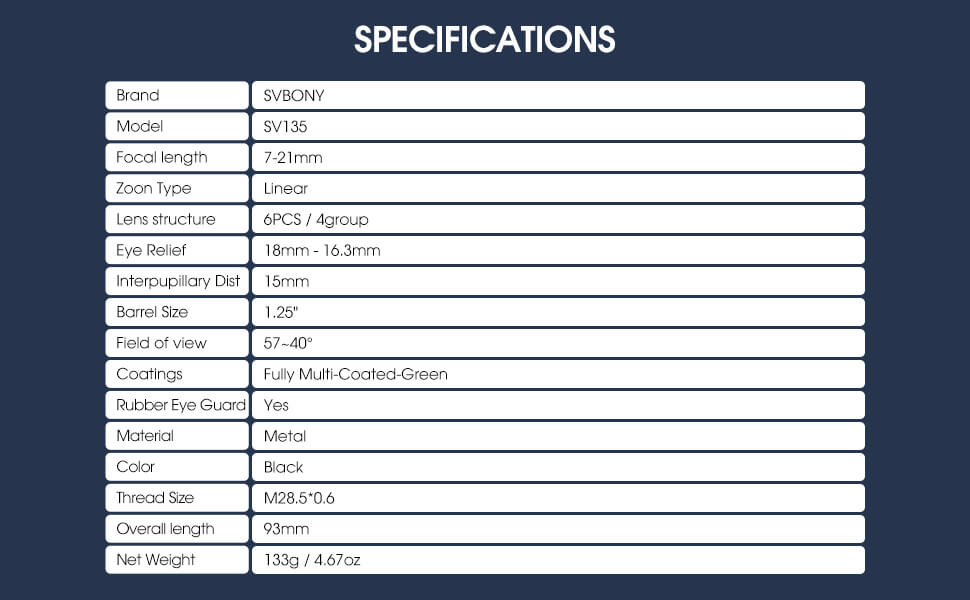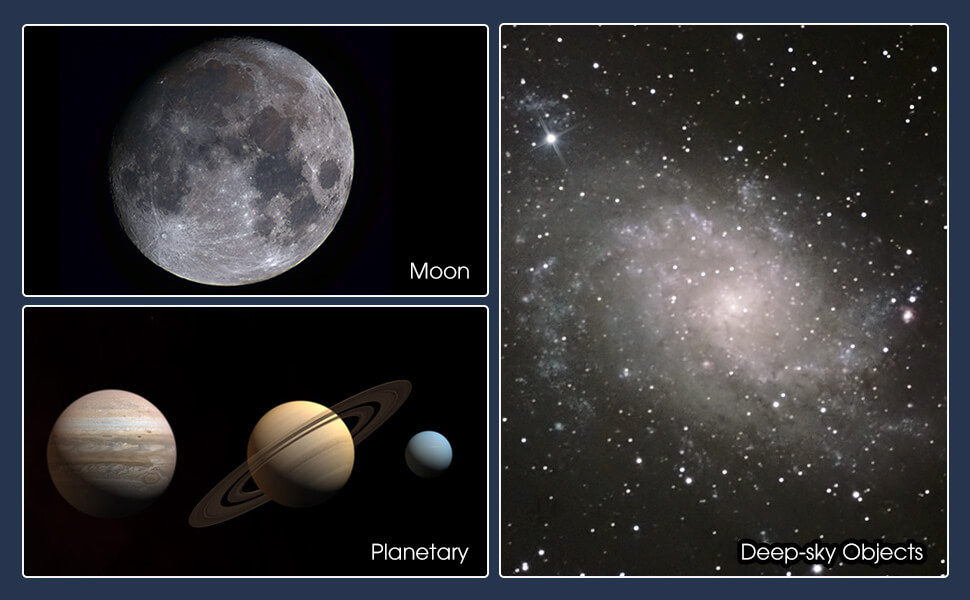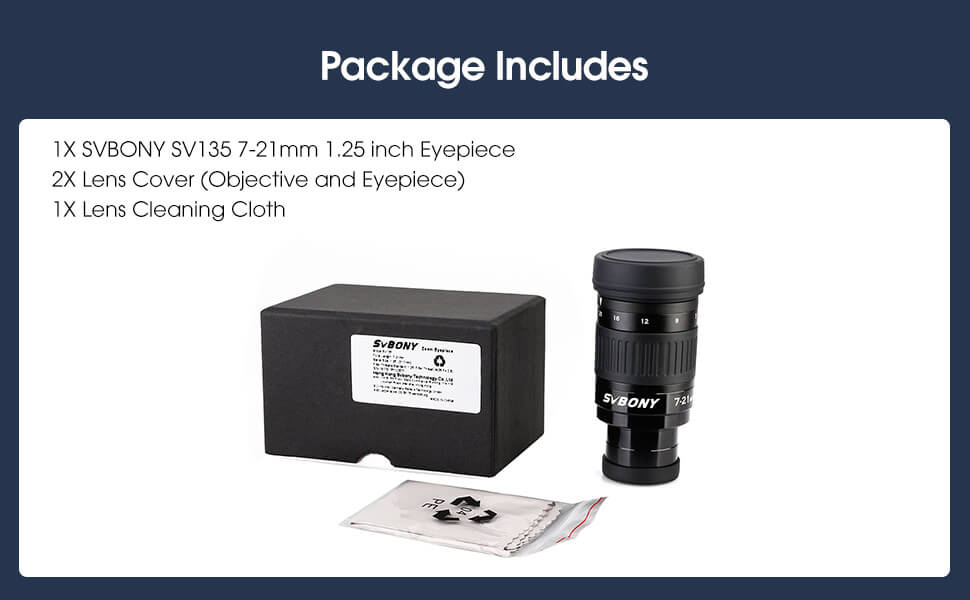 This is my honest review:
This is my honest review: The Svbony SV135 Telescope Eyepiece Zoom, 1.25inch 7-21mm Zoom Eyepiece, FMC 6 Element 4 Group Telescope Lens The Svbony SV135 Telescope Eyepiece Zoom, 1.25inch 7-21mm Zoom Eyepiece, FMC 6 Element 4 Group Telescope Lens. Out of the box, it looks and feels very well made and solid construction and this is my first zoom lens. Its great to see it comes with: glasses friendly foldable soft rubber eye up and 18mm - 16.3mm long eye relief provide comfortable long term viewing for people with or without glasses. The anti-skid rubber thread design that can prevent accidentally falling and it is more comfortable for you to hold it. Fully Multi-Coated Green Film (FMC) broadband optical glass lenses provides clear image. Fully multi coated film maximize the light transmission and minimizes internal reflection and maximizes contrast. It has 6 elements in 4 groups structure design delivers crisp and sharp images. The 57 degree to 40 degree apparent field of view provides comfortable wide viewing for long time use. I can't wait to use this on a clear night and do some testing of it, I can't recommend it without using it. But on the specs it looks great for any visual astronomer to have. I will try to get out the back garden, when I can able to…. Then I will of course let you all know what I think of it then. Keep Safe When Observing & Happy Clear Skies!
That's an AMAZING Eyepiece
When I bought my first telescope they told me to buy a good quality eyepiece because the gear will change but the Eyepiece won't. So i tried this optic and it's simply amazing. The first thing to catch your eye is for sure the zoom, it's very smooth and precise, also 7-21mm is a great range and it will help you to find perfectly your target. Talking about the quality of costruction the aluminium gives very good feelings same theng for the rubber bands around it that helps you to zoom really precisely. The imaging quality is stunning considering the price of this eyepiece, yesterday I was able to whatch jupiter whit his satellites. Overall This is a fantastic Eyepiece for beginners and for expert astronomers, It will surely amaze you like It did to me.
Very pleased
Arrived earlier than expected with the economy delivery. Zoom is excellent, very sharp, good contrast and barlows well. Big improvement from the stock eyepieces that came with the telescope. Couldn't recommend enough!
5/5 Surprising quality
I did some quick tests of this, the 8-24, and some other eyepieces. This one was the biggest surprise. Construction and optical quality were way above my expectation. Not only that, it is also light and relatively small. The 8-24 is a big, heavy piece of equipment, but this 7-21 seemed to perform better optically, especially at the zoom extremes. The only caveat is the narrow field of view, but for wide views, I would say it's better to get a single focal length, wide angle eyepiece, and to use the zoom for everything else.
SV135 Zoom lens
I hope SVbony will not mind me writing this review. This eyepiece was one of my first lenses, as I was still fresh into astronomy and its still one of my favorites to this day!! I originally bought this eyepiece because I didn't know which size of lens to buy and by purchasing this zoom lens you get 5 different rates of magnification ranging from 21mm to 7mm so its like have 5 eyepieces in 1. Its now my GoTo lens when it comes to just picking up a lens and go. I use it at star parties or when I cant be bothered to carry a large big bag of telescope lens. You can see my video on Youtube my chanle is Mans Hobbs & interests
| | |
| --- | --- |
| Model | SV135 |
| Zoon Type | Linear |
| Focal length | 7-21mm |
| Eye Relief | 18mm - 16.3mm |
| Lens Design | 4 groups/ 6 pcs |
| Interpupillary Dist | 15mm |
| Barrel Size | 1.25" |
| Field of view | 57~40° |
| Lens Coating | FMC |
| Rubber Eye Guard | Yes |
| Meterial | Metal +Optic Glass |
| Color | Black |
| Thread Size | M28.5*0.6 |
| Overall length | 93mm |
| Net Weight | 133g / 4.67oz |
1. SV135 Zoom Eyepiece have a rubberized collar to provides a non-slip grip, especially in cold weather and when wearing gloves
2. Sturdy anodized aluminum barrels are threaded for Svbony 1.25 inch filters
3. Zoom from 7mm to 21mm, you can choose the right magnification that suitable for viewing
4. Comfortable 16.3mm-18mm eye relief, especially for eyeglass wearers