Dielectric coatings; super flat mirror with dielectric coatings to reduce reflected light loss; provide an over 99% reflective surface; good for astronomical viewing

1.25 inches nosepiece fits 1.25 inches telescopes; accepts standard 1.25in filters; eyepieces; Barlow lenses and other accessories with a 1.25in insert barrel

90 degree viewing angle; diagonal reflects the telescope's light path 90 degree to provide a more comfortable viewing angle; best for observing objects overhead

Correct upside down and left right reversed image; the view image is upright; but left and right reversed if use the 90 degrees to your telescope

Brass compression ring; Built in brass ring and thumbscrew accessories avoid eyepiece to rotate during adjustments; effortless fixes more firmly and will not scratch your eyepieces barrels
Pre-sale on Dec 22,2023
Out Of Stock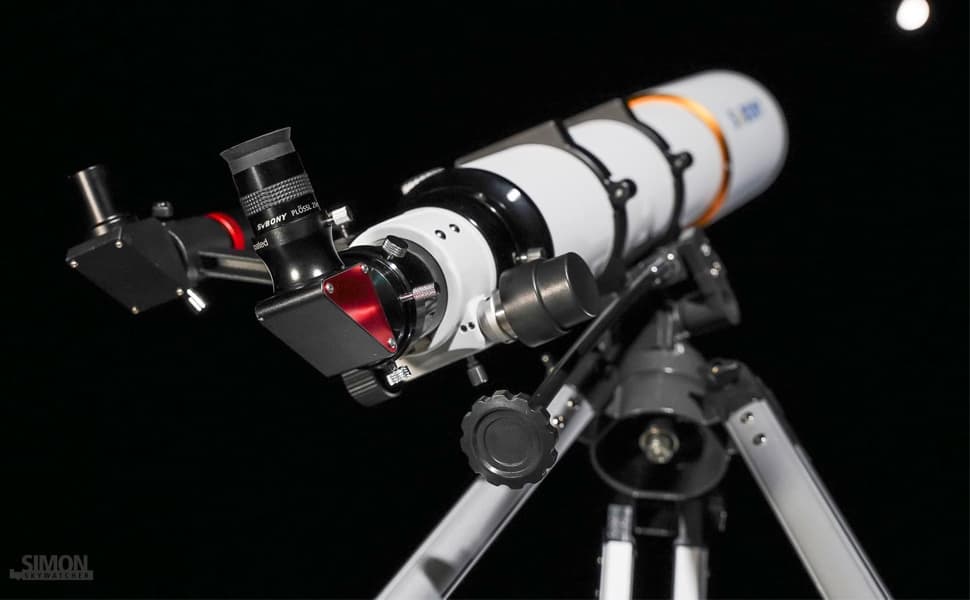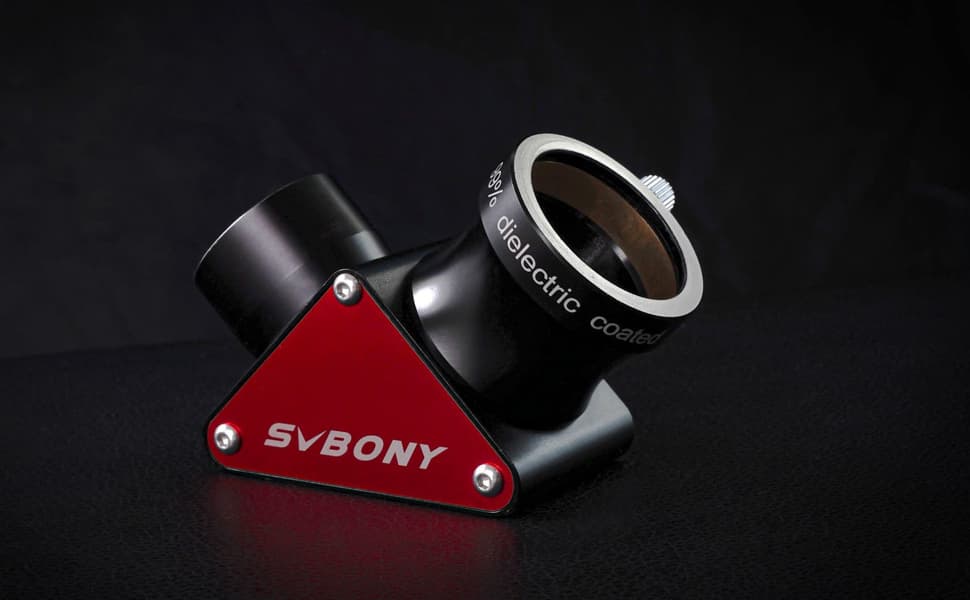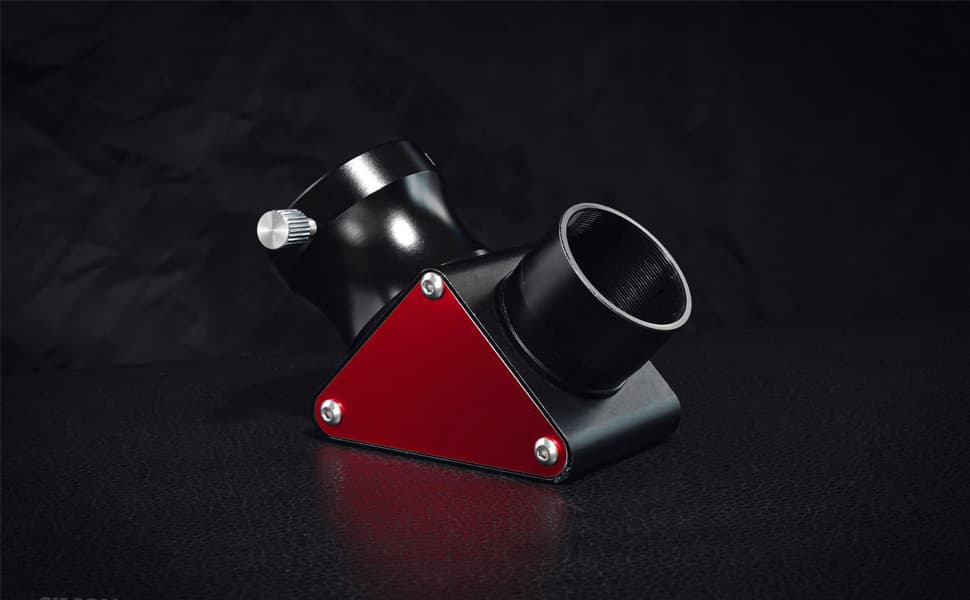 Little and perfect
EN: It's very light but still has substance. Excellent workmanship. It is decorative and fully fulfills its function. The mirror image is flawless. I wouldn't believe it if it was even better. I recommend to everyone. HUN: Nagyon könnyű de mégis van benne anyag. Kiváló kivitelezés. Dekorativ és funcióját maradéktalanul betölti. A tükör képe hibátlan. Ha ennél is jobb volna nem hinném el. Mindenkinek ajánlom.
Great piece!
Perfect product with excellent features. And sustainable package, without needless papers and prospects and plastic. But please tell your customers, which adapter is needed for Cassegrain - and give the link to the product in your shop!
Bright and contrasty
I bought the 1.25 "mirror to be able to look into the zenith on my previous telescope. In contrast to a simple zenith mirror, the Svbony SV188P Dielectric Diagonal is a real win. The image is visibly brighter and the image quality at high magnification has also improved. Thanks to the ring clamp, the eyepieces remain free from scratches. Overall a very good mirror!
Diagonal dieléctrica
Buenas me gustaría saber cuál es el adaptador especial para la.diagonal dieléctrica sv188 P . Gracias.
| | |
| --- | --- |
| Model Number | SV188P |
| Size | 1.25-Inch |
| Coatings | Dielectric |
| Reflectivity | dielectric 99% coating for bright images |
| Material | Aluminum Alloy |
| Filter Threads | M28.5*0.6 |
| M4 Set Screws | Yes |
| Net Weight | 125g / 4.41oz |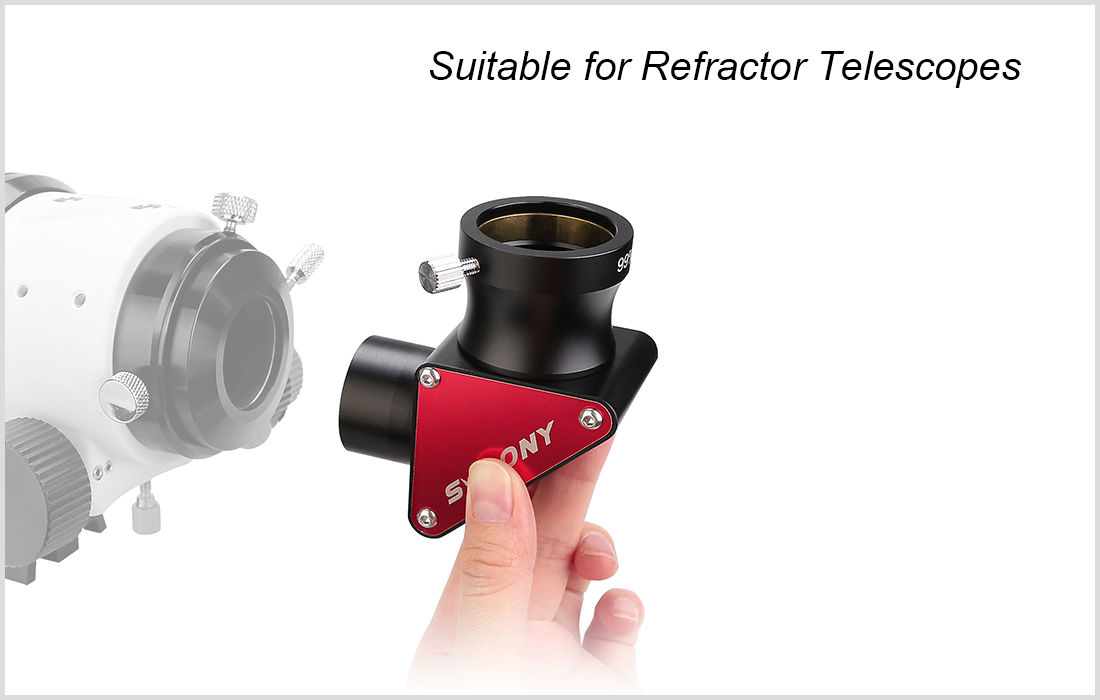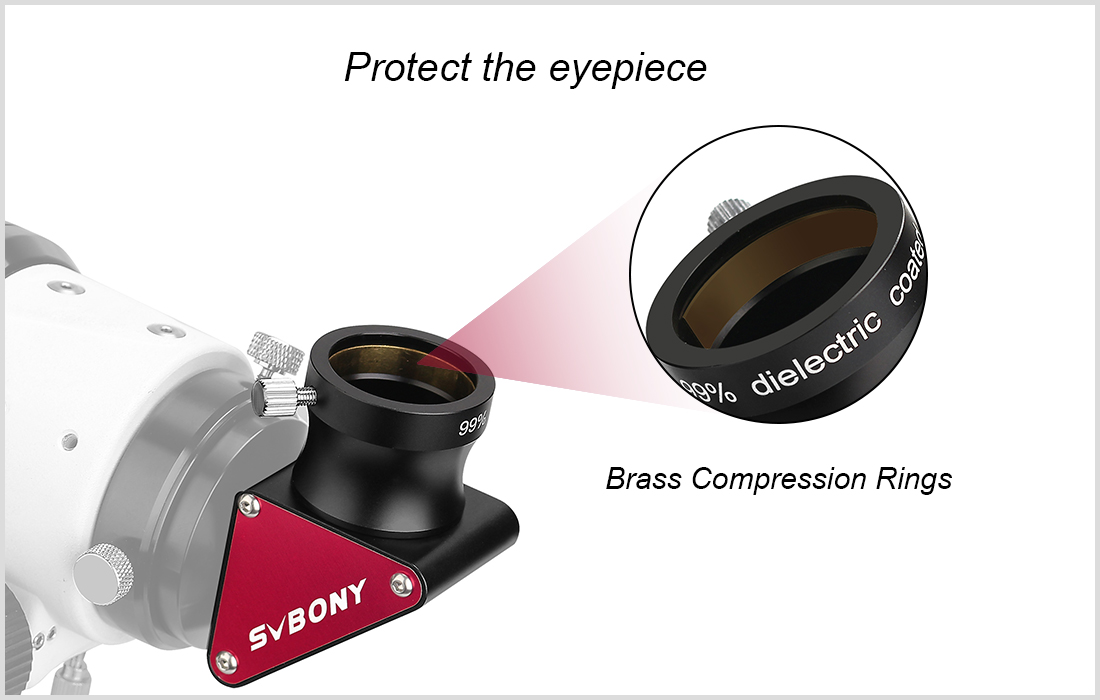 There are many 1.25" star diagonals on the market. Many of them have a mediocre mirror quality with 90% reflectivity (10% loss) and a plastic body. The 1.25" diagonal by SVBONY stands for a high-quality alternative to those cheap parts. It offers excellent image and mechanical quality. There's no vignetting over the full 1.25" field. SV188P features sophisticated, Multi-layered dielectric coatings that provide an outstanding 99% reflectivity for maximum view brightness and sharpness.
SV188P Diagonals provides a comfortable 90-degree viewing orientation when observing the night sky through a refractor. When use the SV188P with Maksutov-Cassegrain (Mak-Cass) or Schmidt-Cassegrain telescope, you need a special adapter.
Another advantage is the 1.25" nosepiece barrel is threaded to accept 1.25-Inch filters. Brass lock Screw and Brass Compression Rings feature more precision and prevent barrels or the surface of eyepieces from marring and scratching.