Svbony Spotting Scope Photo Adapter for DSLR Camera (Connect your Camera to Spotting Scope). SV123 Photography adapter extension tube for SV46 spotting scope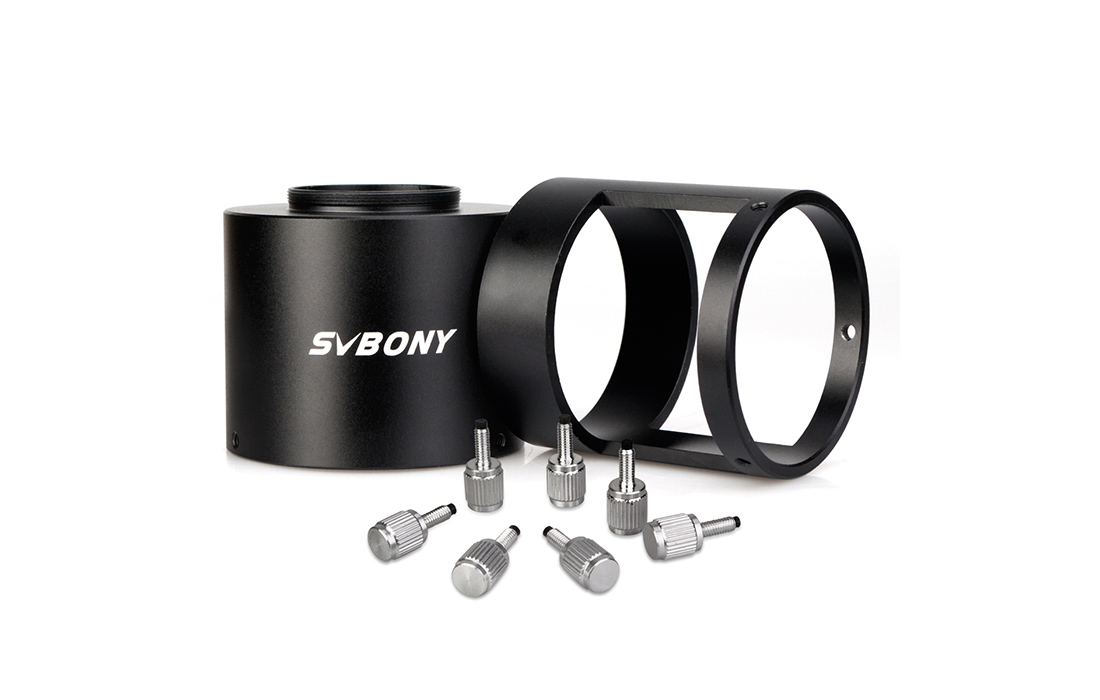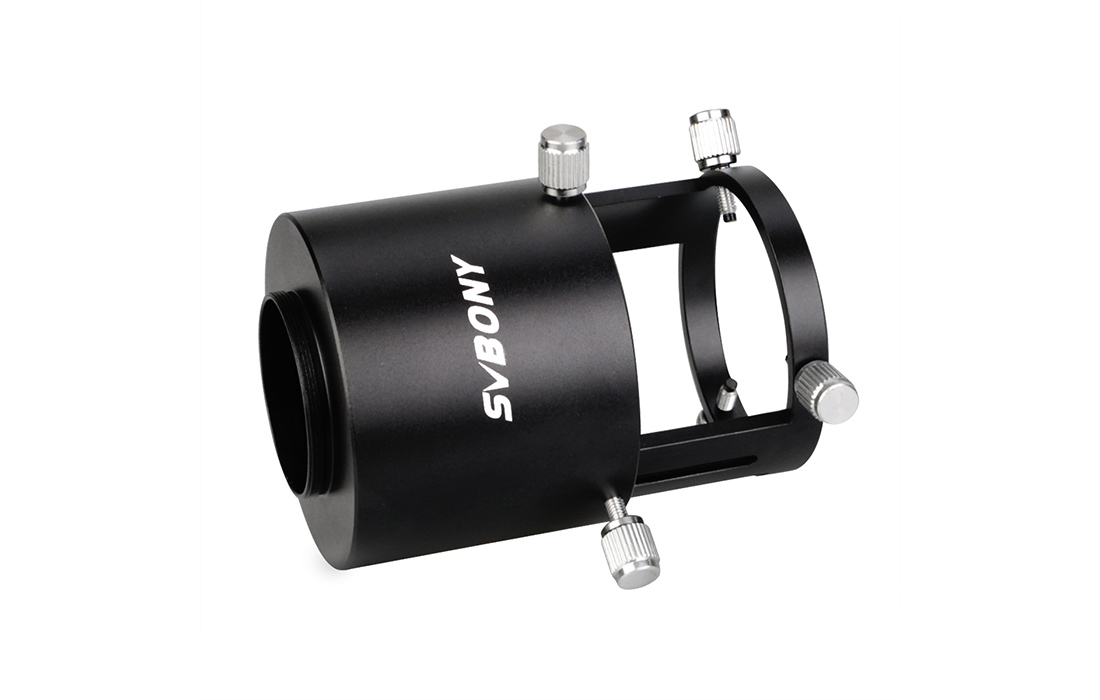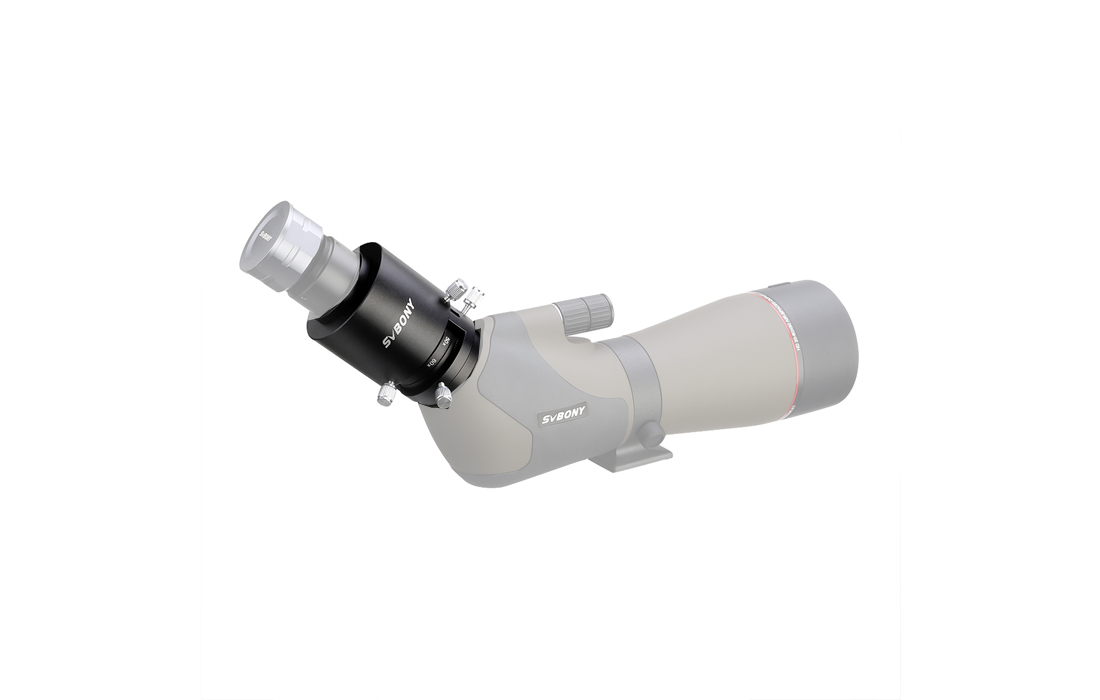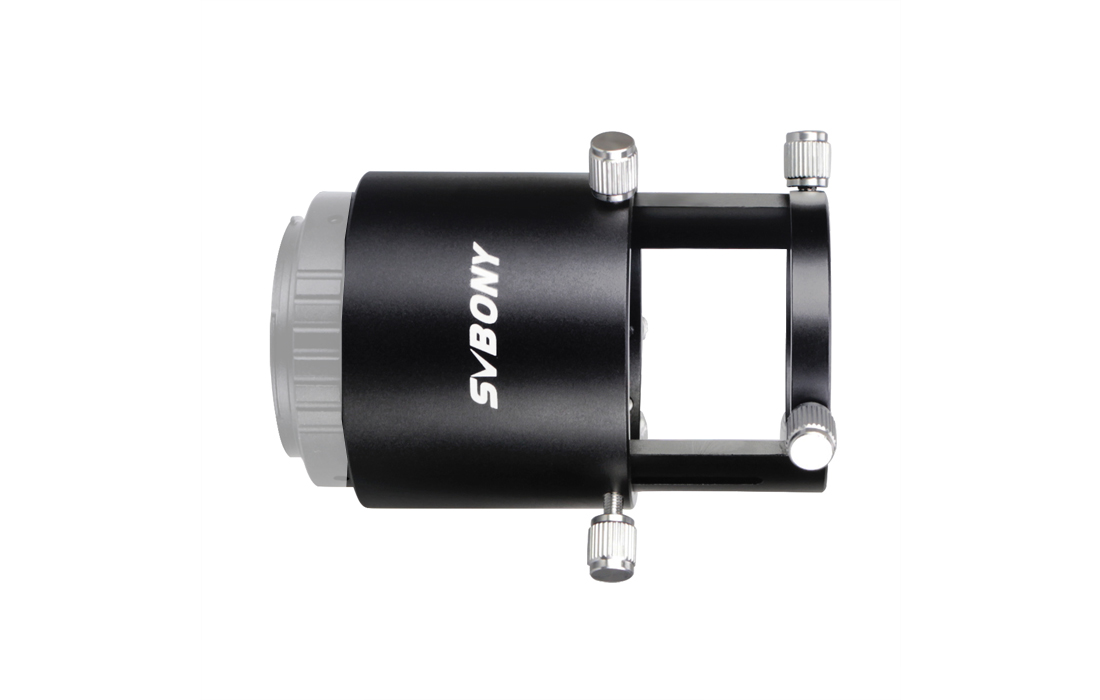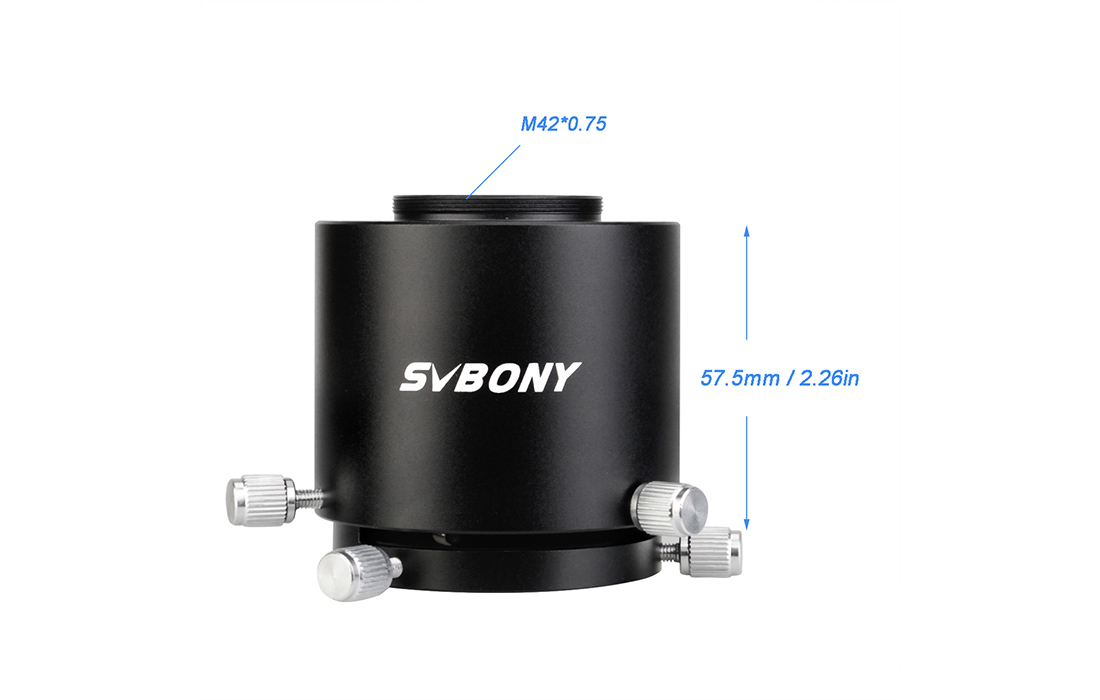 SV123 fits well over SV406 eyepiece. SC001 best at 20× on SV406.
I am a big fan of SvBony and their well-engineered, well-made, and well-priced products. Taking advantage of Prime Day on Amazon this week, I purchased the following SvBony products with great deals: SV406 (not SV406P): 20 - 60× power zoom/ 80mm aperture HD (multi-coated) spotting scope; SC001: WiFi camera; SV123: Adapter for attaching SC001, suitable match astro cameras, DSLR (with additional affordable and high-quality SvBony adapter parts as necessary for specific types of cameras); SA404: Additional adapter with 1.25 inch eyepiece/astro camera holder (e.g. to use with SV123, SC001, and SV406 described above); and SV195 T-ring adapter for attaching my Canon T4i DSLR directly to the SA404 and SV123 and then attaching over the SV406 eyepiece to image with my T4i. The SV123/SA404/SC001 attached over the eyepiece of the SV406 all fit together very well. The SC001 works and images best on lower magnification (20×) and at close range with marginal performance. However, the image quality of the SC001 is undoubtedly going to perform far better as prime for the interchangeable eyepiece in the SV406P ED scope for which the SC001 is a perfect match; or at least two other SvBony spotting scopes (e.g. SA405) also specifically matched with such interchangeable 1.25-inch eyepiece and socket to accept the SC001 WiFi camera for imaging in lieu of using the eyepiece for direct visual use only; or with the fantastic SvBony MK105 Maksutov Cassegrain telescope.
camery adapter
Hi, is the camera adapter compatible with nikon d200? ws
| | |
| --- | --- |
| Model | SV123 |
| Thread | M42x0.75 male thread |
| Fits Spotting Scope Eyepiece External Diameter | 49mm-58mm |
| Maximum Variable Tube length | 30mm |
| Material | Aluminum Alloy |
| Color | Black |
1.Svbony Spotting Scope camera adapter for DSLR camera (connect your camera to spotting scope)
2.High quality fully metal construction for longtime use, simple and practical, easy to install
3.T2 threads (M42x0.75) to connect T-ring (not included, need order separately) for a certain camera
4.Fits spotting scope eyepiece external diameter of 49mm-58mm
5.Make cope a long range telephoto zoom Lens, allows you to attach your camera to the spotting scopes.
6.Extensionable two tubes construction for longer and shorter eyepieces