Enjoy UEFA EURO 2024 with SVBONY SV30 Binoculars
The UEFA European Championship is in full swing, and football fans across Europe are eagerly following their favorite teams and players. To make the most of this exciting event, you need the perfect companion - SVBONY SV30 Binoculars. Whether you're in the stadium or watching from home, these binoculars will take your football-watching experience to the next level. In this blog, we'll explore how SV30 binoculars can elevate your UEFA Euro experience.
Get Closer to the Action
With SVBONY SV30 binoculars, you'll feel like you're right there on the pitch. The 10x magnification allows you to zoom in on the action, capturing every pass, goal, and celebration with incredible clarity. Whether you're in the stadium or your living room, you won't miss a moment.
Bright and Clear Images
The SV30 binoculars feature high-quality optics that deliver bright and sharp images. Even in low-light conditions, you'll enjoy clear visuals of the game, ensuring you don't miss any crucial plays during evening matches.
Compact and Portable
Heading to the stadium? SVBONY SV30 binoculars are lightweight and compact, making them easy to carry. Slip them into your bag or pocket, and you're ready for the match. Plus, their durable construction ensures they can withstand the excitement of live games.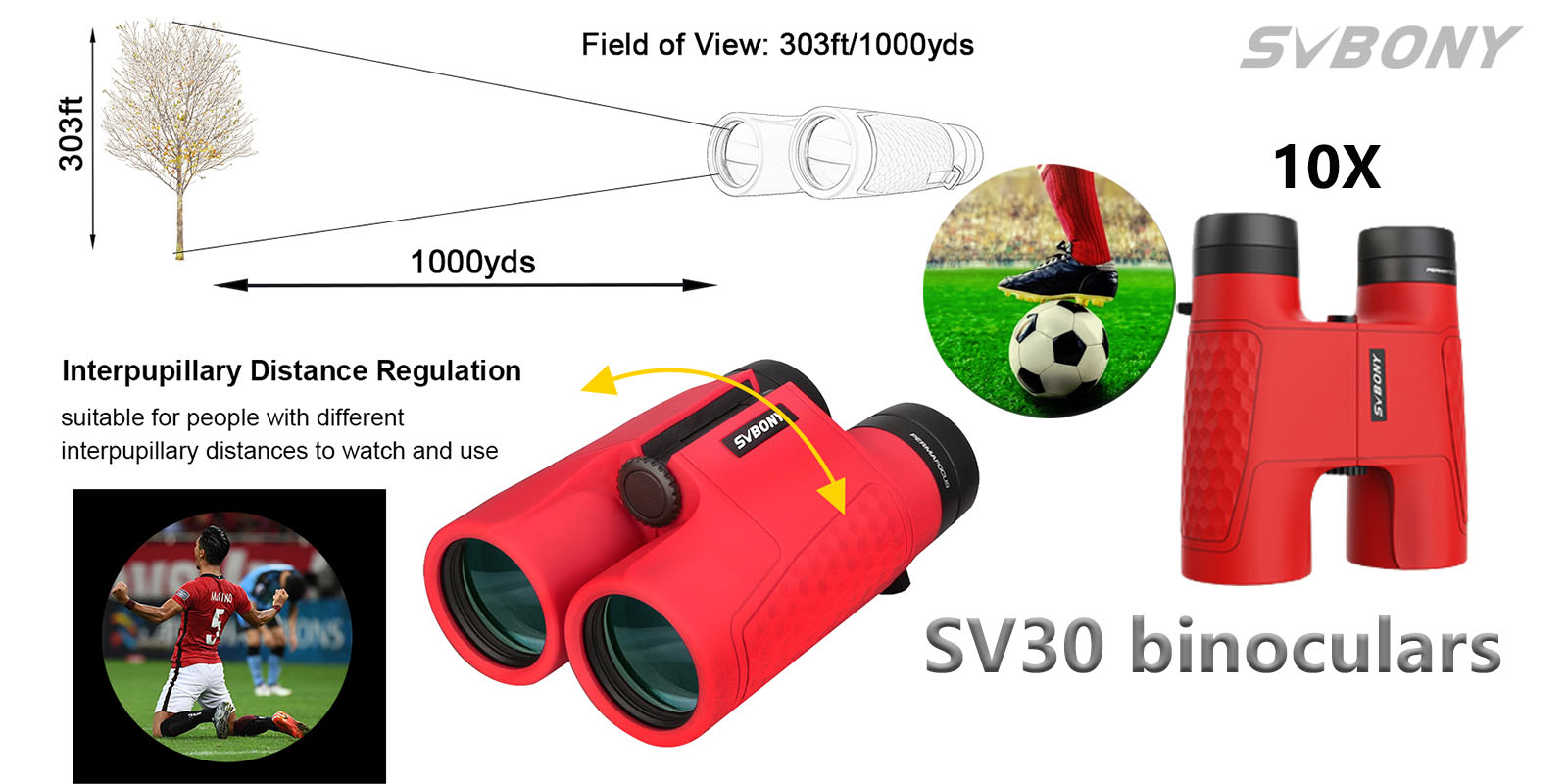 Easy to Use
SV30 binoculars are user-friendly, even if you're not a binocular expert. They're designed with a simple focus mechanism, so you can quickly adjust to your desired view. Perfect for fans of all ages.
Capture Every Detail
Football matches are about more than just the action on the pitch. With SV30 binoculars, you can zoom in on the crowd, the coaches' reactions, and the atmosphere in the stadium. It's like having a front-row seat to all the excitement.
Versatile Viewing
SVBONY SV30 binoculars aren't just for football. Use them for birdwatching, hiking, or any outdoor activity where getting a closer look matters. They're a versatile addition to your gear collection.
Affordable Quality
SV30 binoculars offer premium quality at an affordable price. You don't have to break the bank to enjoy top-notch optics and elevate your UEFA Euro experience.
Conclusion
Don't let anything come between you and your passion for football during the UEFA European Championship. SVBONY SV30 Binoculars are the perfect accessory to enhance your viewing pleasure. Whether you're cheering from the stadium or your living room, these binoculars will bring you closer to the action and ensure you don't miss a moment of the excitement. Elevate your UEFA Euro experience with SV30 - the ultimate binoculars for true football fans. Get yours today and see the game like never before!