From selling svbony SV105 camera online, many people ask that can I use SV105 camera with my computer?
Yes, Of course you can. Because Svbony SV105 camera could work with Windows, Linux, Android and Mac OS.
Before people buying SV105 camera, people would ask can I use sv105 camera with my computer? After people bought SV105 camera, they may have problems when using it. So they will send email or ask question on Facebook page. Actually, before we selling sv105 camera online, we have test it many times. And the customer's test later than that.
SV105 Camera and Linux with AstroDMx Capture for Linux
Steve Wainwright is an amateur astronomer from UK. During 2007-2014, He, Astronomy Tutor in D.A.C.E., University of Swansea, teaching accredited, part-time degree and open courses in Astronomy. And 2004 to 2015 collaborated on the development of computer software for GPS mapping and astronomical imaging. So the free software AstroDMx Capture for Linux was their successful harvest. After he test the sv105 camera with his Linux computer, he write blog on his own site, and his astronomy society website. He recommend SV105 camera to the beginners and help them go further with their hobby, SV105 is really a good product with low cost. He said.
SV105 Camera and Android with USB Camera for Android
After Steve Wainwright test SV105 camera with Linux system. He had a try of his Samsung 10.1 inch android Galaxy Note Tablet.
The SV105 comes with a 1.8m USB cable, which has a short fly-out USB lead to provide extra power to the device. Which has a power consumption of 150mA at 5volts. This was essential for using the camera with a Samsung 10.1 inch Galaxy Note tablet. The tablet was not able to supply sufficient power to operate the camera. A 5v 2.1A mobile phone portable charging device was used as an auxiliary power supply, connected via the fly-out lead. Download a USB camera capture application called USB Camera in the Google Play store. This is a particularly good application because it presents the main controls of the camera, enabling the correct exposure etc. to be set. It works with UVC webcams. The combination of the SV105, Android and USB Capture provides a very credible observing, eyepiece sharing and even imaging platform. And I test SV105 camera and my Xiaomi 5 smartphone Android 7.0. and yes, they work great.
SV105 Camera and Mac OS with oaCapture for Mac computer
Stuart Godfrey, one of our customers of SV105. He was the first person to test SV105 camera and Mac OS. He used oaCapture for Mac OS. oaCapture is a planetary imaging application for Linux and MacOS. It currently supports cameras such as the ZWO ASI series, many of the USB Imaging Source cameras, firewire cameras, some of the QHY models, most of the Celestron cameras, Point Grey USB (and GigE, where the libraries are available) models, some Starlight Xpress models, and some Touptek models. Some Altair cameras and Mallincam cameras can be supported on Linux with a small amount of fairly straightforward work by the user and on Linux cameras that use the kernel V4L2 interface (in particular the SPC900, though any camera that works natively on Linux) should be fine. The application is based on the Qt (version 4) toolkit and written in C++ with support libraries in C so they can potentially be shared by other software. It will also compile against Qt5 though no significant testing has been done.
Here is one of his picture taken from SV105 camera and MacOS.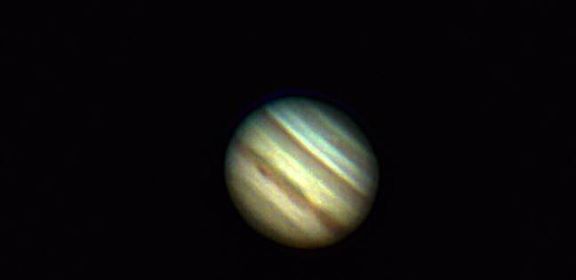 SV105 Camera and Windows with Sharpcap Capture for Windows
Most people around the world use windows computer. So a very large number of people use SV105 camera and Sharpcap capture for windows. Sharpcap capture support all windows system. So this is the great news for astronomy amateurs.
If you have any problems with SV105 camera, please Join and Post in the group【SV105 Camera Followers】 or 【Svbony Telescope Club】. All the members will help to resolve your problems. Please don't worry. Also you could send email to info@svbony.com for help.