About SV28PLUS, What You Need To Know
Till now, SVBONY has released 5 models of SV28PLUS spotting scopes. They are, in order, F9380L, F9380J, F9380H, F9380M and F9380K. Compared to SV28, it is an upgrade one, given that we have received a lot of customer inquiries, but also in order to feedback the majority of enthusiasts who support the svbony brand of the series of products continue to rise in enthusiasm, in this blog, we will be concerned about some of the main issues of the user to give you the following instructions.
Parameter Comparison For The 5 Different Models Of SV28Plus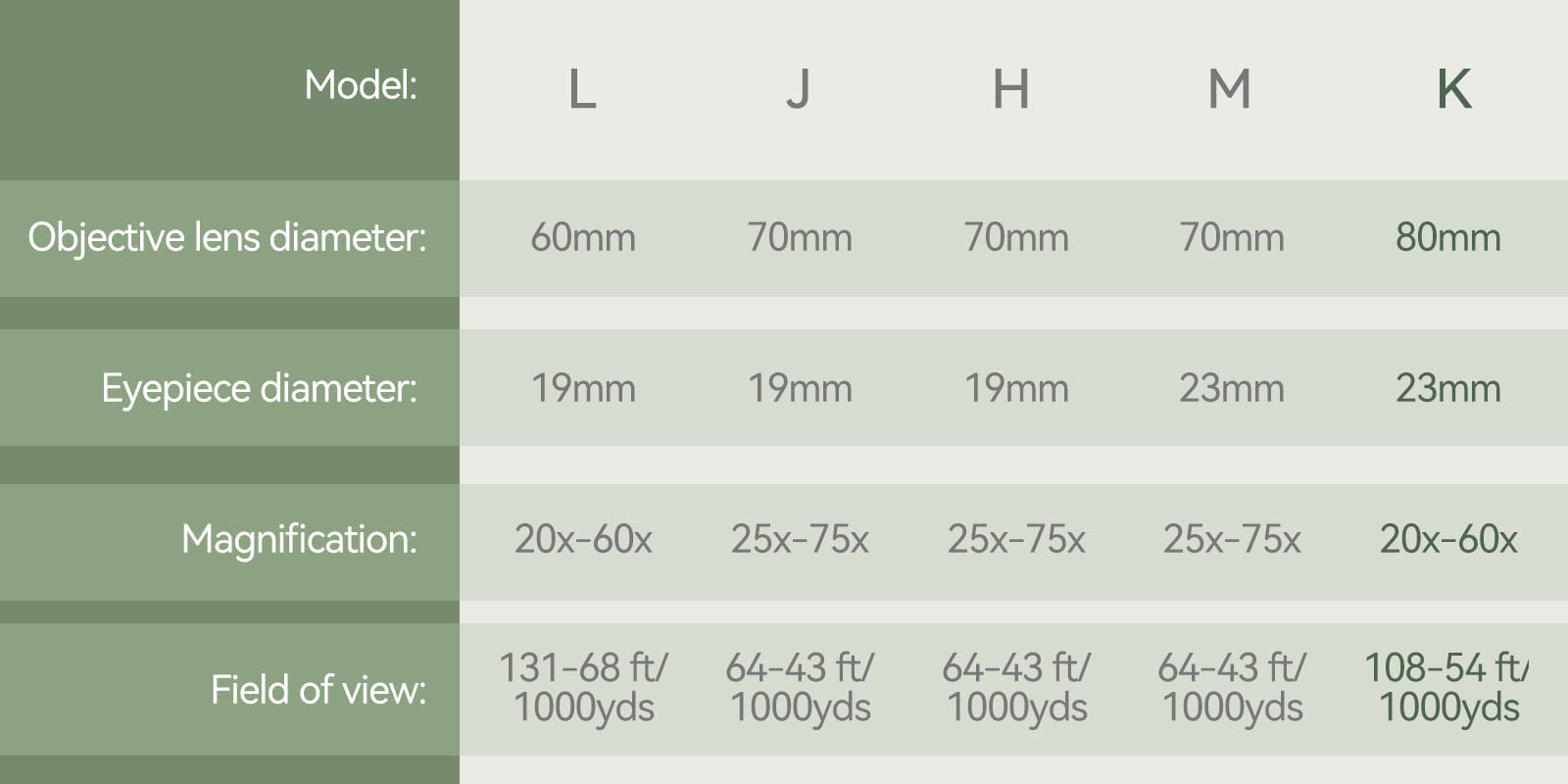 What is the difference between SV28PLUS and SV28?
①SV28 PLUS adds a twist-up eyecup to enhance the relaxation of the eyes and provide a comfortable target viewing experience whether wearing glasses or not.
②A5 winered coating improves the light transmission rate in sunrise and sunset environments by 5%-10%, making the image brighter and clearer.
③The tripod is thicker and stronger, and a rubber pad is added to the tripod to increase table friction and make it more stable.
④The mobile phone adapter focuses faster and has an adjustable range of 60-100mm.
⑤Eyepiece diameter is larger, upgraded to 23mm.
⑥The wireless controller allows you to control photos from a long distance and avoid shaking when clicking on the phone screen to take photos. It is more convenient to shooting birds and wild animals outdoors and avoid scaring the birds.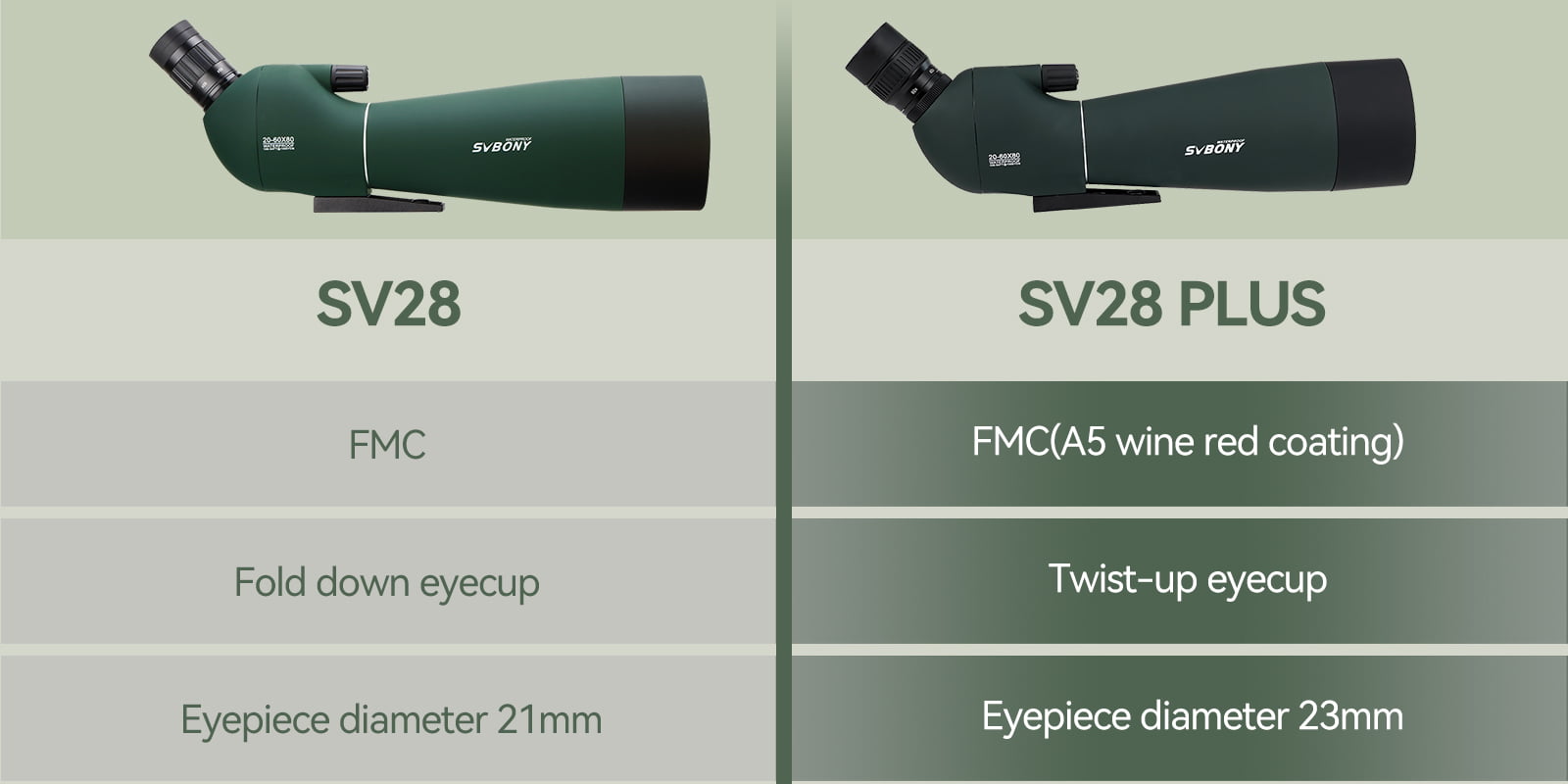 What is SV28PLUS suitable for observing?
①Shooting and target observation:
The SV28Plus can see the scene at 1000 yards. The maximum width is 64-43 feet for shooting target observation. Different magnificaion sizes are optional.
For medium and long shooting distance observation, a high magnification is recommended, which is SV28PLUS 25-75x70mm.
For close-range shooting target observation, we recommend SV28PLUS 20-60x80mm/20-60x60mm.
②Astronomy:
Suitable for observing the moon, 25-75x70mm/20-60x80mm is recommended.
The objective lens has relatively large diameter and strong light gathering ability. It is also suitable for observation at night.
③Nature observation:
Suitable for land, parks, and wildlife observation.
Updated Packages(Tripod, Phone Holder & Bluetooth Shutter)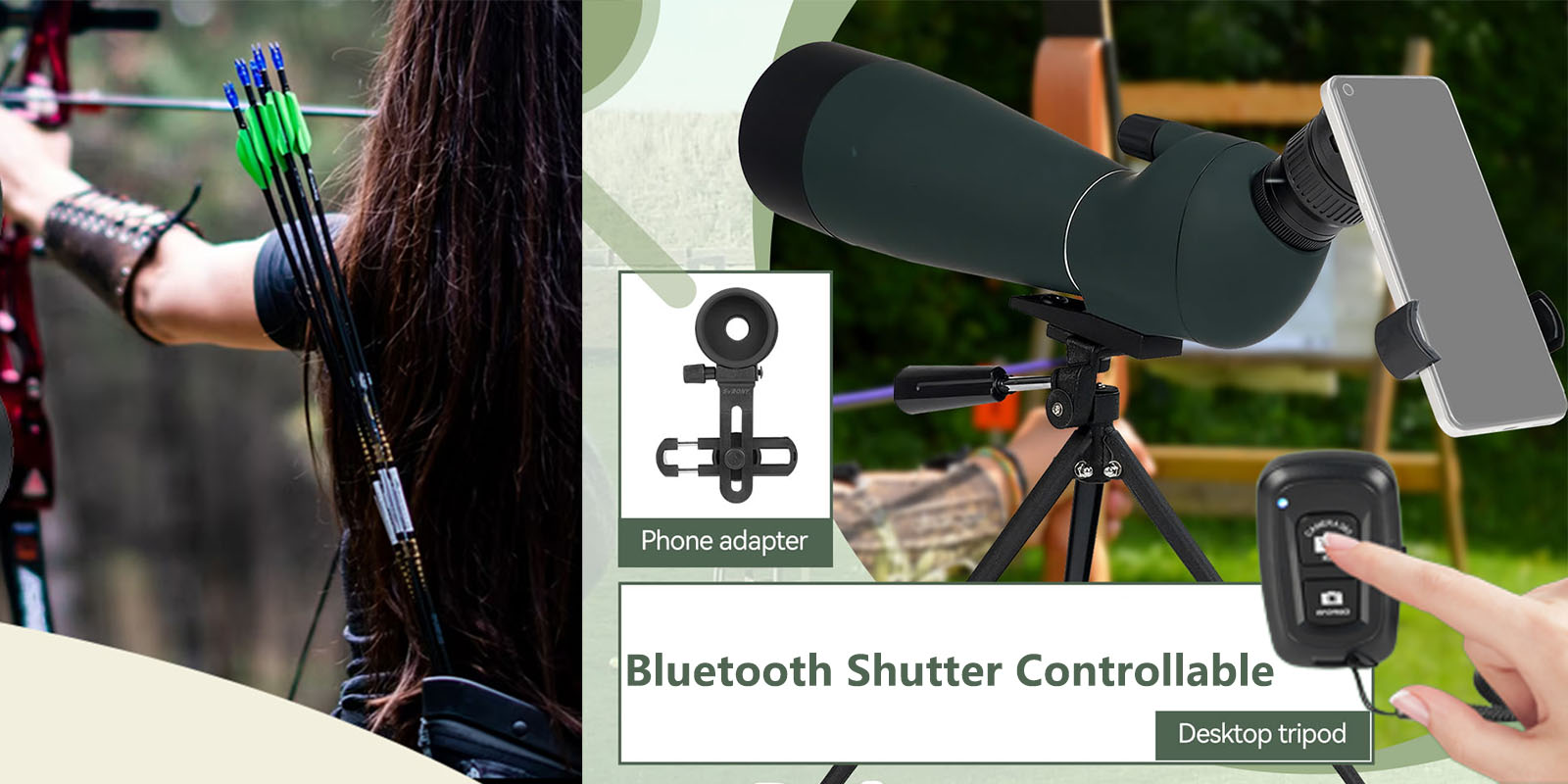 What special function does the twist-up eyecup have?
①Eliminates stray light for enhanced viewing comfort.
②It not only takes into account people who observe with naked eyes, but also allows people who wear glasses to have a comfortable visual observation experience.
③Changing the magnification does not affect the position of the phone when acquiring a live image by installing the phone adapter.
SV28PLUS is used for indoor and outdoor shooting, what is the effect?
①The target scope provides you with the advantages of high magnification, high brightness, clarity and detail display.
②Easily see bullet holes or targets with a portable, light weight and sturdy tripod.
③The mobile phone adapter is connected to the mobile phone to shoot video, record and share your strategizing and wonderful moments of winning the championship.
④The wireless shutter solves the problems of image shaking, blurred imaging and long-distance shooting caused by using mobile phones alone.
⑤All of these provide perfect color fidelity, sharp images and the best way to shoot.
Learn more details, you can refer to the page: