Question: When shooting with a flat field lens (APS-sized camera angle of view), The stars flow in the four corners. (Coma aberration)
When a flat field lens is used, the surrounding image flows radially, and the star image changes. Not good enough. In terms of price, I feel like I've done my best, but kind of disappointing.
There are many customers who asked me: Cindy when I edit my images taken by SV503 70ED, the edges of the image are deformed or distorted, what's the problem, is my SV503 70ED or the SV193 reducer defective?
So I collected their questions and gears information, inquired the scope developer and the factory rep, at first, my problem didn't get taken seriously, they think it is the Individual circumstances or equipment, technical problems(wrong back focus distance, etc). So I had to replace or help return the scope or SV193 reducer, but the question still exists. So after a long time of communication, now I get convincing answers.
Most DSLR(APS-C sensor) users had similar questions, that's because when the SV503 70ED F6 matches the SV193 flattener, the F ratio is F4.8( as it is also a 0.8 reducer.) And according to the test, this suits the small sensor that can show the power, if imaging with a big sensor like APS-C, it is over its capacity.
Even the SV193 reducer has a more complicated glass design, this can only promise you will get a nice result with a small sensor camera.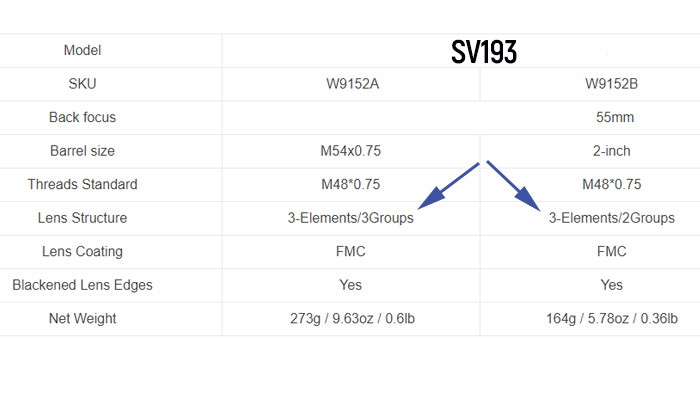 Our developer wonders if it is the reduced focus function that introduces this question, but the results showed it is not after the factory used a flattener to try again. It is just this scope's limit. If the 70ED is matched with a large chip, A possible way is:
The SV193 increases the field of view of the shot, which is sufficient for most DSOs. The stacked image edges may need to be cropped in the post-process to improve image quality.
SV503 70ED: Multi-function OTA: suitable for shooting sun and moon, landscape scenery, deep space photography (works better with 1/2 or 1/3 inch sensor, the pixel size in 3μm-5μm, and need to match the SV193).
So if you are expecting the SV503 70ED, you need to look at this article.