Here to the original post: https://neilenglish.net/product-review-svbony-sv202-8-x-32-ed-binocular/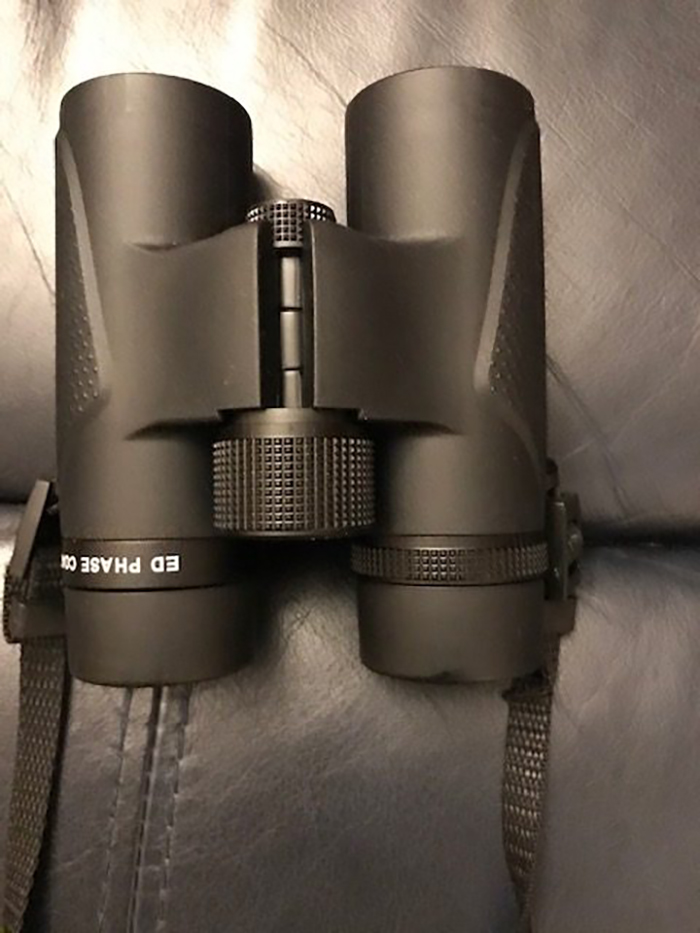 The Svbony 8 x 32 ED binocular.
Make no mistake about it; we live in a golden age for buying binoculars. Never before has the consumer had so much choice available, thanks to incredible advances in optical technology which has given many other individuals access to very decent optics for a small financial outlay. In recent years, new coating technologies have greatly increased light transmission and image sharpness, to such an extent that even the budget models now available can and do outperform premium models offered only a few decades ago. In addition, the incorporation of extra low dispersion(ED) glass is now common even in inexpensive models, which, if executed properly, promises to cut chromatic aberration and increase image contrast still more.
As I've commented elsewhere, the 8 x 32 format is the new 8 x 42, as evidenced by the offering of the former by both mass market and premium binocular manufacturers alike. This is in no doubt attributed to their lower mass, improved ergonomics and very efficient light transmission, as well as their perfect suitability during bright daylight but also well into low light situations encountered at the earlier stages of dusk and dawn. Apart from the use of premium pocket glasses – my personal favourite format – the 8 x 32 format has always interested me, owing to its compactness and smaller exit pupil (4mm), which uses the best part of your eye to analyse the binocular image.
While many entry-level ED models are priced in the £250 to £300 range, I became very intrigued by a less well known manufacturer, SvBony, a Hong Kong-based optics firm that has recently marketed a compact and mid-size model – an 8 x 32 and 10 x 42 – chock full of advanced features. But what really piqued my interest was that Amazon UK were offering the 8 x 32 ED model for just £99.99, inclusive of delivery! As you can see from the specifications above, the SvBony 8 x 32 ED has a number of advanced optical features that I simply wouldn't expect in a model at this price point, but having another binocular available – the Celestron Trailseeker 8 x 32(retail price £146 UK) – that also possesses many of the same features – I was able to conduct an in-depth study of how the SvBony ED binocular compared with it.
Ergonomics Comparison
No doubt you've heard that possessing a magnesium alloy frame is a feature only common to upper-tier binocular models, I would like to take this opportunity to put this urban myth to bed, once and for all. Since both the SvBony and the Celestron Trailseeker models feature a magnesium body in this low price category, having this design feature is no longer the preserve of the best models but is now commonly available even in much more economically priced products.
The Celestron Trailseeker has a large plastic focuser that becomes very hard to move in Winter owing to the solidification of the grease used in its gearing. But in warm weather, it becomes much easier to turn. In contrast, the lower priced SvBony 8 x 32 ED has a much higher quality metal focus wheel, which is much smoother and easier to turn. Taking just one and a half revolutions to go from one extreme of its focus travel to the other, I would describe it as slow to progressive in speed, so not especially suited to either birding or hunting – more of a general purpose instrument than anything else.
Turning now to the dioptre ring located under the right ocular in both models, the SvBony's metal dioptre ring is better designed than the plastic one found on the Trailseeker. Looking at a close up of the SvBony dioptre, you can see that the markings are easier to make out, helping the user achieve his or her optimum position better. And just like the Trailseeker, the SvBony dioptre ring is stiff and thus will not get nudged out of position so easily during field use.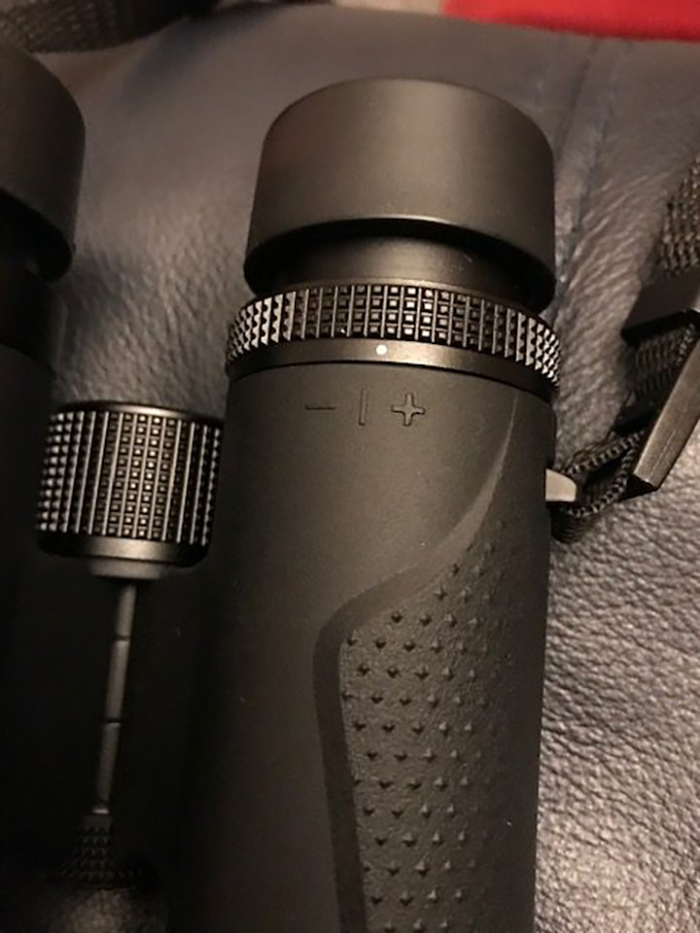 The lower-priced SvBony model has a higher quality dioptre ring compared with the Celestron Trailseeker.
Looking next at the quality of the eyecups, I was delighted to see that the SvBony had good, high qualit,y rubber-over-metal twist up cups, pretty much identical in quality to those found on the more expensive Trailseeker. What is more, they stay rigidly locked in place when fully extended. Yet again, that the SvBony possessed such high quality eye cups was a pleasant surprise to me, as I was not expecting anything as good as that on a compact binocular costing less than £100.
The matt black armouring on the Svbony is a little bit more grippy than the Trailseeker and the ribbing at the side of the former reminds me very much of the armoring found on the Zeiss Terra ED models I've sampled.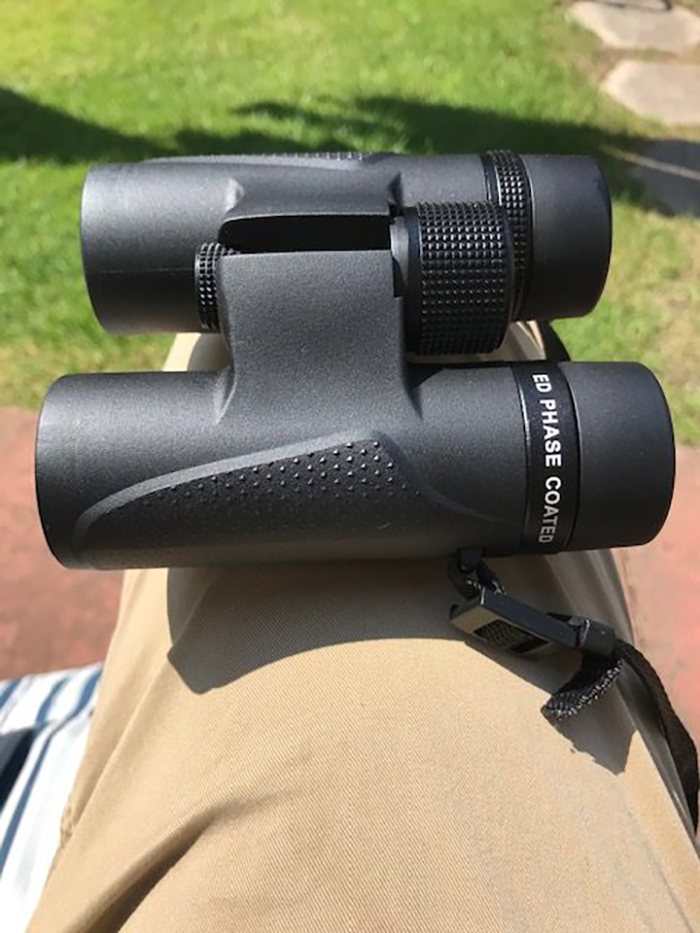 The ribbed side armoring on the SvBony 8 x 32 ED is very reminiscent of that found on Terra ED models.
The objectives on both the SvBony and the Trailseeker are equally well recessed to protect the glass from dust, rain and peripheral light. The anti-reflective coatings look to be completely different though, with the Trailseeker having a standard greenish reflection in bright daylight, as opposed to the more subdued purple hues seen on the SvBony.
Overall, the SvBony 8 x 32 ED feels slightly lighter and more comfortable to use than the Celestron Trailseeker 8 x 32, which is a bit more 'clunky' in comparison, at least in my medium sized hands. That, together with the noticeably better focus wheel and dioptre ring on the former means that, from a purely ergonomic perspective, the lower-priced SvBony is the clear winner.
Optical Comparisons
Good ergonomics, of course, count for nothing if the optics are not up to scratch, so how well would the £99.99 SvBony 8 x 32 ED fare in comparison to the Celestron Trailseeker 8 x 32? Having reviewed the Trailseeker some time ago, I was quite impressed with how well it handled a beam of intense white light directed into it from my iphone. That's because the same model is fully broadband multi-coated and has super-high reflectivity dielectric coatings applied to its Schmidt-Pechan roof prisms. I've seen similar results on dozens of high quality binoculars and so I expected the SvBony to yield good results too, if indeed it has those same coatings.
My efforts confirmed that the SvBony also passes this test with flying colours! Specifically, the image was devoid of any significant internal reflections and with no diffused light around the beam, which often betrays the use of lower quality optical components introduced into the optical train. What is more, while the Trailseeker did show a weak diffraction spike, the SvBony had none. Indeed, I would place the SvBony slightly ahead of the Trailseeker, based solely on the flashlight test. So far so very good!
But the good news only continued when I performed a daylight comparison test of both the SvBony ED 8 x 32 and the Celestron Trailseeker 8 x 32 . While both models have effectively the same field of view(7.87 degrees), I felt that the SvBony provided a slightly sharper image than the Celestron, with better contrast and improved control over veiling glare. Both instruments have a large sweet spot but edge of field performance was a little soft in both models, as was the degree of field curvature seen. Chromatic aberration, although quite low in the Trailseeker, was better handled in the SvBony under the same conditions. Whatever ED glass elements are present in the SvBony, it seemed to be doing its job well. Depth of focus in the SvBony 8 x 32ED is also good; a real plus if you're a prospective birder. Close focus is just under two metres(1.98m measured).
Another way to ascertain whether similar coating technologies were applied to both the SvBony and the Celestron Trailseeker, is to perform a low light test by comparing the brightness of the image in both instruments at dusk. On paper, I expected both to behave rather similarly, and that is exactly the result I achieved. Both 32mm models produced a more or less equally bright image, with perhaps the nod going to the SvBony! As I have shown in many other comparisons, the ED element may have conferred a slight advantage to the SvBony in these challenging conditions but as expected, it was marginal if anything.
………………………………………………………………………………………………………………….
Note Added in Proof: If you go back and listen to the optics trade review of the GPO Passion ED 8 x 32 linked to above, the presenter informs us that GPO did not use ED glass in their largest 56mm models, citing their reasons in relation to the lack of chromatic aberration seen in low light environments. If ED glass really had a significant low light advantage, don't you think they'd mention it or go ahead and use it? And why do so many binocular reviewers(in published magazines too) I have come across still perpetuate this myth?
………………………………………………………………………………………………………………………….
Examining the 4mm diameter exit pupils on the SvBony showed nice, round pupils with no signs of truncation. There was also a nice periphery of blackness immediately around both pupils, which contributes to the high contrast images I detected during my daylight tests.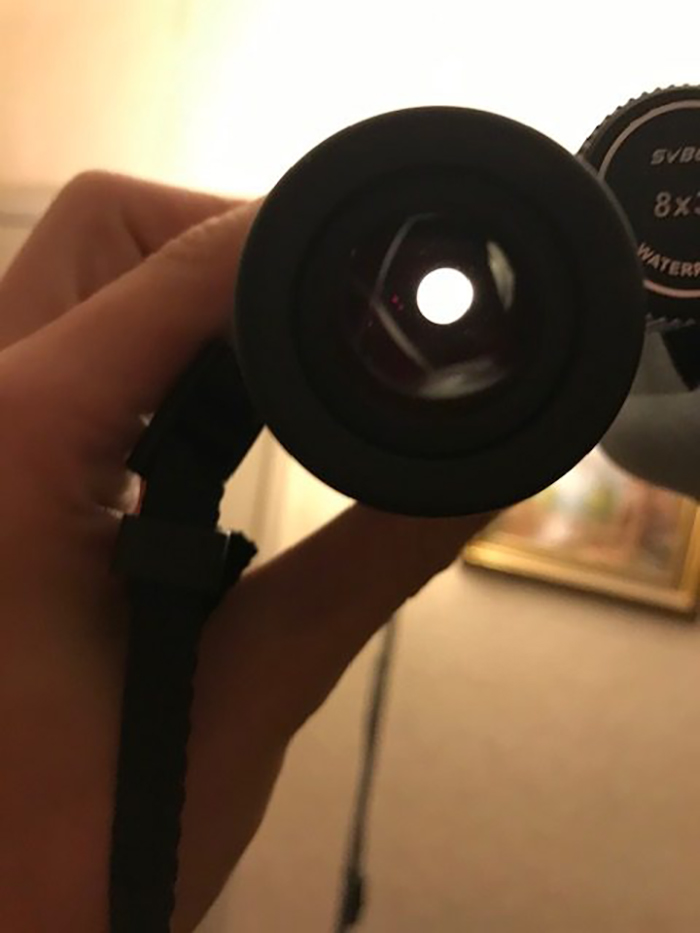 Exit pupil of the left barrel of the SvBony 8 x 32 ED.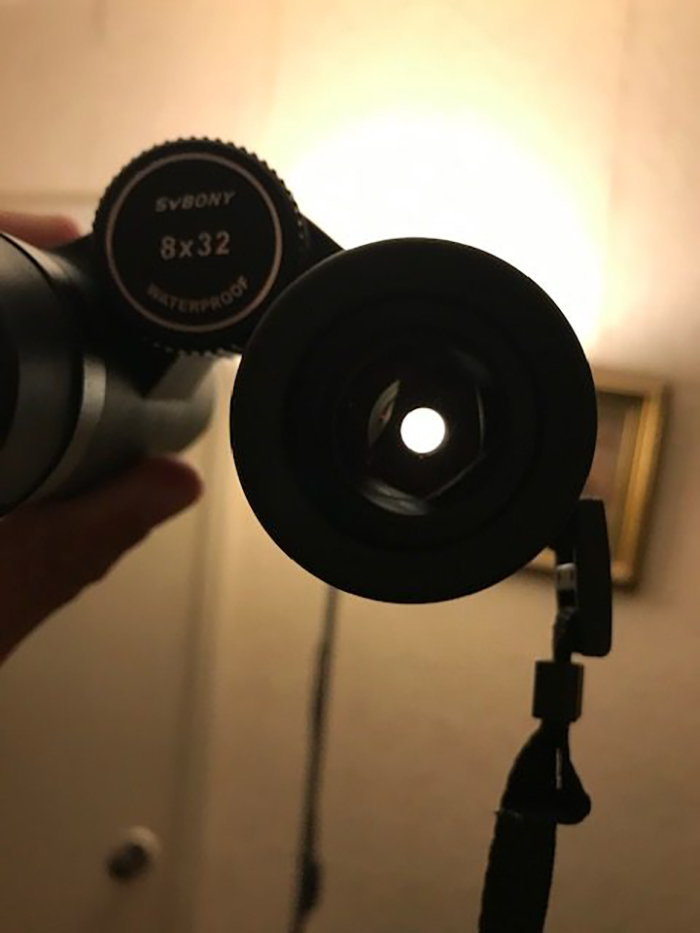 And the right eye
Concluding Comments
The SvBony 8 x 32 ED was a very eye-opening and pleasant experience. In terms of both optical and mechanical properties, it proved superior to the Celestron Trailseeker. Indeed, I would put the SvBony more on par with the new Celestron Trailseeker ED, though I've not actually tested this model. The very few realistic reviews I've seen of the SvBony 8 x 32 ED claim that it performs like models double or triple the price; a sentiment that I wholeheartedly agree with. And at a retail price of less than £100, there is very little in this binocular that I can find fault with.
Very highly recommended!
*The above is the author's personal opinion and is not the opinion of Svbony.