Svbony SV106 guider scope has two models. They are 50mm F9177A and 60mm F9177B. Choose the better one for your own telescope before you buying it.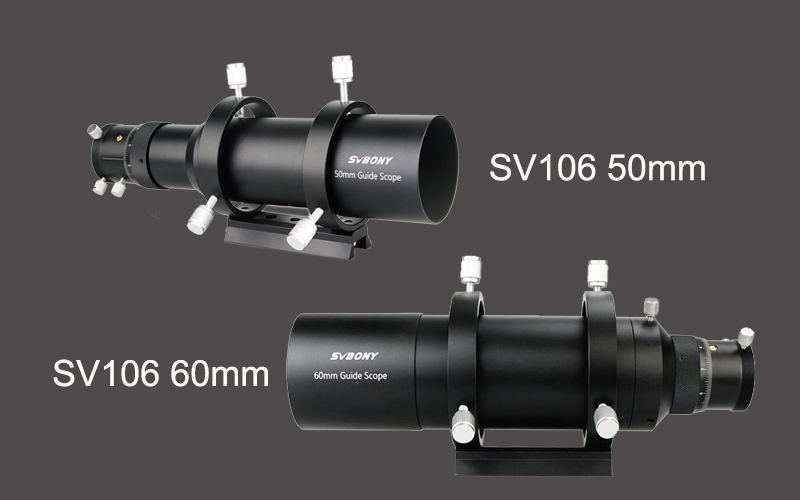 This solidly built SV106 Guide Scope will help guide you to capturing higher quality astrophotos. With its large 50mm/60 mm lens and smooth helical focuser, the versatile Svbony SV106 50mm/60 mm Multi-Use Guide Scope with Helical Focuser is an ideal addition to any astrophotographer's collection of gear. What's more, you can use this handy scope as a deluxe, straight-through finder by inserting an optional 1.25" eyepiece. (Autoguider cameras and eyepieces sold separately.) A practical benefit of this is that prior to guiding, you can insert an eyepiece into the guide scope and easily align the guide scope with your main imaging telescope. Then remove the eyepiece and attach your autoguider camera.
What's the difference between the two models?
The Multi-Use Guide Scope larger 60 mm aperture lens is better for light-gathering than the 50 mm and other brand smaller models. The larger aperture lets you see more stars in the guide scope field-of-view, providing a wider selection of guide star choices. What's more, the larger lens means the field of potential guide stars will be nice and bright for easy guide star selection. This SV106 Guide Scope is designed for use with small-chip autoguider devices such as SG4, QHY5II, ZWO cameras.
The Svbony SV106 Multi-Use Guide Scope with Helical Focuser features a built-in helical focuser that allows precise focus adjustments with zero flexure for rigid performance. Obtaining a clear, sharply focused view of potential guide stars is quick and easy with this sturdy scope. The fixed-orientation focuser mechanism will not rotate inserted autoguider cameras or eyepieces when focus adjustments are made. The helical focuser simply moves the attached device inwards or outwards while maintaining its orientation. This convenient feature means your field of potential guide stars will not rotate as focus is adjusted, further increasing ease of use.
The Multi-Use Guide Scope features a machined, knurled ring to make fine focus adjustments nice and easy, while a thumbscrew lets you lock-down the focuser in-place once adjustments are complete. The focuser boasts 8 mm of precise helical focus travel, plus a telescoping drawtube housing provides up to 38 mm of additional back-travel if needed for your particular autoguider device. No extension tubes necessary! A compression ring fitting keeps any inserted autoguider cameras or eyepieces free of pesky scratches. The Svbony SV106 Multi-Use Guide Scope with Helical Focuser also features male T-threads on the focuser collar for secure threaded attachment of guide cameras equipped with female T-threads.
This complete guide scope comes with two heavy-duty guide scope rings and a 3.5" long (8.9 cm), 1.18" (3 cm) wide dovetail mounting bar, which is compatible with SV48 dovetail finder scope bases for easy attachment. The dovetail bar features five threaded through-sockets for versatile attachment options. The included guide scope rings feature six nylon-tipped thumbscrews for precise aiming.
For those nights when you don't plan to capture astrophoto exposures, this versatile Guide Scope can double as a straight-through finder scope with an optional 1.25" eyepiece installed. For example, when using the 60mm aperture and 240mm focal length sv106, inserting a 25 mm eyepiececreates a 9.6x60 finder scope, or you can insert one of our Orion 20mm Illuminated Centering Eyepieces for use as a 12x60 finder with illuminated crosshairs for easy aiming. (Eyepieces sold separately).
If you have any questions of using the SV106 guider scope, please send email to info@svbony.com. All your emails will be replied in time.