1.Rugged housing prevents damage;
2.Sliding graceful and soft dual-speed focuser;
3.Ed glass (FPL51) can produce very beautiful and clear images;
4.The fully multilayer coated lens eliminates all reflections on the glass, and it has little or no chromatic aberration at high magnification.
SVBONY SV503 Astronomical Telescope 102mm F7 ED Refractor OTA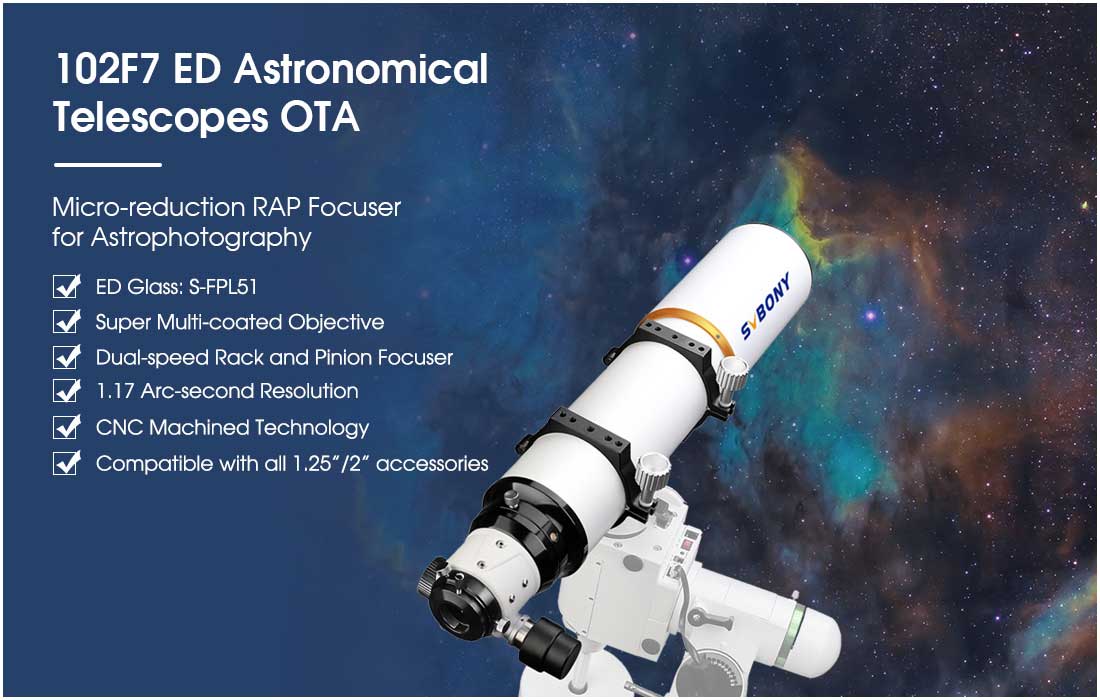 ED Extra Low Dispersion Glass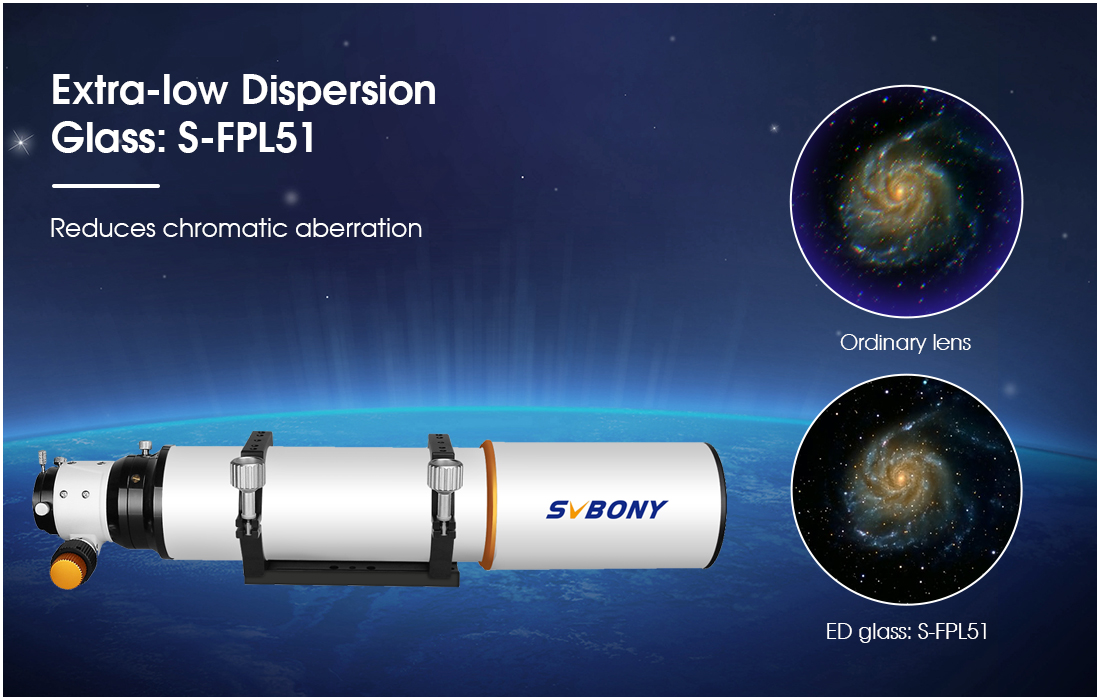 Dual-speed Rack & Pinion Focuser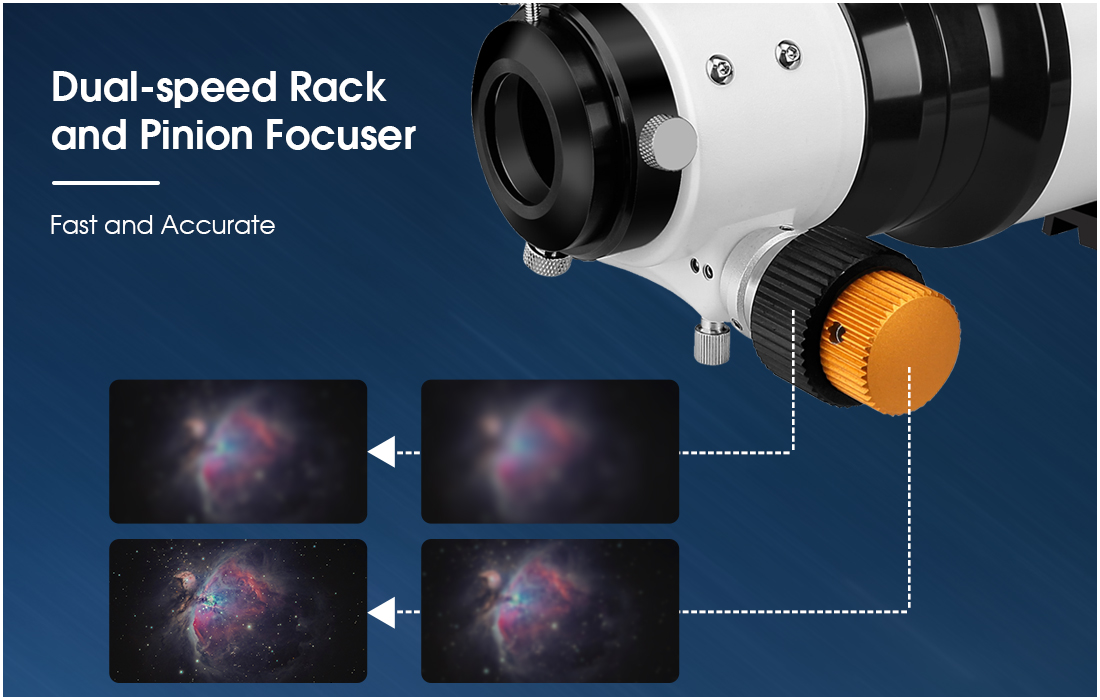 90mm Back Focus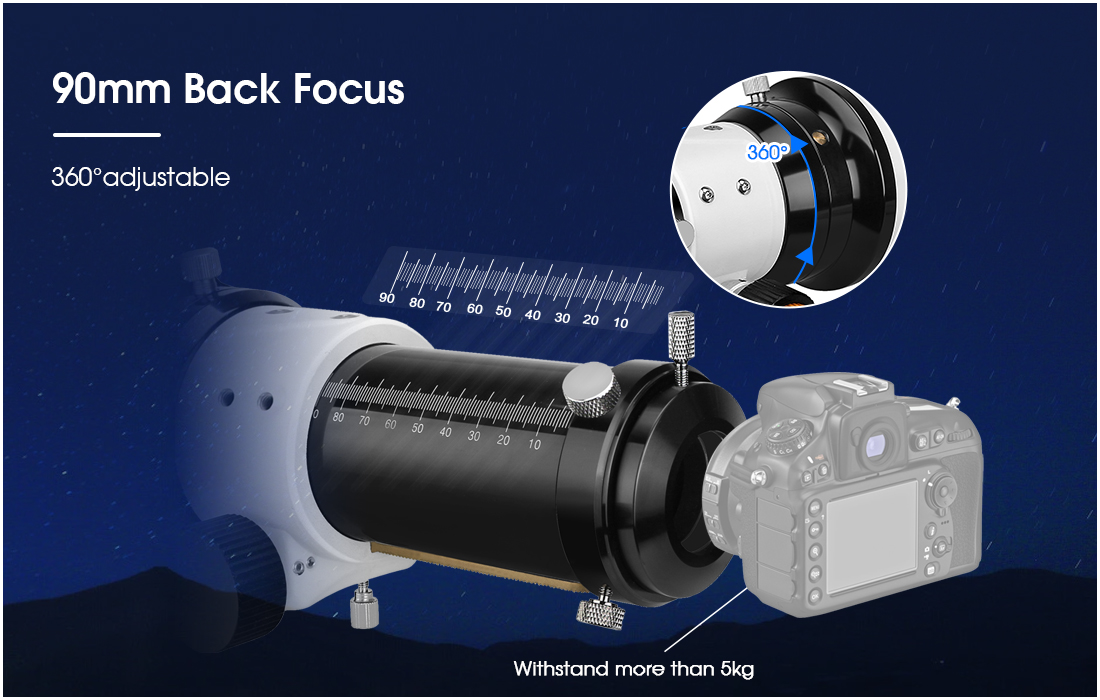 1.17 Arc-second Resolution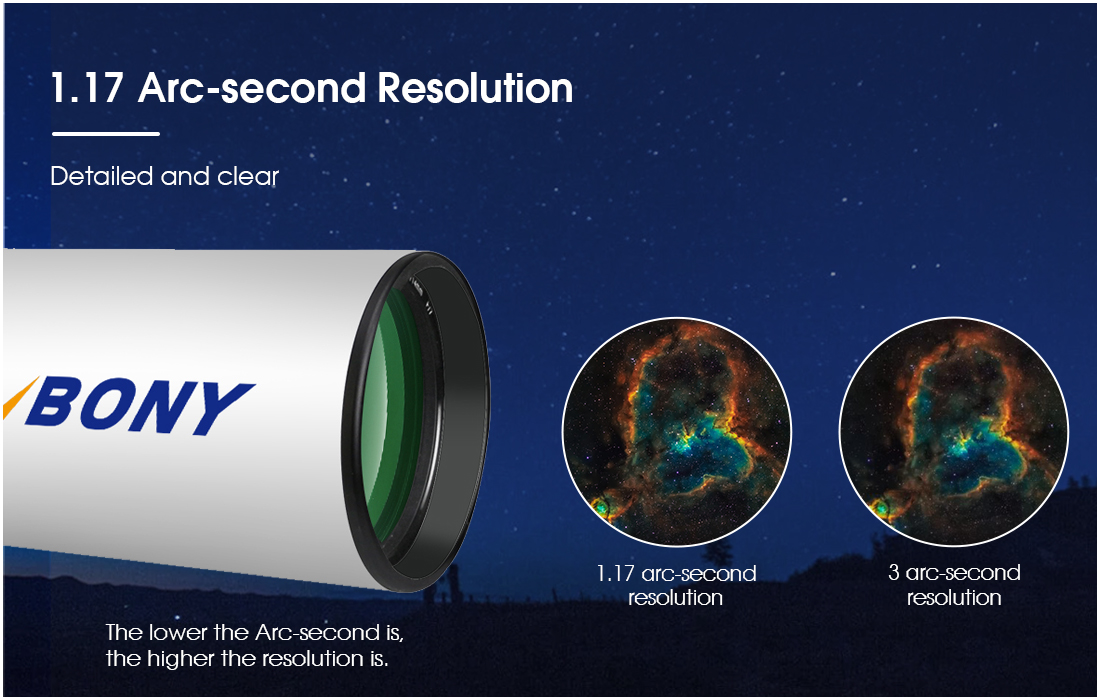 Compatible With 1.25"/2" Adapters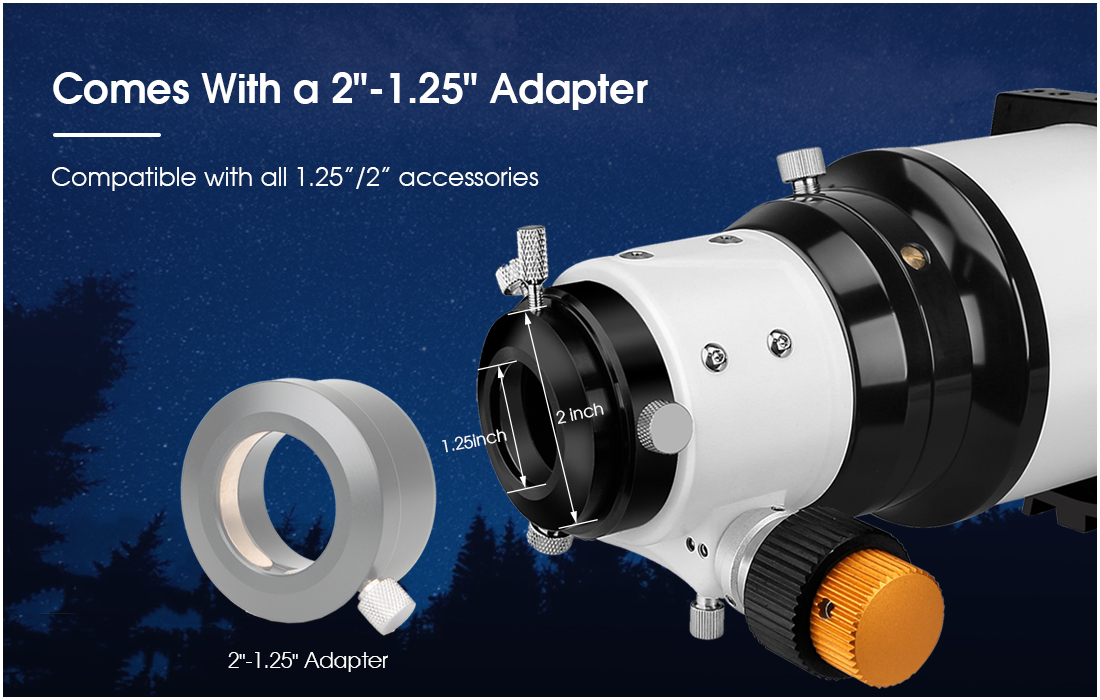 Metal Hoop With Dovetail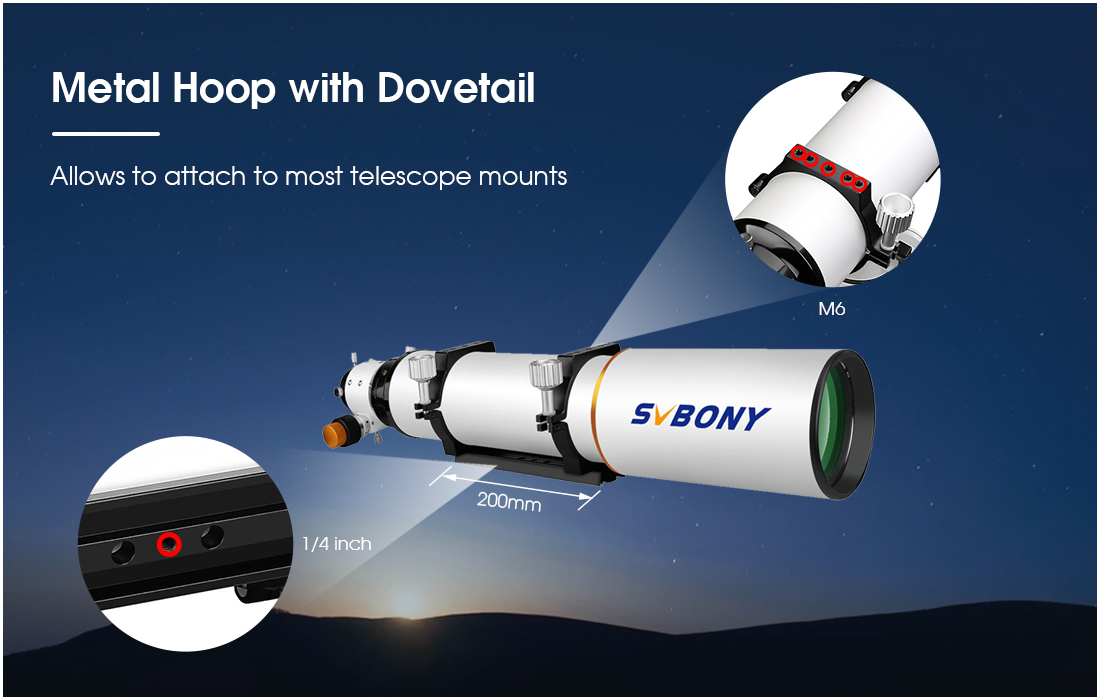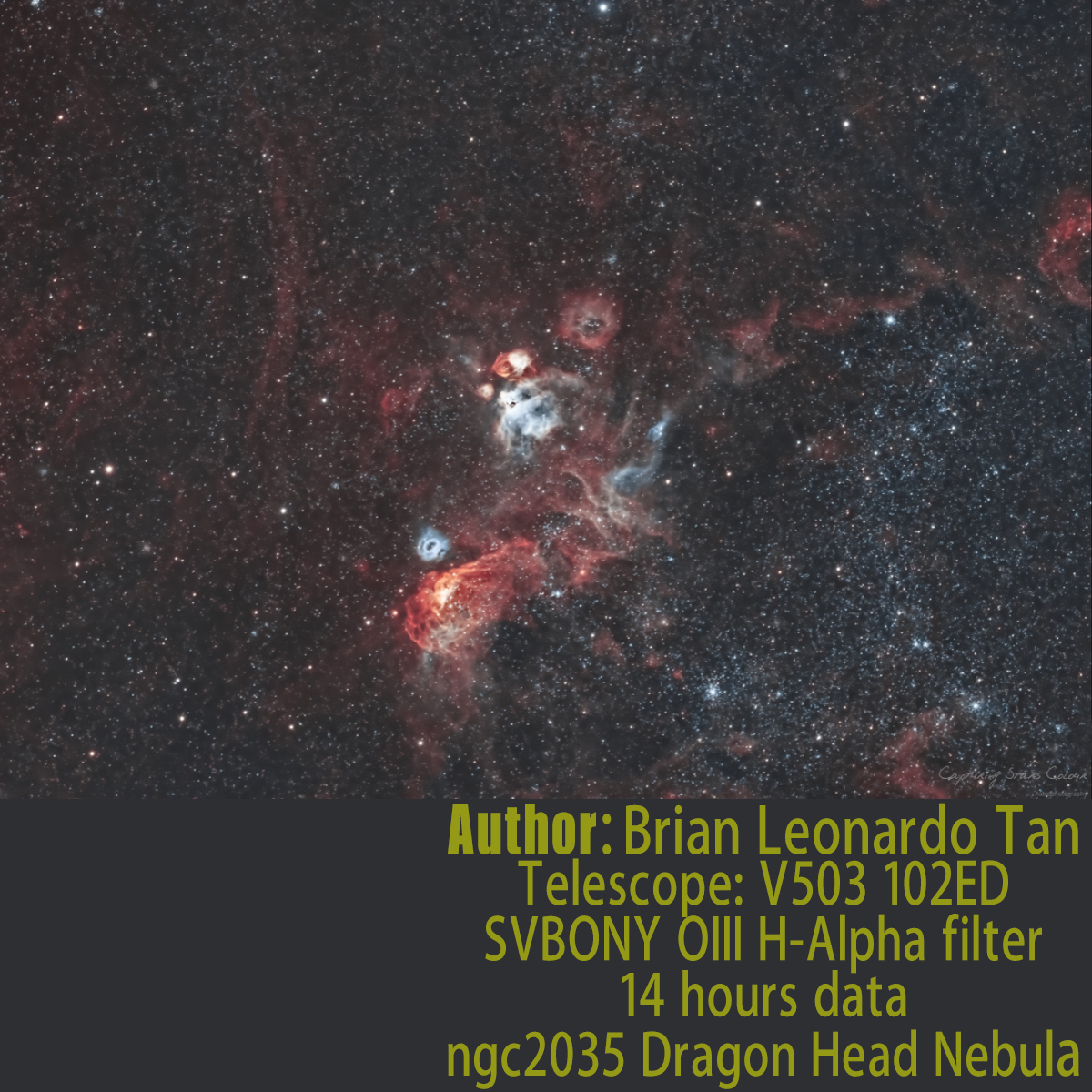 A GREAT FIRST PURCHASE
I bought a SV503 102mm ED as my first ever scope in early 2022. It has proven to be a sturdy and well manufactured piece of equipment that is a pleasure to use for astrophotography. There is no evidence of any fringing or aberration in my images. The focuser is very smooth to use and remarkably stable over a deep-sky photography session. The auto focuser was easily installed as per SVBony's recommended method and handles the task without difficulty. Teamed up with the SV106 guide scope and Phd2 software, the combination produces clear and well contrasted images. There is some field curvature out near the edges of the images but I am confident that the flattener that I have on order will fix that. I have to say that I actually much prefer using the SV503 rather than my more recently purchased 8" SCT. All in all, a great buy..!!
Excellent optics and picture quality
I purchased the SV503 102ed scope and the sv193, 0.8 reducer and just last night had the chance to put it to use. I added the sv503 70mm scope as it's guide scope. Added the ASI1600mm pro camera and after the Horsehead Nebula was in striking distance, I managed to get a few HA shots and then stacked them. Only using 5 images at 5 minute subs, I was blown away at the quality of the picture. Of course, using Narrow band filters there was no CA at all, even still, I was thoroughly impressed and pleased with the quality of the pictures. SVBONY did an excellent job with this scope. There is no place to add a picture here otherwise I would have shared that with you.
A telescope that deserves a good reputation
Hey guys, I recently got a new refractor. The Svbony SV503 ED 102/714. My first refractor with ED glass. In terms of quality, the whole telescope comes across at a high level. It is built solidly and just feels valuable.The dual-speed-RAP-focuser is my highlight! My God! It glides so nice and soft ... now focusing is always a pleasure. Nothing grinds when focusing and there is also no silicone grease that sticks to the fingers. A rotating focuser and ring clips add value to the telescope. But even such simple parts as the screws are milled very filigree and can be moved very smoothly. The lens cap is made of metal and sits well on the dew cap, which can also be moved. That reduces the dimensions during transport. Without tube rings, the tube weighs 3353 g. The ED glass makes a very nice, clear image. Chromatic aberrations only come to light at high magnification and in certain light situations. Finally I can make observations during the day (with low power eyepieces) without disturbing chromatic aberrations. Just yesterday I was watching the moon and I didn't notice any chromatic aberrations! Not even with my Baader Classic Ortho 6mm! Maybe it was because of the position of the moon... I don't know… All I can say: Svbonys ED-Glas is in no comparison to an achromatic lens! And the negative? It's just a shame that the Svbony doesn't have a 120mm opening. I would buy again!
| | |
| --- | --- |
| Product Name | SVBONY SV503 102F7 ED Astronomy Telescope |
| Type | Refractor |
| ED Glass | S-FPL51 |
| Coating | SMC |
| Aperture | 102mm / 4.01-Inch |
| Focal length | 714mm |
| Focal Ratio | f/7 |
| Type of Focuser | RAP (Rack and Pinion) |
| Gear Reduction | 1:10 Fine movement |
| Resolving capacity | 1.17" |
| Limit value | 12.1 |
| Light gathering capacity | 212x |
| Max. Useful magnification | 204x |
| Tube weight(with rings) | 5.5kg |
| Tube outer diameter | 121mm |
| Tube material | Aluminum |
| Back Focus Length | 101.9mm |
| OTA Length | 630mm |
| Dovetail & Ring | Yes |
| Dovetail Length | 200mm |
1. The appearance of the telescope is baked with high-end fine-grained paint, with exquisite appearance and delicate feel
2. The objective lens features an S-FPL51 extra-low dispersion glass ED element, which eliminates chromatic aberration. This results in the best color correction for an ED doublet lens
3. The lens adopts optical processing and low polishing technology, which is carefully carved
4. The deceleration ratio of the two-speed 2'' toothed focusing seat is 1:10, which makes it easy to achieve accurate focus