Svbony SV205C with SONY IMX415 CMOS sensor and USB3.0 Type-B port. It complies with the standard UVC protocol and no need to install SVBONY driver. It is the plug and play device, suitable for beginner users for astronomy photography.
The image sensor uses dark light compensation technology to greatly improve the camera's image clarity in low light conditions;
In MJPG video format;you can record video quickly and the frame rate up to 30FPS at 2K resolution 1920x1080; You can also choose YUV uncompressed video format;
The camera allows you to capture a real-time video and transport to your laptop or PC;machined aluminum 1.25" adapter barrel for direct threaded connection to almost any telescope.
SV205C 8MP USB3.0 Electronic Eyepiece Camera 1.25'' For Astronomy Photography
SV205C is a primary planetary camera, ideal for photographing the Moon, Jupiter, Saturn and binary stars. It is also suitable for observing some bright deep space objects.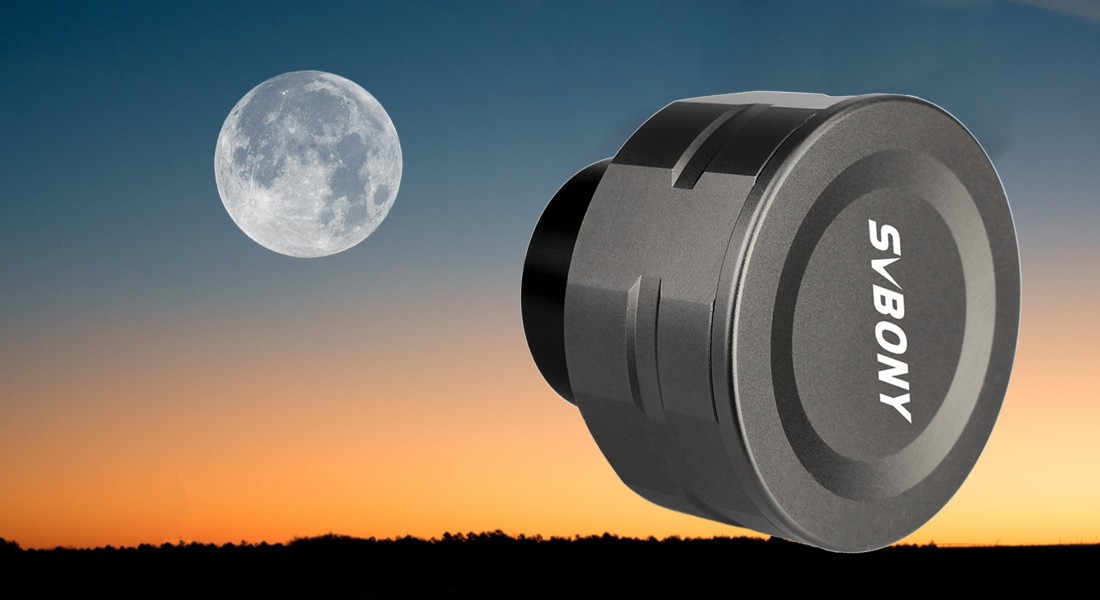 1/2.8"COMS Sensor

The iteratived SV205C with IMX415 sensor, which is 8.29 Mega Pixels with a resolution 3840x 2160 under ideal conditions. In order to fixing the Pixel Vignetting

color issue on the original version SV205C camera, we cut the new one out of some pixels, the parameter will be 7.05MP with 3264x2160, pixel size is adjusted

to 1.45µmx1.45µm.

This newly developed IMX415 stacked CMOS image sensor uses Sony's unique high-sensitivity, low-noise technology to reduce the pixel size to 1.45 square

microns, approximately 80% smaller than the previous generation IMX274, creating a record-breaking 1/2.8-inch stacked 4K CMOS image sensor and with

excellent low-light performance.
Camera Interface
Machined aluminum 1.25" adapter barrel,the thread can be connected to any telescope.
Detachable Protective Window glass
The camera comes with built-in UV IR cut filter. And it is screw on inside the camera nose. which reach a high transmittance of more than 96% in the visible light
range of 400-700nm. When imaging celestial images in the visible light range, a balanced color can be obtained. You can remove the protective glass at the front
of the camera if you want to image infrared or ultraviolet bands, connect it with a 1.25-inch extension tube, and connect IR685, IR850 or UV-Venus filter to achieve
different imaging experiences.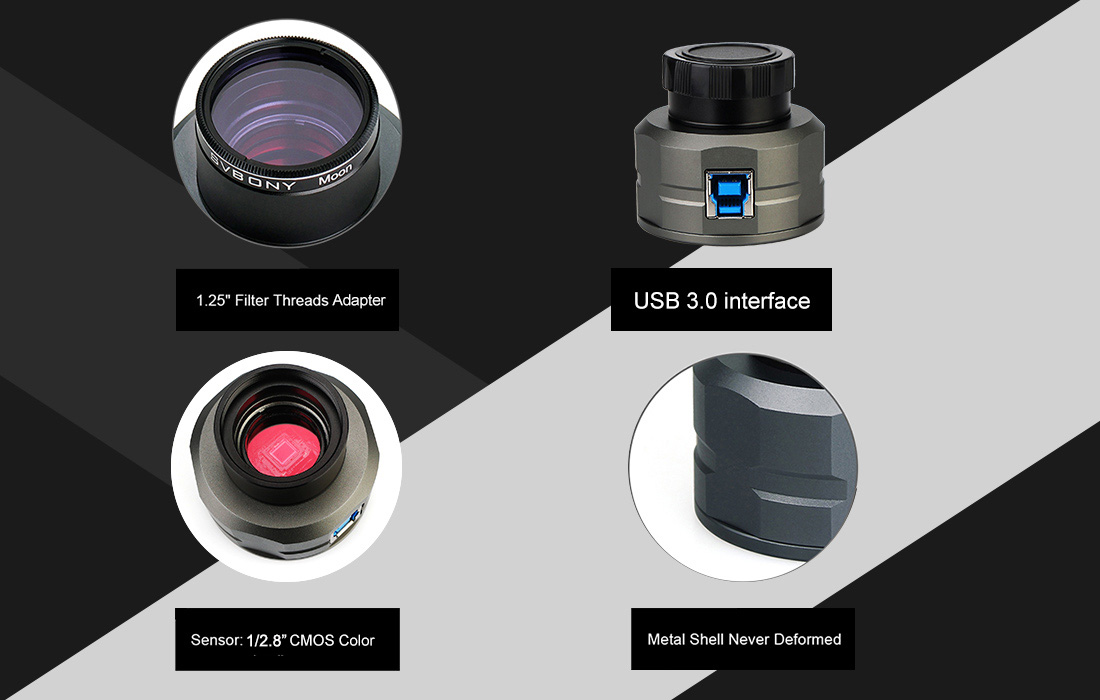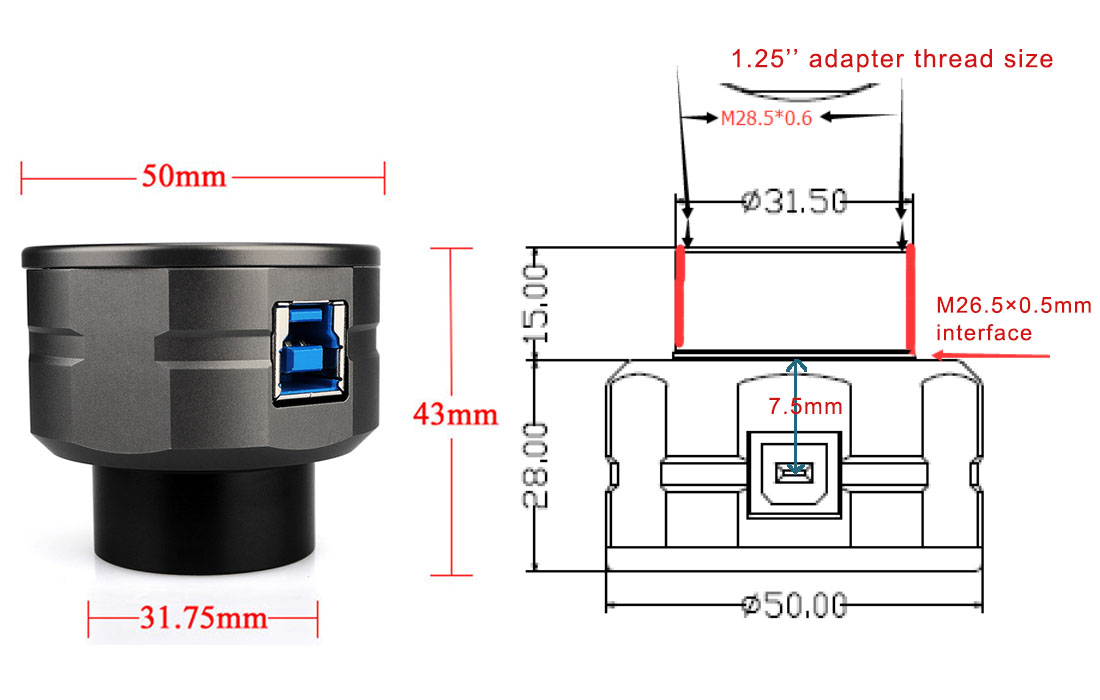 NOTE

1.Computer configuration requirements:
1) The configuration of desktop computer is not less than Intel 4 generation i5, and the memory is not less than 4G.
2) Laptop configuration is not less than Intel 6 generation i5, memory is not less than 8g.
2. The SV205C camera is best used with a refractor or reflector telescope. It is not recommend for taking images through the eyepiece of a telescope.
You may also require additional accessories and filters to get the best results. You need to buy an eyepiece projection adapter if would like to use the SV205C
camera to capture images through telescope eyepiece.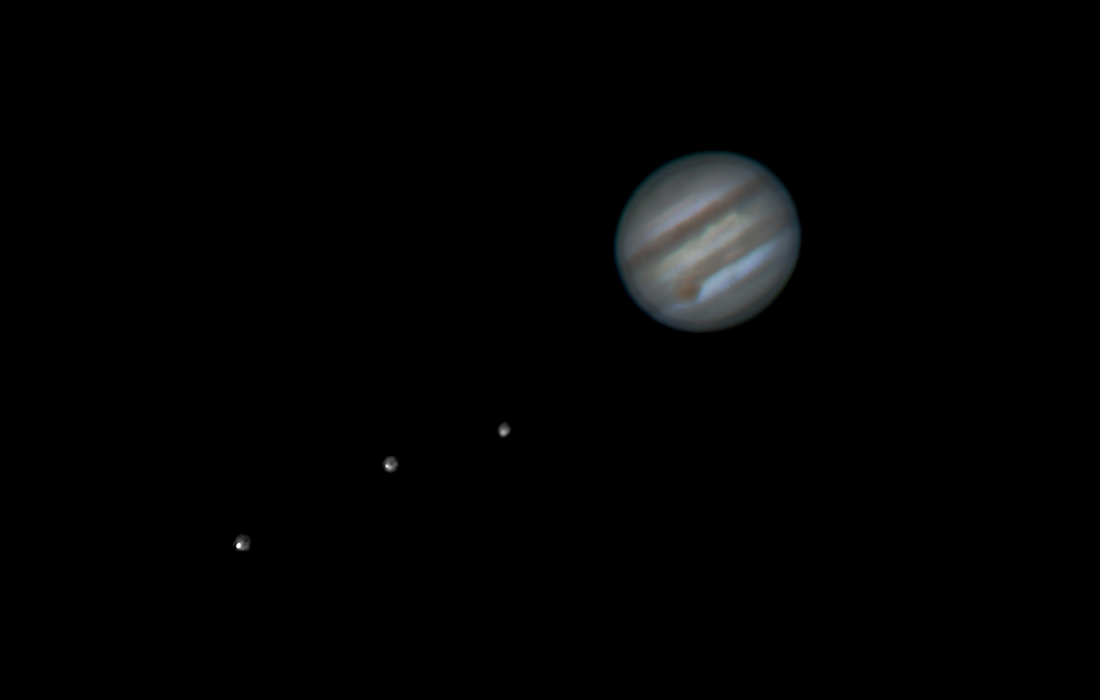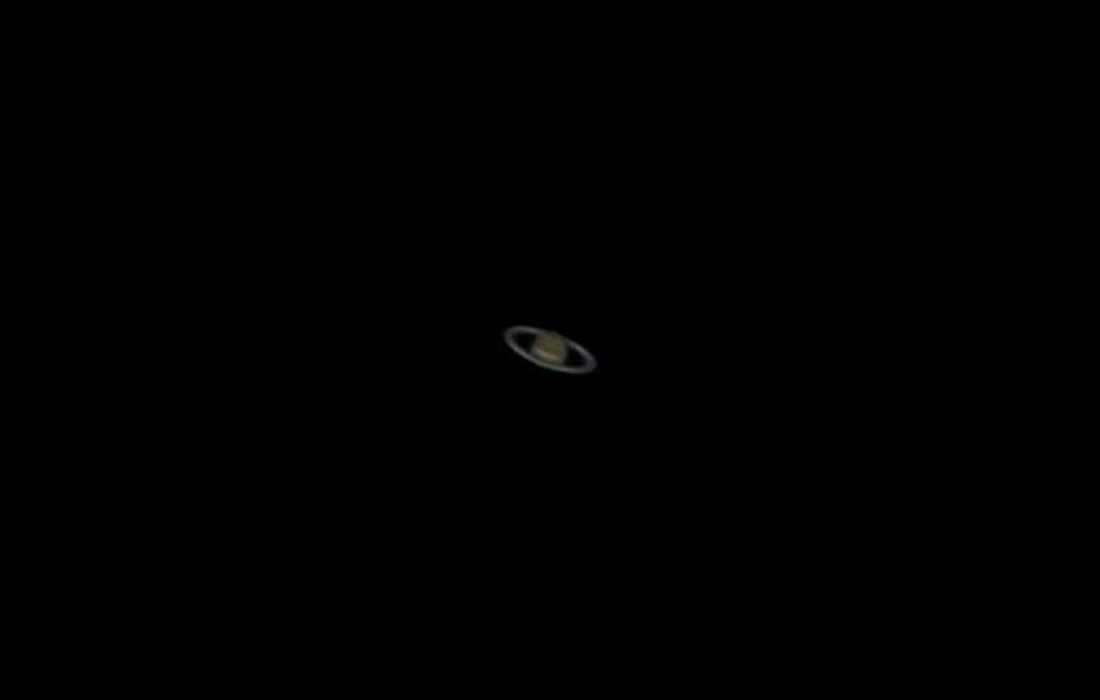 Model
SV205C
Color Camera
Yes
Image Sensor
1/2.8" COMS Sensor
Sensor Model
SONY IMX415
Image Resolution
7.05 Mega Pixels (3264*2160)
USB Type
USB 3.0
Pixel Size
1.45μm X 1.45μm
Shutter
Electronic Rolling Shutter
Exposure Time
15ms-1000ms
Gain
0-120
Maximum Frame Rate(YUY2)
30fps MJPG 1920*1080
15fps YUY2 3264*2160
ADC
10 bit
Filter
IR Cut Filter
Interface Type
Standard UVC protocol
Cable Length
1.8m
Weight
100g
Support System
Windows, Linux, Android, Raspberry Pi OS
Support Telescope
Telescope with 1.25 inch diagonal base hole
Power Consumption
230MA@5V
Cable Length
1.8m
Working Humidity
30%-80%
Storage Humidity
20%-90%
Operating Temperature
0℃ to +50℃
Storage Temperature
-10℃ to +60℃