Are you interested in astronomy? Do you want to see peculiar astronomical landscapes? Do you want to have your own telescope? Then SV501P can meet your needs of preliminary exploration of the starry.
What is SV501P?
The refraction telescope is the earliest form of optical telescope. It is composed of two systems, one is an objective, which is used to form an image of a distant object at the focus of the telescope; the other is an eyepiece, which is used to form a new image in the place where the human eye can see most clearly. It is a kind of telescope that uses lens an objective lens and uses refraction imaging, SV501P is a kind of refracting telescope.

What is the feature of the telescope?
70 mm reflector telescope can provide bright and delicate images, which can be used to observe the land scenery and celestial landscape.
400 mm focal length and comes with the K20 mm eyepiece that gives you the (400/20=20) 20x magnification.
Fully coated glass optics provide clear, sharp imaging.
5x24 mm optics finder scope to help quickly locate objects you want to observe.
1.25'' Prism 45-degree diagonal can gives the corrective image for you to view more comfortably.
SV101 aluminum alloy tripod can provide a stable platform for your observation.
Customized backpacks can be quickly stored and carried telescope outside easily.
Observe in no time with a quick and easy, without tool setup.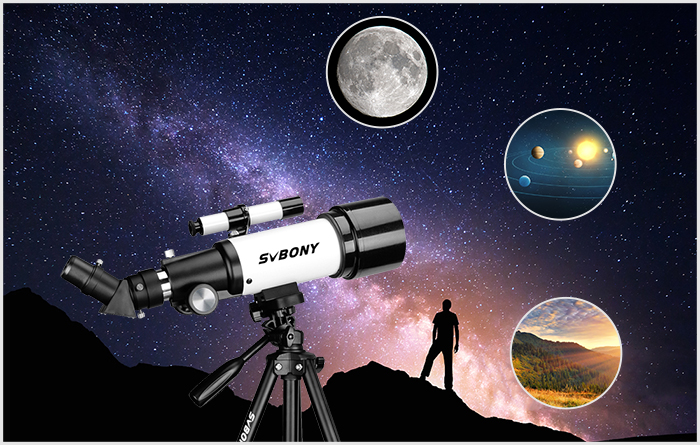 What's in the package?
SV501P Telescope Tube
SV101 Aluminum Alloy Tripod
5x24 mm Finder Scope
1.25'' K20 mm Eyepiece
45-degree Correct-Image Prism Diagonal
Black Portable Backpack
User Manual
SV501P multi-coated optics portable refractor telescope, our first telescope with the backpack, hope you like it.
Thanks very much for your reading.
Learn more: SV501P 70/400 Portable Refractor Telescope
Welcome all questions and suggestions, please contact us by email:support@svbony.com.