Photoelectric combination products increase the playability of cold optical products, and also extend visual observation to planetary photography and deep space photography, revealing the mysterious veil of the universe. Satisfy the curiosity of fans. The deep space camera is a product used by senior amateur customers in astronomical photography and one of the necessary items for enthusiasts.
Deep space shooting targets are mainly nebulae, galaxies, star clusters, multi stars, etc. (Please refer to Messier object) The main feature of shooting deep space objects requires a long exposure time of the camera, which may take 1 hour or 2 hours to take a dim and distant picture of deep space nebula. The camera is characterized by its cooling/cooling function.
Deep space cameras also include color cameras and mono cameras. The color camera is mainly suitable for entry-level use, and experienced customers will also use the color camera with double narrowband filters for photography; Generally, high-level enthusiasts use monochrome cameras with LRGB filters or SHO narrowband filters to complete the shooting. Later, they use software to stack, stack, and turn colors to get a gorgeous sky map.
SV605CC is a 1-inch color deep space camera with 3.76um pixel size and better resolution, which basically achieves the balance of pixel size. No glow, very low dark current. 80%+quantum efficiency, combined with double narrowband filters, can get good imaging in light polluted environment.
Main parameter
Sensor: SONY IMS533 CMOS
Image Resolution: 3008*3008
Total Pixels: 9.0 megapixel
Pixel Size: 4.63um
Target Size: 1''
Diagonal: 15.968mm
Maximum Frame Rate: 20FPS
USB Type: Type-B USB 3.0
ADC: 14bit
What are the characteristics of SV605C?
SV605CC is the deep sca[e camera of SVBONY brand. It is designed with SONY IMX533 color SMOS sensor,which is recommended by amateur asreonomers.Here are some highlights:
Back-illuminated sensor--improving sensitivity and reducing noise
1'' format with 3.76 um pixel size--ideal for many types of telescopes
14-bit ADC--giving high dynamic range of 13 stops.
An impressive 50ke-full well capacity--helping to reduce the issue of,for example,saturated stars.
HCG mode--When set the gain at 120 or higher,the HCG mode is autonatically enabled,and reduce the read noise to even lover levels without loss the dynamic range.
Exceptuinal low-illumination performance of SNR1s:0.14 lx is realized by use of a large-size optical system and by expanding the area per pixel to 3.76um.This makes the IMX533 ieal for security camera market applicatiuons that require low illumination performance.
The IMX533 sensor adopts the 1'' format and provides the necessary number of pixels for true 4k output at 120 frames per second(W/ ADC 10-bit output mode,the SV605CC can run up to 20fps at 4k format when used with USB3.0)
All round schematic display of products .(including text marking.)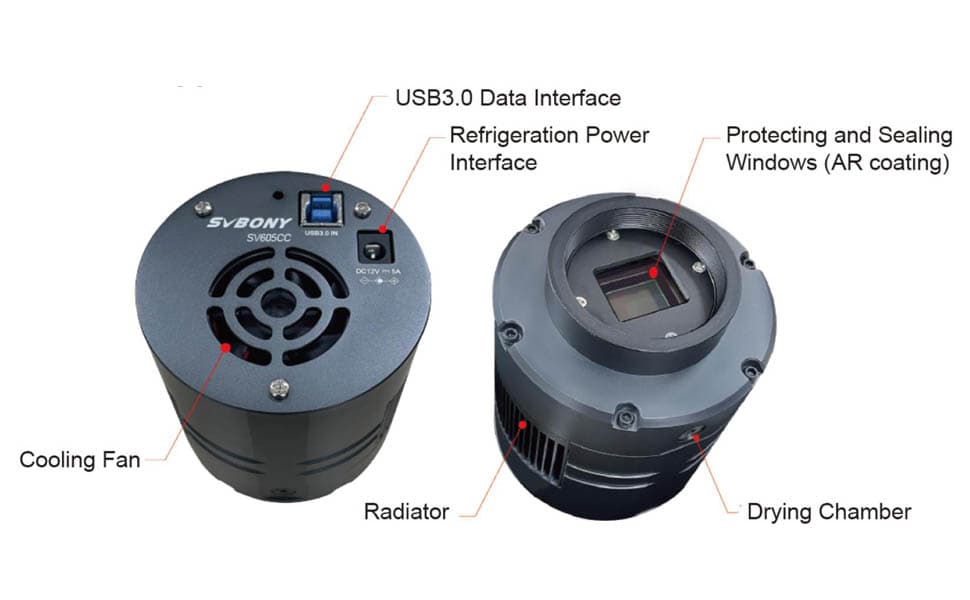 Package List
① Camera Bag x 1
② SV605CC Camera x 1
③ 2 inch Cover x 1
④ M42-M48 Ring x 1
⑤ T2-1.25 inch Adapter x 1
⑥ 1.25-inch T-Adapter x 1
⑦ M42M-M48F-16.5L x 1
⑧ M42M-M42F-21L x 1
⑨ T2 Adapter x 1
⑩ User Manual x 1
⑪ USB3.0 Data Cable x 1