Author:Sebastián Giraldo, Bogota, Colombia
June 2023
Introductio
The fascinating world of astronomy has captivated humanity for centuries, and more and more star enthusiasts are looking for tools that allow them to explore the cosmos in greater detail. In this sense, the Maksutov Cassegrain telescope (Mak105) enters the world of solar system observation and astrophotography. I have received this optical tube to see its behavior, analyze its construction and features, review its performance both visually and in photography, and give an opinion about my assessments. It is worth mentioning that I do not receive any economic benefit nor do I have any kind of consideration with the brand or with the distributor here in our country, let's start.
I share with you the technical data of the equipment provided by the manufacturer: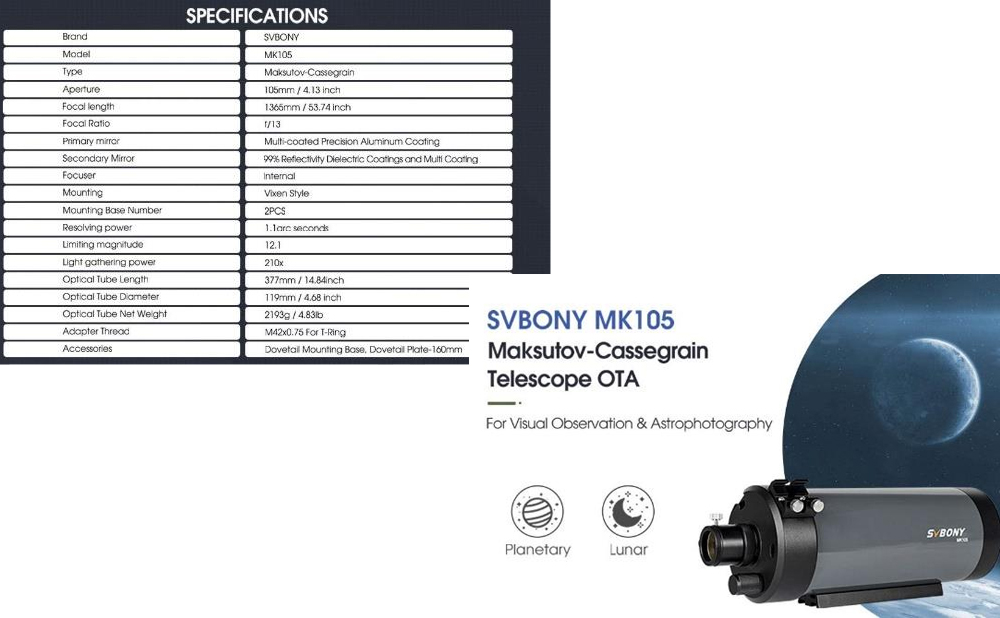 As mentioned by svbony, we are in front of a maksutov Cassegrain telescope with a focal length of 1350mm, an aperture of 105mm and an F13 focal ratio, which makes it mainly
functional for the capture of celestial objects such as planets, the sun, the moon and some globular clusters, as well as for terrestrial observation, and we would leave aside other types of objects such as nebulae due to their somewhat limited field of vision and galaxies for not being an especially very bright telescope. The resolving power is 1.1 arc seconds and the use of multilayer coatings on the main mirror and dielectric multilayer coatings on the secondary mirror are mentioned, said coatings designed to eliminate possible artifacts in the optics and contribute to optimal light reflection.
Construction: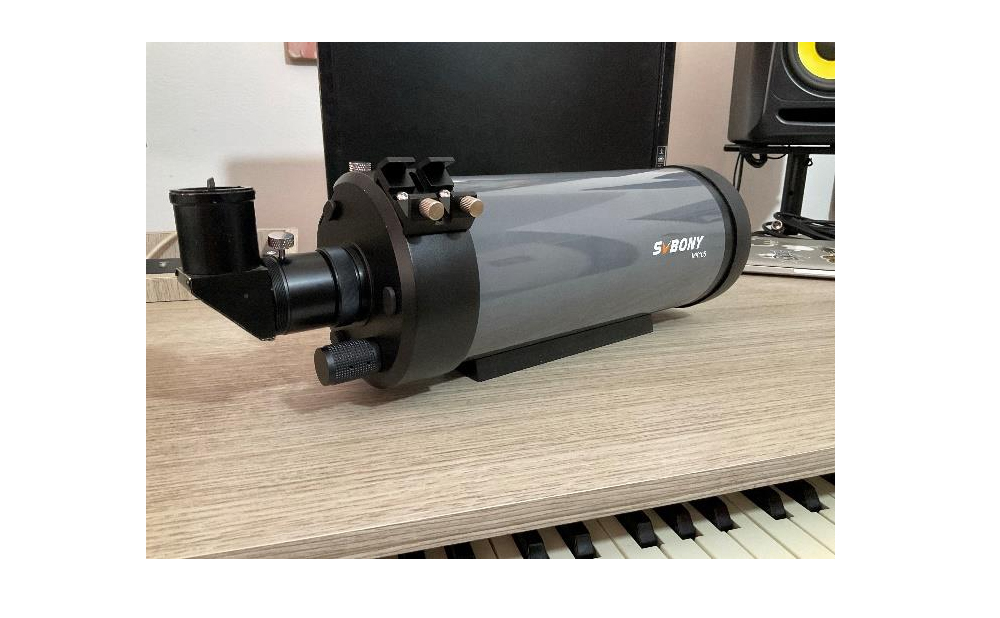 The construction of the tube is apparently of good quality, the main material is similar to aluminum, with a glossy finish paint and the logo of the brand, the dovetail is about 15cm approximately, enough to support it on an Eq mount, o Alt, on the back we find the opening for connecting an eyepiece or dedicated camera, the supplied cover is made of plastic of not very good quality, the focuser is covered by a layer of rubber or a material that makes it easy to maneuver for prevent it from slipping if we are in a hot climate, for example, this focuser feels very well built and the touch is excellent, on the same black piece where we find the focuser and the opening for cameras, we have two points for the connection of other accessories such as red dot finders or guidance cameras, one of them left me with the feeling of not being very useful since when trying to locate the red dot finder there, it does not fit completely. The fastening screws of both the finders and the camera or diagonal are a bit hard to move. In general the construction of the equipment feels very good, and compared to the Celestron Mak 90 model I would say that it is very similar, although perhaps the paint finishes and a few small details are a little superior on the Celestron, this without compromising at all the good behavior of the team. The weight of the equipment is approximately 2 kilos and 200 grams.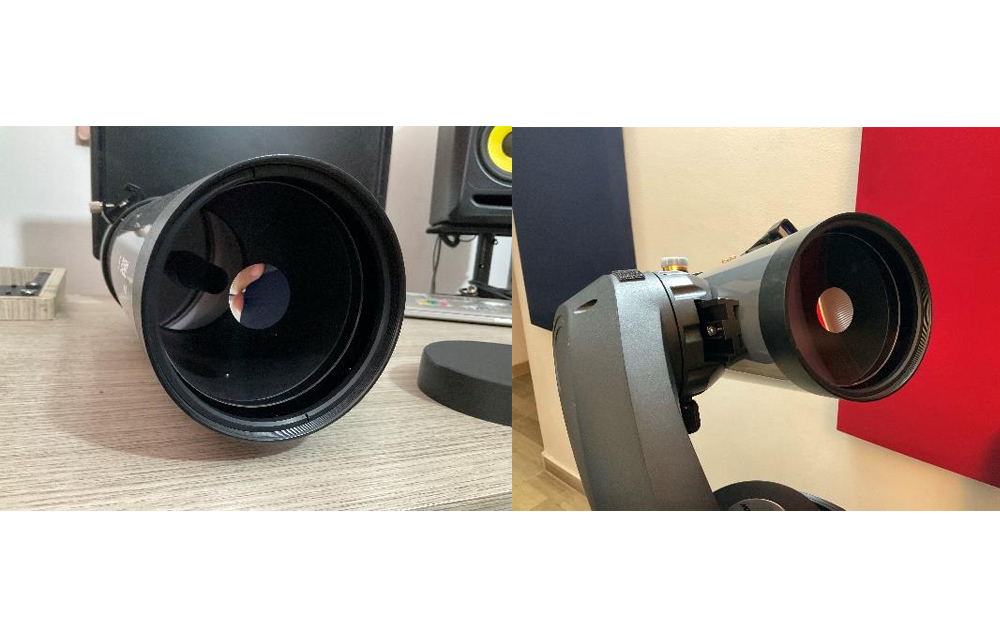 As for the mirrors, a very good quality is observed in their construction, no scratches, defects or any element that affects their optics.
Impressions in observation and Lunar, solar and planetary photography.
I carried out the observation test on the night of Tuesday, June 27, 2023, the seeing conditions were optimal to be able to provide a good appreciation, we had 60% illumination of the moon, so it was perfect for observing the lunar terminator , I used a 32mm eyepiece and a 23mm eyepiece, noticing very good contrast, I did not show chromatic aberration or any other strange artifact in the optics, to achieve more magnification I used two barlow x2 and x3, and I obtained
very good results, I could still perceive very good details demanding the maximum capabilities of the tube. Later I carried out two photography tests, one with a reflex camera in APS-C format, and the other with a dedicated planetary camera (SV905C camera for guiding and
planetary) to make a mosaic in higher resolution, in later days I made a test of solar photography with Thousand Oaks filter, and a video of the planet Saturn that I will share as link attached below : https://youtube.com/shorts/F4qtNQi9S-g?feature=share in this
night the seeing was not good at all.
I share the results obtained
1. Top left image canon 1000D camera + mak105
2. Image right camera sv905c + mak105
3. Lower left image sv905c +mak105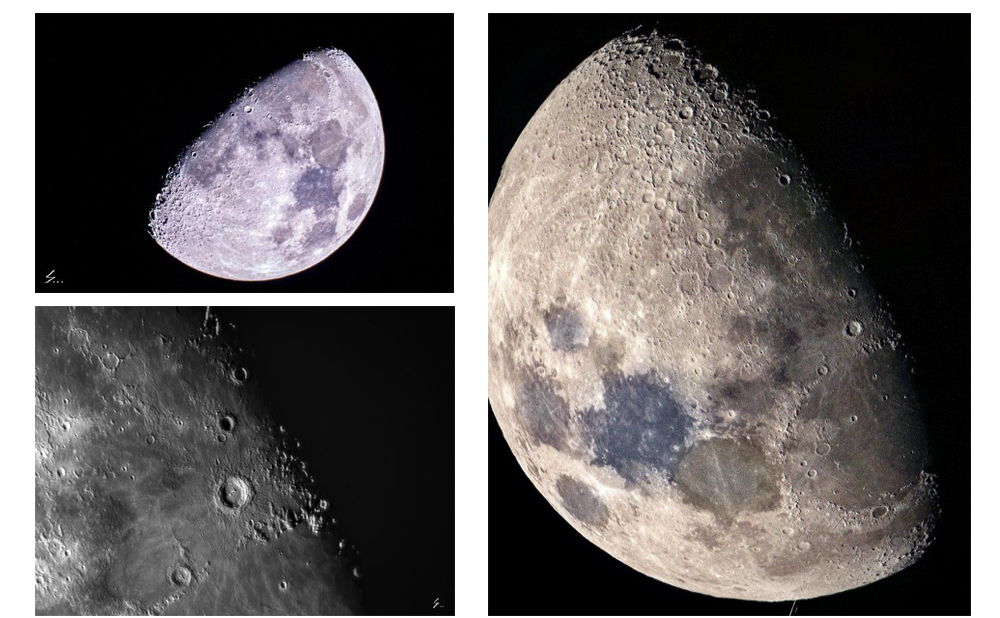 Solar images: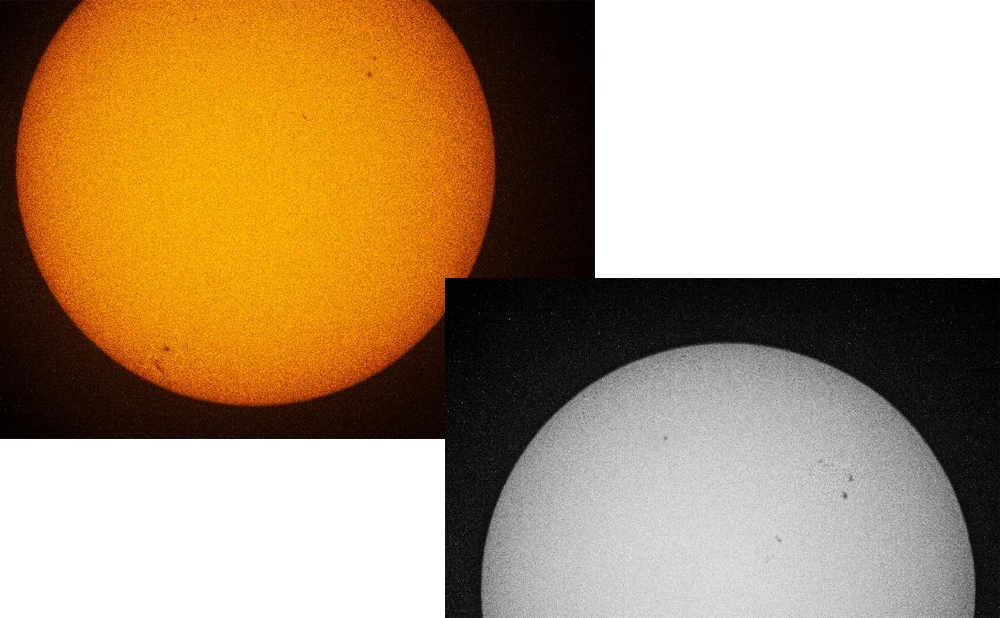 CANON 1000D + FILTRO SOLAR + MAK105
Last conclusions:
The review of the SVBONY brand Maksutov MK105 telescope has left us with a positive impression in several key aspects.
In terms of its optical quality, the Maksutov MK105 telescope has shown outstanding performance. Thanks to its Maksutov-Cassegrain optical design, we were able to enjoy sharp and well-defined images of celestial objects. Regarding its construction, the telescope proved to be robust and durable. Its compact and portable design makes it ideal for astronomical observations on the go. In regards to possible improvements, we note that the adjustment screws for accessories could be an area of attention. Although they fulfill their basic function, an improvement in their design could be considered for greater precision and ease of use when attaching accessories. Greater ergonomics in this regard could improve the viewing experience and user comfort. In short, SVBONY's Maksutov MK105 telescope stands out for its optical quality and solid construction, making it an attractive choice for those looking for a compact and powerful telescope for exploring the night sky. While there are opportunities for improvement, this is a telescope that offers great value and a rewarding experience for astronomers of all levels.
Thanks for the reading.Welcome to comment.