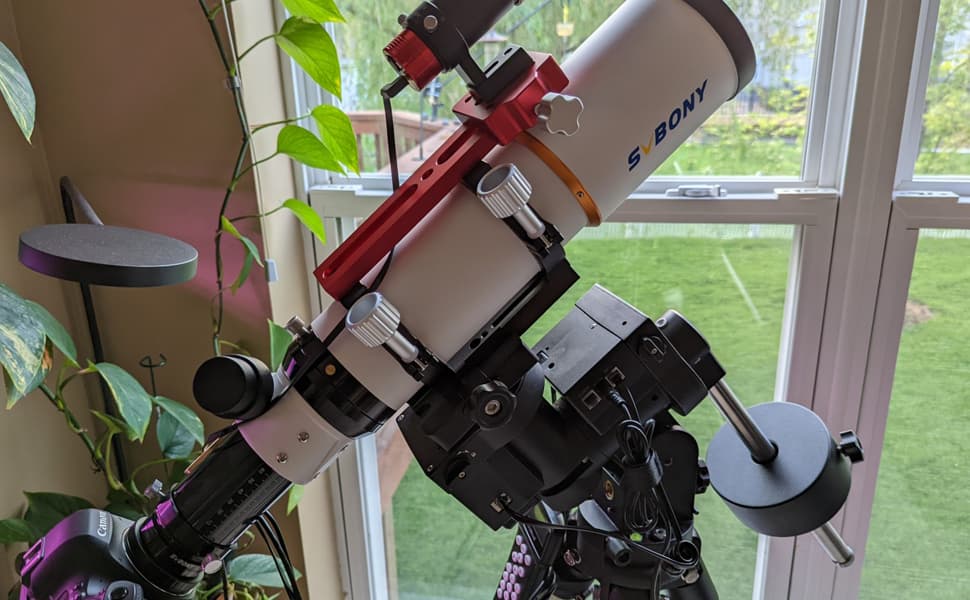 The SVBONY SV503 ED80 f/7 Telescope is a great little telescope for the value. It is light weight making it ideal for a grab and go scope for quick setup time and use, Features dual hinged mounting rings and Vixen style Dovetail for easy mounting on most any brand EQ or AzAlt mount. SMC Coated optics. 2 Speed RAck and Pinion focus, rotating focus head. You can use 2" or 1.25" eyepieces with the supplied 1.25" adapter. Nice and sturdy construction and machining. white powder coated Aluminum OTA. Sliding Dew Shield for smaller storage when not in use.
Paired with the SV106 50mm Guide Scope and the SV305 Camera makes for a nice little Astrophotography rig at a price that won't break the bank. Great starter telescope for someone wanting and all around use telescope for both viewing and Astrophotography.
I have owned my 503 ED80 for about a year and have used it many time in my observatory. Excellent views of the planets,Moon,Sun and many of the Messier Objects. I compared it to my Meade LX85 R5 f/5.8 Refractor and didn't see a lot of difference other than the larger aperture scope was brighter. The 503 ED80 has very little Chromatic Aberration common in most Doublet Refractors. It is nearly unnoticeable using a Baader Fringe Killer Filter. I have several other telescopes and I highly recommend this for anyone on a budget or to add to your telescope collection. They have a full line of Telescopes and accessories at very good prices and pretty good quality items. I own several accessories as well as the ED80. By using the two silver screws on the left side of the focuser assembly, you can add another small Dovetail Slot for other accessories such as a Laser Pointer, Finder Scope or the SVBONY Solar Algnment Scope or any number of Dovetail accessories. Very compatible with a DSLR Camera or the SVBONY SV305 Image Camera. An Optional Focal Reducer will increase the speed of the optics for wide field viewing and Astrophotography.
Many accessories are available on the SVBONY site. Hoping they come out with a nice Equatorial mount to match the Telescope.
Perfect for viewing in remote areas or in a fixed location. Very good people to deal with and customer service is top knotch. Overall I give the 503 ED80 5 stars.
Thanks for your review.
B.R.Collins
Stellar Haven Observatory © 2021
Welcome to comment.
---