Come to Interact With Us on SVBONY Forum!
SVBONY Forum service is now available! You don't know that yet? Then join us for astronomical interaction in the SVBONY Forum!
What is SVBONY Forum?
SVBONY forum is an interactive platform for SVBONY Members initiated by official website. Users just need to sign up a member via email on SVBONY official website, and then they can enter the forum to initiate a conversation on a topic. Of course, if you are not a registered member, you can also visit this forum freely, but if you want to participate in the interaction and join in the conversation, you still need a membership.
What are the Specific Features of SVBONY Forum?
We created the SVBONY forum with the original intention of providing you with such a public platform, where you can share your experience in astrophotography, as well as feedback on problems encountered during the use of our astronomical cameras. Then we discuss and resolve these issues in a timely manner.
On the other hand, we can based on your feedback, in the subsequent development of continuous improvement, and strive to enhance our products and services experience!
How to Use SVBONY Forum to Start a Discussion on a Topic?
As we said at the beginning of the article, you can access everything about the forum if you are just as a visitor. However, if you want to give feedback on a problem you have encountered or to participate in the forum comments, you need to register online and become a member of svbony.
We have explained in detail how to create a member in our last blog on the use of svbony points, so if you have problems with the registration process, you can refer to the screenshots in our article for instructions. https://www.svbony.com/blog/membership-benefits/
Here, we explain in detail how to use the forum for you.
When you want to start a discussion in the forum, first of all, you need to enter the forum page, and then select the product corresponding to your topic (for example, your topic is related to the sv550 122, and you want to share your own nebulae and shooting experience with everyone through the forum, or you want to discuss with everyone about some problems in shooting), you can start the discussion through the operation as shown in the figure below.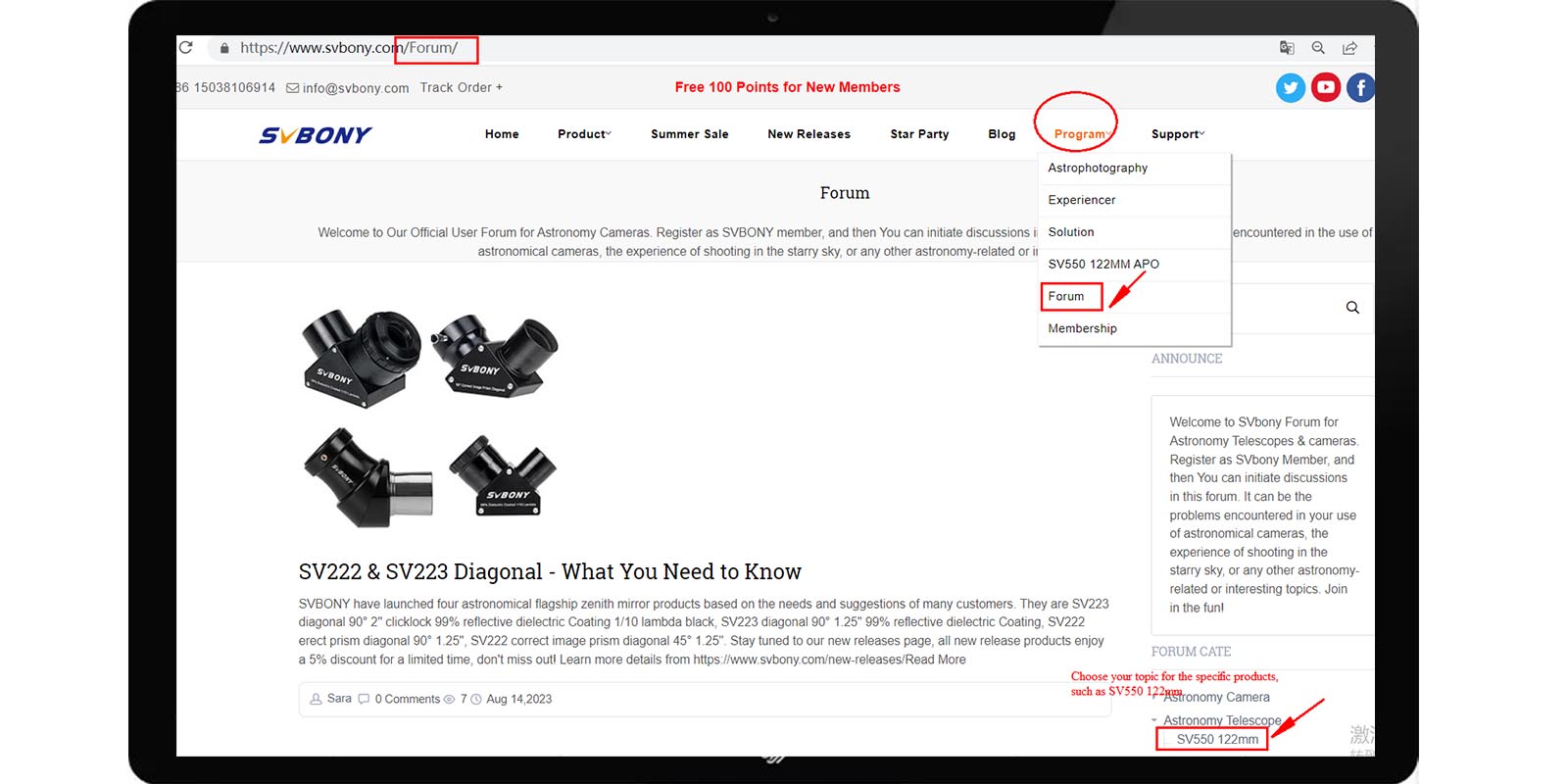 Secondly, you will enter into a interface as follows, here you can choose the button of NEW TOPIC, which means you will make a new topic/discussion about your problem on this forum.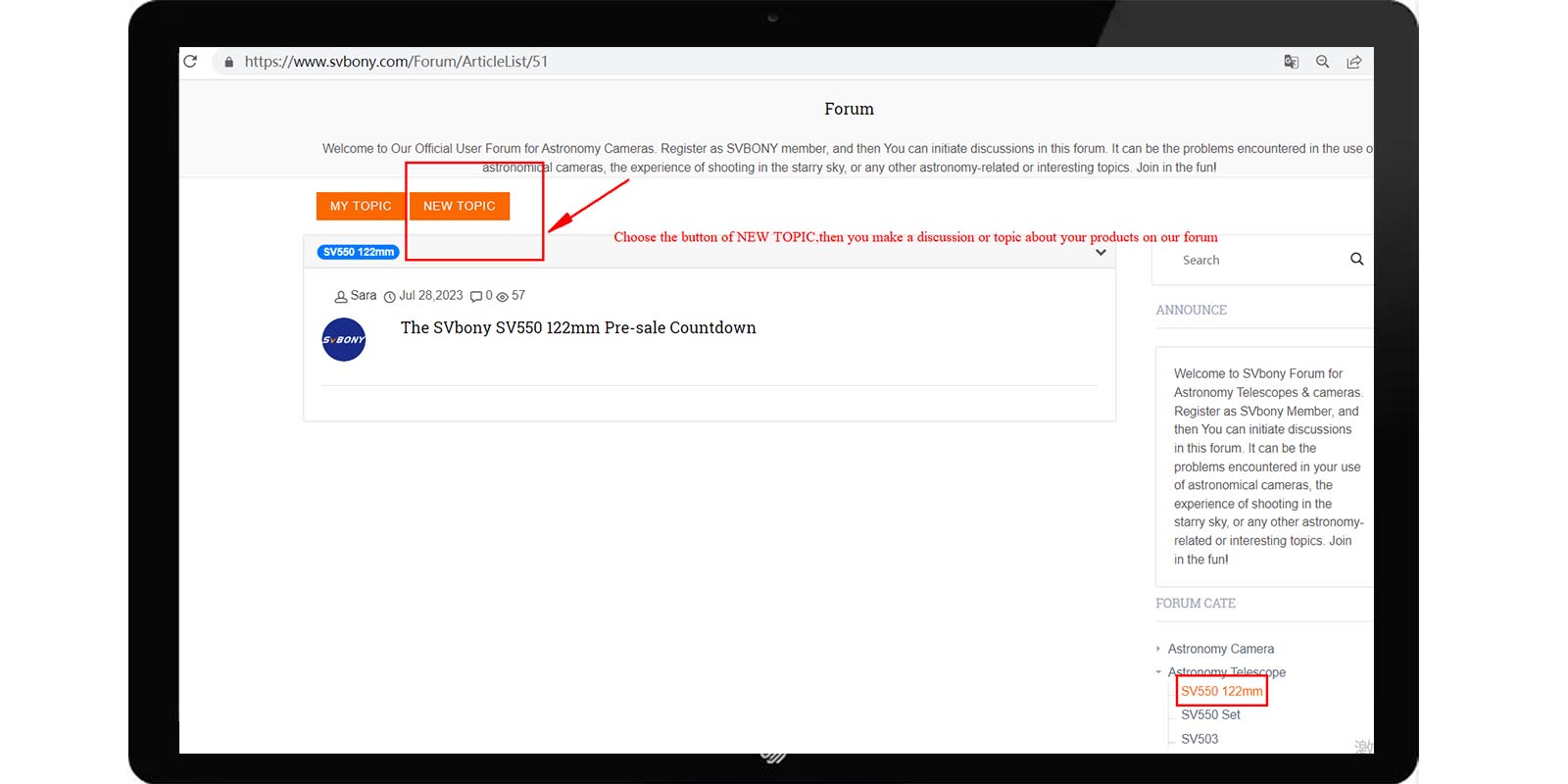 Later, if you want to see the progress and results of the current discussion on the topic, you can select the same product segment, enter the current page, and then click on MY TOPIC. Here you can see the history of your previous discussion on the topic, participate in the interaction, comments and replies!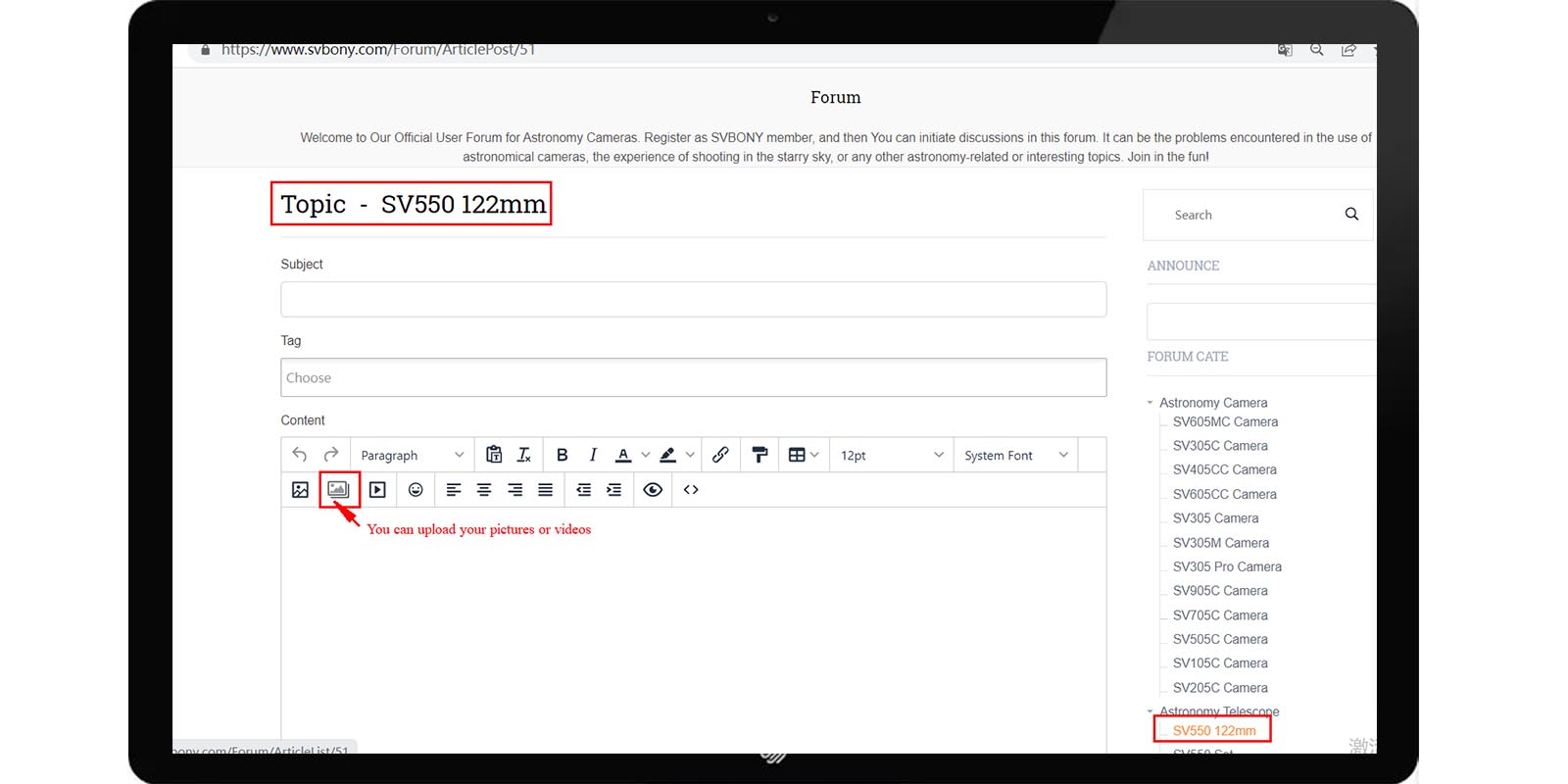 It's reassuring to note, in particular, that inside the forum topic's start box, you can not only describe your problem through regular text, but also upload images and videos to convey exactly what you're thinking about. Just try now!
Conclusion
If you encounter other problems and suggestions related to the use of the forums, pls feel free to contact us by support@svbony.com
Finally, we hope that this forum can solve the problems for astronomers, and meanwhile we expect more users to recognize this forum and keep participating in it, learning more about astronomy and exploring the wireless charms of the vast starry sky!