SV605 is a binocular microscope with a magnification of 40x-1600x times. Equipped with interchangeable 10x widefield and 20x widefield eyepieces that can give you a clearer, brighter, and wider field of view.
The binocular observation head 45-degree tilt rotated 360-degree horizontal, can effectively reduce neck pressure. And the lenses are also coated with special coatings that protect their surfaces against mold in high humidity and high heat regions. The 45° inclined to view microscope with achromatic objectives from SV605 features 4x, 10x, 40xS objectives, and a 360° rotating head.
SV605 Biological Microscope Basic Parameter Settings
The objective converter is equipped with three DIN achromatic objectives. Provides three magnification levels: 4x, 10x, and 40xS (spring). The supplied achromatic objectives reduce color distortions introduced by imperfections in optical elements better than regular objectives and provide higher contrast images. The retractable 40xS objectives have a spring-loaded lens, that will retract when it touches the slide in order to protect the lens and the slide.
SV605 Binocular Microscope's Features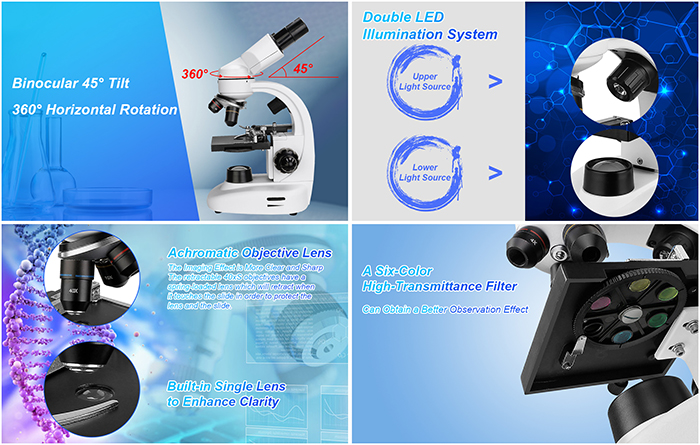 A six-color high-transmittance filter can according to different specimens to obtain a better observation effect. And is equipped with an upper and lower LED dual illumination system, the upper and lower light sources can independently control the brightness of the illumination.
To view details of our specimens more easily. The microscope features a white LED illumination system with adjustable brightness and a separate switch.
Use mechanical stage, with mm stage divisions. The movement is more accurate, locks the slide into place, and provides precise slide manipulation along the X- and Y-axis to allow coordinates to be recorded. Enabling the viewer to return to a specific location on the slide. A stage stop prevents the stage from coming into contact with the slide and objectives. The solid-metal body is durable and resistant to stains and corrosion.
DC and AC double guarantee, without regional restrictions. You could take it to various places according to your needs, which is very convenient.
SV605 Biological Microscope Product Mix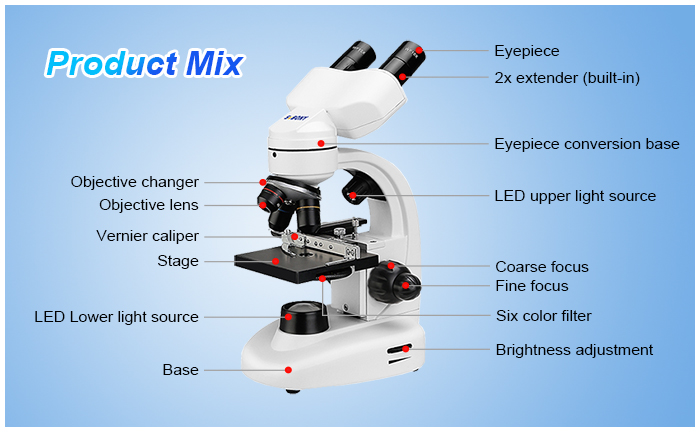 Microscope Questions?
If you have questions about the SVBONY microscopes, or aren't quite sure which microscope model would work best for your application contact support@svbony.com. and we will be happy to assist you.
Thank you very much for reading.
Learn more: the microscope.
If you have any questions, please contact us: support@svbony.com