In recent days, as the summer is coming, many customers send emails to me ask the difference between SV46P and the SV406P. Actually, the difference is definitely not only the "46" and "406". On the following page, I will introduce the strengths and weaknesses of the two spotting scopes.
I will give my personal comments from the next several parameters. As for the detailed specification, you can read them on our website, I will mainly give my user experience.
1. body quality/stats
As you can see in the following picture, the SV46P is a little heavier, while SV406P is slightly longer. With the same hard rubber, I am more fond of SV46P's black-gray color. But I hear the popular color is green? It will be black sooner or later, the popular trend is a circle. They all use CNC metal 1:10 dual-speed focus, I prefer this to other focus ways, which will cause lighter shake and more smooth and precise focus. Of course, 45° is suitable for naked-eye observation and camera photography.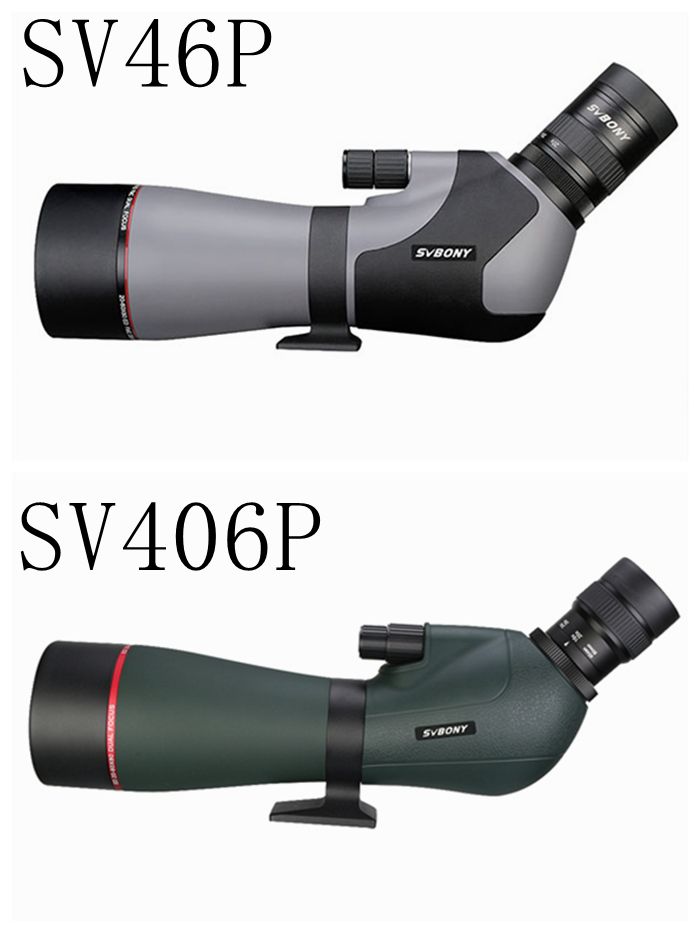 According to my experience, SV46P is more smooth when zooming.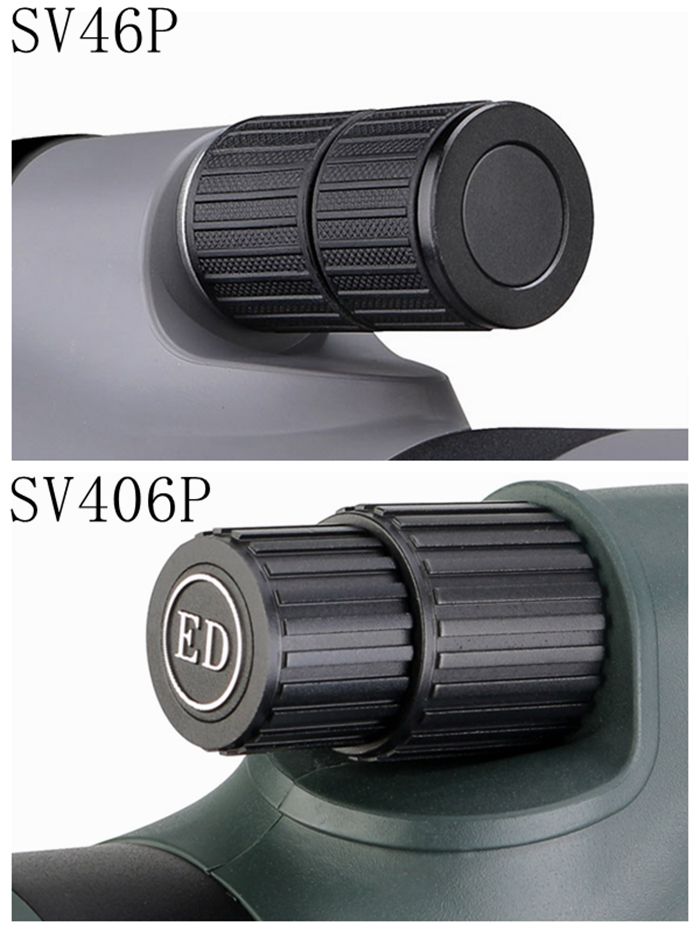 But SV406P also has its advantage, it can change the eyepiece as the interface is 1.25 inches, so it has more ways to play and use.
So if you have other eyepieces and 1.25'' filters, SV406P can be a good choice, too. You can check this blog.
2.optical components/states
They share the same materials that good spotting scopes have. All ED objective glass and SV46P is 2 group, 2 elements lens use FK61 glass, comparable performance to S-FPL51 glass. Their very near eyepiece diameter and same objective lens diameter determine the close optical performance. The prism type is Bak4, very easy to see the difference from cheap BK7 as the below image shows.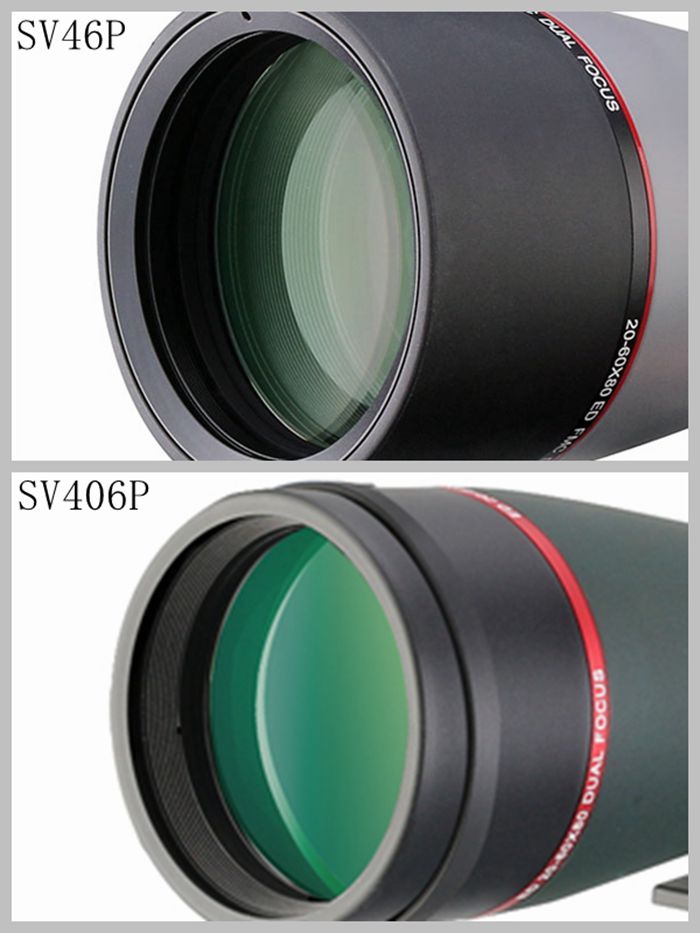 3.image quality
As I'm not a photographer, it is really hard to distinguish the very tiny gap between the two spotting scopes. But as for my personal visual feeling, they don't show the apparent difference when the distance is 300 meters. I tow some images so you can make your own judgment. With RedMi Note 9 and Svbony Universal Smartphone Adapter.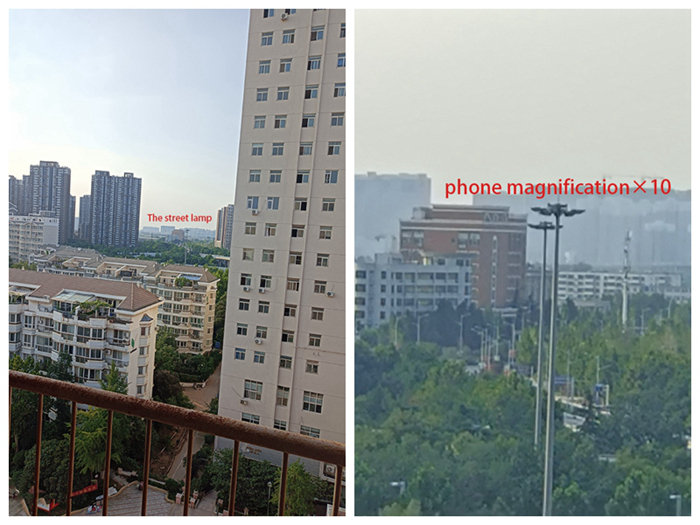 SV406P

SV46P the image does not focus very well

The actual naked eye view is brighter as the phone camera glass reduces the light intake.
From my personal view, I like SV46P better, just like its color. But SV406P can change the eyepiece so it can attach moon or ND filters, a really hard choice.
4.accessories.
Almost same accessories, but the SV46P's soft case is more widely popular, as it can protect the scope from rain, snow as well as other ultimate weather.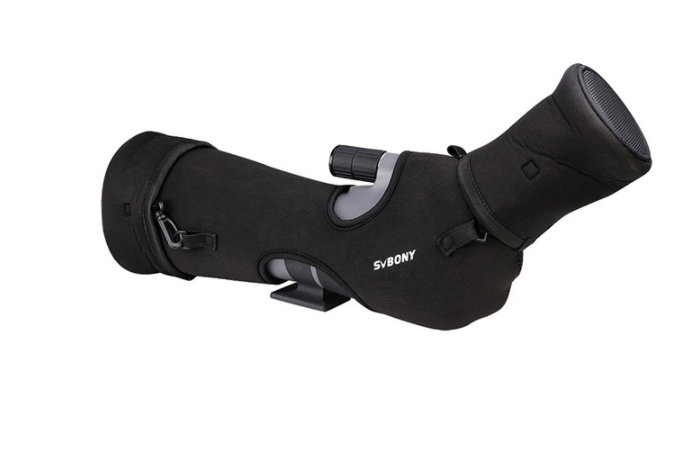 Thanks for watching, click the link and learn more.
The product link:
https://www.svbony.com/SV46P-ED-spotting-scope/
https://www.svbony.com/sv406p-sa402-tripod-universal-phone-adapter/